Indian education domain has no dearth of mentors. But a mark of a true mentor is the ability to see ahead what others cannot see and to help them navigate a course to their destination. In this respect, Prof Seema Mahajan is a true paragon of quality mentorship. Seema believes that the primary purpose of education is to ensure the holistic development of the student. One's mark sheet is not a comprehensive measure of his / her knowledge and intellect. "Education gives new impetus to young minds so that students align themselves to global and local societies and play an active role as responsible individuals. To achieve the same, along with my MBA Faculty, we created and designed MBA Entrepreneurship and Family Business (2 years' Full-Time Program) for second and third-generation entrepreneurs of the country. The program we pioneered at NMIMS was started with six students in 1991 along with our flagship program. The students gain an insight from eminent management faculty, area/domain experts, business entrepreneurs, their own parents and industry guest speakers while exploring their business interests and dive deeper into the discipline and gain economic proficiency," she says.
Although Seema did not start off with the intent of becoming an educator, her ability to keep an open mind, say yes to challenges, and give her absolute best to the smallest of the tasks that come on way, all took her to the respectable position she now holds. Seema, who was then a professor in-charge at NMIMS – School of Business Management, led the initiative to set up the Centre of Entrepreneurship and Family Business to today's prestigious Pravin Dalal School of Entrepreneurship & Family Business Management at NMIMS Deemed to be University. This is now an independent School at NMIMS Deemed to be University and is one of the most powerful initiative of School of Business Management in nurturing Family Businesses of the Country and leading entrepreneurship ventures after serious understanding of the said market.
Today, as she presides over the School as the Director and has the mammoth task of leading the school operations and being responsible for the success of its participants and the program. Despite the sheer weight of the role she has taken upon herself, she carries out her duties with utmost perfection and elan. "It was a challenge I was ready to take on. Setting goals, strategizing to grow the course, designing and delivering as per the expectations of the said segments, understanding business operations of family-run organizations and achieving milestones along the way was arduous and entailed extreme measures of dedication and drive. Embracing the perfectionist that I grew up to be, I never settled for anything but the best when it came to selecting faculty, sector-specific expertise and industry experts. The ordeal of convincing others of the credibility of a nascent course and encouraging professors to teach has now revolutionized into an unparalleled functioning system," she comments.
At NMIMS-Pravin Dalal School of Entrepreneurship and Family Business Management, Prof. Seema Mahajan has used her strong international connect to help students delve deeper and understand world-class business practices from countries like Italy, Germany, Spain, and Belgium, China, Japan, and Korea. With a strong social connect with each student, Prof. Mahajan and her team play an important role in mentoring & transforming family businesses, structuring operations, settling family disputes, handling crisis, laying down governance systems, and assisting in business expansions and diversifications. She believes that one has to become an integral part of the family to deliver the best. She further believes that faculty members at her school are oriented towards leading the role of CHANGE AGENTS and contribute in family business growth story.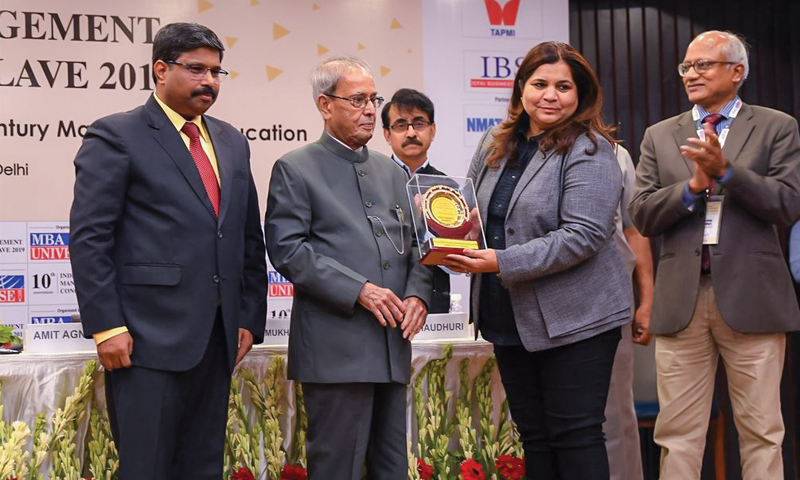 Today the PD School of Entrepreneurship and Family Business Management is proud of its alumni of over 4000 entrepreneurs with turnovers ranging from 30 crores to 4500 crores and holds not less than 00 young entrepreneurs on campus at any given time. The School has led more than 20 delegations outside India to learn best business practices and over 2000 entrepreneurs have been benefitted by this. She's very happy to say that her very successful alumni was "Made in India". Furthermore, the school enjoys retaining clientele as more than 71% of the students joined this course merely by word of mouth and have trained the different generations of the same family.
Breaking Old Education Norms Like a Pro
While growing up, she like her peers did not enjoy the freedom to ask questions to her teachers and enter into a discussion with them. She reminisces that learning at that time was prosaic – a constrained concept where there was no reciprocity of ideas; a one-way exercise and learning was predominantly theoretical. However, when it was her chance to change this situation, she kept no stone unturned. "I, along with my colleagues, have tried to break this age-old notion where the lecturer is regarded as the treasurer and importer of knowledge. Professors teaching today are readily open to advice, opinion and several spectrums of solutions. Classes involve sufficient practical demonstration and activities outside the classroom which is crucial to the amalgamation of a corresponding diversity in skills," she says.
Looking back, she says that the success of her initiatives has instilled in her a sense of confidence and has reinforced the spirit for all future endeavors. "However, I have learned to remain humble through all my achievements. I have also learned the importance of harboring problem-solving skills, which have not only helped me become a more empathetic person but also allowed me to think more rationally and profoundly. I now accolade myself to be approachable and apply this talent regularly, ranging from helping a student from time to time to resolve issues in management," she concludes
PENNY FOR THOUGHT
Ms. Seema understands that the education system is changing with every technological innovation, and hence is imperative to stay ahead of these tech improvements. "Keeping pace with these altering requirements and advancing technology is of prime importance to me. This way we stay ahead of the game and allow the students to blossom in the right environment," she comments. A staunch advocate for gender equality, she urges families that still believe women must belong in the kitchen, to change their mindset. Manifesting the "go-getter" attitude, she exclaims, "It is high time the society acknowledge that women are not simply breadmakers, they are breadwinners too!" This advocacy is reflected in her professional life too, as Seema has a zero-tolerance stance for any kind of discrimination. Her students go through the same procedure for entrance and are given equal opportunities throughout the course of five years.
Related Articles