In 1983 Bhanu Athaiya became the first Indian to win an Academy Award for her work in the movie "Gandhi". Since then, a total of 5 Indians has held the gold-plated bronze knight. Only 5. It is surely not for the lack of incredible talent that we do not have more Oscar winners. The Indian movie industry has time and again showed the need for a place of learning, where students are pushed out of their comfort zones to test the limits of their creative thinking ability and can return to their roots to create art that showcases brilliance.
Meghna Ghai Puri grew up watching her father, Subhash Ghai, create masterpieces on the big screen. She saw what good movies do for the public, as movies can drive home a point more effectively than any other medium. Mr. Ghai was first a teacher at heart and then a filmmaker. He dreamt of setting up a place of learning where like minds share their experiences to create a generation art wizards. He called for Meghna, who was in the UK at the time, to start working on such an institution. She immediately returned home to fulfill her father's dream, and along the journey his dream became hers. Thus was born, Whistling Woods International.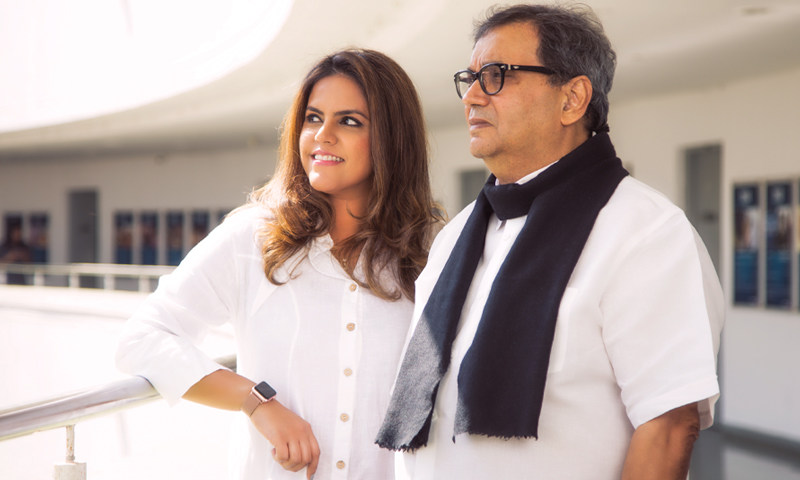 When she flew down from UK to join the 4-member team, WWI was just in the ideation stage. It took 6 years for them to come with the proper blueprint of what their vision would look like. "In those 6 years, we visited several film schools all over the world and spent years putting a world-class curriculum together. We worked vigorously to make this a state-of-the-art institution. A lot of time was invested in the research and planning of the entire infrastructure. We worked together for everything, be it the architectural design of the building to course curriculum design, finalizing the faculties,  marketing, finance, HR, etc. Then we finally took in our first batch in 2006. It soon became my core team and my responsibility to take it to the next level and to make his dream come true. In the process of doing so, his dream became mine. It has been a journey full of ups and downs and I have cherished every moment of it," she recalls.
Today, Meghna sits as the President of Whistling Woods International, keeping alive her father's fire for creating art champions. "At Whistling Woods International (WWI), we encourage our students to push their academic and artistic limits and make the most of their time in academia. WWI is perhaps the only film, communication, and creative arts institute in India that adopts a holistic approach towards education. Through our various schools, we always try to equip our students with the latest theoretical and practical advancements, while exposing them to a wide range of opinions and viewpoints through regular masterclasses and workshops conducted by industry experts. Our student body is also exceedingly diverse–something that we actively encourage–with students from across India and world associating with each other and exchanging ideas and opinions. All of this is complemented by our faculty, who are some of the finest minds in their respective fields, and continuously work to open the minds of those they teach," says Meghna Ghai.

Of all the awards and recognitions that WWI has garnered under Meghna's capable leadership, she considers the success of WWI alumni as the greatest achievement. Today, the institute's 2200+ alumni body includes highly successful professionals playing key roles in India's rapidly growing Film, Media, Entertainment, and Creative Arts industry and working in various creative arts industries around the world. Having studied in India and the UK, where she did the International Baccalaureate in high school and study Management at Kings College London, Meghna is no stranger to the shifts in education in India and abroad. She says, "The biggest recent development in the Indian education sector has been the Draft National Education Policy (NEP) 2019. The introduction of new educators is bound to have a net positive impact on the sector. Their arrival will be accompanied by an infusion of funds, allowing for world-class teachers to be recruited and trained."
She further adds that E-learning and digitization have opened new and exciting pathways within the education
sector allowing a vast number of people to attain knowledge and qualifications. "Whistling Woods International has always been at the forefront of advancing the education sector, and we've done so in this instance as well with the introduction of the WWI Virtual Academy. Our pioneering e-learning platform offers video-based courses across multiple creative fields. Through the melding of technology with our unique teaching methodologies, the WWI Virtual Academy allows
aspirants from across the country the opportunity to explore a career in the creative arts through a flexible, state-of-the-art curriculum."
Needless to say, due to the strong bond that the father-daughter duo share, Meghna holds her father as her mentor. She also holds her mother, who has helped her build a solid value system, as her pillar of support. "If I had to pick someone from outside my family, it would have to be former British Prime Minister Margaret Thatcher. An intelligent, forceful woman, she reached the heights of political success in a profession and era dominated by men. Her steely resolution, her determination to do what she felt was right, and her unwillingness to back down in the face of adversity are all fantastic traits and have been a constant source of inspiration throughout my career," she comments.
Speaking of women empowerment, Meghna says that perhaps the greatest single obstacle preventing women from progressing to leadership roles is an inherent societal bias against women in positions of power. This is despite the fact that over the past decades, women have thoroughly eradicated any doubts that may have existed about our capabilities. This bias prevents women from receiving the recognition they are due and serves as a constant hindrance throughout their careers. Encouraging every working woman to write your own rules, reach for success with both hands, and never lose faith in yourself, Meghna iterates that no matter the circumstances, the only person with the power to shape your future is you.
"I am proud to be a part of the women tribe who have made great strides in recent decades, and I eagerly look forward to the day when we don't need to discuss the difference between men and women anymore. The present-day urban woman is independent, strong-willed, and knows their mind. Maintaining a steady career and family is empowering for a woman and boosts their self esteem. My only advice to every woman would be, people will tell you what to do; it is your decision in the end. Most importantly do what you love and love what you do. There is nothing more fulfilling than to be doing something that makes you happy," she concludes.
PENNY FOR THOUGHT
If we're to change mindsets and encourage girls in India to aspire for education, we need powerful voices across the gender divide lending their support to the cause. But even more important is changing opinions on the ground. This can only be achieved by educating the populace, especially in rural areas of the country, on the potential futures that education can unlock. If we're to fully utilize the untapped potential of India's female population, we need everyday heroes, like how Malala's father was to her, to step up and support their girls' dreams.
WORKING WITHIN THE SOCIETY, FOR THE SOCIETY
Whistling Woods International, through its course of operation for the past decade, has proudly associated with several NGOs, namely, Salaam Baalak Trust & Aseema to offer a scholarship to underprivileged students who are extremely passionate about making their careers in the media and entertainment industry. The institute has also partnered with initiatives like Laadli – A Population First Initiative, creating awareness about gender equality, women empowerment, female foeticide and cherishing every child; KASHISH Mumbai International Queer Film Festival, sensitizing the larger public about LGBT issues; and Be The Change – Varija Life Initiative, spreading awareness about the abilities of the physically & mentally disabled individuals and including them in mainstream society.
Related Articles