Arshleen is an MBA and PMP certified professional with over 18 years of experience in Training & Education across India, US, LATAM, Africa, ASEAN & UAE. She has led large scale operations, training functions, programs & projects in the areas of end to end learning life cycle & product management for corporates, universities, and schools. In her current role at KLAY, she manages 'Academics and Service Delivery' and is responsible for all academic functions including devising Academic Strategy (Digital/Non-Digital), Frameworks, Design and Delivery.
 At the risk of sounding cliched, I will go out on a limb and say that these unprecedented times have nudged individuals, organisations, and the community at large from its comfort zone. Industries of the world are rethinking their survival strategies, and the education landscape is no different. 'Virtual' is the new normal, and the academic learning of a child has become a collaborative and highly coordinated effort amongst education providers, educators, and the parents. Roles are blurring, and parents are playing an equal role as facilitator to contribute to their child's learning. The education system has gone online overnight, and we have been forced to adapt. The fundamental question to address here is – will it change the way a child learns? Are we contributing to the holistic development of our children, or is it pure academics?
It is critical to answer these questions when it comes to early years education specifically for the age group between 3 to 6 years. In my own humble way, I will try to address this in my piece.
Lifelong Learning as the Goal
Research says that children learn faster as compared to adults. In the early years too, new experiences drive children intrinsically to learn and explore. They adapt to change quickly given they feel safe and secure in their environment. Whether the modal of learning is online or offline, it is essential to make the child feel comfortable and help in building connection and trust with the teachers and peers. While teachers are acting as a conduit between the digital and the real-world experiences, the transfer of skills may not be possible without parental support. Parents must get involved in the digital learning journey of their child until the child smoothly transitions and gets familiar with the routine.
Special Circumstances, Differentiated Approach
'Screen time' is inevitable in the current situation and opting for an online learning program can make a parent anxious as the children are engaged continuously in screen activity. While choosing an appropriate program for a child, it is essential to remember that children learn by interactions and active participation. In the early years, the attention span is too short. To engage children meaningfully, the learning environment should provide various opportunities to explore, observe, inquire, express, and collaborate. Learning content should be engaging and exciting to grasp the attention of all kinds of learners – Visual (children who learn by seeing like -pictures, colours, visual), Audio (children who learn by listening like rhymes, music, stories ) & kinaesthetic (children who learn by doing activities or process knowledge through bodily sensations). Every child has a primary learning style along with others in varying degrees. 'Interactions' through back-and-forth information exchange and with the help of various learning tools is the key. Considering the minimal real-life connections in the current scenario, such enriched online interactions will support the social and emotional development of a child.
Focus on Holistic Development
Amid the pandemic, the idea is to look for educational opportunities. However, it does not discount the time and effort we can put into our child's holistic development. As individuals, we all are overwhelmed with our work and household commitments. However, at a family level, this situation is a blessing in disguise. Each conversation with our child is an opportunity to nurture and deepen the bonds between other family members and us. Children learn through the reflection of the world we project to them. A child is continually observing and experiencing life through us, so it becomes imperative to help child contextualise or associate his/her world to the real world.
Finally, Being Prepared does not Hurt
If the child is not settling into the online/offline schooling program or daily routine, have lively conversations with the child to ease out the familiarity with the unknown. Make the child understand the importance of that one-hour spent on structured learning. Ensure the child has everything ready before the class as it helps in peer learning and active participation. No child should feel left out when other children are participating in activities just because we could not expend time to organise resources for the same. Children will take control of their learning only when they will see us focusing on their learning schedules.
Early Years Matter!
Neuroscience research on brain development demonstrates that 90% of the child's brain develops in the initial 5 years of age. The rate of development is rapid during these years, and thus there is a need for continuity in learning to help the child achieve the developmental milestones. At this stage, we should certainly choose a structured learning program, either online/offline or follow a structured plan at home under the supervision of a trusted adult. It is also essential to provide continuity of the learning in subtle ways while engaging with the child within the household or the current living situation.
According to a report based on UN data, the crisis has "turned back the clock" on years of progress made on kids' well-being and put children's rights under severe pressure across the globe. Each day counts, and as educators or parents, we need to manoeuvre the child in the right direction. It will not only facilitate a smooth transition to real classrooms in the future but also help in the life ahead!
More About Arshleen Kalra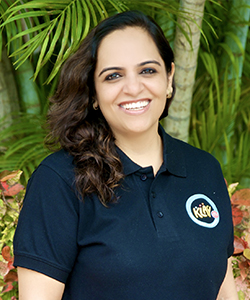 Arshleen's focus is to bring in innovative methods for learning and teaching. She is also responsible for the process and people enablement across all the schools to ensure standardisation in quality of education, services and child's overall experience at KLAY. Before KLAY, she has worked with large groups like Bharti Airtel, Zee, Videocon & ArcSkills (GEMS Education). She has also been associated with MoRD & ILO in rural entrepreneurship & skill development space. Her passion lies in upskilling teachers and improving the quality of learning for children at underprivileged schools. She is also an advocate of yoga and meditation for ensuring work-life balance.
Related Articles