Machine replaced muscle in the first industrial revolution, and mass production emerged in the second industrial revolution. The third industrial revolution brought the computer and internet while the fourth industrial revolution is endeavouring to combine the physical world with the cyber and bio world. The next wave of excellence, Industry 4.0 is optimistic as well as complicated. It is going to mould, nurture, develop and mentor everyone dextrously. Impacting areas like manufacturing, healthcare, agriculture, and even social equality, Industry 4.0 is going automate many jobs that are existing today.
It has become quite imperative now for academicians, universities, and business schools to prepare the students in a systematic way to face the challenges of Industry 4.0. "We are progressing towards the new wave of excellence by making our students confident and job-ready. Our curriculum is updated from time to time according to the emerging needs of the industry and strives to be the forerunner in this regard", says Dr Raghu N Prabhakar, Director of Aurora's Business School (ABS).
Deputing faculty members to various orientation programmes, ABS has provided them with the industry exposure and kept them well aware of the latest trends in business. The institute also trains its faculty members through faculty development programmes, workshops, seminars, and debates, helping them acquire the newest knowledge and updates in the industry to impart the best theoretical and practical experience with the help of latest and live examples to their students.
Having strong linkages with industry bodies and professional associations like CII, HMA, IMA, National HRD Network, ABS has corporate memberships of these bodies and take active participation. Regularly organizing industries-institute interaction, the board of ABS comprises of senior executives of the industry. "We invite business leaders to interact with our students for guest lectures and as resource persons for various events", points out Dr Raghu.
About Aurora's Business School
ABS was established in 2005 by the Aurora Education Society, which has 29 professional colleges offering undergraduate and postgraduate courses in various fields. It also provides PGDM in six different streams in full-time, part-time, and executive variants. With world-class syllabus, the institute follows the best in class pedagogy, with a focus on interactive and experiential teaching-learning practices. Following a trimester system and continuous evaluation, the school offers courses that are industry-oriented and are designed to secure placements for students. "We also offer several add-on courses to promote the employability of students and our strong placement team helps secure Summer Internships for all their students and final placements to all registered students", adds Dr Raghu.
Creating various platforms for improving the quality of education through virtual classrooms, webinars, teleconferences with industry executives and top academics, the students of ABS greatly benefit from the knowledge and insight they gain through these sessions. ABS consistently figures at the top, prominently in many All-India Surveys of B-Schools. Securing top honours like the Business School of the Year, B-School with High Industry Contacts, No.1 B-School in South India, Best Pvt B-School in Telangana and many more, from time to time.  "What distinguishes us from other B-schools is that we impart social commitment in addition to professional competence to our students. We motivate our students to follow business ethics and consider entrepreneurship. With updating our curriculum regularly, we try to suit the ever-changing needs of the industry", opines Dr Raghu.
Stepping into the Future
Innovation and creativity are the skills that have been most sought after from business management graduates across business and industry. ABS explores literature around theories of creative potential and performance, which include creative identity, creative mindset and creative self-efficacy. Also, ABS offers 'Creativity and Innovation in the Business Industry' as a course for our students to enrol into. In ABS, the students are encouraged to participate in the annual start-up competition with prize money of Rs. 10,00 to Rs. 15,000 to promote entrepreneurship among them. The students also participate in business planning competitions, which was started by the college to initiate and encourage the start-up culture among the students.
During the management fests hosted by Aurora's Business School, the students host the entrepreneurship competition, where they gain hands-on experience and an opportunity to learn. Professionals are also invited to give them a practical insight to the students. "We facilitate our students to consult non-profit organizations and small business units to understand the contributions of a start-up business and work in tandem with students as an aid in business launching and obtain results through market research", adds Dr Raghu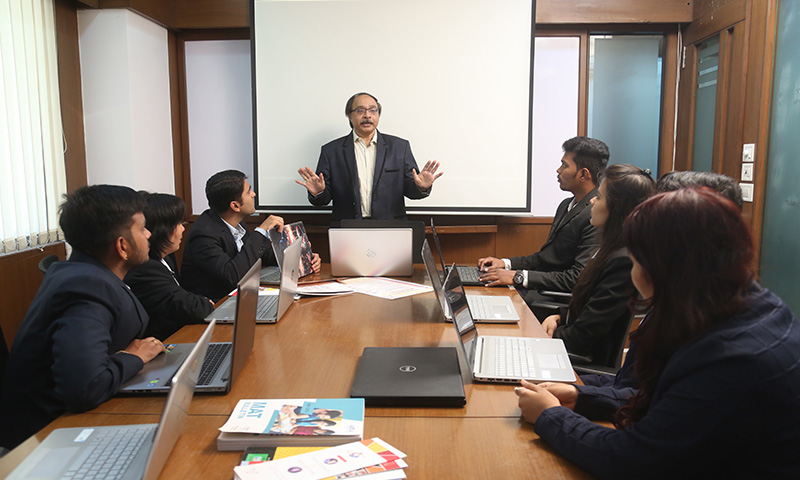 When it comes to finding the best employment opportunities, ABS has provided 100% Summer Internship Placements, conducted in-campus recruitment training programmes, to provide value-added certification courses of NISM, Husys, Digital Marketing, Cambridge Business English. The students of ABS has received packages up to Rs. 17.5 lakhs per annum. About 95-97% of our students are recruited in campus placements, while the rest secure their jobs through other means. "In 2019, our students were placed in companies like ICICI Bank, Axis Bank, Karvy Stock Broking, Bajaj Finserve, Cogniz Capital, US Tech Solutions, Aditya Birla Group, Cognizant, and Wildcraft to name a few", points out Dr Raghu.
Paving the road ahead to enter the competitive industry, ABS aims to get 100 per cent placements and increase the package average to Rs. 7 lakhs per annum. Dr Raghu concludes, "We wish to promote diversity through our campus and hence, we are planning to devise ways to attract more students residing outside of Telangana and get them to study in one of the top businesses schools in India."
Dr Raghu N Prabhakar, Director
Director of Aurora Business School, Dr Raghu N Prabhakar has received his doctoral degree in Management Studies from Acharya Nagarjuna University. In his professional career, he took up research studies in Marketing, Marketing Management, Management Information Systems, and Human Resource Management. As a part of the Aurora Business School, he has been moulding many management students into a global business leader, with his unique administrative, academic ability, and ripe experience.
Related Articles