Describing the growing trend towards automation and data exchange in technology and processes within the industry, Industry 4.0 is something that needs to be adapted into Higher Education Institutions to change and subsequently upgrade their programs to equip students for the highly digitized and automated environment. Smart education would be a natural progression in Smart cities, a framework for which is still emerging but would require preparing academicians for this digital transformation. "The universities and academicians need to understand that the students should be encouraged to develop a new mindset and to be ready to adapt changes brought by Industry 4.0 as quickly as possible", opines Prof. (Dr.) Sharad Kumar Goel, Director, Indirapuram Institute of Higher Studies (IIHS).
Taking the principles of Industry 4.0 into account, the academic curriculum is redesigned regularly at IIHS. Merging theory with practices and the concepts of information technologies incorporate virtual resources, virtual learning environments to transfer and develop knowledge and skills. "To provide the latest practical knowledge to the students, we host guest lectures by renowned industry experts regularly. Internship in the industry also makes students abreast with the latest trends and technology. National and international industrial visits, conferences & seminars are also organized. The development of soft skills is encouraged as they are demanded by the advanced automated industry. This also ensures job opportunities for humans rather than machines", opines Prof. Sharad.
One of the top 10 institutions in Delhi NCR, Patna, and Ayodhya, IIHS was established with the motive of providing a platform of learning to the students and hone their skills in the field of Management, Information Technology, Commerce, Mass Communication & Journalism so that they can reach the zenith of success in their career. Envisioning to develop professionals who are committed to excellence in their endeavours through continuous competency building, IIHS aspires to encourage, support and celebrate intellectual curiosity and impart value-based education for the purposeful citizenship and socio-ethical leadership. "We are committed to a long-term mission of grooming professionals par excellence. We aim at empowering students of business with the knowledge, skill, attitudes, and learning experiences, which are a prerequisite for transforming them into inspired and responsible leaders who create value in their respective industries, service, business, and occupation and influence economic growth and societal advancement.  IIHS motivates them to grow academically, professionally, socially as well as spiritually in a stimulating campus environment", opines Prof. Sharad.
Embracing Remote Education
Currently, going digital is an immediate, effective, and a necessity in the education sector. To ensure continuity in learning, institutions are required to develop robust online platforms urgently. With the admissions for the upcoming academic year being full of confusion, A considerable drop can be expected in enrolments for higher education and more challenges can be faced with tuition fees and other infrastructure costs. On the other hand, more cost-effective programs with reformed fee structured can be created.
A blend of e-learning and mainstream face-to-face teaching with a boost from traditional universities and the ed-tech sector can be seen post-pandemic. There will be a constant need for Innovative collaboration and alternative paradigms to drive learning, research, and teaching. Sharing of knowledge between institutions globally through joint-teaching, virtual guest lectures, etc. could give students an enriched global perspective in these difficult times. "We are completely geared up to face these challenges. We have revived our curriculum as per the online format. The faculty is being called upon to redesign e-course content to meet the current and future needs. With our highly qualified, experienced faculty and effective tools, we can ensure that students stay motivated, involved, and active in the learning process", adds Prof. Sharad.
With the Pandemic causing the institution to immediately shut down and shift to online teaching, IIHS hardly had enough time to plan, prepare, and to reflect on the potential risks or opportunities. With poor connectivity and other technical difficulties along with a large section of students from underprivileged backgrounds living in remote areas having no access to the internet, the institution did not have the required infrastructure and the curriculum for online learning ready initially. This dull format created the risk of most of our students become passive learners. The majority of them were observed getting frustrated, de-motivated, and eventually losing interest due to distractions, low levels of human contact, and attention span. "To reach out to the students, our committed faculty quickly learned the technology and followed the innovative means like online classes, video lectures, video links, online tests, and assignment submissions. Students are equally appreciated for their active participation. They were kept motivated so that they can learn with all zeal and vigour. After completion of the syllabus, an online exam was conducted for all courses through the IIHS online exam portal. The entire teaching-learning and evaluation process was completed successfully during lockdown", says Prof. Sharad.
One of the most significant challenges witnessed by all, IIHS is taking all the measures for community awareness and safety to fight the pandemicPandemic. The institution has adopted online learning platforms to impart education to their students, and regular sanitization of the entire campus has been done post lockdown. Accepting Social Distancing and Digital Proximity as the new normal, Prof. Sharad adds, "Social and digital media are being used extensively for awareness about safety measures to parents, students, all associates, and stakeholders. Further, to maintain social distancing, our faculty and staff have been called to perform their duties on a rotational basis.".
To maintain continuity and enhance the quality of business education, IIHS has offered value addition for students through user-friendly technology provided by several online meeting apps like Zoom, MS Team, Google meets and Webex, etc. To ensure student engagement and knowledge enhancement, weekly online quizzes in the different subject domains were conducted, and an overwhelming response has been received from across the country. 45 days of online training in retail management was successfully arranged in association with Elena retail training of Future Group. "Students have undergone online summer internships, done research projects, and submitted project reports to the respective faculty mentors. During this process, students were kept in touch by the faculty mentors for guiding report writing and for periodic review. Viva voce of the dissertation submitted by the students was also conducted successfully through online mode", says Prof. Sharad.
A Stepping Stone to the Industry World
With the fast evolution of the business environment and the vast transformations throughout the academic realm, the importance of industry-academia collaboration has increased more than it has been. The robust industry and educational partnerships have become a need for a developing country like India. This collaboration would not only enable the growth in the education system but also lead to innovation and production of an employment-ready workforce. "In our endeavour to this direction, we have collaborated with many top-notch companies like LG, Patanjali, IIFM, Future Group, etc. The Companies are benefitted to have access to the latest research results and innovative new methodologies by IIHSians. in return, they are getting hands-on training and business insights from the companies. This interactive approach helps make the budding managers ready to be absorbed by the industry and achieving employability to a great extent", adds Prof. Sharad.
Despite this critical time, IIHS has achieved 100% placements for its students in the industry. "Students appeared for campus interviews in Urban Clap, Tommy Hilfiger, HDFC Life, KPG99, Denawe India, Service Kaart, Dyfolab, Lenovo Motorola, etc. Six students got placements in HDFC Life and Amazon, whereas eight in KPG99. Two students are recruited by Service Kaart whereas four by Denawe India. One student got hired by Lenovo Motorola. One student got hired by Byjus. All these students were placed through campus placement drive whereas four students were self-placed", quips Prof. Sharad.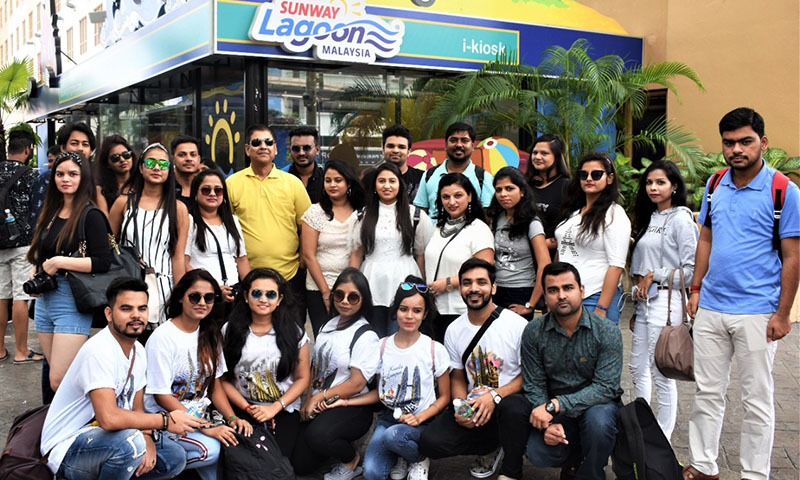 Getting students ahead of the race of employment, IIHS's collaboration with industry mentors from ITC, Amazon, Coca Cola, and many more, ensures that students experience the corporate structure, life, and culture during their journey of 2 years in the institution. This helps students understand the industry structure and workings of different sectors of the industry even before their professional life starts. "Besides customary management education, IIHS induces entrepreneur skills in its students to unlock their leadership quality and analytical abilities. They acquire the skill set not only to become employable in any company but also to start their venture", adds Prof. Sharad.
Using several active learning techniques to engage students, and encourage innovation and creativity, IIHS has implemented a design thinking process to acquaint students with the dimensions of creativity through brainstorming, perspective taking, metaphorical/analogical thinking, and sensory creativity. "At the same time the students are advised to have perseverance, patience, and preparation as these are the prerequisites for creativity", says Prof. Sharad.
Majorly focusing on acquiring prospective students, revenue generation, and maintaining sustainability, IIHS plans to revamp their branding and positioning through pricing strategy, cost reduction, and collaboration with industry for achieving the objectives of training development and employability of the students. IIHS is also developing strategies to ensure that no seat is left vacant. To improve academic quality, IIHS is all set to offer value addition programs in Data Analysis, Digital Marketing, Cloud Computing, Banking & Finance, etc. "We are also initiating value addition courses in Human Values so that the students not only become the effective professionals but also the good global human beings", concludes Prof. Sharad.
About Prof. (Dr.) Sharad Kumar Goel
Prof. Sharad Goel has earned & awarded Doctorate of Philosophy (PhD) in Business Administration & Commerce and done Post-Graduation in Business Management (PGDBM) from the Institute of Management Technology (IMT), Ghaziabad. He has served the Indian industry for 20 years before coming to join full-time academics in 2002. He has having a total work experience of more than 35 years in Teaching, Industry, Research & Consultancy. Before his joining at IIHS he has served as the Director & Sr.Professor at Various leading B-Schools & universities like IMS, Jaipuria Business School, University of Petroleum & energy studies ( UPES) etc. He is regularly delivering lectures on domain areas of Strategic Management, Energy Management, Airline Marketing, CRM, Marketing & Sales, IB, Logistics management, FMCG Marketing, and Digital & Internet Marketing. Prof. Goel is also engaged in Training, Research & Consultancy in the area of Energy business and FMCG Marketing. He has edited chapters, done Reviews & written 12 books and presented over 100 papers for publications in UGC care, Scopus & filed Patents.
Related Articles