What does it take to make a perfect business school? Different experts may list out various factors. However, personal attention, small classes, student-centred education, outstanding teachers, and proactive collaborations with blue-chip companies are a few essential parameters that every business education aspirant need to consider while selecting a school for their studies. Amalgamating all these crucial factors in its education is Chitkara Business School (CBS) located in Punjab. Started in 2008, CBS is ranked among top 100 B-Schools of India by NIRF rankings from MHRD and top 70 B-Schools of India by Business World, India Today, Business Today, Outlook, Academic Insight, and several other magazines. Being one of the fastest-growing Business Schools of the country, CBS has carved its niche in the business management education category.
CBS offers MBA programs in 12 different specialisations namely Marketing, Finance &Banking, HR, Business Analytics, Event, Media and Entertainment Management, Healthcare Management, Healthcare IT, Public Health, Logistics and Supply Chain Management and Rural Management. On the undergraduate level, the institute has BBA programs in Fintech, Business Analytics, and other specialisations such as Retail, SCM and Logistics, Digital Marketing and many more. CBS also offers B. Com programs with a specialisation in Capital Markets, International Finance and Accounting and Cost and Management Accounting in partnership with ACCA and CIMA. Recently, CBS added BA (Economics) in the bouquet of undergraduate programs. CBS also offering PhD programs for Industry Executives through its Doctoral Research Center.
Industry-Oriented Training
"Programs at CBS are driven by industry. Our partners help us developing Curriculum as per latest industry requirements, provide skill-based training to our students, Co-teach with Faculty in the classroom, strong internship networks and live projects make our business programs unique, hands-on and useful for young aspirants," Dr Madhu Chitkara, Pro-Chancellor, Chitkara University. Harvard Business School Online for professional courses, Ernst & Young for Business Analytics, Fortis for Healthcare Management, Safexpress from SCM and Logistics, Bombay Stock Exchange for Financial Markets, Frost & Sullivan for Healthcare IT, KPMG for our Accounting programs, and Imagine XP for Fintech programs are some examples of reliable partners of CBS across the segments. "These partnerships are not restricted to A4 size paper agreements," pinpoints Dr Madhu Chitkara.
The Curriculum of various business programs at CBS comes from industry. The institute has several academic bodies in place to identify the changing needs of industry and update the Curriculum as per requirements. Power BI, Data Analytics tools, Digital Marketing, Fintech, Sales & Retail Marketing, Healthcare IT, Rural Management, Event, Media and Entertainment Management, Accounting for Managers with KPMG, F&A process by EY, Financial statement analysis by Moody's, are few among the many examples to quote for business programs of CBS.
Dr Madhu Chitkara opines, "Curriculum acts as fuel of the complete system. Our Curriculum includes winter internship of one month with NGOs/small units of industry and 3 months of a rigorous summer internship to keep the programs hands-on at MBA level." BBA/B.Com programs at CBS have internships at every semester end. "Other than curriculum, we offer strong foundation program at the beginning of the business programs every year which covers the affirmative skills required for the students," adds Dr Madhu Chitkara.
For communication, CBS teaches English language skills through INLINGUA. Students of CBS have the opportunity to learn German, Mandarin, and French on campus in addition to English through its School of Languages. Market Exposure Program at Mumbai, International Immersion program and industry projects also keep CBS students ahead of latest skill requirements by industry.
Offering an Excellent Learning Experience with the Help of a Strong Faculty Pool
With dedicated and robust faculty strength of over 60 researchers, practitioners and academic brains in the areas of strategy, finance, HR, marketing, analytics, rural management, financial markets and healthcare management, CBS is capable of providing best of learning experience to business students. Dr Madhu Chitkara shares, "All the faculty members have working experience. They are researchers and consulting various organisations in the region. Besides this, there is a strong visiting and adjunct faculty of around 50 professionals who support learning and with more practical insights and exercises." At the same time, the institute focuses on developing and incentivising their business faculty in their domains.
Several faculty members at CBS teach overseas with its international partner universities. Many of them are core researchers and innovators attached to CURIN (Chitkara University Research and Innovation) and Centre of Entrepreneurship Education Development at Chitkara University to support Start-up efforts of their students. "Our University has filed more than 200 patents, and more than 100 start-ups are active. Our faculty members are also mentoring special entrepreneurship batch of CAP (CEED Accelerator Program) in which students of all disciplines are taken to the next level of entrepreneurship in the last year of their degree program," affirms Dr Madhu Chitkara.
CBS is also a strong advocate of Outcome-Based Education. For MBA programs at CBS, the outcome is either to get a job or to establish a start-up for providing jobs. Dr Madhu Chitkara says, "Best of the companies from several industry segments offer lucrative job opportunities to our MBA students on campus every year." Companies such as Deloitte, Evalueserve, eClerx, HDFC Bank, Moody's, CIAN, TIAA, Wipro, Trivago, DHL, Fortis Hospitals, WHO, Max Hospital, Mondelez, Kellogg's, ITC, Dabur, Nestle, Safexpress, BSE, Morgan Stanley, and many such brands offer campus placement opportunities to CBS business students.
Today, business programs of CBS focus more on affirmative skills of the students. "The objective of focusing on affirmative skills is to increase the possibility of employment after their MBA programs," says Dr Madhu Chitkara. Training in SEO, Digital Marketing, AI and ML, Blockchain, Data Analytics tools like Tableau, Python, R Programming, Financial Technologies (UI and UX), Data warehousing, cloud computing, Language skills, E-Commerce and M-Commerce technologies and several other related subjects help all CBS business school students gaining best of the learning experience and starting with bright career from campus.
Availability of the Much-Needed Global Exposure
With the help of its International Office, CBS provides seamless opportunities for students to travel across the world. The opportunities include semester exchange programs, 15 days to 1-month summer schools, international internships, 1+1 or 3+2 programs, Skill enhancement programs, Immersion programs and many more. "Our students take on several joint research projects with students of international partner universities," pinpoints Dr Madhu Chitkara. Nearly 30 per cent of business students at CBS travel abroad for several academic and co-curricular activities. Dr Madhu Chitkara adds, "Close to 20 of our alumni students completed their professional upskilling courses through Harvard Business School Online. Nearly 50 of our students have been to Harvard Business School for Harvard MUN. Around 14 students visited the London School of Economics for 15 days of summer programs. Such exposures make them really think like global managers."
Firmly believing in its logo 'Explore your potential' Dr Madhu Chitkara and her team at CBS has many ambitious targets. "Our plan is to get national and international level accreditations for business programs. We also aim to start business programs in the family business and entrepreneurship and Executive MBA Programs for Industry professionals in the near future," explains Dr Madhu Chitkara. Recently, the institute has been ranked 75th by NIRF, Govt of India ranking among top B-Schools of India including IIMs. Today, CBS is aiming to improve the performance and rise above in national rankings for business programs and find a place in international rankings as well. "We set our benchmarks and always strive to cross those limits and set new standards. Our competition is within, and we strongly believe that by 2025 we will be the first choice of industry, parents, students, and faculty," concludes Dr Madhu Chitkara.
Dr Madhu Chitkara, Pro-Chancellor, Chitkara University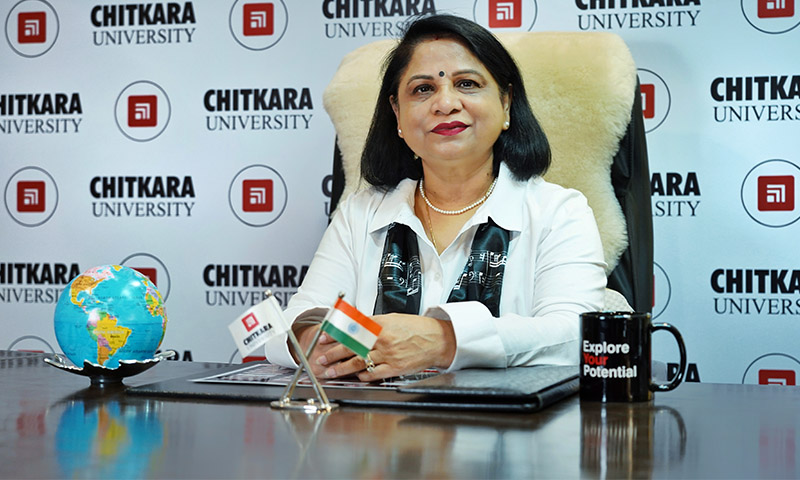 Dr Madhu Chitkara is one of the co-founders of Chitkara Educational Trust, an organisation of great repute and distinction. An eminent academician and an innovative entrepreneur, she has articulated and designed the road map for the Trust, and has actively contributed to its tremendous growth and recognition in all these years, and continues to spread the light of education in the life of tens of thousands of people.
With a passion for academics and great business acumen, she has had a diversified career and variegated experience in the field of education, spanning almost four decades. Knowledgeable, focused and a strategic leader, Dr Madhu Chitkara has adeptly managed numerous academic ventures and remains a true leader who 'leads by example' – is warm, sincere and always willing to walk the extra mile to deliver on her promises. Her support to several humanitarian causes, in association with various NGOs, is indeed a tribute to her philanthropic nature, zest for life and desire to transform other's lives for the better.
Dr Chitkara, fueled with a Bachelor of Science (Honours) in Mathematics, Bachelor of Education, Master of Education, Master of Science in Mathematics and a Doctoral Degree in Education, has relentlessly worked towards developing and providing an environment which offers the best of teaching & learning pedagogies for the pupils.
Related Articles