At JD Institute of Fashion Technology, a 'one size fits all approach to education does not bode well with what they believe in. With the aim to change how people perceive design, the institute focuses on the uniqueness of each student and their specialized skill sets to nurture them and help them grow. "Through our courses, diplomas, and more, we strive to make India one of the major design hubs in the world. JD Institute focuses on three main pillars: Innovation, sustainability, and being eco-friendly. With this in mind, we drive students to think outside the box, to create novel ideas and solutions to today's problems," says Yogesh Dalal, Trustee, JD Educational Trust. 
Since its inception in 1988, JD Institute of Fashion Technology has been at the forefront of innovation and creativity. With its Annual Design Awards, they provide students with a safe space to promote avant-garde thinking in their approach to design and innovation. Essentially being a fashion show and exhibition, it is a platform for students to showcase their designs through what they understand about the design process and create ethical, eco-friendly, and sustainable designs while being new and inventive. "We encourage students to research and bring a new perspective to their ideas, which help the student to bring a product from a concept to life," says Dalal.
JD Institute students are trained to create designs from scratch. With a 360-degree journey that spans over a few months, each course is specially designed to gain requisite life skills to face real-world challenges in the fashion and design industry, making students creative problem solvers. The well-rooted and qualitative library and archives at JD institute equip learners with the tools needed for research. It includes information about hundreds of years of design development, providing students with the knowledge and related infrastructure, like studios and sewing labs, to upskill their creativity, along with seminars and workshops for practical learning. "Our students are well equipped and ready to meet the industry challenges with hands-on practical knowledge. Having said that, we are most proud of our students for being responsible citizens and creating designs which are problem-solving and at the same time eco-friendly, ethical, sustainable, and innovative," says Dalal.
Being a leading institute in the field of fashion technology, JD Institute of Fashion Technology has numerous feathers on its cap. In 2017 at the Indian Education Awards by Indian Education Congress, JD Institute was named the Best Vocational Education Institute of the Year for Fashion Design, owing to their excellent courses and holistic approach to education. They also bagged an award at the prestigious Indian Education Awards in 2018 for Best Skill Learning for Fashion Design in India. JD Institute has produced significant players in the fashion industry, including Rocky S, Shane, Falguni Peacock, Maheka Mirpuri, Urvashi Kaur, Alexandra Faye, Chhaya Gandhi, and many more.
Going beyond the classroom
Apart from awards and accolades, the institute has collaborated with multiple production companies, creating costumes and interior designs for movie sets and other media. "To do justice to our dedicated focus on careers and employability, we facilitate for the students to collaborate with social innovators, journalists, sustainability and industry experts, etc., to elevate your insights and capabilities," states Dalal. 
Outgoing JD Institute students have worked with well-known brands like Tommy Hilfiger, Monisha Jaisingh, Libas, Purple Style Labs, Liva Fashion, Tarun Tahiliani,  Triedge, Anita Dongre, Pantaloons, Manish Malhotra, and Ensemble, to name a few. Many others have started their own labels and boutiques with a wide clientele and immense success. JD Institute has also opened doors for students to enter the entertainment industry as fashion stylists, costume designers, and fashion designers, styling several celebrities and several movies, magazine shoots, and T series.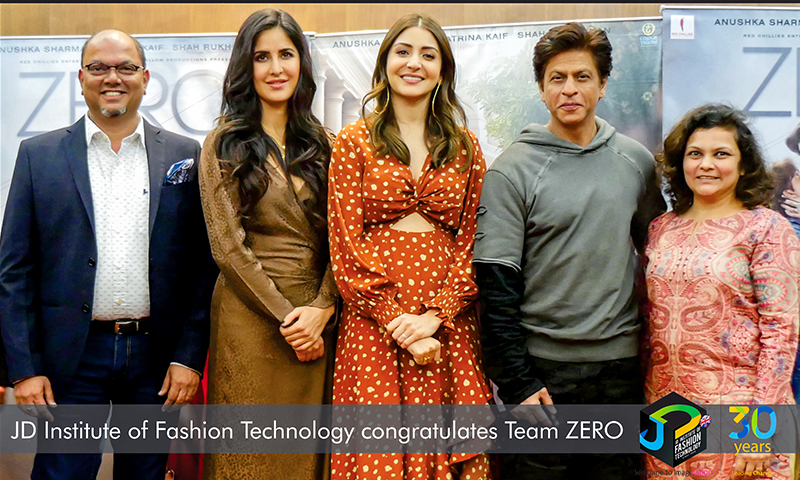 Getting creative with tech
Given the pandemic situation, most educational institutions have been disrupted. Especially in the field of design education, it becomes hard to provide practical knowledge. With no certainty of the situation going back to normal, the chances of reopening colleges and having offline classes are slim. As a versatile organization, JD Institute took the opportunity to start classes online and initiated an Online Education Department, which has unique short online courses for students from across the country. "With students and faculty members remaining confined to their homes, we keep the students engaged with virtual lectures to complete their courses.," says Dalal. Through this initiative, JD Institute aims to ensure that there is a sense of social awareness among students, enhancing their view in the process of learning and propelling them to implement the learnings to create innovative art and design. 
JD Institute not only helps students come up with innovative ideas but also has some of its own. "The structure of teaching and learning is highly affected by this sudden lockdown, but it has not been able to uproot the noble art of teaching completely," Dalal states. Keeping that in mind, students will naturally look forward to tech-savvy innovations and online learning to develop their skills and create art and design. This allows knowledge providers to explore and experiment with various online learning methods and apply and combine them with regular learning. At JD Institute of Fashion Technology, Mumbai, they develop and deliver a responsive, imaginative, and inspirational education. By collaborating with students and creating partnerships, the faculty ensure that they use the right resources and skills to reach their full potential, all while helping students sharpen their skills through practice and understand the social and environmental impact of their actions. 
"The Covid-19 pandemic has immensely helped the institute to grow in e-learning department to meet the market needs. It has also taught us that nothing can stop education and learning. The students have been very patient and adopted online learning with great enthusiasm. The lockdown has helped everyone grow in a very different way and helped the students find their niche as they had time to focus more on themselves," Dalal opines. By understanding the needs of the students, the faculty has innovated and integrated practices to discern and nurture students' skills and achieve success with in-depth learning and research-based practical learning. To this effect, JD Institute has collaborated with Singhania University and the Government of Maharashtra to develop more innovative courses in fashion, management, and design. 
JD Institute understands that education must be made an integral part in forging social and economic factors. In support of the wider education sector and society, the institute believes that we need to brace ourselves to play an active role in the effort towards recovery. This will help in the approach towards knowledge, technology, and education to improve the overall experience to be more adaptable and seek new opportunities for students. Keeping in mind the current scenario, finding smart new educational models is important. At JD Institute, they continually try to prepare students to imbibe design and technology together in their life and drive them towards success.
For more info: https://jdinstituteoffashiontechnology.com/
About Yogesh Dalal, Trustee, JD Educational Trust
Yogesh Dalal, Trustee – JD Institute of Fashion Technology (Education Division of JD Educational Trust), responsible for the strategic direction, vision, growth, and performance of JD Institute of Fashion Technology is committed to professional ethics, standards of practice, and the care of education among the youth. Continuing his family's legacy of spreading design education and creating next-generation designers, Dalal thoroughly enjoys working with students and encourages creative expression. 
Yogesh Dalal started his career in 1990, following his father's footstep won many awards for the institute namely, Excellence in Fashion Design, Interior Design & Hair and Make-up Courses in Maharashtra presented by Ms. Kareena Kapoor Khan at International Quality Awards, Best institute in Fashion Design, Interior Design & Hair and Make-up in Maharashtra presented by Priety Zinta at Golden Glory Awards and Best Education Institute for Fashion Design, Interior Design & Hair & Make-up Courses presented by Madhuri Dixit Nene at Internation Glory Awards. More than his role as a Trustee, he is also effective at persuading and influencing high-ranking individuals. He is self-directed, action-oriented with problem-solving motivation, which leads people to highly value his opinions.
Yogesh Dalal, a visionary in a true sense, is known for his remarkable spirit with maintaining consistency in delivering performance excellence by each and every student graduating every year. His innovative ideal and professional ethics make him stand out from the crowd, giving him a very valuable position in the industry of fashion. Having a very positive outlook towards every new introduction in the fashion industry and experimenting with all possibilities is what Yogesh Dalal is very well known for.
He believes that "You have only one life, live life king size."
Related Articles