Universities and colleges are expected to impart marketable skills that prepare students for the dynamic world of work. To date, students continue to graduate and employers continue to hire new talent, and this has been the norm for centuries now. Although, In the last two years, the skills gap has been widening at an alarming rate. Higher education has to re-think what its future would look like and take steps towards this future. Futuristic trends are already emerging, having been accelerated by the pandemic. With these factors driving monumental shifts, more work needs to be done by learning institutions to ensure that graduates gain relevant knowledge and skills that better prepare them for the future of work. They include online teaching and learning and the need for up-skilling.
The pandemic is an inflection point. It compels institutions to re-imagine new teaching and learning possibilities. Higher education must redefine the rigid bureaucracies that characterize the system. The idea of the Institute of Indian Aviation and Allied Management Studies (IIAAM) isn't to pursue online education as an alternative to contact higher education. Nor is online education an antidote to the sector's resource challenges. It's to optimize multiple delivery modes and embrace creativity and innovation in teaching and learning. "We are achieving this through blending teaching and learning methods to improve learning outcomes. This would also improve graduate readiness for an evolving and unpredictable employment landscape", opines Dr. Praveen G Thambi, Managing Director, IIAAM.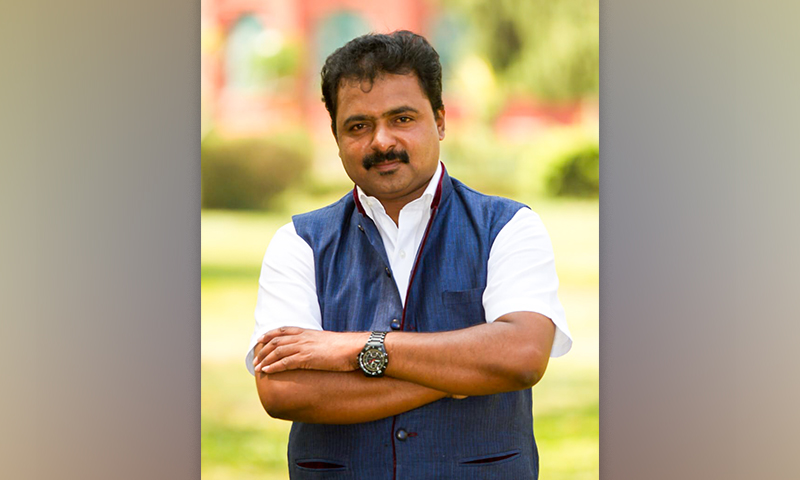 Pursuing Supremacy
Aspiring to be a premier training organization that is known and recognized nationally and internationally for its excellence in aviation training, IIAAM envisions delivering high-quality training that is recognized in the training/ education field and is widely known as a training organization of choice in the aviation industry. Maintaining a high standard of integrity and performance leading to the achievement of academic and career goals, the institute is fostering a learning community in which the diverse values, goals, and learning styles of all students are recognized and supported. "We encourage enthusiastic, independent thinkers and learners striving for personal growth by implementing cutting-edge technology that enhances instruction and prepares students for life-long success", says Dr. Praveen.
IIAAM has an effective teaching fraternity, intending to impart knowledge – ideally both content-specific and relevant to life. At times, this responsibility unfolds easily with the desired level of engagement and effort. We find an optimal academic exchange reinforcing the joys of teaching and learning. The teachers assure there is an inviting and stimulating learning climate, creating an atmosphere where students ask questions and discuss what is taught. Giving assignments during lessons, organizing discussions with students, let students think aloud, etc., are all important elements that ensure that the student is thinking about the lesson. "Most students struggle in learning completely new areas because they are not aware of their learning strategies. Hence, to improve the learning of students, our teachers make the learning process clear and discuss this with students", adds Dr. Praveen.
Actively encouraging them to attend seminars, webinars, conferences, faculty development programs, and workshops to update themselves, The institution has been showing continuous interest in catering to the necessities of their professional development. Management is encouraging faculty development programs. "We have been reasonably liberal in allowing adjustments in the class routine, allowing short study leaves for course work and examination for higher degrees(Ph.D., B.Ed) and competitive exam(NET, SLET). The outcome of performance appraisal of faculties are granted increments and promotions", points out Dr. Praveen.
Helping their Imagination Grow
Creativity and innovation mean a different way of thinking and doing things. Each one is creative and this creative ability in students manifests in several ways. When students find themselves in unknown territories, they learn to move out of their boundaries. Following certain methods to boost creativity and innovation, IIAAM has set up learning activities that allow students to explore their creativity in relevant, interesting, and worthwhile ways. "We teach our students various skills through experiments, using the creativity model and teaching creative skills explicitly. We continue this beyond the lessons and classrooms and find ways to extend learning opportunities at home or even the community", states Dr. Praveen.
Motivation is a condition that activates and sustains behavior toward a goal. It is critical to learning and achievement across the life span in both informal settings and formal learning environments. Providing guidance for competitive examinations, career counseling, soft skill development, remedial coaching, personal counseling, IIAAM also offers special programs like professional coaching classes, skill development, and communication development programs, aptitude, and placement, coaching classes for competitive exams, provision to participate in various competitions such as case study analysis, debate, group discussion, problem-solving – decision-making exercises, quiz programs, and other events are organized in and outside the college. The institute also involves its students in practical and project work, group work, roleplay, field visit, industrial visits, seminars, presentations, organizing educational trips, and special lecture programs. "Our visiting faculties are drawn from various industries and academic institutions of repute, who supplement the teaching process and provide the information to bridge the gap between industry and academics",  adds Dr. Praveen.
Adjusting to the 'New Normal'
COVID-19 was a great and unprecedented challenge for campuses across the nation and IIAAM was no different. IIAAM had to consider a holistic and wide-ranging level of support for students, including more attention to student academic support for online education, addressing new and significant financial hardships (more on this in the full survey results), and building or expanding capabilities for academic advising and assistance. Despite being digital natives, most students are not fully comfortable with an exclusive online learning medium.
As everyone adjusted to the 'new normal' of social isolation, it's important to note that many students miss their connections on campus as well as the events and experiences cut short as a result of COVID-19. Considered experimenting with communication channels and strategies to re-engage students beyond the classroom despite the academic experience of moving online, IIAAM adopted a lot of measures to overcome the challenge COVID threw. "We got out students to participate in virtual learning. Students, faculty, and staff participate in small, in-person classes, activities, and events that allow individuals to remain spaced at least 6 feet apart and don't share equipment and supplies, and we regularly scheduled cleaning and disinfection of frequently touched areas", states Dr. Praveen.
Looking Ahead
Exhibiting exemplary performance in university exams with distinctions in various courses, the students of IIAAM have won accolades in various fests and competitions at the state and national level and involved themselves in mini projects with many industry giants. Offering training courses to accomplish success in the Aviation Industry, IIAAM provides students with courses such as Airport Management, Airport Operations, Cargo, Ground services, Commercial Pilot Training, which enables the students to prepare for a flexible and secure career in the Aviation Industry. As the industry demands knowledge not only in the Air travel aspects but also Airport Management, research, and manufacturing, IIAAM offers just that and entitles students with the required set of skills.
The aviation sector is one of the most attractive and best-paid sectors in the world. Indian civil aviation industry is the third-largest domestic civil aviation market in the world. Apart from acquiring in-depth knowledge of machines, aviation requires people in its workforce to have considerable knowledge of the work profile of individuals working in other departments of the industry as well. All set with their plans for the IIAAM in the future, Dr. Praveen concludes, "We plan to improve job opportunities for graduates in collaboration with different industries, organize international seminars, enhance NSS activities, and arrange faculty development programs. We plan to grow as we help our students and teachers grow and be recognized on a global level".
Related Articles