Women's empowerment through quality education is critical to expanding women's ability to pursue fruitful careers, make strategic life choices, and attain necessary resources. Srividya Reddy Gunampalli, Vice-chairman, G. Narayanamma Institute of Technology & Science (GNITS), plays an influential role in this sector.
As the Vice-chairperson, her initial and foremost responsibility is to uphold the institute's values and continue the legacy of providing a productive and healthy environment for the female students on campus. Being a proud alumnus of the institution and intricately involved with the system on both sides gives her that extra edge as a critical stakeholder in revolutionizing the education domain for women. "Being a student of GNITS helped me understand better the direction in which I will have to spearhead the institution," says Srividya Reddy Gunampalli. A mother of two, she tells us how her children are a great source of inspiration and energy.
Incepted in 1977, the prestigious institution was established by her grandfather, a visionary leader, G Pulla Reddy Garu. The institution was founded with the vision to become a center of quality education for women's empowerment. In the past 25 years of establishment, the entire team at GNITS has strived hard to uphold the values with which the institution was built and has witnessed tens of thousands of women engineers graduate and take a leap in their careers. "We are witnessing rapid growth in terms of women in the workforce in the Education sector. At our campus on GNITS, female employees constitute 60% of the workforce in teaching and non-teaching roles. This is one such sector where women can enjoy flexible work culture and attain their goals," reveals Srividya.
Keeping up with a Continually Evolving Industry
In a continually evolving industry, the key stakeholders regularly conduct board meetings to better understand the institute's status and the industry's requirements. The board consists of academicians and industry veterans of high repute that assist the institute in designing/re-designing courses ensuring relevance and usefulness are maintained. This year, GNITS has launched new courses in B.Tech. in new-age specializations like machine learning, artificial intelligence, and data science among others. The professors at GNITS are extremely engaged in Research and Development and are currently undertaking research projects, especially in Health-Tech, and Deep Tech under initiatives of the Department of Science & Technology, Government of India. Sri Vidya remarks that "Hyderabad is an emerging destination for Innovation and Research. The location of GNITS is strategic in such a way we are surrounded by major Tech players, Incubators, and Research centers. Over time, the Research community of GNITS has been deepening their relationships with these players and this has been benefitting the student community as well."
Moreover, she surrounds herself with prominent academicians and colleagues in this space. She has meaningful conversations as frequently as possible to ponder how education in today's world is transpiring and what news can be brought in to keep the students updated and ready to face the rest of the world. "We ensure we keep close track of the developments in Academia and Industry to equip the students with employability skills. With the same vision, we have associated with TASK – Telangana Academy of Skills and Knowledge. We have brought Tech giants such as Amazon, Adobe, Flipkart, ServiceNow, Twilio, and Microsoft to our campus and we are committed to working with these major players to enhance the R&D and innovation capabilities in our Institution. We are the first in the country to have established the Apple Center of Excellence."
She also draws inspiration from her uncle and confidante, P Subbha Reddy Garu. One of her strongest influencers, he is the current Chairman of GNITS and other institutes under the society, which has taught Srividya a lot about how to effectively manage financials, teams, and systems. "His strong demeanour inspires our entire team and me, and his passion for work drives the system smoothly. Also, I must mention the various academic heads of the institutions under the society who have always worked very hard in building the institutions and bringing them to this stage. Every person we stumble upon teaches something to us," adds Srividya.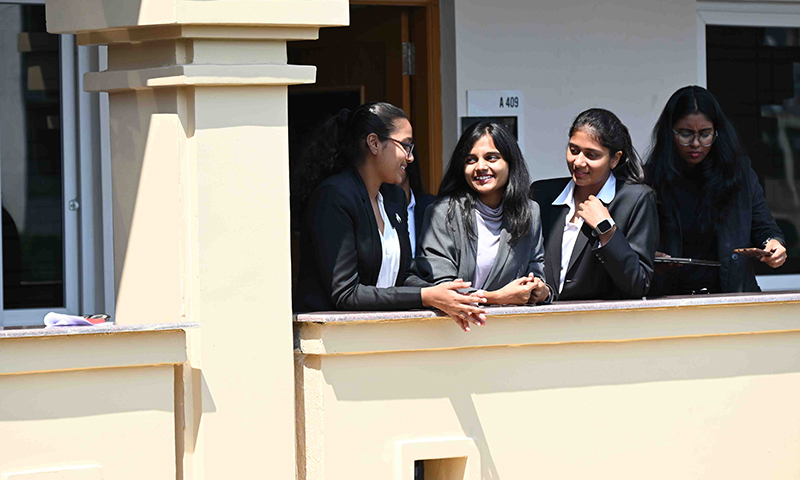 Delivering Quality Education
Another critical factor in ensuring quality education delivery is taking into account student feedback. Srividya strongly believes in this approach and positively receives constructive feedback from her students. This helps her understand what needs to be offered differently for these students to gain leverage over others and set them apart at their workplaces as well. "It was embarrassing and frustrating for me at times to spend so much time learning the basics of handling educational institutions. I used to feel that I would use the same time in a better way to do bigger things. Reflecting on that, I am glad today that I took time to learn everything from scratch, as I got to learn all the aspects of work at all levels," reveals Srividya.
Making a mark in the industry on behalf of women has spirited the passion for starting higher education courses for women, specifically in management. Today, only about 17% of the boardroom seats in India are occupied by women. It is essential to have women in managerial and leadership roles. It has thus given rise to the School of Innovation and Management (SoIM). "We plan to take ahead the vision of GNITS through SoIM and notch up the game by offering robust and cutting-edge courses for women in management," informs Srividya.
She tells us that her aspirations while building SoIM were to create and provide a positive space for young women professionals who have a zeal to make it big in the management field. She aims to help her students to realize what they aspire for. Ultimately, every educationist hopes to achieve that by setting up an institution that will provide students with all the necessary resources to build their careers.
Innovation is Key
Innovation in education is encouraged as a medium and facilitator to explore, conduct research, and make learning engaging while discovering something new. Keeping this in mind, innovation is being taught as a compulsory credit-based subject in GNITS and SoIM. GNITS is a warehouse of innovative ideas where the students, in tandem with their professors, keep researching to build something new for society. Also, the institution boasts of an incubation cell. The team works closely with students to brainstorm and nurture their ideas to bring out successful startups that add value to society. In conjunction with this, the institution also takes pride in its accelerator on campus, MiraiNXT, which does interactive programs for students to participate in and learn about the various trends in the industry, using which they can establish their own companies. The accelerator also hosts a few startups on campus, and the students have direct access to interact with them and understand the nuances of running a business.
Taking this to the next step, GNITS has recently been shortlisted by NITI Aayog to establish an Atal Incubation center. "We are creating an ecosystem within GNITS to nurture Research and Innovation among the faculty and the students and take it to not just prototyping but to launch the start-up as well through the AIC and the Incubation department of GNITS," Srividya.
Reshaping the Education Landscape
Through the next few years, Srividya envisions continuing to uplift and positively impact women through education. The team is working to build a rigorous curriculum that sets GNITS courses apart from the rest of the industry. The team is also working towards forging meaningful partnerships with the industry where students can learn more from industry experts and work on projects while studying. GNITS is committed to building a collaborative approach in the education ecosystem and has been partnering with international universities to bring their expertise to the table. As a part of that, the institution has already onboarded a few notable international faculty on their advisory board for SoIM. Srividya concludes, "Now that we have launched SoIM, we are working towards a fascinating project which may surface a few years later. This will help us support the students by providing them with a one-stop place for their educational needs and a welcoming place to learn and grow as professionals. Will reveal the details eventually."
For More Info: https://www.gnits.ac.in/
Related Articles