Dr. Uma Bhardwaj, Vice-Chancellor at Noida International University (NIU), is an award-winning, seasoned professional in the education sector known for her pioneering ideas and student-centric approach. Dr. Uma has published numerous research manuscripts in high-impact factor journals like "Nature" and has multiple patents and books of international repute to her credit. She is a member of IQAC Cell, Academic Council and Executive Council of many Universities.
Dr. Uma is regularly invited as a guest speaker at various national and international conferences. She is a travel enthusiast by heart and has visited over 25 countries across the globe.
A Strong Value-based Upbringing
Dr. Uma did her schooling at Carmel Convent School, Gwalior and completed her M.Sc. from KRG College, Gwalior, PhD from Devi Ahilya Vishwavidalya, Indore, and MBA from MDU Rohtak. She was an academically bright, curious, and disciplined student throughout her education in school and university. She was always focused on her career, and the goals set the moment she stepped into post-graduation.
"In my childhood, I had great support from my mother and father, who taught me how one can be successful in life if one remains punctual, sincere, committed and focused, which is the key to success in achieving the set goals in life," shares Dr. Uma. Staying true to her values, ethics, and professionalism, she has and continues to excel in all her leadership roles and scale new heights of success.
Bringing Experience & Wisdom to the Leadership Role
Having spent over 25 years in teaching and research, Dr. Uma has understood the nuances of the education sector and figured out the nitty-gritty of driving an institution towards success. Moreover, her five years of experience in the corporate sector, amalgamated with 25 long years as an academician, helped her understand the need to create industry linkages to academia for innovative research clusters, strengthen the academic system, and streamline the administration.
Before joining NIU, Dr. Uma served as the Vice-Chancellor of MVG University and Mody University of Science and Technology. "During my tenure at these institutions, I learned that a strengthened academic system and effective administration helps steer an institution forward," asserts Dr. Uma.
Noida International University
The Noida International University (NIU) is a UGC-recognised university sponsored by the Maruti Educational Trust. The motto of NIU is 'to shape pre-eminent leaders for the 21st century through a research-driven education system'.
In addition, NIU is focused on inculcating the highest level of integrity, strong character, and commitment to nation-building to serve mankind through providing quality education and healthcare services to society. "Our vision is to be a global centre of learning, innovation, professionalism, and academic excellence tempered with values and ethics," states NIU's Vice-Chancellor, Dr. Uma.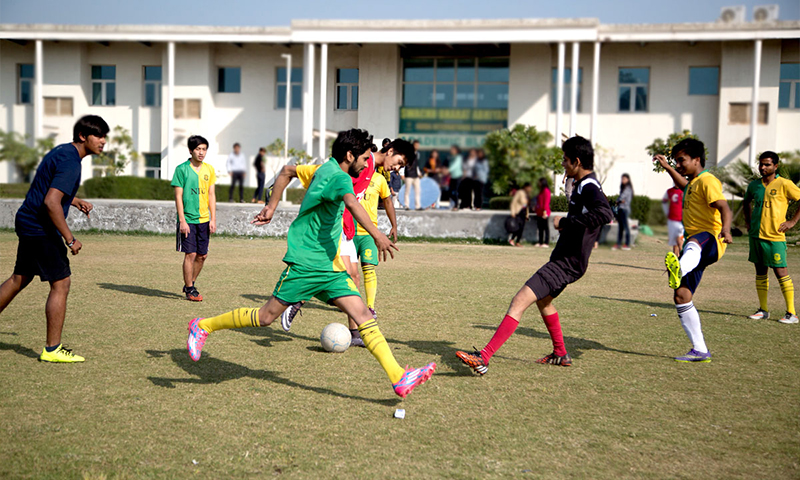 Putting on New Wings & Soaring High
In February 2022, Dr. Uma took over the vice-chancellorship at NIU. In her current role, her foremost priority is to explore and create new paths leading to educational innovation, research, and incubation. All these elements contribute to producing skilled professionals responsible for creating a better future for national and international students.
"My focus is on developing a novel model that would help the university maximise global engagement, which will play a major role in building NIU's international partnerships and expanding our presence on the global educational landscape," reveals Dr. Uma. Since NIU believes in students' overall development, a major emphasis will also be given to organising sports, personality development, and confidence-building activities.
Fostering Innovation & Creativity Among Learners
At NIU, innovation in classroom learning encompasses a variety of instructional strategies aimed at increasing student engagement, developing creativity, encouraging collaboration, and deepening understanding through real-world issues.
"We have industry tie-ups to make our students work-ready the moment they pass out of here," mentions Dr. Uma. For instance, NIU recently entered a partnership with Ola, and its team visited the campus to give students an idea of how the Electric Vehicle (EV) market is offering a lot of scope in research and jobs.
Prestigious Awards & Recognition
Dr. Uma has been honoured with multiple awards and accolades over the years. To name a few: "Late Shri Ram Krishna Pandey Memorial Lifetime Achievement Award" 2022, India's Most Impactful Vice Chancellor by Daily Indian Media during the Edustar Leadership awards 2022, the Best Citizen of India Award 2019, Bharat Jyoti Award 2018, and the 3rd CMAI CCI Technology Education Excellence Award, July 2016, honoured by his excellency Governor of Gujarat and the high commissioners and ambassadors of eight countries.
Keeping Up with the Latest Trends in Education
As an experienced academic administrator, Dr. Uma keeps up with the new educational trends through print and digital media. She also remains associated with all the apex bodies and actively participates in the upcoming educational forums.
Personal Role Model & Mentor
Dr. Uma's role model was her father. Later in life, after marriage, her husband, Dr. Ravindra Bhardwaj, became her mentor, who channelled her in the right direction to achieve her goals in the profession she is today.
A Day in the Life of an Edu Leader
Dr. Uma's typical day at NIU involves connecting with the top management and leadership along with the academicians to talk about challenges and new opportunities. She has a disciplined approach towards life and feels that if you lead an active lifestyle, then you can give your 100%. Her mantra for staying calm and mindful is interacting with her exuberant students and practising meditation regularly.
Reforms Needed in the Education System
Regarding modifying the current education system, Dr. Uma would like to change how students are assessed based on the traditional pattern that the existing educational system has followed for many years. She further regards NEP 2020 as the new guiding light that will provide a holistic approach towards assessing students based on aptitude and not merely academics. Moreover, she supports the Education 4.0 India report, highlighting the solution to strengthen the digital infrastructure for learning in India.
Thoughts on Women's Leadership Development
According to Dr. Uma, India is witnessing more women in leadership roles as the level of education has improved significantly in the past decade. However, boardroom diversity is progressing at a snail's pace. Therefore, she feels gender sensitisation and inclusion are required at multiple levels to include more women on boards and as part of business leadership. She further recommends that women leaders be more assertive and convinced about their abilities to climb up the leadership ladder.
Ongoing Projects
Dr. Uma and her team are implementing the National Education Policy 2020 in NIU's curriculum to ensure continual learning. They are also putting efforts towards acquiring accreditations such as NAAC, NBA, NIRF, QS Ranking, etc., as they help an educational institution to meet and maintain their high standards and, at the same time, work as a catalyst which results in increased public trust and confidence. Likewise, Dr. Uma and her team have plans to establish an incubation centre along with NIU Hub and spoke model for certain academic and research facilities.
For More Info: https://niu.edu.in/
Related Articles