From housewives to C-level executives, women have been slaying at multitasking and getting things done. At the same time, women are often blamed for being emotional. According to Dr. Geeta S.Lathkar, Director of MGM's College of Engineering, this emotional trait coupled with the multitasking ability makes women worthy of holding even the most demanding of the responsibilities, especially one that of a teacher. A teacher is someone who helps people around him find the purpose of education, the upliftment of self. A teacher is someone who imparts wisdom and guiding an individual to fulfill his duties to the nation and further his self. Dr. Geeta has been overseeing the various activities and the curriculum at MGM's College of Engineering that enables students to carry out their duty as a true citizen of the country, as well as find their purpose in life. "We ensure that apt group discussions and skill development sessions are organized to help our students realize their true selves. Moreover, various social and environmental activities ensure that they understand their role and duty towards being responsible citizens of the world," she says. Dr. Geeta says that she loves being in the educational field as it is one of the most rewarding careers. "In my 35 years of experience as an educator, I have had the opportunity to help and guide several students who faced issues with problems and choosing a career."
A Family That Preaches and Practices Gender Equality
Having earned a degree in Mechanical Engineering, a supposedly male-dominated engineering field, Dr. Geeta reaffirms that gender should not be a defining factor. Whilst in college, as she was deliberating her choice of engineering specialty, her father sat her down and gave her a piece of advice that she still treasures to date. "He told me that I am entering a male-dominated field, so I must prove that gender is not a problem. I am lucky and grateful that my husband shares this mindset. Even my mother was a strong woman who did not take kindly this gender discrimination nonsense. She raised me to be a strong woman. In my opinion, mothers should raise their daughters to be strong women who are unafraid to explore and voice their opinions. More than the men, the onus on raising and helping other women rests with us," she says. She further continues that she would also like to thank her college chairman and management, who trusted her to run the institution even when she was inexperienced. "I was just a rank holding graduate and they gave me the avenue to flourish. I am grateful to him for my professional life," she adds. She stayed better connected with her two lovely kids Sudarshan and Indrayani, despite her hectic and busy schedule.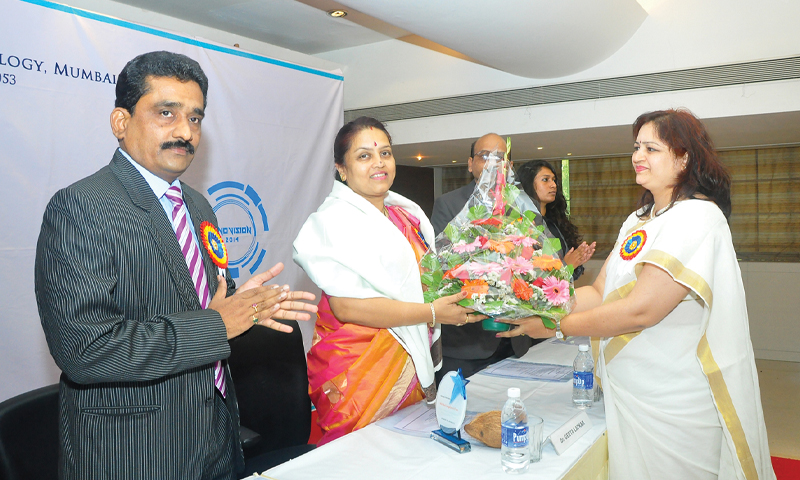 Talking about her role models she says that Dr. APJ Abdul Kalam, JRD Tata, and Sudha Moorthy have made a great impact in her life. However, Sudha Moorthy has a special place in her heart. "Sudha Moorthy, for me, is the epitome of being an educator, as with good professional ethics, one must also possess an empathetic heart and a kind humane giving mindset." In the event of industrial and educational revolution 4.0, Dr. Geeta reminisces that while she was a student, the internet unheard of and hence had to invest time in the library. However, today, with a deluge of information available, students have no problem sifting through the millions of search result pages and finding answers. While this sounds good, unsupervised digital screen time is not. Not only does this impair psychological development, but it will also lead children to isolate themselves from real interpersonal interactions. She comments that this deluge of information is oftentimes a distraction and unwavering focus is the most common thing that students struggle with. At the same time, with technology advancing at lightning speed, education has become more practical oriented.
Across the world, there has been a shift in the way education is perceived, yet in India, it still is 90% theory-oriented. Books and black/smartboards can only teach so much. Hands-on experience through project implementation is usually reserved for the last six months or so of the last year of the particular course. But the solution does not lie in introducing practical knowledge earlier on in the course, it lies in providing hands-on experience to the teachers; because if they have no clue how things work, how can they teach students? At MGM, we take special care of our faculty and facilitate them to attend seminars, faculty development programs in companies of repute and exposure projects, both within and outside India. When asked about the barriers to women's success, she replies that the most formidable barrier to one's success is their mindset. "People around you can either hold you up or drag you down, built is up to you whether you want to soar or drown."
Having more than 35 years of association as Head of Institute with MGM, has established a strong bond with fellow alumni since 1984. Her colleagues consider this as a great strength of the institution and create an inducive work environment in and around the whole institute. Her encouraging siblings and generous classmates and supportive colleagues never made Dr. Geeta feel the gender bias. Dr. Geeta has encouraged her fellow colleagues to organize the various skill development programs in the campus to brigde the gap between the indusrty and academia which makes the students industry ready. This bridging has transformed the student's life and helped them commence their career with better opportunities when they are on campus. Dr. Geeta takes pride in saying that alumni of MGM, Nanded have spread across the world in MNCs of repute like Facebook, Microsoft, etc and defense services. With the strong alumni base, she has established better relations with multinational companies. If you work hard and are persistent, then what is stopping you? For instance, Savitri Bhai Phule was an advocate for woman's rights. If she can do that then, what is stopping you now?" she concludes.
AWARDS AND RECOGNITIONS
• Dr. Geeta has received Gold Medal for the Best Research Paper by "Institutes Engineers India".
• There are 17 Research Scholars registered and 9 Research Scholars awarded Ph.D. under her guidance.
• She has published 41 National and International Journal Publications and 18 National and International Conference Publications.
• She is the recipient of the "Best Director of the Year" award by Computer Society on India at IIT Mumbai in 2018.
• She is also recipient "Savitribai Phule Award" by Zilla Parishad, Nanded in the year 2019.
• She awarded as "Best Principal Women (Engineering)" by the Indian Society of Technical Education, Maharashtra-Goa State.
• Under her leadership, MGMCoE, Nanded was the first college to get NBA accreditation in the Marathwada region in both the Universities (Dr. BAMU Aurangabad and SRTMU Nanded) for the years 2006-09. Recently, under her leadership, MGMCoE, Nanded got accreditated by NAAC.
Related Articles