Several years back, a certain young girl witnessed the harsh realities of child marriage when her maid's older daughter was married off. The child bride suffered at her in-law's place but had no way of informing her parents of her ordeals as she did not know how to read and write. The young girl wished a better life for the maid's younger daughter and, at the tender age of 9, took it upon herself to tutor the younger daughter enough so that she can write to her mother if she would ever face a problem. This created an impact so significant in the 9-year-old girl's life, that she swore to do all she can to better the living conditions for the women around her. She realized that to fulfill her dream she had to be a teacher, because teaching would allow her to transform lives by leading the change.
Years passed, and the 9-year-old girl grew up to be Dr. Anubhuti Dwivedi. She understands that just because things were in a certain way in the past, they need not be the same forever. "Being an educator empowers you to lead the change in society by nurturing young minds and hearts for bringing about a positive transformation in them, in the country, and the world. An educational leader must lead and direct their organization towards success by innovating and bringing about positive change not only in the organizational processes but also in the mindset of people," she says.
Two Decades of Changing Lives
An educator for the past two decades, she joined Asian Business School (ABS) as the Dean of Academics three years back. She praises the working environment at ABS, citing that women are treated equally and are given due respect as well as opportunities to perform and excel. "The management is very clear in their vision of academic excellence and works ethically towards achieving the same. Given my experience, I can without any inhibition claim that Asian Business School has given me the best of opportunities for career progression. The kind of value system and work ethics that are ingrained at the core of Asian Business School has reinforced my commitment towards academic excellence and positive transformational leadership," she adds.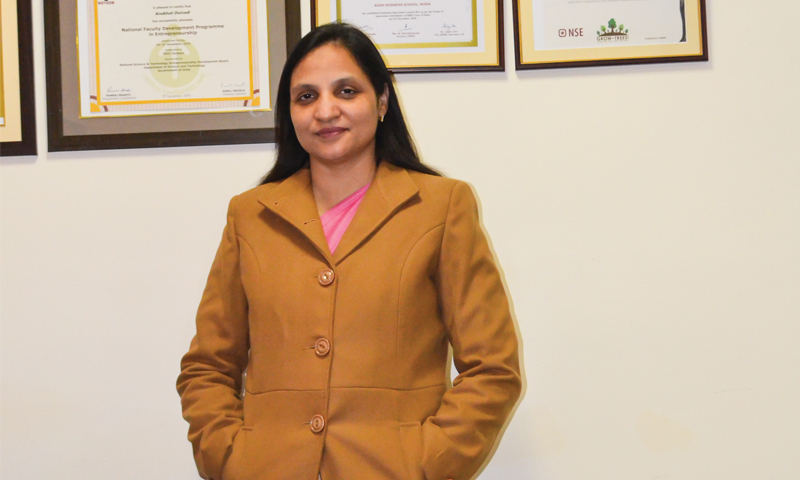 According to Dr. Anubhuti, ABS management, unlike its peers, places immense faith in their academic leaders. The independence of thoughts and action taken in sync with the organizational goals has always been encouraged and participative decision making giving due consideration to all stakeholders has always been followed at ABS. Everyone in the system is concerned about the well-being of students which makes ABS the best avenue for any sincere academic leader. Their focus on research and development is instrumental in promoting faculty members and academic leaders for excelling in various domains through research and training for upgradation of their knowledge.
Society's Backbone- Women Education
Anubhuti firmly believes that educating girls is the backbone of a progressive society. She is happy to note that, thanks to the increase in awareness programs, more and more women are opting for higher education and education in general. This has led to classrooms being an arena of gender equality, where debates regarding gender disparities are held. She is also proud that ABS has a clear policy of gender equality."We strive to have a balanced number of girls in each section of the program. We also have an additional weightage of 5% for diversity in the selection process which facilitates gender diversity as a component. Moreover, during our Annual Fest – "Kesshet" and Annual Sports Meet – "Athleema", girls are actively encouraged to participate in various activities," she says.ABS also organizes various gender sensitization programs and has various processes in place to ensure gender equality. The unique Crafting Prodigy Program at ABS ensures that the faculty crafter allocated to a group of student prodigies takes individual care of all the students and ensures gender sensitization and equality on the campus.
Shaping Young India
Anubhuti believes, as should all excellent educators, that her students are the makers of New India, hence, they should be given special attention and molded with love and care. She, therefore, takes her role as Dean of Academics very seriously when it comes to curriculum designing. Dr. Anubhuti takes care to implement programs that can enhance skill development and imbibe in the students the abilities to analyze, think critically and bring out innovative solutions to problems. She also has an important role in deciding the learning modules, by incorporating the latest industry trends and providing the ethical aspects of business management along with the financial and economic aspects.
"Forging strategic tie-ups with industry and government organizations for providing practical exposure to our students and establishing global linkages has again been a part of my journey as the Dean. On one hand, we have a tie up with Oxford Business College U.K through which students gain cross-cultural international exposure, and on the other, we are a part of the Unnat Bharat Abhiyan in which we have been working for the development of five villages making the students socially responsible and well connected to the roots of India," she comments. It is no surprise that all these activities demand meticulous planning, discussions, and taking informed decisions after considering the opinions of the institute and industry professionals.
However, thanks to her acumen and tact, Dr. Anubhuti deftly helps ABS take the necessary steps that can enhance the students' skill sets, thus enabling them to perform as per what is expected out of them in the corporate sector and the society. Dr. Anubhuti's takeaway from the last decade is that in today's world one must possess leadership qualities to adapt to the VUCA (volatile, uncertain, complex, ambiguous) world where we operate today. "With Industry 4.0 spreading its roots throughout the world, the basic training that has to be provided to students is not only about the concepts but about the skills that need to be developed and an attitude of continuously evolving by upgrading the acquired skills. At the same time, entrepreneurship development is also an important spectrum in the economic scenario today," she adds.
PENNY FOR THOUGHT
Sharing her two cents with fellow aspiring women leaders, Dr. Anubhuti says that to lead change and create a path for yourself, you must keep abreast of the latest changes taking place in your respective fields and accordingly focus on developing your skills and also build your research direction. "As a leader, one should always believe in creating more leaders and not mere followers. For this, one needs to keep evolving oneself and become a role model for the team and the students. To achieve this, one needs to read a lot, network with experts, interact with other industry and academic leaders, and all this contributes tremendously in developing a person as an effective leader," she concludes.
Related Articles