The onset of the Coronavirus pandemic had a catalytic effect on the already expanding e-learning sector. In an attempt to ensure a continuous teaching-learning process, educational institutions across the globe have begun implementing online learning platforms. As digital learning emerges as an imperative resource for uninterrupted education, institutions are scrambling to evaluate and accept various advancing technologies and ensure seamless education delivery. While it is observed that most educational institutions are still unable to effortlessly adopt innovative and strategic approaches that support training and education continuity, De La Salle University (DLSU), located in the Philippines, has been stimulating innovation since even before the pandemic.
Lasallians Remote and Engaged Approach for Connectivity in Higher Education (R.E.A.C.H.) is DLSU's response to the pandemic challenges in academic learning. "We are responding to this situation by fully adopting an alternate mode of education that DLSU initiated more than ten years ago, which is technology-enabled or blended learning," informs  Br. Bernard S. Oca FSC, President, De La Salle University.
Assuring Utmost Quality Education Delivery
Before delving into this offering, the Brother President gives us a few details about the university and its heritage. DLSU was established in 1911 by the Catholic teaching congregation Brothers of the Christian Schools. The school was incorporated as De La Salle College (DLSC) on February 12, 1912, and was granted university status on February 19, 1975. It has since then become De La Salle University (DLSU). "De La Salle University positions itself as a leading Philippine higher education institution, renowned for its academic excellence, groundbreaking research, and empowering community engagement," adds Br. Bernie. The university continually strives to be on par with advancing technologies and, as such, has been recognised as one of the most productive in research among private HEIs in the Philippines. The university also possesses the most number of Centers of Excellence bestowed by the Commission on Higher Education.
DLSU offers various programs under its seven colleges and one school, which are in education, liberal arts, business, economics, sciences, engineering, computer studies, and law. "The University established a set of course and instructional design criteria for the remote delivery of courses through an online platform. The criterion is designed to guide faculty members to ensure that learning outcomes are met through synchronous and asynchronous sessions," elucidates Br. Bernie. Formative and summative assessments are provided to ensure the quality of learning. The academic unit heads and course coordinators supervise the specific courses to ensure compliance with the quality criteria. Br. Bernie expresses, "For DLSU, R.E.A.C.H. is the most viable and flexible alternative for our students. It emphasizes the importance of engagement between faculty and students. Unlike fully machine-assisted online learning, the University's remote learning is faculty-directed and facilitated using an online platform to ensure quality education."
Offering a Comprehensive Suite of Services
Pivoting toward the university's aforementioned offering, Lasallians R.E.A.C.H is anchored on eight key elements. De La Salle University offers pure online classes to ensure quality and relevant education through faculty-directed and facilitated remote learning. The offering provides a broad range of initiatives and projects that shoulders the university's attempt to create a more conducive online learning environment. This proves beneficial for both faculty and students. Br. Bernie says, "Lasallians R.E.A.C.H. provides opportunities for faculty and students to connect through chats, threaded discussions, and conferences. This remote learning also allows students to undertake collaborative works, including research and creative projects, with their teacher and classmates." To assure quality remote education delivery is undeterred, the university offers online course development deloading and assistance, connectivity allowance for the faculty, and Zoom educational enterprise for the entire University.
In conjunction with this, the university has placed the Lasallian Open Online Learning Program (LOOP). This program has allowed students to cross-enrol themselves for different subjects across colleges. Training programs on online pedagogy for faculty of other institutions are also made available by the University. Open access courses from Animo Space are also available for the Lasallian community to explore. "Through various online platforms, we can enrich the relationship of our faculty and students for a more productive and considerate online learning environment," explains Br. Bernie.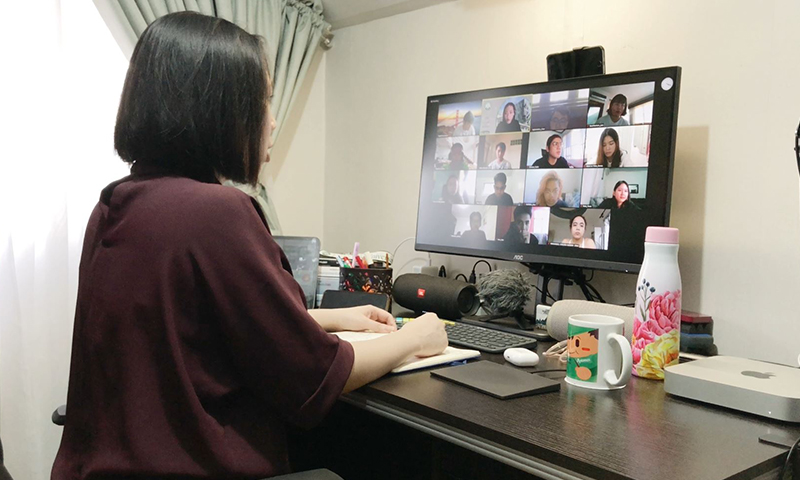 Lending a Helping hand
Perfectly aware that some students are financially burdened, and school expenses can negatively impact the student's learning journey. Coming to the aid, DLSU adjusted fees for undergraduate and graduate students and eased payment terms, emergency relief, scholars' support, and support for students living away from home. Technology support was also provided for students, such as provision for internet and computers.
Battling COVID-19
Continually endeavoring to stay abreast of industry trends and changes, De La Salle University equipped itself even during the pandemic by leveraging R.E.A.C.H.
Amid the pandemic, DLSU emphasizes its support for the community by offering online support programs for faculty, staff, and students. Under the DLSU Care Desk platform initiated by the Lasallian Center for Inclusion, Diversity and Well-being, Lasallians may access the various services on mental health, telemedicine, and spiritual accompaniment. Key programs for the betterment of student life are now available virtually and can be accessed by students anytime, anywhere. Some of the programs extended to the students are virtual career services, an online student activity approval system, Lasallian Student Welfare Program, Lasallian Personal Effectiveness Program (LPEP), and the Graduate Student Orientation Program Course in AnimoSpace. "The shift to online learning allowed DLSU to widen its international partnerships by offering international co-taught online courses for students. The LasallianXP program also allows students to enroll in free electives and minors programs," adds Br. Bernie.
DLSU is a firm believer in the holistic well-being of its students and, as such, has deployed Academic Safety Nets. This enables the student to withdraw from their courses if needed, and their decision is protected under the no-fail policy. Through this, students can continue their studies while also dedicating time to and prioritizing their families, health, and well-being.
During these uncertain times, select personnel belonging to the Lasallian community remain present at work. The safety of the workforce and their families are assured by implementing strict health and safety guidelines for those entering the campus. Moreover, clusters assigned to employees should follow three-shift campus access and automatic recurring quarantine. Health safety nets and daily health checks are also followed by the University. Students can avail themselves of the emergency health aid.
Over the years, De La Salle University has gained quite a strong foothold in this sector. Envisioning an even brighter future, DLSU aims to continue to scale to newer heights in the future.
For More Info: https://www.dlsu.edu.ph/
About Br. Bernard S. Oca FSC, President, De La Salle University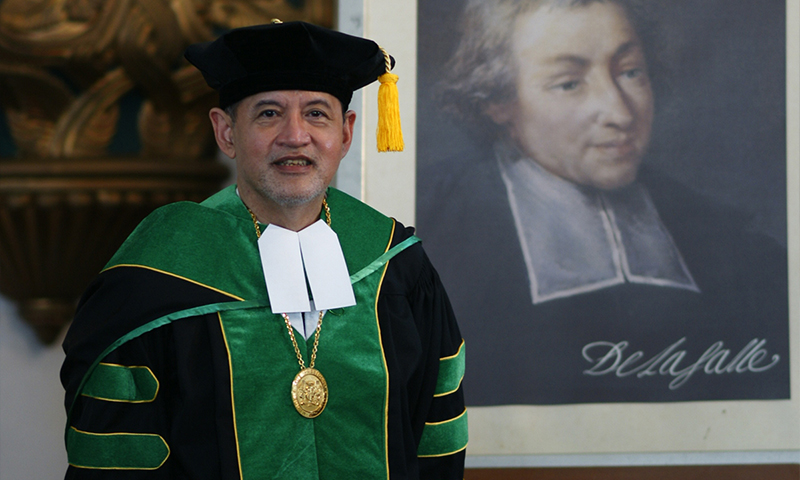 A Lasallian through and through, Br. Bernard S. Oca FSC finished his grade school at De La Salle College (the former name of De La Salle University) and his high school at La Salle Green Hills. He graduated summa cum laude with a Bachelor of Arts in Literature degree at DLSU, where he also earned his Master of Arts in Language and Literature and Doctor of Education in Religious and Values Education.
Br. Bernie entered the postulancy in 1971, took the habit of the Brothers in 1974, and made his final vows at La Salle Green Hills in 1980. He was president of La Salle Green Hills from 1997 to 2006. One of the founding Brothers of Jaime Hilario Integrated School-La Salle in Bagac, Bataan, he served as its president from 2006 to 2007. In AY 2007-2008, he returned to the Manila campus to serve as president of the DLSU Professional Schools, Inc., which managed the University's graduate business programs. The following academic year, he was appointed as the Vice-Chancellor for Lasallian Mission and External Relations (VCLMER).
Related Articles