Prof. Lopamudra Bhattacharyya, the Founder CEO of GLF Business School, has made an indelible mark as a trailblazer in the field of business education. She stands as the first woman B-School founder in the country, breaking barriers and paving the way for aspiring women leaders.
Her career journey began in 1998 when she started teaching at the prestigious Gokhle Memorial School in Kolkata while pursuing her Ph.D. Later, she joined the West Bengal State Marketing Board as a Nodal Officer, where she played a crucial role in managing public-private partnership projects, including the renowned Metro Cash & Carry Project. This experience deepened her understanding of strategic management and entrepreneurship, fueling her ambition to create something extraordinary.
Embracing the world of academia, Prof. Bhattacharyya served as an Associate Professor at a prominent B-School and also worked as a Managing Consultant at a leading consulting firm. These experiences not only enriched her knowledge but also honed her skills as a visionary leader. Driven by her passion for institution building and a desire to bridge the gap between academia and industry, she took the bold step of founding GLF Business School in 2013, affiliating it with the prestigious West Bengal State University.
Under Prof. Bhattacharyya's visionary leadership, GLF Business School has emerged as one of the leading B-Schools in India. The institution has garnered numerous national-level awards, including the ASSOCHAM Best B-School Award, Technology Excellence Award for Social Impact, and the Innovative Institute Award, to name a few. These accolades testify to her commitment to academic excellence and innovative approaches to education.
One of the notable initiatives spearheaded by Prof. Bhattacharyya is the Women Innovation & Startup Hub (WISH), established in 2019 at GLF Business School. This hub provides a platform and support system for aspiring women entrepreneurs, empowering them to turn their dreams into reality. Even during challenging times like the lockdown, WISH continued to serve and support women entrepreneurs across the country, showcasing Prof. Bhattacharyya's unwavering dedication to fostering entrepreneurship and innovation.
Under her guidance, GLF Business School has achieved significant recognition and rankings. It currently holds the 26th rank among all B-Schools in India under the non-IIM category. The institution has also been acknowledged as one of the Top-10 Business Analytics Institutions in India by Higher Education Review Bangalore. Notably, GLF Business School is the first institution in the country to offer management courses in Biotechnology, Valuation, and Data Science, further cementing its reputation for innovation and pioneering spirit.
Prof. Bhattacharyya's career journey is a testament to her determination, vision, and commitment to empowering aspiring entrepreneurs. As a pioneering woman leader in business education, she continues to inspire and make a lasting impact on the industry. With her unwavering dedication and relentless pursuit of excellence, she has created a path for future generations of women leaders to follow and achieve their dreams.
Pioneering the Evolution of Management Education in India
"Management education in India has witnessed a significant transformation over the past seven decades. With the rapid economic development and liberalization in the 1990s, there was a substantial demand for MBA education. MBA became a coveted qualification, perceived as a solution to address various business challenges. As a result, a multitude of public and private institutions sprouted across the country, offering MBA programs. However, the mushroom growth of B-schools in India failed to meet industry expectations due to inherent structural weaknesses," opines Prof. Bhattacharyya.
Amidst this landscape, GLF Business School (GLFBS) emerged with a unique vision and approach. For nearly a decade, GLFBS has been at the forefront of integrating knowledge, research, industry experience, and international exposure to offer comprehensive management programs. Recognizing the growing importance of technology in the industry, GLFBS became the first B-School in India to integrate Business Analytics into its curriculum. It also introduced specializations in highly sophisticated areas such as Data Science & AI, and Biotechnology, enabling students to stay abreast of the technology-driven landscape.
Another pioneering initiative by GLFBS was the introduction of specialization in Valuation Studies for all three classes of assets, making it the first B-School in India to offer this specialization. This unique offering showcases GLFBS's commitment to providing specialized knowledge and catering to the diverse needs of the industry.
In recognition of its innovative and industry-relevant approach, GLFBS was acknowledged by the Ministry of MSME, Government of India, as a Host Institute/Business Incubator for entrepreneurship development and promoting startups. This recognition highlights GLFBS's commitment to fostering entrepreneurial leadership and providing a platform for aspiring entrepreneurs to nurture their ideas.
The accolades and rankings received by GLFBS further validate its commitment to excellence. Being ranked among the Top-10 Management Institutes in India and a consecutive recipient of the prestigious ASSOCHAM Best B-School Award showcases the institution's dedication to providing quality education and preparing future leaders.
The Vision of GLFBS is to act as a catalyst in transforming management education from the traditional Business Administration model to Business Leadership. Prof. Bhattacharyya elaborates on this vision: "We strive to create a new breed of leader-managers who possess Strategic Leadership, Innovative Leadership, Entrepreneurial Leadership, Sustainable Leadership, and Ethical Leadership skills."
Through its mission, GLFBS aims to foster business leadership by equipping students with the essential skills and mindset required in the dynamic business landscape. Prof. Bhattacharyya explains, "Our mission is to nurture business leaders who can drive change, embrace innovation, foster entrepreneurship, promote sustainability, and uphold ethical values."
GLF Business School continues to push boundaries and redefine the landscape of management education in India. With its innovative programs, focus on specialized knowledge, and commitment to nurturing leadership, the institution plays a pivotal role in shaping the next generation of business leaders.
Fostering Entrepreneurship and Addressing Industry-Academia Disconnect
GLF Business School (GLFBS) understands the importance of nurturing entrepreneurship among students, not only to foster new startups but also to prepare corporate entrepreneurs for the job market. With this vision in mind, the institution has established various centers for industry-specific study and research, including valuation, biotechnology, data science, and AI. The recognition of GLFBS as an innovation and incubation center affiliated with the Ministry of MSME, Government of India, further solidifies its commitment to promoting innovation and entrepreneurship.
As a member institute of FITT, IIT Delhi, GLFBS leverages its affiliations to enhance the learning experience for students and stay abreast of the latest industry trends. The institution has launched initiatives like the Start-up Bootcamp, Innovation Studio, and Start-up Launchpad under the Nation Ahead Initiative, emphasizing the importance of innovation and entrepreneurship in the corporate and business world.
Prof. Bhattacharyya shares, "We believe that learning for leadership is not limited to any specific walk of life. We encourage girls and students from economically weaker sections to pursue management education so that they can actively participate in societal development in the near future."
In the face of the current wave of turbulence caused by technology disruption and the pandemic, the weaknesses in the education system have become more apparent. The challenges extend beyond skill and knowledge gaps and encompass behavioral aspects as well. One critical issue is the disconnect between academia and industry. Program curricula often fail to keep pace with rapidly evolving industry requirements, including the essential skills in emerging technologies. Additionally, students are not adequately equipped with the behavioral approaches needed in corporate environments. Consequently, business graduates may find themselves unprepared when embarking on their careers.
Prof. Bhattacharyya identifies three root causes for these issues. She explains, "The lack of commitment from B-School management, a shortage of high-quality and energetic faculty members, and the enrollment of poor-quality students who are not ready to take on challenges contribute to the disconnect." Talented professionals often prefer joining the industry rather than pursuing a career in teaching, making it challenging for management institutions to attract high-quality faculty. As a result, many B-Schools rely on guest faculty from the industry, who are already burdened with their workplace responsibilities, leading to compromised knowledge delivery.
However, since its inception, GLFBS has been consciously addressing these issues and prioritizing quality over quantity. The institution's model focuses on tackling these challenges from the selection process itself, whether for undergraduate or postgraduate courses.
Prof. Bhattacharyya asserts, "We have implemented a comprehensive approach that ensures the quality of our student intake. We are committed to providing an enriching learning experience that aligns with industry requirements and equips our graduates with the necessary skills and behavioral competencies."
By proactively addressing the industry-academia disconnect and prioritizing quality education, GLF Business School sets itself apart, ensuring that its students are well-prepared to meet the demands of the ever-evolving business landscape.
A Pragmatic and Industry-Oriented Curriculum
At GLF Business School (GLFBS), the curriculum is designed to be multidisciplinary and practical, incorporating regular updates in consultation with subject experts through the Board of Studies. Recognizing the dynamic nature of the business world, the syllabus is designed to be pragmatic and practical-oriented.
Management being a professional course, GLFBS emphasizes the importance of imparting essential skills that are required to thrive in the business world, whether as an employee or an entrepreneur. The institution offers a wide range of specialization subjects, classified into two broad categories: Function-Specific and Industry-Specific. This comprehensive approach ensures that students acquire both a strong theoretical foundation and the practical skills necessary to excel in their chosen field.
To further enhance practical learning, GLFBS mandates a compulsory internship project for students. This allows them to gain hands-on experience and become familiar with industry practices. In addition to practical exposure in the industry, the institution places a strong emphasis on experiential learning, peer learning, teamwork, lab-based learning, and the development of analytical, diagnostic, problem-solving, and decision-making abilities. These elements are incorporated using the latest pedagogy in management education.
The revision of the syllabus is driven by a focus on recent industry trends, the digital economy, and market requirements. Inputs from key stakeholders in management education, benchmarking with reputed Indian and foreign institutions, and consideration of the fundamental needs of employers all contribute to the modification of the syllabus. This ensures that the curriculum remains up-to-date and in line with industry demands.
Prof. Bhattacharyya emphasizes the importance of the curriculum, stating, "We believe that a strong curriculum that reflects the needs of the industry is vital in preparing our students for successful careers. By incorporating the latest trends, technology advancements, and industry practices, we equip our students with the knowledge and skills they need to excel in the ever-evolving business landscape."
The focus on a pragmatic and industry-oriented curriculum at GLF Business School ensures that students are well-prepared to navigate the complexities of the business world upon graduation. Through a blend of theoretical knowledge, practical exposure, and experiential learning, GLFBS strives to develop well-rounded professionals who can positively impact their chosen fields.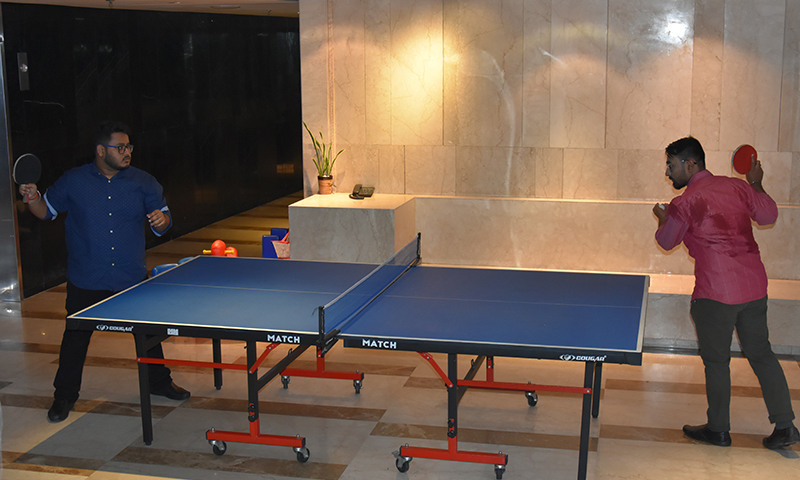 Empowering Students with Emerging Technologies and Innovation
GLF Business School (GLFBS) takes pride in its state-of-the-art technology-based labs, recognized by the Ministry of MSME, Government of India, as a Host Institute and Business Incubator for government schemes promoting startups. These labs provide students with access to new technology platforms and disruptive technologies that challenge the current landscape of management education.
The technology-based labs at GLFBS are designed to equip students with the necessary skills and knowledge to thrive in an ever-changing business environment. They offer facilities and resources that enable students to delve into emerging technology areas, including 3D Printing, Robotics and Automation, Artificial Intelligence and Machine Learning (AI-ML), Blockchain, Biotechnology, the Internet of Things (IoT), and more.
Prof. Bhattacharyya affirms, "We understand the importance of staying ahead of the curve when it comes to technology and its impact on business. Our labs serve as a bridge between theoretical knowledge and practical application, allowing students to gain hands-on experience with cutting-edge technologies."
These technology platforms provide a dynamic learning environment where students can explore, experiment, and develop innovative solutions. By engaging with disruptive technologies, students develop a deep understanding of their implications and potential applications in various industries.
Moreover, the labs act as a catalyst for entrepreneurship and innovation. By providing access to advanced technologies and resources, GLFBS encourages students to think outside the box, fostering their entrepreneurial spirit. The institution actively supports startups and promotes a culture of innovation through its business incubation initiatives.
Prof. Bhattacharyya asserts, "We believe that exposure to emerging technologies and innovation is crucial in preparing our students for the future. By embracing disruptive technologies and encouraging entrepreneurial mindsets, we empower our students to become trailblazers in their respective fields."
The technology-based labs at GLF Business School symbolize the institution's commitment to staying at the forefront of technological advancements and preparing students to navigate the challenges and opportunities of a rapidly evolving business landscape. Through these labs, students gain hands-on experience, develop problem-solving skills, and cultivate a mindset of continuous learning and adaptation.
As technology continues to reshape industries, GLFBS ensures that its students are equipped with the knowledge and skills to leverage these advancements effectively. By providing access to cutting-edge technologies and fostering a culture of innovation, GLF Business School is shaping future leaders who can thrive in the digital era and contribute to the advancement of society.
The Journey Continues with a Strong Foundation and Personal Motivations
Building an institution is a process that requires dedication and perseverance. Prof. Bhattacharyya firmly believes that students are the stepping stones to success, and investing time in building their knowledge base and developing their skills is paramount. Above all, she emphasizes the importance of nurturing them to become good human beings.
Prof. Bhattacharyya asserts, "I firmly believe that placement is a natural outcome of the institution's brand value, as well as the knowledge and skills acquired by our students during their professional course. By focusing on holistic development and providing a conducive learning environment, we strive to equip our students with the tools they need to succeed in their careers."
Beyond her role as an academic administrator, Prof. Bhattacharyya is also a Professor who finds inspiration in various aspects of her life. Her sense of music serves as a motivating force, helping her maintain rhythm and balance in both work and family life. She finds immense joy and rejuvenation in the presence of young and cheerful students who continually inspire her.
However, her family holds a special place in her heart, as they provide unwavering support and encouragement. Being part of a joint family, Prof. Bhattacharyya experiences the strength of unity and finds solace in their collective support. Her family members are pillars of strength, empowering her to take on new endeavors with confidence.
Prof. Bhattacharyya cherishes the moments with her little daughter, who teaches her the art of channelizing eternal energy into meaningful work. These interactions serve as a constant reminder of the importance of harnessing one's energy and dedicating it to productive pursuits.
She reflects, "My family and the vibrant energy of my daughter inspire me on a daily basis. They remind me of the importance of balance, passion, and finding joy in both personal and professional spheres."
With her unwavering dedication and the support of her family, Prof. Bhattacharyya continues to shape the future of GLF Business School, empowering students to become not only successful professionals but also compassionate individuals who contribute positively to society.
As she looks ahead, Prof. Bhattacharyya remains committed to the institution's vision of nurturing business leaders and fostering innovation, guided by her passion for education, music, and the invaluable support of her family.
A Harmonious Conclusion and a Musical Comeback
Prof. Bhattacharyya's journey has always been infused with a deep love and passion for music, particularly Bengali songs, and Rabindra Sangeet. Since her childhood, music has been a source of inspiration and solace for her. However, her musical career took a backseat as she dedicated herself to building GLF Business School into a world-class institution.
In the year 2021, a turning point arrived for Prof. Bhattacharyya as she embarked on a much-awaited comeback to her musical roots. With her own YouTube channel, "Lopar Gaan," she reintroduced herself to the world of original Bengali songs and Rabindra Sangeet.
Her YouTube channel became a platform where she could express her love for music and share her renditions with a wider audience. Through her soulful performances, she rekindled the magic of Bengali music, touching the hearts of listeners and reviving her own artistic spirit.
Prof. Bhattacharyya reflects, "Music has always been an integral part of my life, and it brings me immense joy to share my passion with others. The comeback to my musical journey has been a fulfilling experience, allowing me to reconnect with my artistic side and express myself through the mesmerizing melodies of Rabindra Sangeet and Bengali songs."
Her dedication to both her institution and her musical aspirations demonstrates her unwavering commitment to pursuing her passions and balancing multiple facets of her life. Just as she has nurtured the growth of GLF Business School, she now renews her commitment to nurturing her artistic talents.
As she concludes her inspiring journey, Prof. Bhattacharyya stands as a true embodiment of resilience, passion, and the pursuit of excellence. Through her entrepreneurial spirit, educational leadership, and now her musical comeback, she continues to inspire others to embrace their passions, follow their dreams, and create a harmonious balance in life.
Prof. Bhattacharyya's story reminds us that true fulfillment lies not only in professional accomplishments but also in nurturing the aspects of our lives that bring us joy and fulfillment. With her renewed dedication to music, she continues to inspire others to embrace their passions and find harmony in their personal and professional pursuits.
As the journey of Prof. Lopamudra Bhattacharyya, Founder CEO & Professor of GLF Business School, continues, her accomplishments in the world of education and her rekindled musical endeavors stand as testaments to her remarkable journey as a pioneering woman leader and an inspiration to all.
For More Info: https://glfbusinessschool.com/
Related Articles