Give a man a fish and you feed him for a day; teach a man to fish and you feed him for a lifetime'. This is a famous quote by Maimonides. This quote showcases what must lie at the heart of education and State Institute of Hotel Management, Balangir, is an educational institute that was built on this quote. State Institute of Hotel Management, Balangir (SIHM) was established to bring the light of modern education into the life of socially and economically backward students of the KBK districts of the western part of Odisha to help them get the most modern stream of education. Thus, facilitating them to establish milestones in their career life and, and in the long run, in life itself.
Since its inception in 2004, SIHM envisions to be the educational institution by providing world-class education in diverse emerging disciplines to produce conscientious and learned professional who can contribute significantly to the socio-economic development of the nation.
SIHM also envisions to provide value-based high-quality education to the students, impart and train the students both theoretically and practically on the latest developments in their branches of study, continuously upgrade the technical facilities and faculty on par with the best institutions in the region & country, and in the process grow to be one of the best providers of quality education.
SIHM currently operates from a beautiful building in a picturesque location on the outskirts of Balangir town on the Balangir –Titlagarh state highway. Keeping in view the advancements in the ever-evolving hospitality industry, SIHM has been equipped with modern labs to effectively train prospective students in the various aspects of Hotel Operations.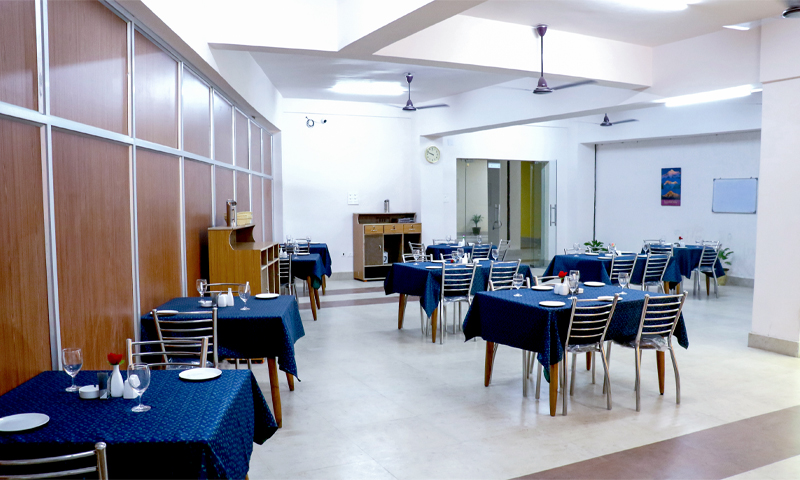 Courses Offered
Set up with joint assistance from the Govt. of Odisha and Govt. of India with a view to training and developing skilled manpower for the dynamic Hotel Tourism Industry, SIHM offers four different demand-driven courses in core hospitality operations ranging from B.Sc. In Hospitality & Hotel Administration, Diploma in Food Production, Diploma in Food & Beverage Service, Diploma in Front Office Operation, Diploma in House Keeping Operation, Diploma in Bakery &
Confectionary, Craftsmanship Certificate Course in Food & Beverage service to Craftsmanship Certificate Course in Food
Production & Patisserie.
Adopting a hand-on-training methodology for its students, in which the students are sent out on regular intervals for a firsthand experience of the operation of the hospitality industry, the institute also provides regular inputs session by reputed Chef, General Manager, F & B Manager, Housekeeping Manager and Front Office Executive of various five-star properties.
Moreover, the students are also encouraged to prepare internet based/research-based submission of projects on regional cuisine, changing trend of hospitality and forgotten and lost recipes of the various region.
Always maintaining a good rapport with the industry across the country as well as abroad, SIHM provides its students with
regular internship programs, wherein they are sent on a pre-guided training program for a short duration to the various top-class property to check the changing hospitality world. The students are encouraged to write reports on the industry visit and the Institute has taken steps in collaborating with sustained training and development program for a continuous basis for its students. As a result, the students receive a firsthand exposure, gaining valuable knowledge and experience that employers seek in future employees.
The teaching faculty at SIHM are recruited based on the rules introduced by NCHMCT, where candidates who have cleared the NHTET exam (National Hospitality Teacher Eligibility Test) are recruited. This ensures that experts with proper knowledge bases are hired. Apart from this, the Institute conducts training for the teaching faculties at various hotels to
keep them updated about the latest trends in the industry and keep them educated.
SIHM also have a teacher diary system called the teacher logbook, wherein teachers are requested to reflect the topics that they have covered in their classes. This teacher diary is regularly evaluated by the Principal and is matched with the syllabus to ensure completion of the syllabus in time. Apart from the teacher diary set, standardized notes on the subject are also maintained. These notes are enriched by theoretical inputs and are distributed among the students.
The effectiveness of SIHM's teaching-learning methodologies can be seen in the achievements of its students: for instance,
Sudhir Singh a student of Diploma In Front Office Operation ranked All India Topper in the Annual Diploma Examination
conducted by NCHMCT in 2008; Soumya Panda was the all India Topper in NCHMCT examination 2009; Sunil Mahapatra was the all India Topper in NCHMCT examination 2010; Sumitra Sahoo was all India Topper in NCHMCT examination 2017; Samparna Nayak, a student of Diploma Food Production trade topped the NCHMCT examination in 2017; Akash K Pillai a student of Craftsmanship Certificate Course In F&B Service topped the NCHMCT examination in 2017, and Bansidhar Seth,
student of Craftsmanship Certificate Course in F&B Service trade topped the NCHMCT examination in 2019 (July-December), and also the fact that SIHM, Balangir has been Ranked as No.1 Institute at all-India level and has won the Best SIHM Award (all-round performance) at National Awards for  Excellence in Hospitality Education for the years 2008-09, 09-10, and 2010-11.
This is also why corporate kingpins like Ocean Gourmet Delite, Chennai; Barbeque Nation, Bangalore; Marriott Hotel, Indore; Infosys, Chennai; Deo Residency, Jajpur; Citrus Cunningham, Bengaluru; Four Point Sheraton, Vadodara; The Park, Bengaluru; Radisson Blu, Chennai; Hotel Park Plaza, Chennai; Mayfair Spa, Resort & Casino, Gangtok; Hotel Mayfair Palm Beach Resort, Gopalpur; Courtyard by Marriott Madurai, Madurai; Fairfield by Marriott Amritsar, Amritsar; Lemon Tree Premier, East Delhi; and Hilton, Chennai approach State Institute of Hotel Management, Balangir to recruit the creme le creme.
SIHM in the Offing
Moving forward, State Institute of Hotel Management, Balangir, intends to continue to train its students with International
standard of hospitality education and imparting knowledge, skill and attitude for providing suitable manpower in the Global hospitality and service industry.
To this extent, SIHM plans to send its students for an international internship, introduce international level degree courses, carving courses, French and other modern language courses, and organize international
workshop and seminar on changing trend of modern hospitality.
Shri Vishal Kumar Dev, IAS, Chairman (SIHM, Balangir) Commissioner- Cum-Secretary, Tourism Dept., Govt. Of Odisha
Related Articles