Igniting the World through Innovation, Entrepreneurship, and Student Empowerment
The University of the Commonwealth Caribbean (UCC) is more than just a higher education institution; it is a melting pot of cultures, a hub of innovation, and a gateway to a brighter future for students from around the world. With a rich history dating back to the 1970s, UCC has evolved into a dynamic, modern, and globally recognised institution that offers a diverse range of programmes and opportunities to help students achieve their academic and personal goals. "The University of the Commonwealth Caribbean was established in 2004 with the merger of the Institute of Management Sciences, founded and incorporated in 1992 by Group Chairman Dr. Winston Adams and Deputy Group Chair Mrs. Geraldine Adams, and the Institute of Management and Production, which was incorporated in 1976," shares Professor Haldane Davies, President of University of the Commonwealth Caribbean.
Being the largest and fastest-growing private institution of higher education in Jamaica is no small feat, but UCC has managed to achieve this through its commitment to excellence, innovation, and inclusivity. With a diverse range of programmes, flexible delivery modes, and access to financing, UCC has made higher education more accessible to students from all walks of life, regardless of their financial circumstances or geographical location. Moreover, UCC's institutional accreditation from the University Council of Jamaica and the UK-based Accreditation Service for Independent Colleges and Universities attests to the quality and rigour of its academic programmes, ensuring that students receive a world-class education that is recognised both locally and internationally.
UCC's commitment to quality doesn't stop there. As a registered member of the Jamaica Tertiary Education Commission, UCC is subject to rigorous regulatory and supervisory standards, which means that students can be assured of the highest standards of academic integrity and quality assurance. Prof. Davies says, "Our vision is to provide broad-based educational opportunities through partnerships, flexible delivery modes and access to finance in an environment where high standards, truth, respect and the dignity of the person are embraced." In short, UCC is a symbol of Jamaica's commitment to excellence in education and a beacon of hope for students from all corners of the globe who are looking to achieve their academic and personal goals.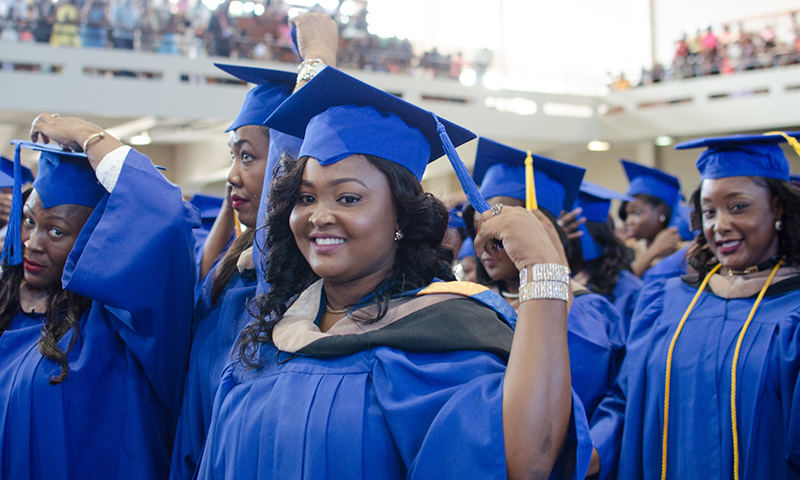 Offering a Multitude of Opportunities
At UCC, students have the opportunity to pursue a wide range of disciplines, from professional certificate programmes all the way up to doctoral degrees. Whether you're looking to jumpstart your career with a certificate or diploma or take your education to the highest level with a doctoral degree, UCC has the programmes and support to help you achieve your goals. "Throughout its history, we have been characterised by dynamic entrepreneurialism and international institution partnerships," states Prof. Davies.
UCC is the only local Institution to be recognised as an affiliate University of London institution, which means that it is authorised to provide support to Jamaican students enrolled in the Certificate of Higher Education in Common Law and the Bachelor of Laws degree programme. This partnership with the University of London is just one of many examples of UCC's commitment to offering world-class educational opportunities to its students. "We have also partnered with Florida International University to offer the Professional Master of Business Administration and the Master of Science in Engineering Management. These programmes provide students with the skills and knowledge they need to succeed in today's rapidly evolving business and engineering landscapes," pinpoints Prof. Davies.
In addition, UCC has licensed the Commonwealth Executive Master of Business Administration and the Commonwealth Executive Master of Public Administration degree programs from the Commonwealth of Learning, further expanding its range of academic offerings. For those looking to take their education to the highest level, UCC offers a Doctorate in Business Administration as well as a Professional Doctorate in partnership with the UK-based University of Sunderland as the awarding body. These partnerships and collaborations are just some of the many ways that UCC is working to provide students with the highest-quality education possible.
Going Global with UCC Global  
With its commitment to flexibility and innovation, UCC is making higher education accessible to a broader range of students, including those who may not have been able to pursue a university degree in the past. Whether through its UCC Online or UCC Global programmes, the Institution is delivering quality education that meets the needs of students from all over the world. UCC currently hosts approximately 20 international students from across the Caribbean, South America and Africa in its online learning environment.
In addition to its online offerings, UCC also provides hybrid learning options, which blend both online and in-person learning experiences. This allows students to take advantage of the convenience of online learning while still benefiting from the personal interaction and support of a traditional classroom setting. "UCC Global, our world-class online education division, offers an extensive range of study options with the full flexibility to pick and choose a programme plan or specific subject area that suits a prospect's career aspiration," says Prof. Davies.
UCC Global's mission is to make quality higher education available to qualified students anywhere they are, with highly skilled and certified international teachers from a variety of backgrounds, delivering excellent programmes entirely online. Prof. Davies adds, "UCC Global recognises that today's students require the freedom to integrate education with everything else in their lives at their own pace, and so our online classroom is available 24 hours a day, seven days a week."
UCC's commitment to staying ahead of the curve is reflected in its diverse range of programmes, including those in emerging fields. The Institution's focus on cutting-edge fields like data privacy, artificial intelligence, and computer engineering ensures that students are equipped with the knowledge and skills necessary to thrive in today's ever-changing job market. With many new programmes coming on stream every year, UCC is constantly expanding its offerings to meet the needs of the future workforce.
Moreover, UCC's accreditation by the Accreditation Service for International Schools, Colleges, and Universities (ASIC) and Premier status with ASIC for its commendable areas of operation is a testament to the quality of education offered at the Institution. Students and parents alike can rest assured that UCC meets high international standards, making it an excellent choice for those seeking a quality education.
Prof. Davies assures, "Our online programmes, which are 100% accredited, are offered asynchronously, providing international students with the flexibility to study at their own pace in their own time. This ensures that students can balance their studies with their personal and professional responsibilities, making it an ideal option for working professionals or those with family obligations." The Bachelor of Science degrees in Business Administration, Marketing, and Human Resource Management are popular programmes for UCC's international students.
An Inclusive Learning Experience
UCC Global offers a variety of accredited undergraduate and graduate programmes that can be completed 100% online, providing international students with the flexibility to study at their own pace and in their own time. Some of the undergraduate programmes available include BSc Business Administration, BSc Business Administration in Accounting, BSc Business Administration in Financial Management, BSc Marketing, and BSc Information Technology. UCC Global also offers graduate programmes (MBAs) in Accounting, Entrepreneurship, Finance, Healthcare Management, Human Resource Management, and Marketing.
To augment the academic quality, UCC is actively fostering research on its campus through various measures. Prof. Davies explains, "Lecturers who are active researchers are given a reduced teaching load, allowing them to dedicate more time to their research. Financial assistance is also provided to lecturers to attend conferences, pay the publication fee, and purchase research-related equipment." At UCC, collaborative research is encouraged among lecturers, students, and overseas scholars.  The Institution also organises an annual Writers' Retreat that assists faculty members in improving their research skills and research output
Furthermore, UCC hosts an annual Research Conference that facilitates collaboration and networking, as well as monthly Brown Bag sessions, which promote the sharing of research ideas and showcase completed research projects. These initiatives demonstrate the Institution's commitment to fostering a vibrant research culture on campus. "We have made it as a mission to attract the best and brightest faculty, who are not just credentialed (PhD), but who are also well sought after, respected and experienced leaders in their respective fields," pinpoints Prof. Davies.
Having a diverse faculty body allows for a more inclusive and culturally rich learning environment, which is integral to UCC's global vision. Faculty members from different countries and cultures bring a unique perspective to the classroom and enable the Institution to promote cross-cultural understanding among its students. In addition, UCC has established partnerships with universities and institutions across the world, which facilitates student and faculty exchange programmes. These exchange programmes allow for the sharing of knowledge, ideas, and experiences, which ultimately enhances the quality of education offered at UCC.
Encouraging Innovation and Creativity
UCC actively fosters innovation and entrepreneurship among its students through various projects and programmes. One such programme is the annual Innovators Unlimited Battle Ground hackathon, which allows students to participate in local, regional and international events. UCC's Innovation Centre also provides training in app development, business readiness and financing to expose students to issues affecting Jamaica. Students are also encouraged to participate in various competitions, including the Development Bank of Jamaica (DBJ) Business Model Competition.
"Our students need to complete a capstone project with a business case as a component. We encourage them to commercialise this research," shares Prof. Davies. The UCC Innovation Centre supervises mandatory applied research capstone projects for the Information Technology department, where students develop platforms such as a freelance platform similar to Upwork and a B2B trade platform fine-tuned to CARICOM trade rules. Besides, innovation and entrepreneurship courses such as BUS403 or IT Entrepreneurship are also part of the IT degree or social sciences and law programmes.
The UCC Innovation Centre hires student workers to complete research and test solutions via startups or UCC services such as UCC TV or IUBG. "One student is currently completing research on ChatGPT and its potential use in automating workflows done by professional financial analysts, with the aim of helping startups complete financial records and venture capital investment proposals," says Prof. Davies.
UCC is committed to promoting entrepreneurship among its students and the wider community through its Business Development and Consulting Institute (BDCI). The BDCI is a member of the Jamaica Small Business Development Centre (SBDC) Network and works in collaboration with the Jamaica Business Development Corporation (JBDC). "The BDCI provides free webinars to students and aspiring entrepreneurs to sensitise them about the industry and trending topics and challenges faced by entrepreneurs. Some of the topics covered include how to obtain financing, pitching, tax filing, and patent registration," explains Prof. Davies. Additionally, workshops on starting a business are provided to individuals who are currently in the startup phase. These workshops cover various aspects of starting a business, such as ideation, record-keeping and budgeting, website design, and e-commerce.
"The BDCI has an open-door policy, and free counselling services are provided to individuals with existing businesses or those interested in starting their own business," states Prof. Davies. UCC also collaborates with the Innovation Entrepreneurship and Technology Centre to organise the Hackathon and Business Model Competition. Through these initiatives, UCC seeks to promote entrepreneurship, innovation and equip individuals with the necessary skills to succeed in their business ventures.
A Rewarding Academic Life
"At UCC, we believe that the student experience should be both academically and professionally fulfilling. That's why we have a Department of Student Support, Career Development, and Alumni Services that offers a range of programmes and resources to help students achieve their goals," shares Prof. Davies. One such resource is UCC's career guidance and job placement assistance, which helps students identify and pursue career paths that match their skills and interests.
UCC also encourages students to participate in capacity-building activities such as field trips, sports days, conferences, guest lectures, and webinars featuring experts and professionals from various industries. These activities help students to develop their skills and knowledge in areas beyond their academic programmes. "We encourage students to create and join clubs and societies, as these groups provide opportunities for networking, socialising, and personal growth. For example, our UCC Debating Society has represented the institution in various competitions and events, including the Commonwealth Day Year of Youth Panel Discussions and the JADE National Collegiate Debating Championships 2023, where they placed fourth out of 20 teams," says Prof. Davies. Overall, there is always something happening at UCC, as the Institution is committed to providing its students with many opportunities for enrichment and personal growth.
Igniting the World
UCC, under the leadership of its president, Professor Haldane Davies, has embarked on a journey to IGNITE THE WORLD. The Institution is working with industry partners to ensure that graduates are workforce-ready and capable of effectively contributing to their organisations. "We aim to assure quality and overall institutional effectiveness of student learning and institutional outcomes by teaming with partners like WorldSkills Jamaica to clearly state that all students at whatever level of learning are progressing from competence to excellence," shares Prof. Davies.
To expand access to higher education, UCC is offering more undergraduate and graduate programmes through its asynchronous platform, as well as providing stackable credentials and delivering some graduate programmes in languages such as Spanish and Portuguese. The Institution is also collaborating with other institutions of higher education to ensure increased access to tertiary education for all people, irrespective of their socio-economic background.
"Creating digitally competent global citizens is one of our primary goals, and to that end, we aim to ensure that each student graduating from UCC effective 2024 completes a course or obtains a micro-credential in digital literacy or other similar type certification offered at the Institution," says Prof. Davies. As UCC continues to expand its offerings and partnerships, it remains committed to its mission of preparing students to become exceptional leaders and scholars in a caring and intellectually stimulating academic environment. With its focus on innovation, flexibility, and accessibility, UCC is truly an Institution for the modern world.
For More Info: https://www.ucc.edu.jm/
Professor Haldane Davies, President
A native of the Virgin Islands, Professor Haldane Davies is an accomplished and dynamic university administrator with extensive knowledge of administrative principles and procedures and in-depth understanding of university structuring and operations to propel organizational growth and achieve favourable results.
An academician with a deep commitment to quality and quality assurance, Professor Davies has served for many years as an accreditation and award evaluator for Middle States Commission on Higher Education (MSCHE), National Certified Public Manager Consortium (NCPMC), and Malcolm Baldrige Performance Award Programme.
The former Vice President for Business Development at the University of the Virgin Islands (UVI), he was instrumental in securing major multi-million-dollar grants and contracts, helping to initiate numerous high-priority projects and enhancing the UVI's presence in the Caribbean region and beyond through various partnership agreements.
Related Articles