Shri Vaishnav Institute of Journalism and Mass Communication (SVIJMC) of Shri Vaishnav Vidyapeeth Vishwavidyalaya was established in 2016 to promote excellence in journalism and mass communication education and to prepare the students to meet the challenges of the globalized world. The institute makes sure that the students are not just given bookish knowledge but are well prepared to prove themselves in the field as well. "The course is prepared in such a way that both theoretical and practical knowledge is disseminated to the students," says Dr Santosh Dhar, Dean – Faculty of Doctoral Studies and Research at Shri Vaishnav Vidyapeeth Vishwavidyalaya.
Since networking is essential in the media industry, field visits are a regular feature of SVIJMC's curriculum. "It gives students exposure to how work is done on the field and also an opportunity to interact with the professionals and develop contacts," shares Dr Dhar. The institute organizes guest lectures in which RJs, news anchors and other media professionals are invited to share knowledge and experiences with the students. Supporting the institutes and students in this pursuit is its young and dynamic faculty members. Dr Dhar pinpoints, "Our faculty members have both academic and field experience, which help them in teaching-learning process by adopting a practical approach.
SVIJMC ensures that faculty members remain updated with the latest technology and knowledge. Therefore, from time to time, the institute sponsors them for faculty development programmes, workshops, conferences both at national and international level. "We also organize in-house webinars for the development of the faculty," adds Dr Dhar.
Preparing Students for the Industry
At SVIJMC, internships in the final year are mandatory for the students. "Internship allows students to explore more in their field of interest and learn new things. They present their work done during their Internship in the form of a report in front of the panel constituted of an external expert and faculty of the institute," explains Dr Dhar.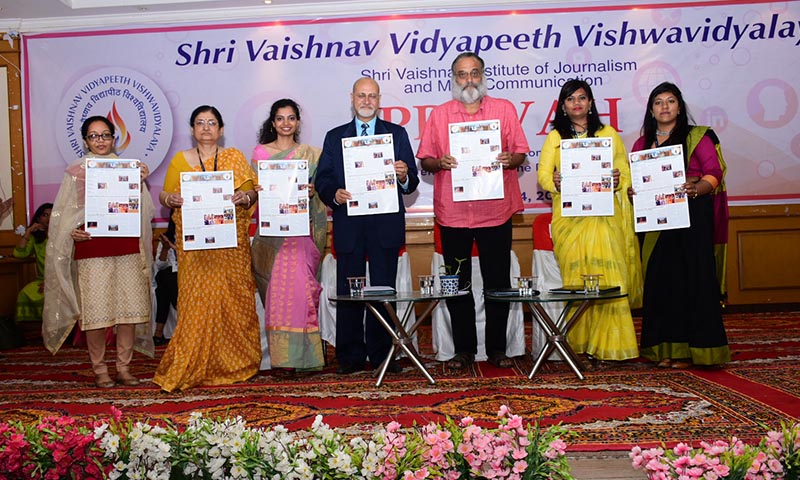 On the other side, SVIJMC releases a three-monthly newspaper, which is edited, written and designed by the students under the mentorship of faculty. "There is a YouTube channel also, which is again entirely run by the students. Both these activities help the students to learn the fieldwork at a very ground level and understand the nuances of journalism and mass communication," says Dr Dhar.
To augment the job opportunities for the student, Placement Cell of SVIJM is continuously collaborating with the industry. Currently, SVIJM students are working as presenter, journalist, content writer in well-established brands like Danik Bhaskar, Red Fm, Radio Mirchi, Wapp Go and many more.
Going Digital During the Pandemic
COVID-19 has brought in disruptions in every field, and education is no exception. With the help of technology, SVIJM was able to hold proper classes. "We conducted a lot of activities to teach the students and give them practical knowledge besides theoretical knowledge through a digital platform. Assignments were also given online," shared Dr Dhar. The digital platform has reduced the barrier and given ease where speaker and student can connect and learn more. Dr Dhar adds, "We have extensively used digital platform where presentations and video materials are shared for the learning process. Webinars are organized where experts from different fields are invited to address the students."
Going forward, SVIJM has planned to conduct more online workshops to offer industrial experience and more practical learning. The institute also encourages independent thinking amongst the students and contribute to society. "Marching towards excellence with rigour and enthusiasm constantly, we look at the new horizon and envisages the fulfilment of our dream to become a benchmark in media education nationally and internationally," concludes Dr Dhar.
Dr Santosh Dhar
Dr Santosh Dhar is Dean – Faculty of Doctoral Studies and Research at Shri Vaishnav Vidyapeeth Vishwavidyalaya, Indore. She has been engaged in teaching, research, corporate training and consultancy for the last 40 years. Dr Dhar has widely published her work and has more than 332 publications to her credit. Many research scholars have been awarded PhD degree under her supervision. She has also designed and conducted management development programs for the executives of several business houses, such as Grasim Industries, JK Tyre, Bridgestone, Hindustan Motors, ONGC and GAIL to name a few. She has been on the Panel of Reviewers of Oxford University Press and Tata McGraw-Hill. Dr Dhar has presented papers in several national and international conferences/seminars and had the opportunity to visit Kathmandu (Nepal), Male (Maldives), Bangkok (Thailand), Beijing, Shangai, Guanzhou, Shenzen, Hong Kong (China), Seoul (South Korea) Dubai (UAE), Tumu (Myanmar), Poland and the United States in connection with various professional and academic assignments.
Related Articles