As per the reports from the United Nations, the COVID-19 pandemic has created the largest disruption of education systems in history, affecting nearly 1.6 billion learners in more than 190 countries and all continents. Closures of schools and other learning spaces have impacted 94 per cent of the world's student population, up to 99 per cent in low and lower-middle-income countries. However, Dr Sudhindra Baliga, Dean and Professor in the Department of Pediatric and Preventive Dentistry at Sharad Pawar Dental College, believes that the crisis has helped to stimulate innovation within the education sector. Dr Sudhindra Baliga opines, "The COVID-19 pandemic has led us to introspect on the traditional teaching modalities and envisions a holistic learning experience for the students. While it presents its challenges, it is also a massive opportunity to break out of old habits and create new; impactful and relevant modes of learning that take advantage of the technology at this moment."
Located in Maharashtra, Sharad Pawar Dental College and Hospital was quick to adapt to online teaching and learning via video conferencing platforms and learning management systems during the COVID19 pandemic. The institute's shift from classroom teaching to online teaching for the delivery of knowledge has been seamless and remarkable. "This brewing pandemic has given us many troubling situations, but with every challenge comes an opportunity. Our faculty members, apart from teaching students online and taking their assessments and presentations, are also upgrading their skills by taking part in various virtual development programs, digital workshops, online certifications courses and many more. They also access several open courses from the best institutions," shares Dr Baliga.
Sharad Pawar Dental College and Hospital have also tied up with Coursera- a global online learning platform that offers massive open online courses, specializations, degrees, professional and master track courses. Coursera provides the college with free of cost access to its course catalogue through the Coursera for Campus platform. Dr Baliga adds, "Grabbing this opportunity, we have enrolled all our faculty and students for various courses related to academics and co-curricular fields. Our students, both undergraduate and postgraduates, and the faculty members are getting an enriching experience, certification and upgradation."
Dr Baliga foresees that the higher education will become significantly more accessible as college thinks about how to move all their programming online, including teaching, assessment, counselling, student life, and so on. He predicts, "There will be more and more emphasis on a gradual transition into an online mode where teaching, learning, assessment and interactive counselling can be conducted at a distance." Once the government gives permission to reopen education institutions, classrooms in the college will also have to adhere to the norms of social distancing. "Students and faculty will have to ensure that the guidelines given by the competent authorities are implemented and duly followed. Extensive sanitization of classrooms and common areas will be the new normal in our institute," affirms Dr Baliga.
Besides conducting regular online learning activities, Sharad Pawar Dental College and Hospital has been actively taking part in the community's fight against the COVID-19. The institute employed all postgraduate students at Acharya Vinoba Bhave Rural Hospital (AVBRH)- 1525 bedded fully equipped teaching hospital attached to the Dental College with state-of-the-art facilities – for the screening of COVID-19 patients. Sharad Pawar Dental College and Hospital has also created institutional isolation clinics and prepared detailed SOPs for screening, infection control and biomedical waste management. In addition to these, the institute has been proactive on social media platforms to create awareness regarding the Coronavirus, symptoms of COVID and its prevention.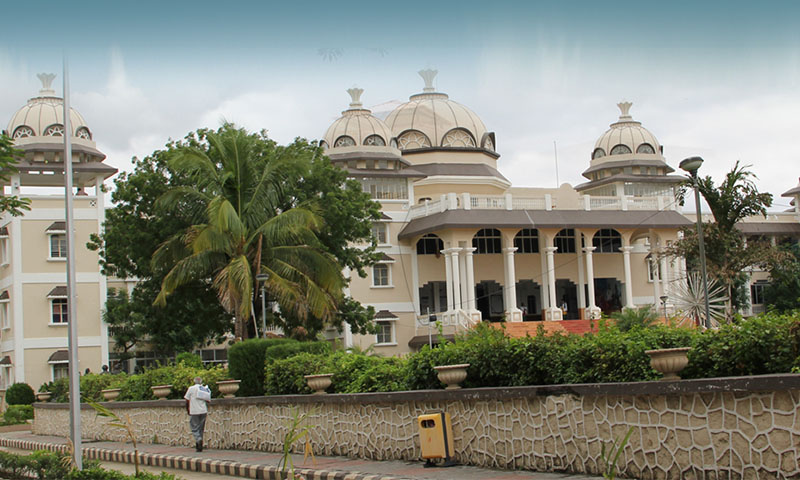 An Institute that Stands for a Change
Established in 1991, Sharad Pawar Dental College and Hospital is recognized among the best private dental colleges in the country. The institute has been ranked 14thin Dental Category of 2020 National Institutional Ranking Framework (NIRF) by Ministry of Human Resource Development (MHRD). With an intake capacity of 100 students annually at the undergraduate level, Sharad Pawar Dental College and Hospital offers speciality courses in eight subjects. The college is recognized by the Dental Council of India.
Dr Baliga shares, "We have all facilities which are at par with the best in the world. To cater to the student needs, we are equipped with more than 300 dental chairs, well-developed museums, departmental libraries, highly qualified & experienced faculty."Sharad Pawar Dental College and Hospital is a constituent unit of Datta Meghe Institute of Medical Sciences (Deemed to be University) that has been granted Autonomy for maintaining high academic standards and are included under Category I of the Ministry of HRD, Government of India. The University has been re-accredited with grade A+ by NAAC with cumulative grade score of 3.53.
Unlike many dental institutions in India, research is one of the significant concerns of Sharad Pawar Dental College and Hospital. The institute has 18 undergraduate research projects that have been approved, completed and sanctioned by Indian Council of Medical Research Short Term Studentship projects and 6 more projects are currently ongoing. In addition to that, five Postgraduate students have received financial assistance for thesis by the Indian Council of Medical Research. "Students from our college have participated and presented paper/poster in International and National Conferences and have received more than 200 awards. We also encourage our students to publish the research work carried out by them, and we have more than 300 student Publications published in various National and International Journals," proudly claims Dr Sudhindra Baliga. Sharad Pawar Dental College and Hospital students have bagged academic excellence awards from various associations like Pierre Fauchard Academy, Indian Society of Pedodontics and Preventive Dentistry, Indian Society of Periodontology and Indian Dental Association.
To augment the research abilities and creativity, Sharad Pawar Dental College and Hospital has established an Institutional innovation council (IIC) recognized by Innovation cell, HMRD, Govt. of India. Under the supervision of IIC, the institute conducts various innovation and entrepreneurship-related activities prescribed by Central MIC in a time-bound fashion. "The IIC organizes periodic workshops, seminars, and interactions with entrepreneurs, investors, professionals and create a mentor pool for student innovators. We also identify and reward innovations and share success stories," explains Dr Sudhindra Baliga.
Combining Professionalism, Care and Ethics 
Sharad Pawar Dental College and Hospital instils specific qualities in its students before they graduate from the institute. "The Graduate attributes have been classified under three domains which include professionalism, patient care and dental profession," says Dr Sudhindra Baliga. The graduates of Sharad Pawar Dental College and Hospitalexhibit empathy, compassion, honesty, integrity and can demonstrate them and recognize its importance in dental health care. They have self-awareness of when clinical problems exceed their knowledge and skill, and a willingness to seek help and/or to refer the patient. Dr Sudhindra Baliga adds, "Our students can negotiate, give and receive constructively to criticism, appraisal, performance review or assessment. They also recognize their own personal, cultural or religious beliefs and are aware that these beliefs must not prevent the provision of adequate and appropriate care to the patient." The students also have a thorough understanding of the ethical principles and legal responsibilities involved in the provision of dental care to individual patients.
When it comes to patient care, the institute empowers the graduates to communicate with patients from diverse backgrounds including the ability to listen to, respond to, and provide appropriate information to patients and respect patients' values and their expressed needs. "Our students perform appropriate dental procedures effectively and safely, with due regard for the patient's comfort, including during emergency procedures. They predict, prevent and correct deficiencies in patients' oral hygiene regimens and provide patients with strategies to control undesirable habits affecting the maintenance of oral and general health," affirms Dr Sudhindra Baliga.
Every student graduating from Sharad Pawar Dental College and Hospital understands the continuum of dental training and the various roles and expertise of different dental and oral health practitioners and their interaction. They can provide useful peer review to assist colleagues in improving their performance and are matured and responsible for maintaining standards of dental practice at the highest level throughout a professional career. Dr Sudhindra Baliga pinpoints, "We try to inculcate the philosophy of lifelong learning and accept that continuing professional development in our students for their professional growth."
Today, with cutting-edge infrastructure facilities and highly experienced faculty members, Sharad Pawar Dental College and Hospital is planning for the inclusion of research culture in the undergraduate students. While enabling real-life experience on advanced mannequins, the institute would be developing an integrated multidisciplinary competency-based curriculum imparting advanced training for achieving the competencies of the decade. "In the coming years, we would be providing holistic learning to the students with the help of technology. We also have plans to collaborate with renowned international universities for research, student exchange and faculty exchange," concludes Dr Sudhindra Baliga.
Dr. Sudhindra Baliga, Dean
Professor Dr Sudhindra Baliga is working as the Dean and Professor in the Department of Pediatric and Preventive Dentistry at Sharad Pawar Dental College. He graduated from A. B. Shetty Memorial Institute of Dental Sciences, Mangalore in 1999 and went on to complete his Masters in Pedodontics from Yenepoya Dental College; Mangalore in 2002. He began his career in Pedodontics in prestigious Manipal College of Dental Sciences, Manipal. He has completed his PhD in the field of Pedodontics, the focus of his research is on sickle cell anaemia in tribal children. He is a Member of the prestigious Royal College of Physicians and Surgeons of Glasgow. He has completed his fellowship in Dental Education. To add to his accolades, he also holds the office of the Journal of Indian Society of Pedodontics, a PubMed indexed journal, as the Editor-In-Chief. To date, he has published over 75 peer-reviewed scientific papers and research abstracts in the scientific dental literature. He has delivered guest lecturers in several national and international conferences and contributed as an author in speciality textbooks. His clinical interests are Phytodentistry and Minimal Intervention Dentistry.
Related Articles