Assam Don Bosco University (ADBU) has been sponsored by the worldwide family of the Don Bosco Society that  caters to the educational and developmental needs of 9 million young people. ADBU is known for its unique student-centred pedagogical heritage and the distinctive educational philosophy and method of Don Bosco institutions worldwide. The University was formally established as a State Private University by the Assam Don Bosco University Act 2009 and notified in Assam Government Gazette No. LGL 149/2008/30 dated 12th February 2009. The University has been recognised by the University Grants Commission (UGC) since 2009. It has been re-accredited by National Assessment and Accreditation Council (NAAC) in 2021 with an A Grade. It is approved by the Distance Education Bureau for offering distance education programs and by the All India Council for Technical Education (AICTE) for conducting engineering, management and computer application programs.
The university is a member by the Association of Indian Universities (AIU, New Delhi) since 30th November 2013. It has been a part of the Commonwealth Association of Universities (ACU, London) since 18th October 2011 and the International Association of Universities (IAU, Paris) since 29th November 2011.
"The Association of Don Bosco Institutions of Higher Education focuses on contributing to national development by eminently serving the cause of social justice, ensuring equity and increasing access to higher education. Our aim is to foster global competencies among students by making the ability to function on a worldwide scale," shares Fr. (Dr) Stephen Mavely, Vice Chancellor, Assam Don Bosco University. The university focuses on inculcating community essential and desirable values cherished by our ancient civilisation and core universal human values and enthusiastically adopt ICT-enabled processes for teaching, administration, resource- sharing and networking.
Fr. (Dr) Stephen Mavely adds, "the vision of Assam Don Bosco University is to mould intellectually competent, morally upright, socially committed and spiritually inspired persons, at the service of India and the world of today and tomorrow, by imparting holistic and personalized education. We are on a mission to be a centre for culture, knowledge, research, and intellectual ferment; for critical thinking and analysis of whatever shapes and impacts human life: culture, politics, governance, religion, education, health care etc., and to ensure that our graduates become dependable human leaders with a strong sense of commitment to the disadvantaged." The university aims to make professional and higher education accessible to the weaker sections of society.
School of Technology
Don Bosco College of Engineering and Technology (DBCET) is the first constituent college of the School of Technology of Assam Don Bosco University, and its programmes are approved by AICTE. It is set in an environment of beautifully laid out gardens and lush green lawns on the Guwahati Airport Road at Azara. "The college is fully equipped to cater to 1600 students. It is admired for its dedicated and experienced faculty, outstanding infrastructure, classrooms and labs, comfortable hostel accommodation, brisk training and placement activity, and ample co-curricular and extra-curricular activities," states Dr Manoranjan Kalita, Director – School of Technology, Assam Don Bosco University.
Established in 2008, its vision is to train engineers and technicians with a passion for excellence, creativity and commitment to visualise and create a better and more fulfilling life for themselves and the society they work for and work with. The university offers courses in Civil Engineering, Mechanical Engineering, Computer Science Engineering, Computer Applications, Electrical and Electronics Engineering and Electronics and Communication Engineering.
Teaching Methodology
At DBCET, lectures, tutorials and practicals are augmented by periodic seminars, symposia, fieldwork, rural camps, guest lectures and workshops, which provide a more comprehensive view of the subject than mere lecture methodology. Interface with industry and interaction with practising professionals are organised to keep the students abreast of current developments giving them the 'knowledge-plus-experience' edge. "Evaluation of students is done continuously through class tests, quizzes, assignments, seminars, projects, mid-semester examinations and an end-semester examination. This evaluation procedure, designed to test students' analytical and problem-solving skills and creative thinking, focuses on their performance throughout the year," explains Fr. Joseph Nellanatt, Pro Vice Chancellor, Assam Don Bosco University.
Most of the faculty members of the university are doctorate degree holders in their respective fields of study and have a good number of years of experience in teaching, research and industries. "Among our faculty and staff are the veterans in the educational administration, rank holders and gold medalists, making them unique in the higher education system," says Fr. Joseph Nellanatt.
Students lead a quite vibrant life at Assam Don Bosco University. The existence of numerous clubs allows them to engage in activities as per their interests. Some student clubs are Sports club, Dramatics Club, Art and Craft Club, Literary Club, Robotic Club, Web Designing club, Coding Club, Yoga and Healthcare Club, Photography Club, Music and Singing Club, and Innovation and Entrepreneurship etc. Every year an event related to extra-curricular activities called the "D'Verve", and an event related to co-curricular activities called the "Prajyukttam" are held with grandeur and solemnity.
A locational advantage in Guwahati, the gateway to the North-East and South-East Asian Countries, enhancing student and faculty exchange; the University's experience in using ICT for quality teaching and innovation in pedagogy; the in-house expertise in providing blended learning; increased interaction with industries to introduce industry-specialised programs and to improve employability and student skill-sets; aggressive admission strategies to increase student intake across programmes; resources of the international network of Don Bosco Society to attract more foreign students; collaborations with Universities to accelerate international exposure for the faculty and students; University's focus on socially relevant research and innovations – these are the various factors and facilities that attract national/international students to the campus. "We have students from all the northeastern states of India and from some states in other parts of India. We also have international students from South Asian countries and some African nations. This accounts for the diversity of the students and ensures exposure to the various cultures and traditions," says Fr (Dr) Johnny Jose, Registrar, Assam Don Bosco University.
Reinventing Technical Education
Industry 4.0 is revolutionising how companies manufacture, improve and distribute their products. As the manufacturers are integrating new technologies, including the Internet of Things (IoT), cloud computing and analytics, and AI and machine learning into their production facilities and throughout their operations, the School of Technology, Assam Don Bosco University focus on providing industry-relevant skills using elective courses, value-added programs and guiding in internships and training. "Following the AICTE curriculum, we have adapted our deliverables to suit the needs of Industry 4.0. We make sure that the students have adequate exposure to a variety of learning avenues so that they can hone their soft skills along with their technical skills," shares Dr Manoranjan Kalita.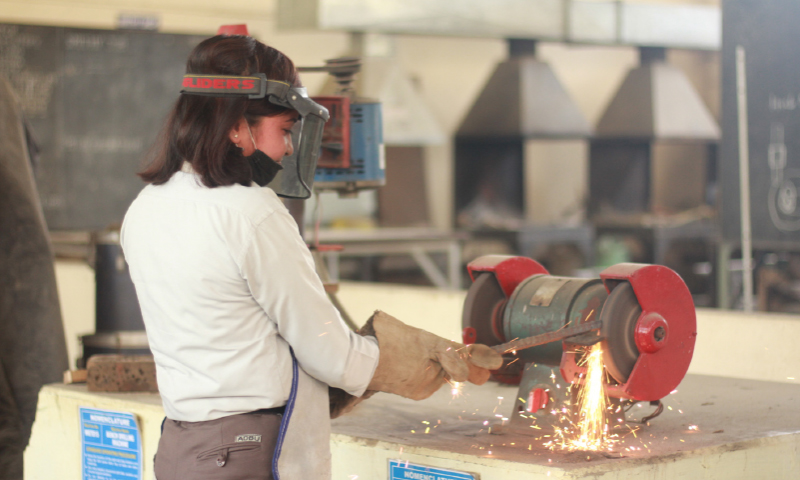 Assam Don Bosco University understands the need for industry collaborations, realising that the industry and academia are significant to each other as one cannot survive without the other. The university is committed to ensuring a sustainable link with the industry in a mutually relevant setup, progressing hand in hand with the industry, having their presence in all their Statutory Bodies, the Governing Body, the IQAC, the Academic Council and the board of studies of all the departments. In addition, regular guest lectures, talks and seminars are being conducted in collaboration with the industry.
The university has MOUs with multiple organisations, including Royal Enfield, Nanoinformatics, Tata Consultancy Servicers, Technomate, Telcocrats, KnowHow3D, MSME – Tool Room and Training Center, to name a few. With respect to collaboration with international organisations, Don Bosco has MOUs with University College Dublin Volunteers Overseas, Ireland (UCDVO), Qatar University, Universidad Internacional De La Rioja, Spain, Universiti Tunku Abdul Rahman, Malaysia, the University of Arkansas at Little Rock (UALR), University of Asia Pacific, Bangladesh (UAP), Asian Institute of Technology, Thailand, Friedrich Schiller University Jena, Germany, Frankfurt University of Applied Sciences and the Royal University of Bhutan.
Striving for excellence
The School of Technology mentors students and encourages them to participate in national and state-level innovation competitions. Students are encouraged to conduct projects on cutting-edge technologies and to solve real-world problems. Among all the institutes of Assam, students of ADBU have consistently secured funding for their projects from the Assam Science Technology and Environment Council (ASTEC), the Government of Assam.
The university has set up the Institute Innovation Council as per the directions of the Ministry of Education's Innovation Cell (MIC) and the All India Council for Technical Education (AICTE). The council consists of 11 active members. ADBU's IIC has been actively participating in MIC-driven events and organising innovation and entrepreneurship events. Some of the events that IIC has organized are the One Day Workshop on Entrepreneurial Mindset and Participation in National Webinar on Research and Innovation. Members from the IIC team have also served as resource persons for entrepreneurship events organised by other institutes of Assam.
The University has also set up an Innovation and Startup Cell as per the direction of the Ministry of Education's Innovation Cell (MIC) and the All India Council for Technical Education (AICTE). The task of this cell is to adopt the National Innovation and Startup Policy (NISP) framed by MIC and AICTE. ADBU has already adopted NISP and has prepared its own Innovation and Startup Policy based on NISP. ADBU is among the leading institutes of India to have adopted NISP. The cell conducted ADBU Ideation Competition on April 26th, 2021. Teams from all over India participated in this competition. The cell has also created a knowledge repository dedicated to topics on innovation and entrepreneurship. An MoU has been signed with Assam Startup, whereby both parties collaborate to conduct events related to entrepreneurship.
The university also has an IPR Cell that encourages patent filings arising out of the research works of the faculty and students. The cell has conducted various events such as Symposium on Patent Awareness, National Workshop on Research Publications and IPR, One day National Workshop on Intellectual Property Rights on 15th September 2021, and Two Day National Workshop on Entrepreneurship and Patents on 28th May 2022 and 4th June 2022. ADBU has participated in the Atal Ranking of Institutions on Innovation Achievement (ARIIA) conducted by MIC and AICTE. In this ranking system, institutes are ranked on parameters related to innovation.
The University also has an Entrepreneurship Development and Incubation Center. The centre has conducted Business Plan competitions and organised various Entrepreneurship Awareness Camps. The incubation centre has incubated 10 start-ups so far. School of Technology, Assam Don Bosco University has a well-written Consultancy Policy in place. The thrust area of the consultancy is the Scheme of Fund for Regeneration of Traditional Industries (SFURTI), which the Government of India launched under the aegis of the Ministry of MSME in 2005, intending to promote cluster development. "We are a Technical Agency (TA) under Scheme Steering Committee (SSC), which is constituted under the chairpersonship of Secretary (MSME) for many SFURTI projects,"  says Dr. Vikramjit Kakati, chairperson of the Consultancy Cell.
Student-Centric Approach
"Our students get opportunities from local, regional, national and multi-national organisations and are placed pan India. Around 50% of our students get placed in these organisations, with others exploring higher education, business and start-ups," Fr. (Dr) Stephen Mavely explains.  Some of the organisations where students are placed are Byjus, Capgemini, Cognizant, Dreamgains Financials, Accenture, Adani Enterprise, Quality Kiosk, CCS Corp, Tata Consultancy Services, Vodafone, Star Cement Limited, Indiamart, Federal Bank, French Motors, Infosys, Kreeti Technologies, Maverick Technologies, Royal Enfield, Schoogle, Shriram Value Services, Wipro Technologies, DKD Enterprise, Jackson Limited, Libresoft Pvt Ltd, Makersloft Pvt Ltd, Siqes, Telecom Network Solutions, Topcem and many more.
The School of Technology offers Scholarship Schemes to encourage meritorious students to avail of the excellent academic ambience of the University as well as to ensure equitable access to higher education for economically weaker sections of society and persons with disabilities. The total Scholarships Available amount to Rs. 4,67,92,000, spread across different scholarship programmes. "Our Scholarship Programmes have helped hundreds of deserving students pursue higher studies. Our Scholarships include Scholarship Based on Merit, Scholarship Based on Economic Status, Scholarship Based on Disability and Scholarship Based on Sports," shares Fr. Joseph Nellanatt.
Moving forward, the immediate plans of the School of Technology are to secure more funded research projects and to increase the number of research publications. The institute also plans to increase patent filings from the institute and give students exposure to all the emerging technologies such as IoT, AI and Data Science and make them increasingly industry ready. "As we are returning to normal life after the pandemic, we plan to conduct our classes in offline mode only. But many of our events are now conducted in the blended mode. Yet, our institute is ready for any repetition of the pandemic situation as we have successfully carried out online teaching and evaluation using the most efficient online platforms," Fr. (Dr) Stephen Mavely conveys.
For More Info: https://www.dbuniversity.ac.in/
Related Articles