Established in 1997, the Meerut Institute of Engineering and Technology (MIET) set out to be one of the top colleges to provide quality education in science and engineering. Since getting into an IIT is quite tricky, the pioneers of MIET wanted to build a breeding ground for innovators and inventors to have an experience just like IITians do, with the same academic rigour and opportunities.  Thus, to provide quality education to students, it was started by Late Shri Chandra Sen Agarwal, an educationist, along with a group of like-minded philanthropists in the region to train young men and women for industrialised India and for a global workforce. "In 1999 I thought if I am not able to clear IIT, I will join MIET. Though it had been only two years since its inception, the institute was already making waves in the higher education circles," says Mr Vishwas Gautam, Brand Head, Meerut Institute of Engineering and Technology. Now, in 2022, they are celebrating their 25th year of excellent education and plan to reach out to more students across the country and beyond India's borders.
The focus at MIET is not on training students to get jobs. As Covid-19 has exposed, there is a lack of entrepreneurial spirit among students, and there is a leadership crisis. Most people want to just find a job and settle in life. But at MIET, the campus and the syllabus are built to help students explore their capabilities and figure out what they want to do with their lives. So, the focus is to create entrepreneurs, create leaders of tomorrow who will create jobs rather than look for jobs. While most Indian talents wish to join companies like NASA, Google, Twitter, and Facebook, which causes a brain drain in the nation, MIET aims to make students who want to stay back and provide resources to make India better.
Encouraging Exploration
At MIET, the faculty members believe that the 4 years a student spends in college is the time for them to decide what role they want to play in society. As an engineering college, MIET stands out in having the best facilities in the region. The tie-ups with numerous companies also give students a taste of the field, even before they graduate. These companies include IBM, Google, Bosch, and government education organisations like the ACIC and the like. "We are offering them at a price that is quite affordable. And we have a huge, green campus that most government colleges do not. Another plus about MIET is that we are the only college closest to the industries, while all these government institutions are located outside the city. We have a vast and open campus and green and calm environment that makes students feel like they are stepping into a whole new world altogether," says Mr Vishwas.
As an institute that wants to drive the entrepreneurial spirit among students, MIET has established numerous departments and clubs that help them realise their various career options and do something exciting and innovative. MIET was one of the first colleges to launch a satellite club that teaches students to build equipment for outer space. Additionally, it also houses a thriving robotics club that gives students the chance to experiment with tech for the future. "We are nurturing innovators, inventors and entrepreneurs who are churning out jobs and are very successful. I am surprised that, though being a private institute in a city like Meerut, we were considered by companies like Goldman Sachs, Deloitte, Barkleys, JP Morgen and many more," shares Mr Vishwas. Many of these projects are funded by the government, which provides equipment and resources to help students to create something innovative. Many colleges have this funding, but the lack of infrastructure and human resources often goes unused and cut out of the budget. MIET helps such schools and colleges work with these resources, training teachers and students about making the most of these funds specifically put aside for entrepreneurial projects.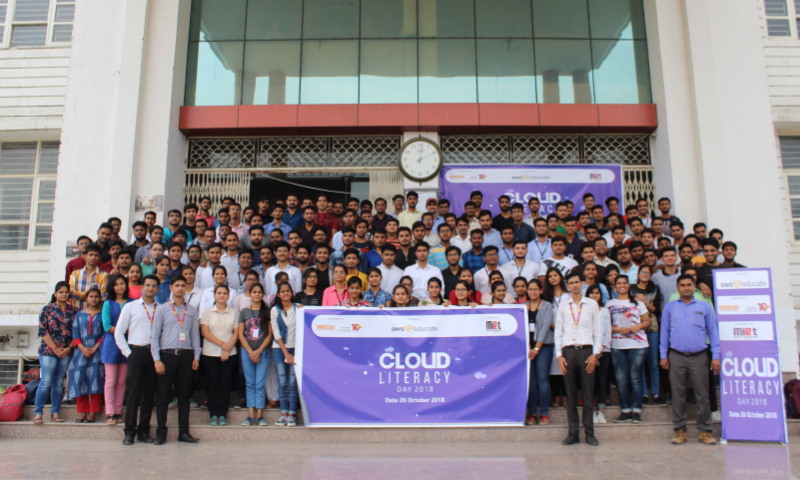 MIET saw an excellent placement drive with an outstanding record last year. The institute had more than 80% of students being placed in top companies, not just from the technical and engineering departments but from courses across the institute. Data Quest ranked MIET as one of the top colleges for employability and mentioned that graduates from the institute are as good as graduates of any IIT. "The reason why they want our students is because most of these companies have training periods to help the new employee to get accustomed to the work. But at MIET, they already have the skills needed. So companies need not waste resources to train new job-ready candidates," Mr Vishwas adds.
Additionally, MIET also has departments dedicated to helping students in personality development, spoken language, the nuances of speech, writing and presenting oneself. There are dedicated departments for people on different career paths, like those aspiring to acquire government jobs or planning to do higher education or clearing competitive exams like CAT. MIET understands the needs of students. To reduce their academic burden, they organise extra-curricular events at regular intervals. To take their mind off academics, they encourage students to participate in these activities to hone their creativity and talent.
Diverse Learning
Some of the most popular courses at MIET are the bifurcated computer science and engineering courses. The institute offers specialisations in Data Science, Artificial intelligence, and the Internet of Things. In recent years, the MBA and BCA courses have become popular. In 2020, they saw a record number of admissions and history repeat in the following year. The institute also provides scholarships for well-deserved candidates.
Though the pandemic had taken a toll on the education sector, MIET was running smoothly as always. Being a centre for innovative thinking, Mr Vishwas explains, "There was no problem. We were kind of doing it before Covid happened. Many of our training programmes go beyond our institutional time, so we tend to go online. Thus it was very organic. No wondering and doubting. It was just a smooth shift. No one missed a single day of learning as we already had a system in place. We understood that the future is online, so we accepted it and realised that online learning becomes more accessible to students."
MIET also created a virtual version of the labs needed for engineering students for practical knowledge to go another step ahead. By applying 3D technology and AI-enabled software, the faculty at MIET were able to help students get a virtual yet hands-on practical experience, making it an interactive session rather than something they have to passively watch and imbibe. "The best part of MIET is that the faculty are eager to learn any new technology. Many universities have approached us to send our faculty to their college to train them. So, this pandemic shift just felt like another day of work because it was nothing new that they had to learn. They realised that unlearning is more important than learning," says Mr Vishwas.
For More Info: https://www.miet.ac.in/
Related Articles