The pandemic has forced higher education institutions to review and revisit the existing practices. In tune with the 'new norms,' pharmacy education is also undergoing momentous change. "The higher education sector is undergoing a tectonic shift right now, and many more changes will occur. In the years to come, technology will be the biggest intermediary of the teaching-learning process, as we are expecting to have 50 per cent online education for theory subjects. We may observe all the technical talk/expert lectures as webinars. Examination and assessments are likely to be conducted using online mode," opines Dr. Vishwanath D. Karad, Founder President, MIT World Peace University.
MAEER's Maharashtra Institute of Pharmacy (MIP) which is now transformed into School of Pharmacy, MIT World Peace University (MIT WPU), Pune, has always been proactive when it comes to imbibing the latest trends in education. During the pandemic, the institute was quick to take the measures as per the WHO guidelines of sanitization and social distancing. "From the 22 March, we were ready with all necessary arrangements to resume the academics using online mode. Our faculty was aware of online teaching-learning, and we could successfully complete the term by the end of May 2020, followed by online examinations of the students," shares Rahul Vishwanath Karad, Executive President, MIT World Peace University.
Since 8 July, the academic year 2020-21 has started at School of Pharmacy, MIT WPU. Using Cisco Webex online platform, the institute is observing smooth teaching-learning without any technical errors. Dr NT Rao, Vice Chancellor, MIT World Peace University says, "We have provided e-books to our students. We are doing regular assessments of the students using google classroom and emails." Besides, School of Pharmacy, MIT WPU has a robust mentor-mentee scheme, which helps teachers to get regularly in touch with students to solve their doubts and keep their morale high in this pandemic. Dr Rao adds, "For all this smooth conduct of academics, including the exams, our management had strongly supported all teachers and students."
However, pharmacy education cannot be completed online, as it requires a lot of physical interventions. "Teaching practical curriculum to the students, assessing student's achievements reliably, awarding qualification securely, and conducting a fair and robust admission process for 2020-21 entrants are some of the major challenges for any institutions now. In fact, the higher studies, especially postgraduate research, has paused a lot because of this unpredictable situation," opines Dr. Milind Pande, Pro-Vice Chancellor, MIT World Peace University. However, the School of Pharmacy, MIT WPU has managed to mitigate these challenges to an extent. The institute is ready with practical virtual laboratories created by teachers using IoT tools and sharing of practical recording as well.
"We have taken necessary actions to reach third-semester postgraduate students, that includes discussion and exchange the thoughts and ideas, problem identification, literature survey and action plan of work which students may work in the laboratory post-COVID situation," shares Dr BS Kuchekar, Dean – School of Pharmacy, MIT World Peace University. School of Pharmacy, MIT WPU has also planned to conduct online examination using the sophisticated software purchased by the University. "We have already started the admission process for the postgraduate students and waiting for the guidelines of admission regulatory bodies. We are ready for the undergraduate admission for the year 2020-21," claims Dr Kuchekar.
On the other side, School of Pharmacy, MIT WPU was actively involved in educating the community regarding the Dos and Don'ts during this pandemic situation. The institute had created and posted several videos and e-posters to make awareness within the community. Besides, School of Pharmacy, MIT WPU had formulated their own sanitizer and distributed to the whole campus of the University as well as hospitals.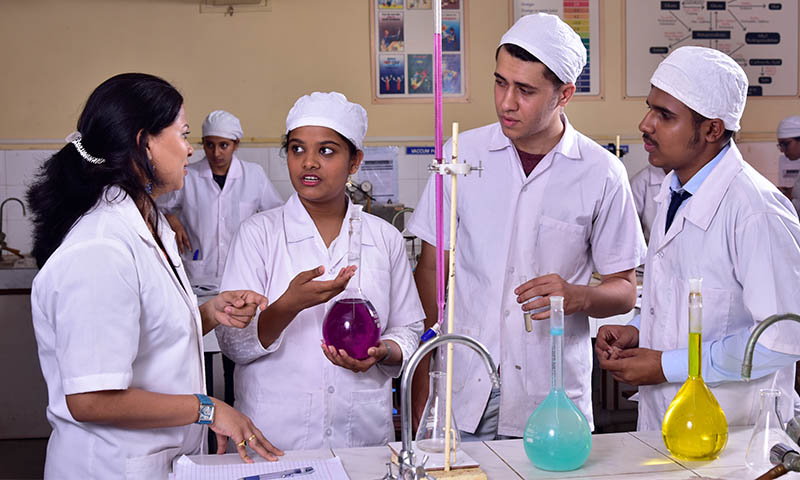 Offering a Life Transforming Experience
Established in 1997, School of Pharmacy, MIT WPU is ranked in top 75 pharmacy institutes in India by NIRF, Govt. of India and has also been placed into platinum category by AICTE-CII Survey. The institute provides Bachelor of Pharmacy (B. Pharm), Master of Pharmacy (M. Pharm) in Pharmaceutics, Pharmaceutical Chemistry, Pharmaceutical Quality Assurance, PhD in Pharmacy. Its B. Pharm program is accredited by the National Board of Accreditation (NBA) for five years. "We offer a life-transforming experience as the academic framework follows unique WPU method of imparting education that is focused on the holistic development of the students along with the academic excellence," opines Akshay Baheti, Head of School of Pharmacy, MIT World Peace University. The WPU methods of imparting higher education follow a continuously evolving learning pedagogy backed by research, collaborations, technology, field studies, projects and peace curriculum.
School of Pharmacy, MIT WPU is a unique blend of excellence and commitment. Wonderful ambience, excellent lab facilities with well-equipped machinery, 100 per cent cooperative and friendly environment to learn and grow is the key features of the school. As per the name of our University, MIT World Peace University, we try to imbibe the culture of peace in our students. For this, we have made our students learn yoga, peace and meditation through which they can work on their concentration power and this will, in turn, help them in their overall grooming while entering into their profession as a career," shares Dr Kuchekar.
On the academic front, to bridge the gap between industry and the institute arranges many seminars, workshops, conferences, and training sessions for the students according to their areas of interest. "We encourage our students to attend various conferences, seminars as well as industrial workshops, to update their knowledge apart from their curriculum. To upgrade our student's knowledge apart from their syllabus, we arrange various guest lectures by the well-known industry as well as academic experts. All these co-curricular activities prove our students more efficient and employable," states Dr Kuchekar.  School of Pharmacy, MIT WPU helps their students to get actively involved in industrial internships, small projects, trainings or industrial visits every year, so that they can get some knowledge about the current scenario in the industry.
Working with the Industry
Developing and strengthening Industry-Institute relationship with the help of working MoU is one of the integral parts of the School of Pharmacy, MIT WPU. Dr Kuchekar pinpoints, "MoUs help to bridge the gap between academics and the industries. The Centre for Industry-Academia Partnership (CIAP) works closely with industries as well as students to bring us the best industry collaborations possible. These collaborations aid industrial training, internship, guest lectures from eminent corporate guests and placements." The institute's strong network of global alumni is also a source of constant support to its current students. The alumni members guide the ongoing student to give them a view about industry expectations while nurturing students to be excellent industry prospects in terms of hard and soft skills and bringing back the best of the world to MIT-WPU.
The close co-operation between Academia-Industry-Alumni sets MIT-WPU's presence among the top companies and research institutions, which leads to enhanced quantity and quality placements in the campus for more than three decades. Thus, WPU is the most favourable campus for national and international corporations. Micro Labs Limited, Bangalore, Tulip Lab Pvt. Ltd., Pune, PRADO Pvt., Ltd., Pune, Murlikrishna Pharma Pvt., Ltd., Ranjangaon, Actorius Innovations and Research Pvt. Ltd., Pune, Eisen Pharmaceuticals Co. (Pvt.) Ltd., Pune, SAVA Healthcare Ltd., Pune, BVG Life Sciences Limited, Pune, North Dakota State University, Fargo, North Dakota, USA are some of the prominent names that are part of a quickly growing list of the institute's most trusted industry partners. "We are proud to have their support in ensuring that School of Pharmacy, MIT WPU sets the highest benchmarks in turning our students that have been exposed to the best curriculum and received sufficient inputs from industry to make them winners," says Dr Kuchekar.
More than 90 per cent of students get placed via campus placement cell of School of Pharmacy MIT WPU. From the batch of 2018-2019, Sneha Bhosale had placed in Life Pharmacy UAE, Teertha Irla had placed in Covance Ltd. From the batch of 2017-2018, Vaibhav Jadhav had placed in ManKind Pharma and Rohan Soneja had placed in Covance Ltd. From the batch of 2019-2020 Prajakta Pattanshetti got placed in Covance Ltd, and Priyanka Kshirsagar got placed in Micro Labs Ltd., Bangalore. For those who are looking beyond placements to become a job provider, MIT WPU has a Technology Business Incubation (TBI) cell sponsored by MHRD. With the help of TBI, the university guides and helps young entrepreneurs to put up their ideas as a business model.
Today, to cater to the current development in the pharmacy sector, School of Pharmacy, MIT WPU is planning to start new programs, including M Pharm in Pharmacology and Pharmacognosy. To broaden the area of Pharmacy research and education, the institute is also preparing for introducing their faculty as Faculty of Pharmacy and Allied Sciences. It will include some courses like M Sc in Quality Assurance by Research only for industrial persons. "To increase our involvement in research, we are planning to set central instrumentation facility, upgradation of animal house, the establishment of innovation promotion cell and strengthening of Entrepreneurship development cell. We are planning to introduce some post-graduate diploma and certificate courses like PG Diploma in Cosmetic technology, PG diploma in Intellectual Property Rights and hands-on training on Sophisticated instruments," shares Dr Kuchekar. Soon, the institute will be starting online courses in Six sigma, QbD and herbal cosmetics. "We are also planning for some international tie-ups which include students exchange program, joint research and publications and many more," concludes Dr Kuchekar.
Related Articles