Located in Greater Noida, UP, Sharda University was established in 2009 by an Act of the UP State Legislature. It is a private, self-financed, multi-disciplinary University, conducting its academic programs through 14 Schools and 23 Departments, offering 126 programs, including 67 masters and a doctoral program in almost all the disciplines of pure and applied sciences, engineering & technology, management, humanities, architecture, design, mass communication, agriculture, education, law, nursing, pharmacy, dental, and medical sciences.
As an active part of Sharda University, the School of Business Studies (SBS) believes in preparing its students to approach business obstacles and solve them the way established corporations do. Here, learning happens both inside and outside the classrooms; technology plays a significant part in the core culture, and so do global exposure, project management, critical reasoning, and business communications skills.
Why Choose Education at School of Business Studies, Sharda University?
Since its inception, School of Business Studies has emphasised experiential learning opportunities throughout its curriculum, including a required internship, course assignments, and other industry-driven projects. Hence, national and international rating agencies have well-recognised the school's focus on academics. To highlight a few Sharda University has been rated by the very prestigious NIRF (The National Institutional Ranking Framework), accredited by NAAC (National Assessment and Accreditation Council), Gold standard by the globally renowned QS I-Gauge 2020, and recently recognised by ARIIA 2021 in the 'Excellent Band'.
Moreover, SBS has a team of best-in-class faculty members who work vigorously towards making the programmes comprehensive and wholesome while delivering authentic value to students. To support its research and innovation endeavour, SBS has tie-ups with leading government institutes, industries and NGOs, including MSME, CIPAM, AIMA, ICSI, Dalmia Bharat Foundation, HCL Foundation, Mon AMI Foundation, ACCA, Safeeducate, Assocham, Laghu Ubyog Bharti, and many more.
Likewise, SBS also encourages its students to develop research & entrepreneurial mindset and share their start-up ideas to support the Hon'ble Prime Minister's vision of Atmanirbhar Bharat. In addition, there is a Centre of Excellence—Sharda University Yunus Social Business Centre. With respect to the school's infrastructure, SBS houses smart classrooms, sports amenities, research facilities, secured hostels, cafeterias, library, and recreational facilities.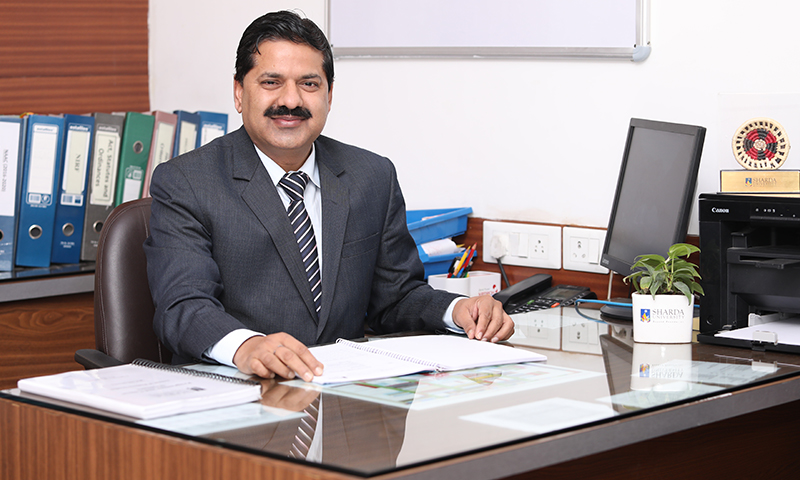 Extending Scholarships to Meritorious Students
"We, at SBS, believe that money should not be a roadblock for students with innovative ideas in their minds and passion in their hearts," states Dr. Jayanthi Ranjan, Dean of SBS.
As a result, meritorious students are awarded scholarships and financial assistance based on their academic achievements and triumphs in sporting and cultural arenas. Therefore, eligible students can apply for,sibling scholarships, innovative idea scholarships, and Art & Culture scholarships.
Building Successful Collaborations & Partnerships
In line with its mission statement, Sharda University's international division aims at developing research and academic cooperation through the implementation of scientific, CSR projects and programs in the fields of Management, Humanities and Science & Technology.
Therefore, SBS has tie-ups with 40+ universities and institutions across the globe to give students global exposure. Through them, students have a chance to go on student exchange, pursue a semester abroad or get a credit transfer. SBS also offers students a unique opportunity to pursue a semester abroad at zero tuition fees at top-ranked foreign universities. "This year, we also give an opportunity to the students to study abroad under Erasmus Programme," Dr. Mridul Dharwal, Professor of Management, SBS.
University of lubiyana, (Slovenia), University of Almeria (Spain), Middlesex University, London (UK), Northhumbia University (England), Western University (Canada), GMIT (Galway-Mayo Institute of Technology, Galway), Centro De Investigacion Y De Estudios Avanzados Del Ipn (Cinvestav, Mexico), Hochschule Bremerhaven, University of Applied Sciences (Germany), Tertiary Education Commision of Mauritius (Mauritius), Istanbul Aydin University, Istanbul (Turkey), Payap University (Thailand) and La Trobe University ( Australia) are some of SBS's international collaborators.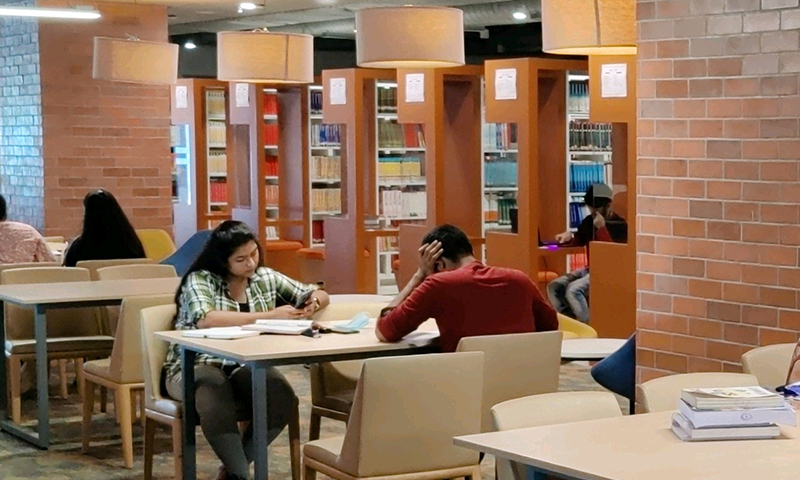 An Ecosystem to Protect Intellectual Property Rights
SBS has created an ecosystem to protect its academic community's intellectual property rights (IPR). According to the university's ongoing IPR policy, the creative and innovative work produced by the faculty, students, and staff is translated into IP rights through a fair and transparent administrative process. Likewise, collaborations between academia and industry are promoted through better clarity on IP ownership and IP licensing. "To nurture new ideas and research in technology, sciences, and humanities, a balanced IP management approach is taken. Researchers and the academic community are also incentivised and recognised for their quality publications and innovative ideas," states Dr. Jayanthi Ranjan.
In addition, Sharda University has created a mechanism for knowledge generation and its commercial exploitation to augment the university's financial self-sustenance goals and reward faculty and researchers. Lastly, efforts are taken to set up a better ecosystem for innovation and entrepreneurship.
Accelerating Entrepreneurship through Sharda Launchpad
Entrepreneurship at SBS is promoted through Sharda Launchpad Federation, a section 8 company registered under the companies act 2013. This centre provides a platform for new, small, and medium-scale enterprises through skills acquisition activities necessary for the development and management of the enterprise and by being a mediator between its students and industry experts.
Sharda Launchpad makes this happen by organising activities/events/lectures sessions, setting up an entrepreneurial cell, mentorship by SBS's in-house-faculty and industry experts, hosting inter & intra college entrepreneurial contests, establishing Next StartUp / Syncubator/ Xcelerator centre, giving complete access to top-of-the-line resources, exposure to industry leaders & global networking opportunities, and most importantly, financial support to the aspiring entrepreneurs.
Campus Partner Program
The Placement Department at SBS has set up a Campus Partner program to bridge the gap between the theoretical and practical aspects of the curriculum for its students. "Through this program, guest lectures and meetings are organised with corporate leaders and industry experts. What makes these sessions interesting and knowledgeable are the challenges, experiences and real-life lessons given to the students by the experts themselves," pinpoints Dr. Mridul Dharwal.
Furthermore, the Placement Department offers strategic partnerships with companies and creates mutually beneficial relationships. Internships, recruitments, alumni database access and specialised short-term training of the students as per the requirements of the companies are just a few ways in which this goal is accomplished.
To date, a total of 350+ companies have recruited SBS's students. Some of SBS's alumni have been recruited by MNCs like TCS, Cognizant, Amazon, HCL, Dell, Wipro, NTT Data, ITC, Bosch, PepsiCo, MRF, Audi, MuSigma, Steria, Mphasis, American Express, Citi Bank, HDFC Bank, ICICI Bank, and several others.
Learning Never Stopped at SBS Despite Pandemic
In the wake of the COVID-19 pandemic, SBS was among the elite higher learning institutions in India that seamlessly shifted to online learning mode. The school took all the necessary steps to prevent virus transmission and meticulously planned for its re-openings with sanitiser dispensers placed at appropriate locations. Likewise, social distancing was followed strictly as students started coming to attend classes. Students were also given relaxation in depositing fees as per their convenience. Owing to these initiatives, Sharda University scored 150/150 points in all parameters and received QS I∙GAUGE 'E-Learning Excellence' for Academic Digitisation (E-LEAD) certification.
"We are planning to apply for more international accreditation and implement the National Education Policy. We also intend to innovate delivery models, develop flexible credentialing, flexing faculty engagement, and standardise experiential learning as part of its post-pandemic strategies," concludes Dr. Jayanthi Ranjan.
Related Articles