The outbreak of COVID has resulted in health risks for the guests and employees of the travel and tourism industry. Besides, the travel restrictions worldwide created havoc resulting in the closure of many hospitality units and job losses. The aftereffect of COVID will continue to affect the industry for the next two years or so. However, history says that the hospitality industry has the power to rebound very fast. New skillsets may be required to address the changing needs of the industry. Technology interference will be significant. Cost and financial control will be the key to success. Hence, the key will be skills like customer experience management, soft skills to handle business, emotional intelligence, safety and hygiene, menu engineering, revenue management, data analysis, and digital marketing. Offering students everything that needs to make a prolific career in the hospitality and tourism industry is Amity School of Hospitality, which is a part of the Amity University Rajasthan.
Amity School of Hospitality (ASH) was established in 2007 to set a benchmark in hotel management studies by providing a multidimensional approach to students and nurturing future global leaders. "Our vision is to be a global hospitality school and provide value-based contemporary education thrust on innovation, research and productivity blended with modernity and tradition," shares Prof. (Dr.) Sanjeeb Pal, Director, Amity School of Hospitality, Rajasthan.
ASH believes in strong collaboration with the industry, both national and international. The institute has an Industry Advisory Board chaired by industry professionals and members from different hotels in India like Novotel, Marriott, Radisson, Oberoi, etc., and academicians and ASH alumni. The Board meets every six months to discuss the developments in the industry, and the suggestions are then implemented in Academic delivery. It also has MoUs and partnerships with the premier hotels and resorts in Jaipur to ensure industrial internships, placements, and guest lectures from the industry. They also conduct several webinars with celebrity chefs and renowned members of the Hospitality fraternity to disseminate the knowledge and trends of the industry. Chefs like Parvinder Bali, Chef Ashish Bhasin, (Late) Chef Saundarajan, Chef Saby, Dr. Sudhir Andrews are a few prominent personalities involved in knowledge sharing with the students. ASH also has strong ties with international speakers who regularly conduct guest lectures for the students.
On the flipside, Amity University enjoys the liberty and flexibility to update its curriculum as per the needs of the industry. The university has a strong Industry Advisory Board chaired by industry members, alumni, and academics. The Industry Advisory Board (IAB) suggestions are discussed in the Board of Studies meeting, and the curriculum is updated every 6 months if required. ASH has also included skill-based modules in its curriculum to provide its students the necessary knowledge and exposure.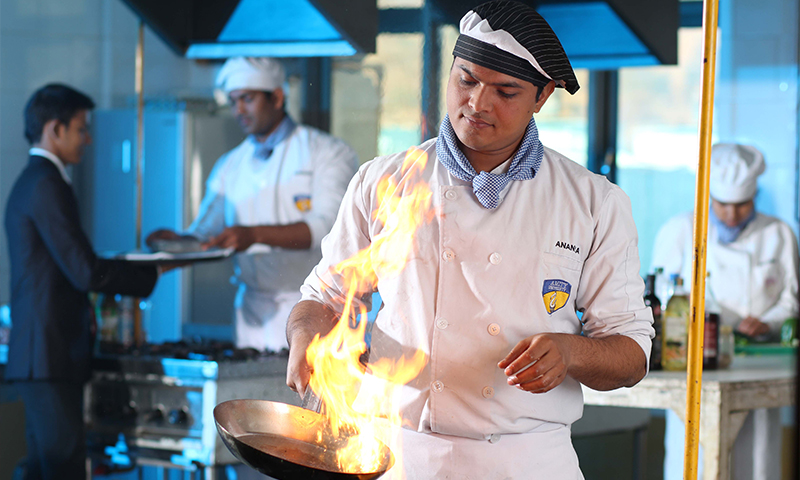 Campus and Life At ASH
Amity University Rajasthan (AUR) is a clean green campus situated amidst the mountain ranges of the Aravali with a manmade water-harvesting lake contributing towards the conservation of natural resources. AUR is a fully residential and hi-tech institution with air-conditioned Amphitheatre style classrooms. The campus has a Wi-Fi facility for speedy access to the internet. The premises are a home away from home for students with all facilities. Through its excellent sports facilities, Amity offers opportunities to students for regular on-ground work-out, lifestyle management, and interaction. It is one of the very few Universities in Rajasthan that provides its students a chance to learn the elite and the very famous game of Golf. The university has a well-equipped gym and develops a wooden floor dance room, yoga room, and music room with instruments like harmonium, guitar, tabla, keyboard, drums, etc. This creates a perfect atmosphere for the all-around development of the student. Another significant feature of Amity is the Mentor-Mentee system, where each student is assigned a faculty member who works as the student's mentor till he passes out. Besides this, all students at ASH must be members of clubs/committees of their choice. This allows them to further their interests and improve their organizational skills.
The university has made a benchmark for itself by offering Academic and Non-Academic support. It firmly believes in the holistic development of the students, and hence the entire campus is built into eco the vision of Amity Group. The Hospitality campus houses kitchens, bakery, confectionery, training restaurant & bar, housekeeping lab, front office lab, model hotel room apart from air-conditioned classrooms with all modern teaching aids, IT lab, language room, and private study room. The ASH Building also houses the central library, 3 restaurants, a gym, dance & music room, snooker/billiards room, and other non-academic facilities. "ASH follows a 50-50 System of evaluation wherein the students are evaluated continuously to help them grow and develop as per the industry standards," adds Prof. Pal. The  University believes in the Holistic Development of the students. Staring from Military Training of a week to participating in various university events, the students are exposed to different avenues where they can showcase their talents through various innovative and creative means. Regular competitions are held within the campus to showcase their talents. This Unique Military training helps the students build Self Control, Team Spirit & Leadership Skills.
Students at ASH get a unique opportunity to Choose from a range of CBCS (Choice Based Credit system) subjects that help them get a separate Certificate apart from the Degree of Hotel Management. Some examples are Food Processing, Web Designing, Fine Arts, Graphics Skills, Journalism, Philosophy, Basics of Fashion Designing, etc. 43% of the students studying at ASH are female. In comparison, 57% are male, which shows the kind of safety and security available within the University Facility. 49% of the students are from within the state of Rajasthan, while 51% of students come from the rest of India. Amity has always been driven by the vision of Dr. Ashok K. Chauhan to develop the next generation of leadership. As a part of his vision, the Amity Scholarships were instituted to help those who are brilliant in academics and those who deserve world-class education but don't have the means. Over 50,000 meritorious students have been awarded Amity Scholarships.
Amity School of Hospitality provides placement support to all the students and prepares them to pursue Higher Studies both in India and abroad and become entrepreneurs. The university has a very strong Amity Incubator Cell, which supports the students by providing the necessary skills to become entrepreneurs. The Student Resource Centre (CRC) helps in placement, and the students are working with major brands like Taj, Oberoi, Marriott, Novotel, Fairmont, Le Meridien, Cox N Kings, Sadguru Holidays -South Africa, Crown Plaza, Hilton, Trident, Holiday Inn, Hennessy Park Hotel – Mauritius, etc. Students are also pursuing Higher studies with LE CORDON BLEU Australia, AMITY International Campuses, and a few other Universities in Europe and USA. Even though the last year, 2021, was very tough for the Hospitality Industry, all the students at ASH got placements and worked with Top brands of the Hospitality Industry.
Amity University has 12 Campuses in India and 13 Campuses Overseas. This allows exposure among various Institutes of the Amity Group. The Course Curriculum, Faculty exchange, exchange of different teaching materials, Academic Calendar, Study Abroad Program (SAP), etc., are all done in sync with the other Universities of the Group. Any Webinar conducted within the Amity Group can be attended by all the students irrespective of their campus. This allows the students to attend programs curated and executed by various industry and academic experts.
Faculty and Entrepreneurship
ASH has seven regular faculties and around eleven part-time faculties to teach hospitality modules to the new generation. The most unique part of the teaching members at ASH is that all the Faculty Members are Ph.D. holders in their respective areas of specialization. All the faculties at ASH have mixed experience of industry and academics. The chefs have created a niche market for themselves as they contribute to the local cuisines and are celebrities with many awards and live presentations on different social media channels. The students from day one are introduced to various facets of business and skill research which helps them grow as better and more competent professionals to handle the requirements of a VUCA (volatile, uncertain, complex, and ambiguous) world.
The Amity Innovation Incubator is a pioneering concept in the context of Indian Universities, being present at Amity University Rajasthan. The department encourages and incubates technology-based enterprises with innovative products and services. Different competitions are held to submit business proposals screened by Industry Experts and Mentors. The students at Amity School of Hospitality (ASH) are exposed to various entrepreneurship opportunities even during the festive seasons by selling food products prepared and packed at ASH. Starting from getting the raw materials to producing the product and selling, everything is done by the students under the mentorship of their faculties. Some of the prominent student entrepreneurs are Yuvraj Jain (J. Oberoi Events), Devvrat Singh (Rawal Mrignayani Hotel), Trishla Jodha (Dastkar Emporium Sawai Madhopur), Tanmay Chaturvedi (Café Tea Estate), Nikhil Sharma (Oklava Restaurant), Surender Shekhawat (Hotel Shiv Palace Jaipur).
"We are well prepared to handle the requirement of Hospitality Industry professionals through our industry-based curriculum and modern delivery technique with all the latest software and facilities," opines Prof. Pal. The university is currently operating on a hybrid model using the latest Learning Management Software. The university is totally ready with all SOPs to open and run on a physical model. The classrooms are equipped to handle the students using social distances, sanitizers are installed, and all the equipment is adequately sanitized before use. Social distancing and use of Facemask are strictly followed within the campus premises. Weekly Industry exposure will be a part of the curriculum to provide students with parallel exposure to the industry and academics. The university is also negotiating with the Elite Hotel groups in Jaipur to work out a model of a win-win situation for both the industry and academia. "We are looking forward to more International Collaborations in terms of Twinning Degree offering and internship opportunities for students aboard, once the pandemic settles down," Prof. Pal concludes. 
About Prof. (Dr.) Sanjeeb Pal, Director, Amity School of Hospitality, Rajasthan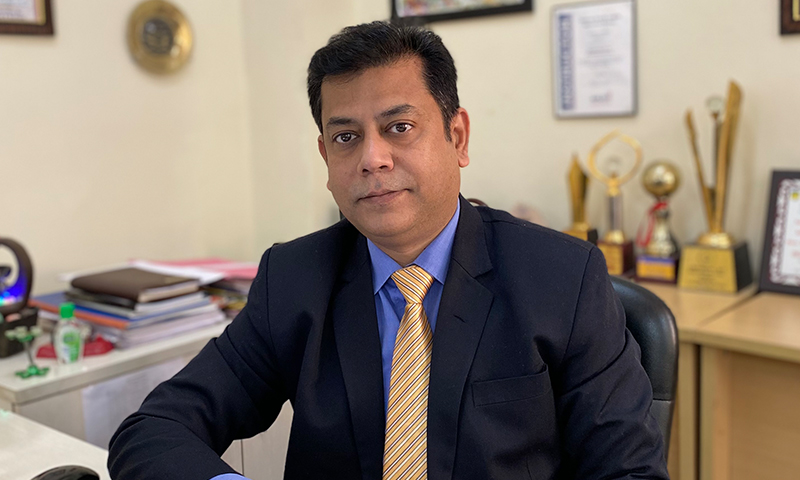 Prof. (Dr.) Sanjeeb Pal is an accomplished and dynamic professional with over 22 years of cross-functional experience in the Hospitality Sector & Academics. In 1998 he passed out from his Hotel Management School in Kolkata and worked for various brands like Taj, Holiday INN, Ramada Hotels & Resorts, Swosti Group, Sarovar Group at different Managerial levels. Since 2005 he has been actively involved with Academic Administration, liasoning with National and International Universities. He took over as the Principal of Kohinoor Group's Hospitality School and is credited with refurbishing, repositioning, and re-branding the group's Hotel School through various affiliations from UK & USA. He is passionate about teaching, mentoring, uplifting teammates' morale, and grooming the younger generation for the challenges of tomorrow. A Ph.D. in Hotel Management & Tourism, and author of 3 Books, Prof Pal, has published several research papers in Hospitality & Tourism. He is the recipient of several awards like Man of Excellence Award 2021, Dr A.P.J. Abdul Kalam Education Excellence Award", 2018 and "Best Educationist Award" 2017 for "Outstanding Achievement and Remarkable role in the field of education." He is a member of the Institute of Hospitality (UK), Member of Institute of Chartered Accountants in England and Wales (ICAEW) -Travel, Tourism & Hospitality Community, GSTC (Global Sustainable Tourism Council) the USA, Life Member of ITHC (Indian Tourism & Hospitality Congress), Vice-Chairperson of "Indian Society for Training & Development," Jaipur and Vice President of Society of Hospitality Educators. (SHE). Presently he is the Director – School of Hospitality Management at Amity University Rajasthan.
Related Articles