Globally, India ranks 3rd in terms of pharmaceutical production by volume and 14th by value. The female representation in the pharma industry is just 11 percent, of around 50 million-strong workforce in India. It is this backdrop that the Exhibition Society, has established the first Women's private pharmacy college in the erstwhile combined state of Andhra Pradesh. state – Sarojini Naidu Vanita Pharmacy Maha Vidyalaya, in 1997-98. The new college building in Tarnaka, which was inaugurated by Sri K. Chandrasekhar Rao Garu, Hon'ble Chief Minister, Telangana State, was the outcome of the Exhibition Society's vision of the College of Excellence for Pharmacy, second to none. This corporate-style building has state-of-the-art facilities such as modern modular laboratories, classrooms, an air-conditioned auditorium, seminar hall, a well-stocked library on the top floor and the virtual pharmacy containing 2,500 medicine brands is the first of its kind in the country. The strength of the college lies in the research-oriented, highly qualified & experienced faculty members.
The COVID-19 had serious repercussions on the education system. The major shift was from conventional to online mode. Initially, the faculty members were trained and were encouraged to attend online webinars for the conduct of classes online according to the UGC, AICTE, and OU guidelines, and the classwork was conducted using online platforms like ZOOM, Google meet. The class recordings and PowerPoint presentations were made accessible to students through Google classroom. The students were first informed to subscribe to sufficient bandwidth internet for uninterrupted classwork. At regular intervals feedback was taken from students to improvise the course content and presentation. "The virus has upended the business of our college, with a sudden shift of academics to remote learning overnight. The students took some time to adjust to the online learning mode, as some of them did not have access to laptops, smartphones, or internet connections in rural areas," adds Dr. B. Prabha Shankar, Chairman, SNVPMV.
Learning about planning and strategizing the academic and research goals and their implementation, SNVPMV made their online lectures and videos in such a manner that students do their learning and boost creative thinking. To equip their students with full knowledge of recent technology, measures adapted were to have industry interaction along with industrial training. The institute has five MoU's with industries to acquaint students with technical training. They are being mentored and nurtured according to their special interests in the industry. 
Providing Exemplary Pharmaceutical Education
SNVPMV is located in Tarnaka, with an acre of prime land in the heart of the city. With the state-of-the-art facilities, the institution envisions to pursue excellence in pharmacy education, imparting knowledge, and networking platform for future women pharmacists. Providing need-based financial assistance to students, SNVPMV prepares their students for a formidable role in the pharmaceutical industry and helps them stand out in the competitive industry, especially for managerial and entrepreneurial responsibilities, leading to their increased participation in the pharmacy industry. An outcome of the Exhibition Society's vision to build a college that is an epitome to excellent pharmaceutical education, SNVPMV aims to be an institute that imparts knowledge and networking platform for young women aspirants to make a change as accountable healthcare professionals and preparing them for competitive positions at all levels, especially for managerial and entrepreneurial responsibilities, and increase the participation of women in the pharmacy sector.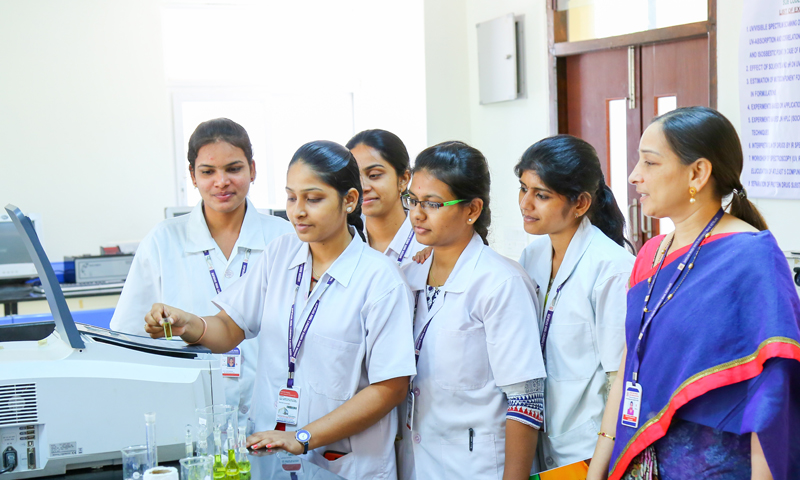 Many youngsters enter the arena of pharmaceuticals without basic knowledge and awareness of the future requirements in the global village. Rigorous training is offered with sufficient motivation at every stage for improving their grades and placements in the top pharma as well as health care industry. The training program is designed to inculcate sincerity, strategy, regularity, and team spirit to prepare tomorrow's pharmacists. They are motivated to work in harmony & utilize the state-of-the-art equipment of the institution which in turn makes the institution a center of research excellence.
SNVPMV has focused on strong industrial interaction to bridge the gap between institute and industry and develop pharmacy professionals as per the needs of the industry. Institution-Industry Interaction Cell is established to provide closer links with industries. They make students familiar with the industrial environment and culture and provide an opportunity to them have a closer look at the manufacturing, quality control, packaging, and other operations that are carried out in the industries. The institute is working on changing the attitude of the students to focus on the next five years ahead and have a mindset to work in a 24×7 environment. "The Gap between and theory and practice must be minimized to produce effective pharmaceutical managers. For effective learning, students must join, receive the training, finish projects, Re-join the same or similar projects. work with perfection for career growth, and finish the cycle, which must go on in the institution year after year", opines Dr. Prabha Shankar.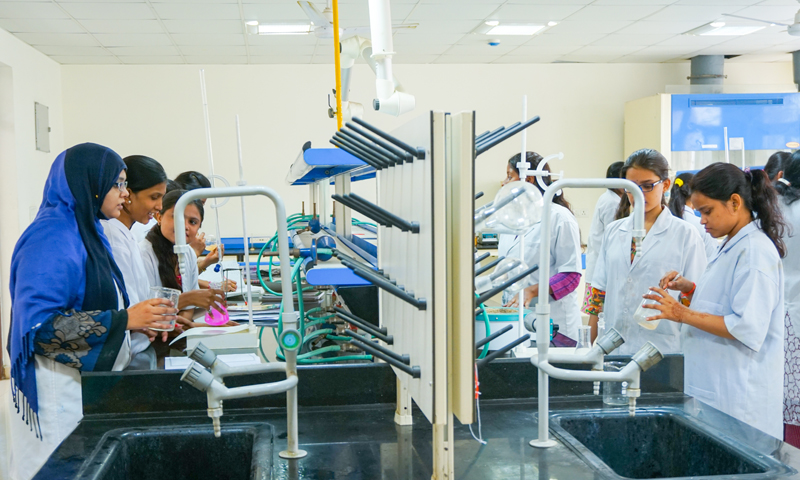 Providing guidance and assistance to their students to achieve their career goals, SNVPMV has constituted a Training and Placement Cell to take the right steps to identify the demands of the current industries and prepare their students for this need. Along with this, adequate emphasis is given to soft skill development that complements the regular academic programs. Aptitude tests and group discussions are conducted at regular intervals to enable the students to improve their performance in competitive exams as well as in placement interviews. "Our placement officer is assisted by the Head of the Departments and Student Representatives from all the courses. Our college also welcomes resource persons for taking guest lectures to the students. The last AY 2020-21 has witnessed 26 webinars, most of which are associated with international speakers. Our alumni have done a commendable job in this regard and guided the students on various topics which sometimes are beyond the syllabus and of industry-oriented," adds Dr. Prabha Shankar.
Moulding Industry-Competent Pharmacists
One of the most forward-thinking and research-oriented institutions, SNVPMV has started an incubation center to foster innovation and enable our students to get first-hand experience in entrepreneurship, promote innovation-driven activities and provide comprehensive and integrated support which includes physical space, mentoring, training programs, networking, and an array of other benefits. The SNVPMV Incubation center at an operational level is entrusted with the responsibility for nurturing innovative ideas by handholding the innovating students through the business proposal stage, identifying the target market, creating a minimum viable product/ service, technological guidance, industry exposure, pre-launch activities, consumer feedback and exposure to the investor community. "As innovation demands new ways of thought and experimentation, and hence we believe that an incubation center is essential in today's competitive and fast-changing world. Through the incubation center, we hope to bring forth a revolution in how and what students learn and achieve while being nurtured and encouraged by faculty, management, and industry experts," says Dr. Prabha Shankar.
The training is imparted on analytical & QC equipment which include HPLC, FTIR, UV-Visible spectrophotometer, conductivity meter, flame photometer, pH meter, electrophoresis apparatus, bath sonicator, while the manufacturing machines include rotary tablet machine, multi mill, ball mill, cube mixer, V-blender, ampul filling & sealing apparatus, filtration equipment, tray drier, probe sonicator, dissolution test apparatus, disintegration test apparatus, friabilator, hardness testers among other whole lots of pharma machinery which are quite similar to the industry.
As a part of the curriculum, the students have to go for internships in pharmacy companies, where they are given a chance to work in various places to get real-life experience and they are introduced to the job opportunities once they graduate. The students are enrolled in various value-added skill development courses like soft skills, clinical research, medical coding, and Pharmacovigilance to make the students aware of recent trends and opportunities in the Pharma sector. These programs also help corporates gain access to a pool of trained graduates for suitable roles where the students are trained extensively in the latest technology to help companies find the right candidate. 
There are also pharmacist recruiters. commonly called "headhunters" who search to fill positions in various pharmaceutical fields. These recruiters seek students to interest and recruit them in positions that they are trying to fill, quite similar to many other professions. "On average around 70% students. take up higher education in India and abroad. The rest of the students are placed in companies like Leads Pharma Pvt. Ltd., Cadila Pharmaceuticals, Novartis, Suven Pharmaceuticals Ltd., Sri Krishna Pharmacy, Mars Pharma Pvt. Ltd., Suraksha Pharma Pvt. Ltd., Micro Labs Ltd., MMC Laboratories, Chennai, and Hetero labs Pvt. Ltd.," enumerates Dr. Prabha Shankar.
The Way Ahead
As the institute is growing, SNVPMV is striving to rise to the academic standards and meet the needs of the ever-changing pharma industry. They are finding new ways to help them thrive in the face of adversity and eventually they work harder in pursuit of success. The institute constantly motivates the students to take on the higher standards and persuades them with more elaborate & meticulous academic details to ensure that they're up to the challenge. The institute has been gathering insights into student motivation and strongly focuses on students' perceptions of our academic team. They stimulate the innate intelligence of the students, besides updating the quality of the teaching they receive. "We have extended our library timings till 7.30 pm, a dedicated area for the digital library, and we have procured library books based on the student's feedback. Focusing on recreation, we have provided music systems at the canteen and gym for the students to chill and relax during their breaks, which helps them research with more attentiveness", says Dr. Prabha Shankar.
Committed to imparting quality education in core and frontier fields of pharmacy through highly qualified faculty who are research-oriented & highly accessible to the students for guidance to success, SNVPMV is training their students in accordance with the latest industry trends and churning out employable graduates. They have partnered with TASK for conducting training programs and development of interview skills and are taking up steps to collaborate with local industry to provide the best research environment in the institution. Women's education is central to their mission, and they are producing tailor-made, industry-ready pharmacists & researchers capable of addressing important medication- and health-related problems. 
The practice of pharmacy is undergoing rapid change, and the graduates of B.Pharmacy, M.Pharmacy& Doctor of Pharmacy programs are well-prepared to confidently take up the role of tomorrow's health care professional. "We have an uncompromised mission & strategic plan of establishing a 'Model Pharmacy Institution'. Our Institution has, is, and always will be striving for excellence in the field of Pharmaceutical education intending to offer the most employable and professionally receptive graduates from our Institution to the Pharma profession. In short, we aim at "a pharmacy institution like no other," and I am confident that, with these strategic plans, our reputation as a leader in pharmacy education and research will continue to grow," concludes Dr. Prabha Shankar.
Related Articles