Shri Sadashivrao Patil Shikshan Sanstha, located in Kamptee near Nagpur, was established in 1985 under the guidance of Hon'ble Shri. Y.K Bhoyar. With a commitment towards serving the cause of education, especially in the rural area like Kamptee, the Sanstha has been catering to the needs of the society through various higher, technical, educational and professional institutes for the last 36 years. One of the prominent institutes among them is Smt. Kishoritai Bhoyar College of Pharmacy (SKBCOP) started in 1997 offering a four-year Degree course in Pharmacy (B. Pharm) with the intake of just 20 seats, which soon rose to 60 seats. With the constant quest for excellence, the institute extended its reach through innovation and research. SKBCOP quickly introduced the M. Pharm program in four specialisations, including Pharmaceutical Chemistry, Pharmaceutics & Pharmacology, and Quality Assurance. Today, SKBCOP also offers PhD in Pharmaceutical Sciences. 
"We are persistently obtaining high academic standards with excellence in teaching and research by providing quality Pharma education and developing various laboratories carefully and updating them with latest sophisticated equipment periodically. We have therefore become one of the most reputed institutes in central India. As we grow, we expand into new technologies, methodologies, disciplines, resources and even attitudes," shares Dr Milind J Umekar, Principal, Smt Kishoritai Bhoyar College of Pharmacy (SKBCOP). A NAAC (A) and NBA accredited institute, SKBCOP has been amongst India's top 50 pharmacy institutes as per NIRF, MHRD, Govt. of India for the last 4 years. SKBCOP has recently received the prestigious AICTE LILAWATI Award for its contribution to society.
With a vision to become a versatile source of knowledge, skill and attitude in pharmaceutical sciences, SKBCOP aims to educate students to become adroit pharmacy professionals to improve the health care of society. Even in times of the COVID-19 pandemic, the college has left no stone unturned to assist the students in their academic endeavours. "We are making our students future-ready by training them and upgrading them with the latest knowledge and skill. We provide industrial exposure and research experience to our students through additional industrial training. We also arrange regular guest lectures and leadership sessions for our students by industry stalwarts," states Dr Umekar. 
During the pandemic, when colleges were forced shut taking education online, SKBCOP strived to deliver the best to their students virtually. The college organised webinars and interactive sessions featuring spokesperson from the industry, Food and Drug Association, Research and development, and hospitals to enlighten the young minds and keep them going in the tough times. "In the pandemic situation, we have constantly been vocal about the need of upgrading the student skillset as they have a tag of being a batch with online assessment," says Dr Umekar, adding, the college has utilised the lockdown period to enhance the infrastructure of the college by adding a new open-air stadium, ATM machine and a new hostel to the campus. 
Making the Students Industry Ready
SKBCOP is a popular institute for conducting unique initiatives, seminars, conferences, programs and other professional and social activities throughout the year. One such unique initiative was the first Pharma HR Summit in 2012, organised to bridge the gap between academia and the pharma industry. During this summit, 32 HR leaders from different Pharma companies like, Sanofi, Bharat Serums, Ajanta Pharma, Indoco Remedies, Emcure Ltd, Microlabs etc. came together on a common platform to interact with the students. Through this first Pharma HR Summit evolved the Pharma HR Society, which is a brainchild of Dr Umekar. He explains, "Throughout the year, we conduct new initiatives and programs like Pharmaoogle, DHRUV and many more for our students in collaboration with Pharmaceutical Companies and Pharma HR Society where experts from industries train our students. This helps our students to upgrade themselves and become employable and industry-ready. These programs aim to make our students industry-ready by focusing on aptitude enhancement lectures, technical test series, soft skill sessions, mock interviews and CV writing demonstrations." 
Currently, the institute has more than 35 MoUs signed with reputed Pharma Companies like Sanofi, Lupin Ltd, Mayons, NM Pharma and many more, through which they provide industrial exposure to students. For instance, Lupin Ltd, with its MoU called Campus Connect, recognises SKBCOP's toppers with Lupin Scholar Award and cash Prize. The company also provides industrial training and placement to the SKBCOP students. "We are proud to say that 90-95% of our students are placed in reputed companies. Considering the vaccine development Pharmacovigilance is the preferred choice and need of the companies, we have placed a lot of students in companies like TCS, Cognizant and Covance. Apart from these, a lot of students are placed in F&D, AR&D, QA&RA in companies like Lupin Ltd, Alembic Pharma Ltd, Rusan Pharma, Cipla and Alkem Ltd," states Dr Umekar.
Students – Torchbearers of a Good Name!
The students of SKBCOP have created a brand for the college. The industry is always in praises for their sincerity and hard work. Many of the SKBCOP students are successful entrepreneurs or at higher designations in pharmaceuticals industries worldwide. "Our students are serving the pharmacy profession as academicians, scientists or as policymakers. The strict discipline that college follows has been highly instrumental in imparting good work ethics among our students. Lately, with the surge in accreditation activities, slowly we have realised that we are far ahead in having an impact on society than what we thought we were doing," opines Dr Umekar.
Currently planning to focus on the teaching and learning in the covid scenario, SKBCOP's main motto now is to go for academic autonomy, with an aim to start innovative programs in collaboration with Pharma industries. "A major challenge in front of all colleges is to create strong professionals without letting the virtual medium cause a backlog in any usual activities. From conducting innovative practical's to hosting various events to boost the mental health of our students, we as teachers have the greater benefit of our students in these unprecedented times as the major goal," pinpoints Dr Umekar. With the help of a highly experienced faculty pool under the leadership of Dr Umekar, SKBCOP hopes to build a strong infrastructure to tackle any such situations in the future and extending its services smoothly through both online and offline modes. "As always, we strive hard to increase our research and development capacities through various collaborations and grants and working actively for placement of students to serve the nation better," concludes Dr Umekar.
About Dr Milind J Umekar, Principal, Smt Kishoritai Bhoyar College of Pharmacy (SKBCOP)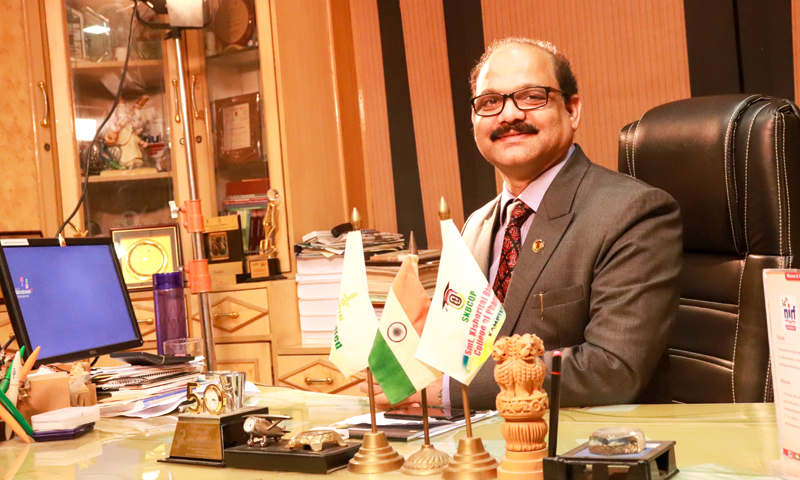 With over 24 years of academic and administrative experience, Dr Milind J Umekar has been the Principal of Smt Kishoritai Bhoyar College of Pharmacy (SKBCOP) since 2010. Under his excellent leadership, SKBCOP was accredited by NBA & NAAC with an "A" grade and managed to be among the top Pharmacy Colleges in NIRF Ranking. Today, SKBCOP is the only institute having NBA, NAAC Accreditation & NIRF ranking in the region. An MPharm and MBA graduate from RTM Nagpur University, Dr Umekar holds PhDs in Pharmaceutical Science and Management, Commerce. He has presented more than 80 research papers at global and national sessions and guided seven PhD students. He has also attended 15 International and 40 National conferences, chaired/co-chaired 25 scientific sessions at national conferences, and delivered 18 scientific talks and five presidential addresses. Dr Umekar had been shortlisted for Vice-Chancellor of Shivaji University, Kolhapur.
Related Articles