Established in 1992, as Department of Architecture in R. V. College of Engineering (RVCE), Bengaluru, RV College of Architecture has come long way in the higher education sector to become one of the most coveted architecture colleges in the state. In 2014, it shifted to a new campus with affiliation to Visvesvaraya Technological University (VTU), Belagavi, Karnataka. The new campus is an iconic example of contemporary architecture.
Smart Cities Mission and the Atal Mission for Rejuvenation and Urban Transformation of 500 cities (AMRUT) are a couple of ambitious projects launched by the Government of India. Under these schemes, the government has outlined the development of 100 Smart Cities, 40 million dwelling units, 20 million affordable homes and better infrastructure facilities. To build the government's Development Agenda, there will be a requirement of 75 million skilled people in real estate and infrastructure. As reports suggest, the heightened requirement of professionals including architects, engineers and planners will be about 4 million to complete this action plan. In fact, there has no better time than now for fresh architects in the country. The onus of responsible development, however, then to a large extent, rests on this next wave of architects and the country's educational institutions have a crucial role to play here.
Located in the garden city of Bangalore, RV College of Architecture (RVCA) is an institution par excellence when it comes preparing young architects with creative thinking and questioning attitude towards appropriate architecture. Since its establishment in 1992, the institute has been on a mission to become a centre of excellence for architectural and urban design studies by bringing the best teaching talent, infrastructure and technologies together. In fact, the compelling presence and significant work of the RVCA in the architectural education in India in the last two decades has achieved the college, the distinction of being one of India's premier centers of excellence for architecture and urban studies.
"A significant number of practicing professional involve in the teaching of our students. In all our design studios, we maintain a ration student to faculty ratio of 1: 10. So, every class will have four experts to guide the students, including one core faculty and three practicing professionals," says Dr. Om Prakash Bawane, Principal, R.V. College of Architecture. Practicing architects provide valuable input in design and construction studios and various other subjects by bringing practical dimension to architecture learning. Dr. Bawane adds, "The purpose of bringing practicing professional is to give the students insights about what is happening inside the industry. So, when the students go out, they would know what to do next. That means, the skill gap does not exist in the RVCA."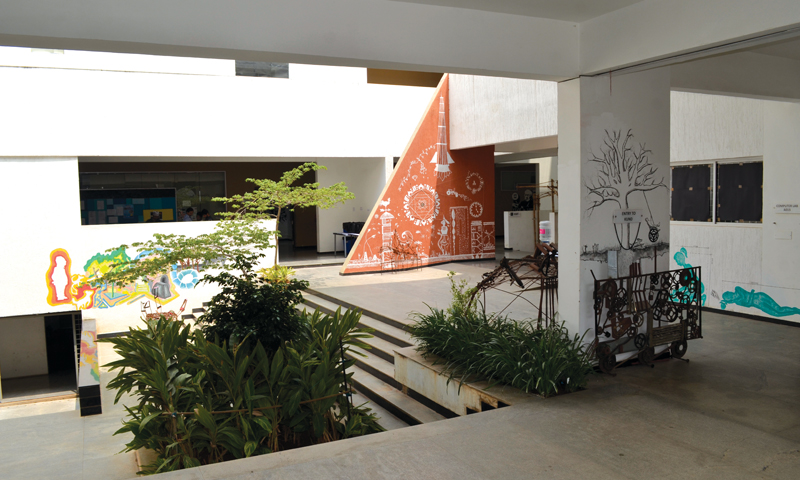 Industry connect is not a one-way channel at RVCA. The institute has a Consultancy Cell that undertakes design, research and advocacy projects in both public and private sectors. The cell engages in urban development projects and aspires to create a platform for an alternate perception of architectural design, landscape, urban design and development, conservation and governance within the Bengaluru Metropolitan area, India and beyond. The consultancy cell through its integrated approach relates architecture and urban design, addressing ecological, social and spatial dimensions. "Our faculty members are involved in the consultancy projects and most of the studio exercises are live projects. This gives the students exposure to the real scenario and helps them understand the practical aspects of the architecture profession," opines Dr. Bawane. Consultancy projects handled by the Consultancy Cell are College of Architecture, R&D Block, Biotech block, MCA block, Classroom Complex and Entrance gate at RVCE Campus, RV Composite College, Jayanagar and Volvo Showroom, Mysore road, Bangalore.
The institute also has collaborated with international universities to give the students much-needed global exposure. At present the RVCA has three MoUs signed with universities from Switzerland and Germany. "Though these MoUs, our students can attend summer programs in other universities. It will help them to get an idea of what is happening in the western countries. Many students make use of this opportunity to understand the global scenarios," pinpoints Dr. Bawane. RVCA had one of the master's students from the Bern University who joined the M Arch Urban Design Semester II.
"The kind of exposure and training the students get here is incomparable. So, the employment has not been a problem for us. Most of the students will get placed during their internship period itself," claims Dr. Bawane. RVCA alumni have earned an international reputation for being leaders in their field and the alumni community is a wealth of expertise, knowledge and experience. Dr. Bawane adds, "RVCA is a unique place to learn architecture. The buildings are inspiriting examples for young architects. It is very important that the place or the environment where the students are learning architecture is conducive to stimulate the ideas and creativity."
The state-of-the-art campus of RVCA is built over a site measuring 2.4 acres. The inspiring structure of the college has been designed to create an environment conducive for architectural studies. The self-contained campus with a floor area of about 15000 square metres comprises of the academic block, administrative block and hostel block. "We are already running a Masters program in Urban Design, apart from the Doctoral programs in Architecture. We are working on adding few more Masters programs in fields like landscape design and interior design," concludes Dr. Bawane.
Dr. Om Prakash Bawane, Principal
With three decades of experience in teaching, Dr. Bawane is among the most senior professors of architecture in Karnataka. He is an alumnus of Maulana Azad College of Technology (now Maulana Azad National Institute of Technology), Bhopal. After graduating in architecture in 1981, he proceeded to obtain a Masters' degree in Building Science & Technology at the University of Roorkee (now Indian Institute of Technology – Roorkee). Inclined to pursue a career in teaching, Dr. Bawane began his journey as Lecturer at Visvesvaraya Regional College of Engineering (now Visvesvaraya National Institute of Technology), Nagpur. Subsequently, he served as faculty at Manipal Institute of Technology and headed Department of Architecture at PDA College of Engineering, Gulbarga. Dr. Bawane was conferred the degree of Doctor of Philosophy by Vinayaka Missions University for his dissertation titled "Critical Study of Quality Management Practices in Indian Construction Industry".
Related Articles