Every institute has a story to tell, and the curiosity to hear the story reaches its peak when we know that the beginning of the tale dates back to the 19th century. Rose-Hulman Institute of Technology, sitting on a beautiful campus near Terre Haute, a small city about one hour west of Indianapolis in the US, has a 147-year-old story to say. It starts with Chauncey Rose, a Connecticut native of Scottish descent who came to western Indiana in 1817. businessman, entrepreneur, builder of railroads, leading citizen and philanthropist, Rose and nine of his friends on September 10, 1874, established a corporation and articles of association aimed at creating and maintaining "The Terre Haute School of Industrial Science," an institution chartered under the laws of the State of Indiana "for the intellectual and practical education of young men."
A modest person, Rose wanted the school to be called the Terre Haute Institute for Industrial Science, but the institute's co-founders soon changed the name in his honor. The school operated in the city of Terre Haute, Indiana, until 1922, when a generous gift from the Hulman family provided land east of the city for a new, larger campus. That is when the school's name was changed to Rose-Hulman Institute of Technology, replacing Rose Polytechnic Institute. For more than 100 years, the institute was all-male, but in 1991 the Board of Trustees voted to admit females. This was a positive move for growth and diversity on campus and helped Rose-Hulman secure the No. 1 ranking from US News and World Report for undergraduate engineering colleges for the past 22 consecutive years.
Today, Rose-Hulman has outstanding professors, highly motivated students, dedicated staff and wonderful facilities on a beautiful 200-acre campus. "Our mission is to offer the world's best science, engineering, and mathematics education in an atmosphere of individual attention and support. Our vision is to promote diversity, expand our global recognition and ensure that our graduates are inspired and prepared for lives of purpose and success, defining and solving problems for our global society," shares Bobby Andrews, Senior Director for Enrollment Initiatives, Rose-Hulman Institute of Technology.
Life at Rose-Hulman
Rose-Hulman is where smart, studious students who love engineering, science and mathematics find they are surrounded by others with similar interests, sometimes for the first times in their lives. Bobby Andrews says, "Many of our students tell us they never knew there were others like them until they came to Rose-Hulman. However, that doesn't mean our students don't have fun. On the contrary, they are just as fun-loving as any college students, but they may express that in different ways." For example, every year, Rose-Hulman students build a large bonfire for Homecoming celebrations, and part of the fun is finding a technology-based new way to light the blaze. They also enjoy competing in robotics, auto racing, human-powered vehicle, and other science and technology-based intercollegiate teams.
At Rose-Hulman, students can join numerous clubs, including astronomy, entrepreneurship, radio, and also in intramural sports, such as Ultimate Frisbee, disc golf and soccer. "Many of our students also enjoy varsity sports. In fact, our varsity teams are generally the strongest in our conference, and our coaches are frequently named Coach of the Year in our conference," pinpoints Bobby Andrews. Being around for nearly 150 years, Rose-Hulman has many traditions, such as a first-year student walk across campus followed four years later by a triumphant Walk Across Campus on graduation day, where students are applauded by the faculty and staff. Indeed, life at Rose-Hulman results in close friendships and lifelong connections that serve its alumni long after they have started their careers. A strong Alumni Association also keeps Rose-Hulman graduates coming back to campus and participating in alumni groups spread across the country and the world.
Trilokshan Vinayagamoorthy, a sophomore majoring in computer engineering from Chennai, India, says, "My first memory of joining Rose-Hulman as an international student centers on the kind and supportive community I encountered. I thought coming to a different country and not knowing anyone would be difficult, but the supportive system at Rose-Hulman, including resident assistants, sophomore advisors and other student services, made the transition much easier than expected. In terms of education, it is always a hate-love relationship." Rose-Hulman provides support services for international students, including English as a Second Language (ESL), an International Student Services Office for assistance with immigration issues, cross-cultural counselling, and other personal situations, and an active International Student Association.
Bobby Andrews shares, "We provide every international student with two career services counselors: one to ensure they meet all the requirements placed on them to secure employment in the United States, and one specific to the student's major to ensure they have a connected mentor helping them to network with the right executives and alumni at their targeted corporations. This has led to a 100 per cent career placement of international students in our most recently reported annual placement report." Rose-Hulman also hosts an international student orientation, which is an exciting program to welcome incoming international first-year and transfer students. International students arrive on campus before domestic returning students so that they have time to get to know the school and become familiar with the campus and the available resources. "We also provide an International Buddies and Transitions program, in which Rose-Hulman students serve as mentors and friends to help new international students acclimate to life in the US and at Rose-Hulman," adds Bobby Andrews.
A Global Community of Learners and Leaders
At present, over 292 international students receive financial aid to attend Rose-Hulman. Bobby Andrews and his team understand that Rose-Hulman would simply not be the institution it is without their international students. In fact, international students provide an essential global component to the education Rose-Hulman offers. Bobby Andrews states, "The economy in which our students will operate is a global one, where engineering and science has a tremendous impact on the entire world. Our students, domestic and international, benefit greatly from the broader perspective and opportunity for cross-cultural learning that only international students can provide."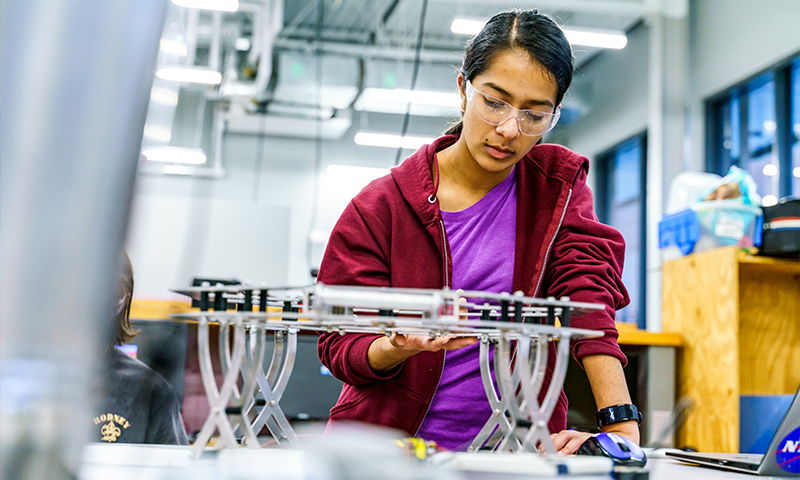 Rose-Hulman is a place where students can experiment, tinker with ideas and explore new possibilities. Branam and Kremer Innovation Centers at the institute allow students to work hands-on with robotics, electronics, aerodynamics and other projects 24 hours a day. Rose-Hulman Ventures is another amazing hub where students can use state-of-the-art equipment, including 3D printers, CAD machines and much more, to develop solutions for real-world companies and clients. "Many of our students have their names on patented inventions or have worked as part of a team of students in international competitions. We closely monitor the success of our students' projects through client feedback and their Institute-sponsored competition team activities," says Bobby Andrews.
Rose-Hulman Ventures internship program was recently featured in the UK-based Times Higher Education publication. The article spotlighted how the institute's students gain real-world professional experience working for companies that hire them through Rose-Hulman Ventures to handle engineering challenges and projects. "We strive to help our students develop an entrepreneurial mindset by focusing on adding value through their project work. We ask them, "How does your work add value to a company, organization or society as a whole?" shares Bobby Andrews. Rose-Hulman is part of a Kern Entrepreneurial Engineering Network (KEEN), which helps the students learn to create leadership development plans, build a professional network and expand their leadership skills. First-year students interested in following an entrepreneurial path are invited to join Rose-Hulman's Escalate program, in which students take entrepreneurial-focused courses and participate in co-curricular activities. Besides, the institute's annual Rose Show further highlights the marketable projects developed by students each year, often in partnership with outside companies and organizations.
"Above all else, our faculty are committed to teaching our students. They get to know their students on an individual level and truly enjoy watching them succeed. Our faculty focus on teaching, yet are true experts in their fields," opines Bobby Andrews. Rose-Hulman faculty members have earned their PhD degrees from the world's premier universities, including MIT, Carnegie Mellon, Clemson, Brown, Stanford, Cal Tech and others. In addition, many of them have extensive industry experience, adding to their ability to share real-world experiences with their students and act as career mentors. They have worked for organizations such as Google, the US Army Research Laboratory, NASA, Proctor & Gamble, General Electric, Honda, Boeing, Apple, the US Department of Homeland Security, and many others. "Yet, with all of their expertise and experience, our faculty remain committed first and foremost to teaching our students," adds Bobby Andrews.
Persisting on Quality Education During Tough Times
In response to the emergence of COVID-19 in early 2020, Rose-Hulman began remote, online instruction for all students about nine weeks before the conclusion of the academic year. Most Rose-Hulman students returned to their homes across the United States and around the world. "For our students unable to return home – mostly international students – we housed them on campus, providing meals and other services, although with safety protocols in place, including social distancing, masking and testing," recounts Bobby Andrews.
Over the summer, Rose-Hulman prepared for the 2020-21 academic year by putting in place written COVID-19 protocols for all members of its community and guests. This living document, known as Rose Ready, enabled the institute to update its response to the pandemic when necessary and allowed community members to remain up to date on evolving requirements by simply checking the updated document online. In essence, Rose Ready set forth guidelines for social distancing, masking, COVID-19 testing, quarantining, contact tracing and other measures designed to keep the campus as safe as possible.
Bobby Andrews adds, "We provided off-campus housing, mostly in nearby apartments or hotels rented by the university, for students who tested positive for COVID-19 or were found to be close contacts of those who tested positive. We also provided a support system for students living in isolation or quarantine, including individuals providing meals, classroom assignments and simple human interaction." Rose-Hulman's public safety department provided transportation to-and-from quarantine sites for students without automobiles. The institute's contact tracing and support services for students in quarantine were staffed by a large group of campus community volunteers.
"As vaccines became available in the United States, we conducted a vaccination clinic for our students, faculty and staff. To further protect our community, Commencement 2021 is taking place outdoors with COVID-19 safety protocols. We also require all members of our community and visitors to continue to wear face coverings through the completion of the 2020-21 academic year," shares Bobby Andrews. At present, Rose-Hulman hopes to have most students, faculty, and staff vaccinated against COVID-19 by the fall of 2021. "We are still monitoring the situation to determine what COVID-19 protocols will be in place this summer and in the fall. One new development for us in the 2021-22 academic year will be the opening of a three-story new academic building, featuring state-of-the-art chemistry and biochemistry labs, high-tech classrooms, collaboration spaces for students and faculty, and a marvelous three-story interactive art installation that reflects the activity taking place inside this new facility," adds Bobby Andrews.
Today, Rose-Hulman welcomes students from around the world to study on its beautiful campus. International students like Trilokshan Vinayagamoorthy from India add to the rich cultural and educational texture of the institute. "Yes, Rose-Hulman is a tough school, but the outcome is undeniably beneficial and satisfying. Trying to get an internship or job as an international student is a little harder, but the Career Services office guides you through the process and spends a lot of time with you to find opportunities. I would say the people and communities at Rose make this place an unforgettable experience," says Trilokshan Vinayagamoorthy. Undoubtedly, Rose-Hulman is the place for students looking for one of the world's top engineering colleges and the opportunity to study abroad.
For More Info: https://www.rose-hulman.edu/
Related Articles