Unlike the higher education institutions in India, universities in the US are steeped in history. Many colleges and universities in the US are designated as National Historic Landmarks or Districts due to their stunning architecture, famous founders, and each school's place in the story of America. One such great establishment is West Texas A&M University that opened its doors in 1910 as West Texas State Normal College. Today, West Texas A&M University offers 60 undergraduate programs, 38 master's programs, and two doctoral programs through its six colleges and graduate schools.
"As laid out in our generational plan, WT 125: From the Panhandle to the World, our history is contoured by the perseverance and tenacity of our citizenry and informed by the climate, the land and the serenity of the Panhandle," says Dr. Emily Hunt, Dean and Professor of Mechanical Engineering, West Texas A&M University's College of Engineering. West Texas A&M University is located in Canyon, home to three of Texas' most popular tourist attractions. It is conveniently located near Amarillo, a growing metropolis that's the largest city on Interstate 40 between Oklahoma City and Albuquerque.
Dr. Hunt shares, "WTAMU's vision is to become a Regional Research University responsive to these unalterable forces that shape who we are. Our focus on the people and places of the Panhandle will create a distinctiveness acknowledged throughout the Panhandle, across the country and around the world. Our mission is accomplished by offering intellectually challenging, critically reflective and regionally responsive academic programs that provide students keen insight and vocational vitality." WTAMU provides students with an immersive college experience based on growth and bound by tightly knit friend groups and a well-connected community.
The campus and the city of Canyon, Texas, is walking and bicycle-friendly, allowing international students who may not have their own vehicle to navigate easily. The 100-year-old trees and carefully manicured landscaping of the campus have been recognized as one of the most beautiful in the United States. "Many students develop or deepen a love for the outdoors while attending WTAMU through excursions to Palo Duro Canyon (the namesake of our city and the second-largest geographic canyon in the US), which is 15 miles down the road, and snow skiing trips to the nearby mountains of Northern New Mexico," says Dr. Hunt.
Closer to home, WTAMU is widely recognized as having one of the most successful sports programs in Division II. The campus is home to a beautiful new football stadium that provides a heartbeat not just for the campus but also for the region. Students ardently support the Buffalo (or Buffs, as they are known) athletes in the fall, winter, and summer. At WTAMU, student organizations are centered around faith-based groups, hobbies, social clubs and academic fields. The University recently was named the safest campus in Texas and among the Top 10 safest universities in the US.
For a Student-Centric Engineering Education
West Texas A&M University's College of Engineering offers diverse programs in mechanical, civil, electrical, and environmental engineering as well as engineering technology, mathematics and computer science. "The College of Engineering at WTAMU is a unique program among American universities. We have strategically increased our program offerings, faculty size and student population with the growth of the individual student in mind," shares Dr. Hunt. While many engineering programs adequately teach engineering principles to students, the goal of WTAMU is not just to teach students the strategies to solve engineering problems. Instead, the college teaches students how to develop a framework to solve any problem that they might encounter – and then how to communicate that solution to others. This extension of the common engineering curriculum provides students with a space to grow not just into great engineers but into great teammates, leaders, and innovators. "To achieve this value proposition, we hire faculty that are involved in cutting-edge research, but more importantly, are student-centred. This focus on the student creates an environment that is incredibly hospitable to minority student populations, including Indian students," explains Dr. Hunt.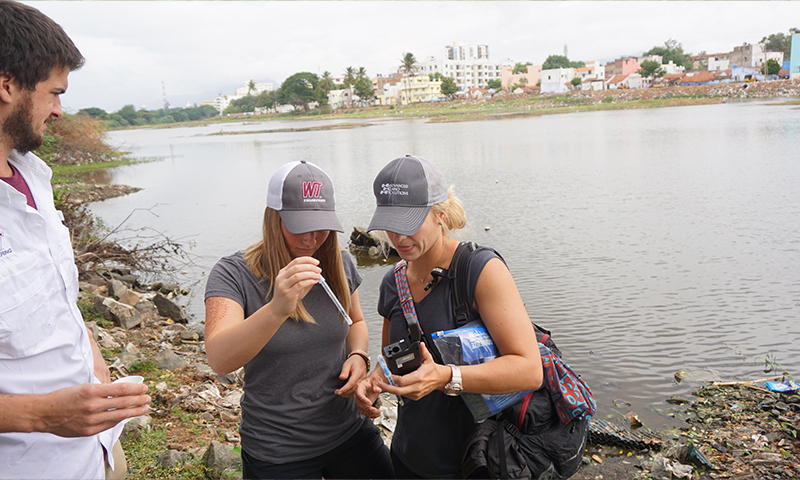 West Texas A&M University's College of Engineering boasts a diverse student and faculty population. The size of the student population fosters the development of meaningful relationships among students from various backgrounds. "Our graduates often comment on the durability of these relationships following graduation, as well," pinpoints Dr Hunt. While on campus, international students have access to a host of programs that facilitate integration within individual colleges, the campus body as a whole, and the local community that surrounds WTAMU. Dr. Hunt adds, "Our College of Engineering faculty specifically has a large number of talented researchers, teachers and administrators from the Northern and Southern regions of India. These faculty are critical to our efforts as a college and provide an additional level of comfortability to new international students."
WTAMU has a healthy and growing population of Indian students within its ABET-accredited electrical engineering undergraduate program as well as in the undergraduate mechanical engineering program, which is also ABET-accredited. Graduates from these programs have a 100 percent placement rate within industry jobs upon graduation. "Our program offerings are further bolstered by undergraduate degrees in civil engineering, engineering technology, environmental engineering, and computer science. We also offer a very innovative MS in Engineering as a graduate program," shares Dr. Hunt. Generally, WTAMU supports an International Students population of just under 300 and 10 per cent of them are Indian students. WTAMU also offers a host of robust scholarship opportunities for qualified students. Currently, scholarships begin at $1,000 for eligible students, which provides the student potential access to in-state tuition rates.
Being a Regionally Responsive Research Institution
In March 2021, WTAMU unveiled a five-year strategic plan that aims to guide the University in its quest to become a pioneering Regional Research University. "One of the great things about being part of a regionally responsive research institution is that funding is an ongoing pursuit to support our research community," states Dr. Hunt. Throughout the year, WTAMU supports and sponsors research at the undergraduate and graduate levels through programs administered through the Office of Sponsored Research Services located on campus in the Killgore Research Center within the Graduate School. Research grants via proposals and competitions are supported, and generally, awards are made in the amount of up to $3,500 for eligible research initiatives.
Currently, WT 125 and supporting strategic plans strive to ensure WTAMU's future as a regionally responsive research institution built upon deep roots to the Panhandle of Texas, the State of Texas, the nation, and the world beyond. The University has been conducting innovative research in many different disciplines and venues. Since 2013, WTAMU has received 166 grant awards totalling more than $24 million (data 2015-16 fiscal year). Besides, WTAMU's College of Engineering faculty hold patents in materials science, nanotechnology and energy storage. Specific examples include a novel material that mimics human tissue, battery design, and antimicrobial materials.
"At WTAMU, we are firm believers in the good that engineers can accomplish. Engineering skills are not nearly common enough, and those of us involved in the field are called to use our knowledge to serve people," says Dr. Hunt. WTAMU's College of Engineering maintains a focus on humanitarian engineering, giving engineering work purpose and meaning for students as they see research and design improve people's lives. Dr. Hunt explains, "All our projects are designed to be human-centered, and you are sure to discover ways to extend your skillset beyond your job while learning with us. Engineers who are well suited to the MS in Engineering program are: Driven by a need to discover, intrigued by research and design, pursuing research because they want to learn new things, ready to use their skills to improve people's lives and interested in developing learning skills in new areas of engineering while enhancing skills in their own area."
On the other side, WTAMU has an active commitment to fostering entrepreneurship and technology commercialization. The University established the WT Enterprise Center 20 years ago with the explicit purpose of taking educating and equipping entrepreneurs from its area with the skills and resources to bring ideas to market. "The College of Engineering has a very close working relationship with the WT Enterprise Center, local economic development offices, and private angel investors in our region. In just the last five years, these entities have provided over $850,000 (USD) in startup funds to engineering and product development companies in the area," pinpoints Dr. Hunt. Many of these entrepreneurs are graduates of the WTAMU's College of Engineering. They are now operating businesses with the skills and resources they gained through their education at the University.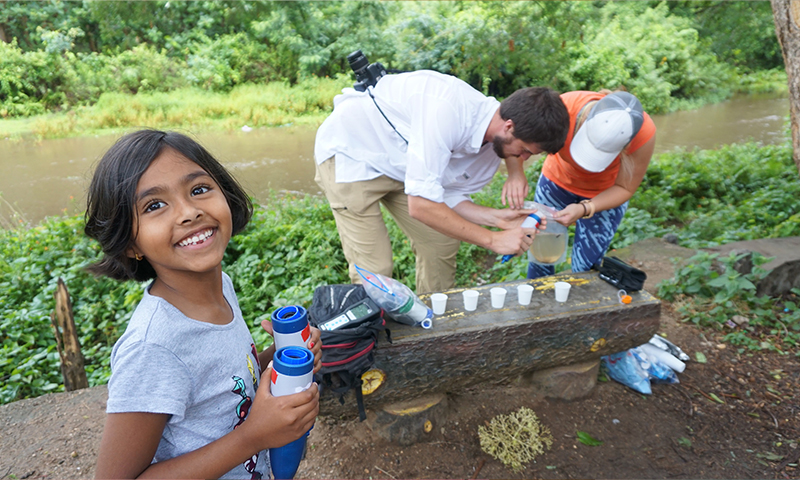 Helping the Society in Its Toughest Phase
When educational institutions worldwide were struggling to cope with the new norms of teaching and learning, The College of Engineering at WTAMU found innovative solutions. They went into action when the pandemic arrived. "Our faculty researchers began to examine the virus at the molecular level, leading to the development of many new ideas and patents. One of those — Copper Clean, a self-sanitizing copper that protects high-touch surfaces — is used throughout the University and has been commercialized. It is an antimicrobial copper sticker and can be applied to door handles, push plates, and other high-touch surfaces to kill surface-borne bacteria," shares Dr. Hunt. In fact, WTAMU has a long history of successful development of antimicrobial products, and Copper Clean was created in direct response to the call for a higher level of sanitation to help slow the spread of COVID-19.
"While we still face challenges in the face of the pandemic, many places in the world are starting to open back up. The COVID-19 situation is constantly evolving, and the University is working hard to actively facilitate and adapt to the circumstances," says Dr Hunt. WTAMU's College of Engineering is now creating a novel 2+2 program for international students to do the last two years of an undergraduate degree and MS degree on campus. "The lessons learned during the pandemic have made the university stronger, wiser, and better prepared to prepare tomorrow's learner," concludes Dr. Hunt.
 For More Info: wtamu.edu/msengineering
About Dr. Emily Hunt
Dr. Hunt joined the College of Engineering in 2005. She received BS, MS, and PhD degrees in mechanical engineering from Texas Tech University in 2001, 2002 and 2005, respectively. Dr. Hunt teaches primarily in the thermal fluid sciences, including fluid mechanics and thermodynamics. She is the author of Nanostructured Metallic Alloys: Synthesis, Properties, and Applications and the popular children's book Engineering Elephants. She has co-authored several publications and has made numerous presentations as an invited speaker, both nationally and internationally.
Dr. Hunt is a member of the American Society of Mechanical Engineers, Society of Women Engineers, Materials Research Society, and the American Society of Engineering Education and serves as the adviser for the student sections of ASME and SWE at WTAMU. Dr. Hunt's research interests include energetic/explosive material reactions and synthesis, high-speed infrared imaging, and engineering education and assessment. She currently holds two patents for work in developing novel nanostructured materials.
Related Articles