After a challenging academic year, the higher education sector in India is inching towards adapting to the new normal. Universities are opening doors to the freshmen and returning students in a staggered manner, adopting blended learning approaches and following strict protocols to ensure the safety and wellbeing of all. A prominent institute among them is Pandit Deendayal Energy University (formerly Pandit Deendayal Petroleum University). Located in Gandhinagar, Gujarat. Pandit Deendayal Energy University (PDEU) is not just the best but also the safest place to study. The university has equipped and integrated all its classrooms for hybrid learning. It has provided Coursera access to all its students during the difficult time of the pandemic and NPTEL/SWAYAM platform courses for Credit Transfer. 
At PDEU, the faculty members conducted the class from campus while students attended the same from their homes through Microsoft Teams/Google Classrooms. Over the last year, over 11200 lectures have been administered over hybrid mode from the classroom at the campus. "We allowed the credit transfer from SWAYAM courses, and as of now, 400+ students have completed the courses and availed credit transfer. 3000+ students have completed more than 22000 certificate courses through Coursera in Business, Computer Science and Data Science," states Dr S. Sundar Manoharan, Director General, PDEU.
Focusing most of its efforts on student development, PDEU has encouraged faculty members to care about the students and make them excited about learning. The university has assigned a faculty mentor to each student and encourage them to pursue their goals. They allow every student to participate in various college fests, inter-college competitions, and national and international exposure. Helping students maintain a study-life balance, PDEU aims to include their goals in the thought process by organising extra-curricular activities, encouraging discipline and punctuality, and provide an avenue for physical fitness. Understanding the need of the hour, PDEU emphasises developing the 'observational power' and 'sharpening the problem-solving approach' as this creates a foundation for achieving excellence. It is focused on developing an intentional, aligned, and integrated culture that radiates the beliefs, values, and life skills for the youth to be successful. "Through Atmanirbhar Bharat and Made in India Initiatives, we are ensuring energy for all, creating societal impact and preparing the youth for tomorrow, which are our main thrust areas," adds Dr. Sundar.
Imparting Excellent Education
PDEU was established in 2007 through the act of the Gujarat Legislative Assembly with the provision to have diversity and scholarship for building a prominent talent base in the energy sector. The institute believes in transforming with evolving times. Hence initially, it focused on the energy academic and research domain and gradually broadened its spectrum for trained human resources in the domains of Science, Technology, Management, and Humanities. Today, the university has marked its presence as a renowned institution with noteworthy national and international visibility.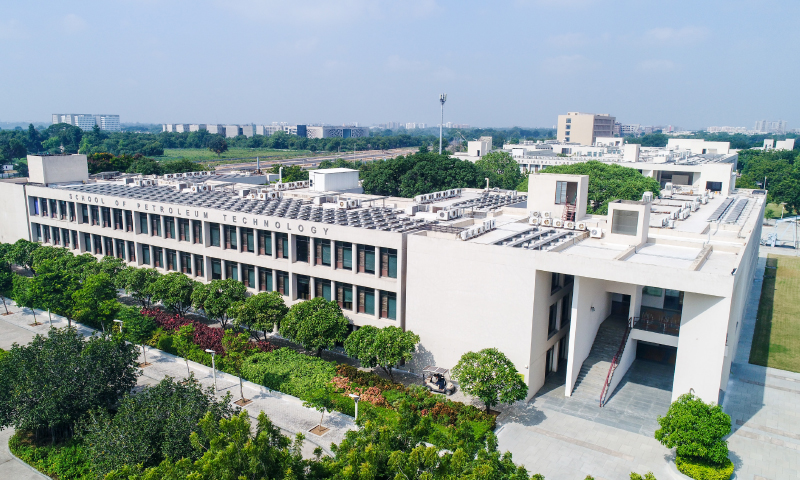 PDEU provides its learners with a perfect blend of pristine environment and modern technology, enabling a dynamic learning experience and turning students into potential professionals. The university has an excellent infrastructure with proper maintenance facilities offering students an ideal platform for excelling their performance. Be it festivals, sports, or various programs/events, the students actively participate and win awards for the university, with more than 40 student clubs. "Our students take an active role in the club functioning as a Core Executive Member and also participate in the activities organised by other clubs. There are 3 major festivals: Flare, Tesseract, and Petro Cup, which are organised annually where students from different colleges across the country participate," says Dr Sundar.
PDEU has 4 schools under them offering undergraduate, postgraduate, and capsule courses, namely, School of Technology (SOT), School of Petroleum Technology (SPT), School of Petroleum Management (SPM), and School of Liberal Studies (SLS), which focuses on technological education, catering to the academics and industries by creating budding petroleum engineers, providing the managerial manpower requirements of the energy and infrastructure sector, and equip students with an array of intellectual skills, a variety of methodologies and understand the changing world. "We want to establish an invaluable foundation for more specialised study in one's major or in one of the professions, and a life-long affinity for learning and continuing intellectual development," explains Dr Sundar.
With 500+ faculty and staff from reputed national and international universities, PDEU has 250+ research scholars and 50+ professional body associations. With their experience and immense subject knowledge in specialised fields, the faculty plays a vital role in upbringing student's development. At PDEU, researchers and students collaborate with industry and government to create innovative solutions merging engineering and creativity, theory and practice, university and society. "Experts from industry and academia, Members from the Board of Studies, provide scientific advice to craft the curriculum to meet industrial requirements," adds Dr Sundar.
The institute has achieved many milestones under its name with its principled work ethical approach and commitment towards educational enforcement like NAAC 'A' Grade Accredited with CGPA 3.39/4.0 in 2016, 5 Star Rating by (GSIRF) as on 22nd June 2021, SIRO Recognition, IIE Member, Association of Indian Universities Member. "We are the only private University in Gujarat to get the graded autonomy status by University Grants Commission (UGC) in 2018. And is Ranked as the no. 1 Private University in Gujarat. We have also been awarded 'Centre of Excellence (in Principle) Status by Government of Gujarat'," points out Dr Sundar.
Promoting Research and Leadership in Students
PDEU has undertaken extensive research in the area of new energy sources, with 7 International Level Centre of Excellence, Innovation and Incubation Center (IIC), International Exposure Programs (IEP), State of the art Infrastructure, Laboratories, On-Campus Residential Facilities, Lively Campus, Diversity of students and Global Collaborations with Universities abroad, has been the Steps towards success for them. "We encourage student engagement and Participation by providing Financial Assistance for research and Paper Publications, Travel grant policy that benefitted 1000+ Students to date, 100+ Startups (Incubated), 68 Sponsored Projects (Govt. & private) and 220+ University Funded student research projects," adds Dr Sundar.
PDEU believes in active and continuous interaction with industry to build stronger long-term relationships. Industries are involved with PDEU through various activities like guest lectures, Seminars, Workshops, Industry visits, short-term training programs. This Industry connection helps the university to facilitate Industry exposure to the students. This exposure allows a student to apply technical knowledge to real-life situations and problems. Industrial training is an experience where a student closely works with other professionals and follows instructions to get insights about the operations. 
Establishing its Innovation & Incubation Centre (PDEU-IIC) in 2014, PDEU aims to transform the brimming energy and potential of young students, budding innovators, entrepreneurs, and technocrats into innovation-driven business ventures leading to a technical renaissance. Through PDEU-IIC, the institute has helped many startups succeed like Imagine Powertree Pvt. Ltd., Saltech Design Labs Pvt. Ltd., Seaveda Biotech Pvt. Ltd., Inspyromer Edtech Pvt. Ltd., and Rhyno Wheels, to name a few. Dr Sundar adds, "Some of our Atmanirbhar Bharat Research Initiatives are our Translational Research Centre, Industry 4.0 Verticals, Metal Additive Manufacturing Technology Centre, Smart Grid REDOX Energy Storage for Electric Vehicle Charging, 45MW Manufacturing Assembly Line for Solar PV, URJA (Student) Satellite Program, and Student Capstone Program with Industry Connect".
PDEU has Institutional support from the Government, Public Sector, and Private Industries for the development of the university, especially for setting up Chair Professors, developing Infrastructure including laboratories, research projects, faculty and student development programs, scholarship programs, internationalisation, resource development campus development, technology up-gradation, etc. "We have tie-ups with well-known industries like Reliance Industries Limited, Cairn India Limited, Gujarat Power Corporation Limit, Gujarat Alkalies and Chemical Ltd., Torrent Power Limited, Sulzon Energy Ltd., Hazira LNG Pvt. Ltd., Jubiliant Oil and Gas, Shell – Total, Maruti Suzuki, British Petroleum/Castrol, Amul Fed Dairy, Siemens, Hitachi, and Adani Ports," enumerates Dr Sundar.
PDEU has developed a vibrant campus with advanced facilities and technologies on its campus. They have set up state-of-the-art laboratories in each discipline with support industries, knowledge partners, and internationally renowned University partners. The university has also developed a cutting-edge digital infrastructure with up-to-date research and an educational curriculum to promote and facilitate research and learning. Having completely transformed the teaching-learning process to online mode, PDEU has been taking many steps to blend into the hybrid mode. The university has holistically designed its syllabus by incorporating the basic core subjects and elective subjects. They integrate the students with practical learning and deliver classes conducted by experts from the industry and academia. "Our main objective is our student-centric learning and groom them during their time with us. Our process is institutionalised and evolved, which will gradually shape the students for the future they have visualised for themselves," concludes Dr Sundar.
About Dr. S. Sundar Manoharan
Dr. S. Sundar Manoharan, a renowned Educationist, Scientist, and Administrator, obtained his doctoral degree from the Indian Institute of Science Bangalore in the year 1991 and after his post-doctoral fellowship, he served at the Indian Institute of Technology Kanpur as a Professor between 1996 to 2014 and as the Vice-Chancellor of Karunya University, Coimbatore, Periyar Maniammai University and at Sathyabama University between Feb 2014 till Feb 2020. He has over 30 years of extensive experience in teaching and research in the area of Material science and Nanotechnology. He was deputed from IIT-Kanpur to be the Founder Director of UGC funded 100 Crore project to establish the National Center for Nanoscience and Nanotechnology at the University of Mumbai premises in the year 2012-2014. He served as a visiting professor in internationally reputed institutions including NUS Singapore, University of California-Berkeley, Max Planck Institute-Germany, Imperial College-London, and the University of Maryland-USA. In the recent past, he has held several administrative positions including, being a member of the Project Advisory Committee at DST & DRDO Funding Agencies.
Related Articles