The Covid-19 Pandemic has been most brutal to the Education Sector across the world. In few months since its outbreak and global lockdown, institutions and educationists tried to scramble back to their feet. The educational scenario in Nagaland, in the face of the pandemic, was as damaging as any other states and countries across the world. ICFAI University Nagaland (IUN) emerged as a front-runner in adapting to digital education to overcome the impact of the spectrum of Covid-19 by developing and placing the required educational-centric software for digitally interactive virtual classrooms interfacing faculty and students using existing Microsoft Teams and Google Apps etc. analyzing their different features and applications. 
The adaptability of digital technology by the teaching faculty and students through initial professional training helped the university in maintaining and providing quality education to the students. This prevented the further vulnerable impact of Covid-19 and also allowed evolving the effectiveness of art digital education technology in the university. In addition, the university successfully developed a (digital) online examination and evaluation system for the conduct of examinations for the purpose to maintain the academic calendar during the pandemic period.  "We took the challenges posed by the outbreak of the Covid-19 pandemic as an opportunity to adopt and adapt to the emerging digital education technology and successfully implemented online pedagogy and evaluating methods. Though we also seemed to lose our stronghold for some time, we could quickly enforce a strategic mechanism to combat the situation", opines Kevizonuo Kuolie, Assistant Professor, IUN.
Imparting Quality Education
IUN was established in 2007 as an outcome of an agreement made between ICFAI Group, a non-profit educational society in India, and the Government of Nagaland to set up a world-class institution to primarily impart standardized entrepreneurial and technological knowledge and training through professional courses to the young generation. The University, with its motto 'Meritum Ethicus', strives to develop a new cadre of professionals with a high level of competence and a deep sense of moral principles and commitment to the code of professional conduct. The main objective behind setting up the university in Nagaland is to offer innovative, career-oriented professional Postgraduate and Undergraduate programs, through inclusive technology-aided pedagogies, to equip students with the requisite professional and life skills as well as social sensitivity and a higher sense of ethics. "We strive to create an intellectually stimulating environment for research, particularly into areas bearing on the socio-economic and cultural development of the state and nation," says Imtinungsang Jamir, Assistant Professor, IUN.
Aiming to provide a comfortable and secure learning experience to the students and hence gives attention to infrastructural facilities, the institution is geared with air-conditioned classroom, NJY Memorial Library, IT Lab, fully equipped Soft Skills Lab, access to Health Centre, a recreational lounge for students, Counseling Cell, Grievance Handling Cell, Anti-ragging Committee, Green-House, Stationary Centre, 24/7 Wi-Fi, Canteen, Transportation service, hostels, outdoor and indoor games facilities. The university also facilitates both national and international trips for students to participate in educational and leadership programs. Some students received the privilege to visit Germany, Malaysia, UK, Bangalore, Vishakapatnam, Odisha, Meghalaya, etc in recent years. 
IUN also runs active clubs for the interest and exposure of the students towards collective activities and to cultivate a sense of social responsibility. To mention a few are Green Club addressing environmental concerns, National Service Scheme (NSS), Der Verstand (The Psychoanalytic Club), Students' Christian Movement of India (SCMI), Forum for Cultural Studies (FoCUS), Photography Club, Symposium for Holistic Health (Health Club), Girls' Club, Researchers' Meet, etc. Besides these, Seminar Presentations, Guest Lectures, Special Talks by renowned persons, awareness programs are some frequent activities that keep the faculty and students engaged.
IUN offers a plethora of both conventional and professional courses like BA, BBA, BCA, BCom, MBA, M Lib, MCA, MA, M.Phil. and Ph.D. It provides subject specializations in varied courses to prepare its students for the current professional world. Alongside, adhering to UGC's direction of Choice Based Credit System, every Department exercises Skill Enhancing Courses both at UG and PG levels.
In the wake of the global pandemic, IUN efficiently switched to Blended Learning enabling the students to learn at their place and pace through delivery of content and instruction via digital and online media. With a standardized curriculum, the students have access to quality content that is in tune with the industry. Interactive workshops and case-based learning help the students in enhancing their problem-solving skills and substantiate classroom teaching.
The first in the State to offer M.Lib.& I.Sc. (Integrated program), prioritizing internship programs, training and placement, career opportunities, computing facilities, and summer projects to the students, IUN also facilitates online education to the students and faculty as the university is part of NPTEL (National Programme on Technology Enhanced Learning) and IICs (Institution's Innovation Council). ICFAI University Nagaland is the first Local Chapter of NPTEL for the state. This platform is open to all for enrolment into the online courses.
Encouraging an Overall Development
Being an institution that strives to keep pace with the digitalized world, growing industries, pragmatic and idealistic schools of thought, there has been a regular flow of boisterous students with bright brains as well as analytical minds. Over the years, the university has undertaken prominent technical projects like Touch Screen Digital Interactive KIOSK, ADPVM(A Digital Payment Vending Machine), The Golden Cultural Tree of Naga Tribes, and Augmented Reality using Images to name a few. With faculty-student mentoring, various social, cultural, and sports activities IUN ensures that the students have an exciting and worthy memorable experience during their stay in the University. IUN conducts various events like KAIROS – Social Sciences Fest, BIZHORN – Management Fest, IUN YOUTH FEST – University Fest, Food Festival and Culture Display, etc. 
These innovative and rigorous activities have attracted sponsorships and collaboration from distinguished state and regional organizations like Task Force for Music & Art (TaFMA), North East Zone Cultural Centre (NEZCC), Youth Net, Hayad Hospital, Food Safety Dimapur – Department of Health and Family Welfare. Besides these major festivals and collaborations, the university also organizes cultural tours, study and industrial trips, drama enactment, poetry slam, skit competitions and also maintains bi-annual departmental bulletins. In all these events, IUN students get an opportunity to exhibit their talents and chisel their competitive skills alongside participants from other colleges and universities in the state. Kevizonuo adds, "In upholding a healthy long-term relationship, the Alumni Association maintains a genial bond with our University. This Association has always been involved in various events, contributing their positive inputs, active participation and constant encouragement for the development of the University".
Helping Students Become Industry Leaders
IUN organizes annual institute-industry interface event, hosted by the Department of Management Studies. This flagship program of the department features panel discussions and special lectures involving distinguished industry practitioners, entrepreneurs, experts from both public and private sectors, and academia from across the state. Social innovation program workshops, seminars, and webinars are some of the activities that constantly augment young minds through small real-time projects and field studies.
Apart from these events, the students get to collaborate with local entrepreneurs to focus on social and economic upliftment by empowering them through EEE – Education, Entrepreneurship, and Economic Development. They are encouraged to promote economic empowerment by participating in the National SC/ST Conclave and International Trade Fair & Summit where they connect with organizations like National Small Industries Corporation (NSIC), Nagaland Industrial Development Corporation (NIDC), Khadi, and Village Industries Commission (KVIC), North Eastern Development Finance Corporation (NEDFi), Small Industries Development Bank of India (SIDBI) Nagaland Handloom & Handicraft Development Corporation, Power Grid Corporation of India, Food Corporation of India, NE frontier Railway, BSNL NE Circle and Allahabad Bank (now merged with Indian Bank). Through these firsthand contacts and experiences, the students receive valuable information about national schemes and financial aid/avenues.
The Entrepreneurship Cell (E-Cell) stands as another strength of the University with its constant efforts to foster and promote the spirit of entrepreneurship among students. Through this cell, activities such as workshops/seminars, hands-on training programs, institute-industry interface internship programs, etc. are conducted occasionally. E-Cell also trains students from building business prototypes to preparing business models and provides internship opportunities to reputed companies within and outside the state. 
Over the years, through this cell, the university has been actively inculcating entrepreneurial spirit among students by organizing multiple student-centric programs. "We have one of the Best Track Records in nurturing students through vigorous participation at Naga international trade summits and start-up India programs. Through these, the students had received incubation and financial aid to pursue their dreams from top facilities in India", adds Imtinungsang. Currently, IUN is in the process of developing digital technology for surveillance and monitoring of infections in the post-pandemic period. Further, the university is evolving the process with the State Government for the provision of vaccination of Covid-19 for all students to eliminate the possibility and risk of infections on the campus. Digitally blended mode of education, which comprises both online as well as physical classes, may be adopted with the experience gained during the first and second surge of Covid-19 during the post-pandemic period for providing quality education on the campus.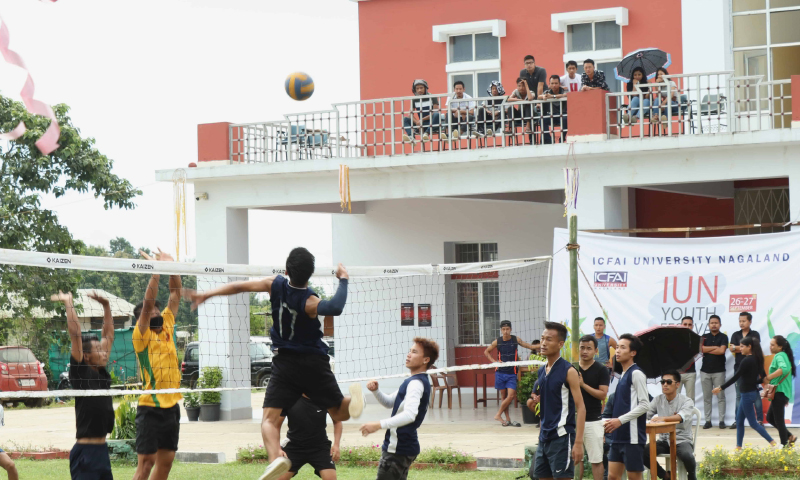 About Dr. Imtinungsang Jamir, Assistant Professor, ICFAI University Nagaland
Dr. Imtinungsang has completed his doctorate in International Business, MBA in Strategic Marketing, M.Phil in Entrepreneurship, from Pondicherry University, and M.Com in Foreign Trade from Osmania University. Currently working at IUN as an Assistant Professor, Dr. Imtinungsang has multiple research publications. He is also the Member Secretary of Research Board, Member of Board of Studies in the Department of Commerce and Management Studies, Coordinator of the Entrepreneurship Cell and Programme Officer of NSS. Dr. Imtinungsang's research interests cover International Trade and Logistics Management, Firm's Export Performance Management, Strategic Management, Market Research, and Entrepreneurship.
About Dr. Kevizonuo Kuolie, Assistant Professor, ICFAI University Nagaland
Dr. Kevizonuo has completed her doctorate and post-graduation in English Literature. With 10+ years of academic experience, she was the HOD of the Department of English at IUN. Currently, she is the Deputy Head of the Accreditation Research Understanding and Collaboration (ARUC) and Editorial Member of the ICFAI University Nagaland Journal of Social Sciences. At IUN, she has been the Convener of the Research Board, a Member of the Academic Council, Convener of the Board of Studies in the Department of English, and Editor-in-Chief of the University Annual Magazine 2014, ICFAI University Nagaland. Dr. Kevizonuo's research interests cover Environmental Studies, Cultural studies, Folkloristics, Tribal Literature, Socio-linguistics, etc.  
Related Articles