This is an inspiring journey of Dr. Shailaja Shastri, a meritorious student who went after her passion for pursuing psychology and bringing about mental health awareness in society. Dr. Shailaja has a doctorate degree in psychology, specialising in adolescence, parenting and career counselling. She is also a certified Cambridge University facilitator and Dale Carnegie trainer and has conducted over 800 workshops for leading corporate organisations, college faculty, school teachers, parents, and young learners.
Therefore, Dr. Shailaja's career trajectory over the last three decades reflects patience, perseverance, and persistence. She has excelled in all her roles as a leader, teacher, researcher, and counsellor. Since 2021, Shailaja has served as the Dean of the Faculty of Liberal Arts and Humanities at Jagran Lakecity University.
A Career Calling in Psychology
At school, Dr. Shailaja was a brilliant student. Later, instead of opting for conventional courses for higher education, she chose to pursue psychology as she was fascinated by the complex relationships between human behaviour and the world we live in. Here also, Dr. Shailaja continued to top in her graduate and postgraduate exams. It was followed by an M.Phil and a PhD in psychology. While working on her research thesis, Dr. Shailaja started teaching and later moved to full-time teaching after receiving her doctorate degree.
At the beginning of her career, Dr. Shailaja served as a faculty and Dean of Psychology at the International Academy for Creative Teaching. Later she became a professor and the Head of the Department of Psychology at Jain University, Bangalore. "Even as I taught and guided research at the university, I was involved in administering school education and conducting training workshops for industry and educational institutions," reveals Dr. Shailaja. "My consultancy activities further enriched my teaching and research experience, and I was privileged to be part of the Harvard University `Future of Learning` programme," she further continued. From 2016 to 2020, she also established a training and research initiative with women colleagues to provide mental health support to all stakeholders in the education sector.
Positive Influences in Personal & Professional Life
While speaking about the major influences in her life, Dr. Shailaja reveals, "One of the earliest influences in my life was my grandfather, a self-taught man who left a lasting impression on me on the importance of transforming daily life experiences into learning moments." Her father taught her the value of commitment and perseverance, while her mother instilled empathy for others in her. Likewise, Dr. Shailaja's teachers, college professors, and PhD supervisor positively impacted her academic journey.
"My husband, Sandeep Shastri, greatly influenced my attitude towards work through the professionalism he demonstrated" remarks Dr. Shailaja. "My son, Sanjal, who as he grew older, became a friend and taught me the joys of parenting and what I learnt with him often became a part of my classroom dialogue."
On the professional front, Dr. Chenraj Jain, the Chancellor of Jain University, advised Dr. Shailaja on how to separate people from the issue during a negotiation. The Chancellor of Jagran Lakecity University, Shri Hari Mohan Gupta's leadership inspired and motivated Dr. Shailaja to innovate and accept newer challenges fearlessly, and Mr. Abhishek Mohan Gupta, the Pro-Chancellor at Jagran Lakecity University, demonstrated on how to guide people through behind the scene efforts and consistent commitment. "Above all, my greatest motivators have been my students and colleagues for their experiences, insights they provided, and confidence they demonstrated," adds Dr. Shailaja.
Take on Women in Leadership Roles
Being a leader herself, Dr. Shailaja agrees that women in leadership roles are indeed a minority in India and on a global level. If one closely examines the education sector, girl students tend to outnumber their counterparts, and similarly, women educators are numerically more than men across many disciplines. "However, given the many breaks that women have as part of their career, they are often not able to rise to higher positions in the hierarchy," mentions Dr. Shailaja. As a result, there are proportionately fewer women in leadership positions.
However, Dr. Shailaja suggests that if institutions brought in a `dial-down` (when family responsibilities require them to) and `dial-up` (when they are ready to return to their full contribution) opportunity for women, they would be able to take on & fulfil leadership responsibilities at the fullest. Similarly, Jagran Lakecity University has also made a conscious effort to recognise and place women in leadership positions within the University.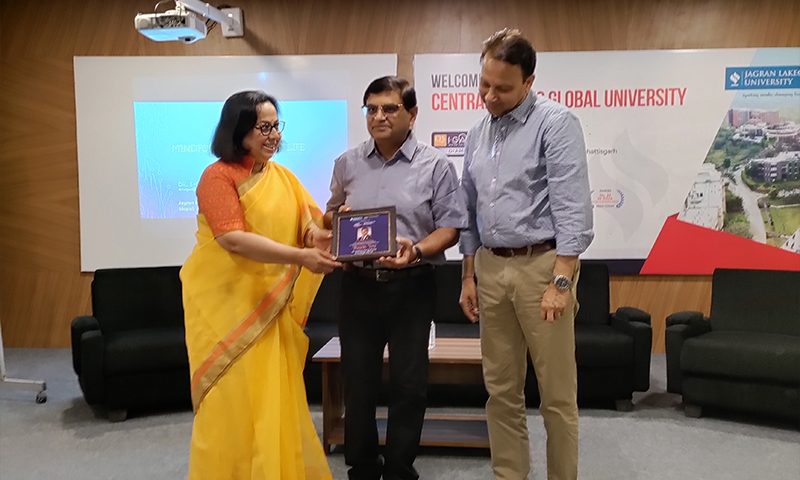 A Vision-led, Premier University of Central India
Jagran Lakecity University was established by the Jagran Social Welfare Society as a Private State University in Madhya Pradesh in 2013. The founders' vision was to create a platform for learning that was globally relevant, reflected national goals, and had a strong local flavour. The name of the University itself indicates this aspiration. Furthermore, Jagran Lakecity University had sought to make the learning process fun, inter-disciplinary and activity-oriented.
"As a psychologist, I can well appreciate the goal of the promoters to make the institution a `psychologically safe space`," proudly adds the Dean of Faculty of Liberal Arts and Humanities, Shailaja.
Nurturing Innovation & Creativity in Students 
Since its inception, Jagran Lakecity University has promoted the core values of innovation and creativity. These values truly resonate in the way students and alumni contribute to creating the curriculum and syllabus. Likewise, industry and societal experts are also involved in designing courses.
According to Dean Dr. Shailaja, an example of this innovation and creativity is the inclusion of a `practicum` component in Jagran Lakecity University's core courses in Liberal Studies, Psychology, Public Policy, and English Literature. The `practicum` component allows for flexibility and permits the learner to relate the theme being discussed with the real world. Additionally, various opportunities are presented to students in the form of internships and participation in the University's consultancy projects, thereby giving the courses a strong practical flavour.
A Dedicated & Visionary Leader
As the Dean of the Faculty of Liberal Arts and Humanities, Dr. Shailaja is also an active member of the Strategy Team of the University. This is the group involved in defining key strategies for the University and preparing the roadmap for its implementation. "My role as a Dean is to oversee the Liberal Arts and Humanities programmes, which includes designing & implementing research programmes and postgraduate and undergraduate courses in the domains of Liberal Studies, Psychology, Public Policy and English literature," shares Dr. Shailaja.
Apart from this, Dr. Shailaja also leverages the core leadership values that the University and its founders seek to promote: taking ownership, promoting excellence, and building & working as a team. Owing to her work ethic and leadership skills, Dr. Shailaja's team respect and admire her.
A Day in the Life of a Dean
Dr. Shailaja's day begins at the crack of dawn, followed by an hour of prioritising tasks and/or preparing for a class or training workshop. She also takes out time to exercise daily. "At work, most of my day is spent in the classroom with my students, at meetings with my University colleagues, discussions with my doctoral students, brainstorming with my colleagues, delivering lectures at conferences, addressing participants at workshops, conducting a training workshop or taking forward a consultancy assignment," adds Dr. Shailaja.
With an experience as vast as Dr. Shailaja, it is easy to say that she has mastered the art of handling pressure with poise and calmness. She feels that half the solution to the challenges lies in the approach one adopts, so she doesn't get adversely affected by the work pressure.
Keeping Up with the Trends in Education
In her leisure time, Dr. Shailaja reads books and uses social media platforms and other tech tools to stay updated on the latest trends and developments in the education industry.
"At my training and consultancy workshops, I have an opportunity to receive inputs from participants who are from diverse backgrounds, bringing their rich experiences to the discussions," mentions Dr. Shailaja. She also enjoys interacting with her students and participating in a dialogue with her colleagues and industry peers.
Advice for the Emerging Women Leaders
From the beginning, Dr. Shailaja has always considered herself a participant in the exciting process of learning and transformation instead of being just a women leader. Likewise, she has always taken challenges head-on and tried to understand the fundamental problems behind the issues. She further says that if one is passionate about something, they will never get tired, bored, or lose interest.
Therefore, Dr. Shailaja recommends to the young brigade of women leaders to identify and play to their key strengths. They must ensure to give their best performance despite adversities. She also suggests women to look after their health and mental well-being while fulfilling responsibilities towards their family as well as career.
Planning Ahead
To date, more than 10 research scholars have successfully completed their PhD degrees under Dr Shailaja's guidance, and she aims to continue to mentor more students in the future. Currently, along with her team, Dr. Shailaja is diversifying the Jagran Centre for Self-Discovery (JCSD) activities and initiating new innovative programmes and activities.
"This year, we are truly excited about rolling out our Liberal Studies programme at the Undergraduate level," happily concludes Dr. Shailaja.
For More Info: https://jlu.edu.in/
Related Articles