Oklahoma State University (OSU) is a modern land-grant system that cuts across disciplines to better prepare students for success. Known as America's Brightest Orange, OSU is also the only university with a state-wide presence aimed at improving the lives of people in Oklahoma, the nation, and the world through integrated, high-quality teaching, research, and outreach. There are more than 36,000 students across its five-campus system and more than 24,000 on its Stillwater campus, with students from all 50 states and 118 nations.
OSU was founded in 1890 under the Morrill Act as Oklahoma Agricultural and Mechanical College with a mission to make college education more accessible. OSU has since grown through its traditions and culture to become one of America's premier land-grant universities. OSU has been rated as one of the top 100 public schools by U.S. New and World Report and awarded the 5-Star University rating by QS Stars. In 2021, Times Higher Education ranked OSU No. 3 in the U.S. and No. 63 globally for its contributions to the United Nations Sustainability Goals.
A Vibrant, Close-knit Community Welcoming International Students with Open Arms
From the moment students arrive on OSU's campus, they are welcomed into the Cowboy family and supported inside and outside the classroom. Here, differences are celebrated, and everyone is valued, respected, and empowered to reach their full potential.
Moreover, state-of-the-art facilities such as Endeavor Lab, which provides engineering and science students access to cutting-edge tools and unique interdisciplinary projects; the Unmanned Systems Research Institute (USRI), which provides students research opportunities with emerging drone technology and more; the Ray and Linda Booker OSU Flight Center, which offers professional pilot students access to superior flight training and advanced simulator technology; and The McKnight Center for the Performing Arts and the Greenwood School of Music, which recently secured a three-year performance and masterclass agreement with the New York Philharmonic, are just a few of the facilities that attract students from across the globe. Besides, Stillwater consistently ranks as one of the nation's most beautiful campuses with a low cost of living and high quality of life, making it a desired higher educational destination among international students. Today, nearly 10% of OSU's overall enrollment consists of international students.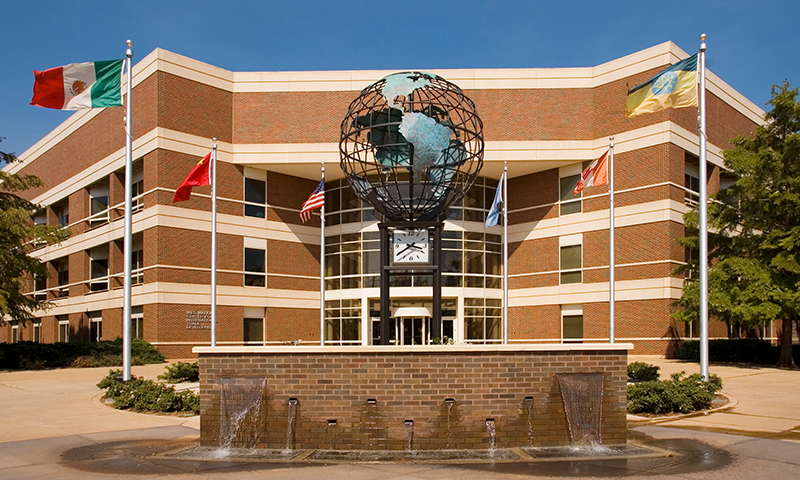 Extensive Range of Academic Programs
At OSU, seven academic colleges, a veterinary school, and an osteopathic medical school offer 200 undergraduate majors and options, 79 master's programs, and 45 doctoral programs. The most popular academic programs among international students are engineering, business, computer science, hospitality and tourism management, and robotics and mechatronics.
Leadership Making History
In April of 2021, Dr. Kayse Shrum was named the 19th president of OSU. She is the first woman to lead a public research institution in Oklahoma and the first woman to lead the OSU system. Through its land-grant mission, OSU serves as an inclusive learning, teaching, and outreach institution at its campuses in Stillwater, Oklahoma City, Tulsa, and Okmulgee, and its Extension offices across the state.
An Expert Team of Faculty
The faculty members at OSU are award-winning instructors who are known for developing talented students into successful leaders, researchers, and professional scholars. They are at the forefront of research and remain fully committed to enhancing the student experience.
In turn, OSU provides numerous services and resources for its faculty and staff, which are integral to fulfilling its land-grant mission. By creating an environment that encourages wellness, community, diversity, and integrity, OSU's faculty and staff can continually develop their skills — personally and professionally.
World-Class Research Aimed at Improving Lives & Strengthening Communities
Research at OSU, a Carnegie R1 research university, is relevant, accessible, and beneficial — whether it's exploring basic scientific questions or applied concepts that directly impact lives. From storm-chasing drones to disease-fighting medicines, OSU connects students to a world of cutting-edge research with top-rated faculty, resources, and facilities. Moreover, OSU's research addresses society's most pressing challenges and improves the quality of life for all.
With world-class research institutes, such as the Oklahoma Aerospace Institute for Research and Education, the Unmanned Systems Research Institute, the Counter-UAS Center of Excellence, and the Hamm Institute for American Energy, OSU is uniquely positioned to advance critical research and gives students unrivaled research opportunities — even as freshmen.
Cowboy Innovations Connecting OSU with the Industry
OSU's Cowboy Innovations acts as a liaison between industry and the university to form mutually beneficial research and development collaborations. Bright Orange Ventures offers end-to-end technology-based startup company incubation and business acceleration services to translate OSU and OSU-affiliated inventions to a market that meets customer needs. This program assists OSU and OSU-affiliated invention-based teams to secure commercial grant funding, such as America's Seed Funds, to help progress inventions to market. Brightest Orange Ventures also provides investment into commercially viable OSU and OSU-affiliated technology-based startups and OSU internal projects with strong commercial teams.
There is also a Cowboy Innovations Mentor Network which provides OSU innovators access to experienced technology-based business professionals to increase the successful commercialization of innovations and make a significant impact at various stages of research and development from proof of concept through prototyping and market launch through existing company license or newly formed startup. A few recent Brightest Orange `Ventures: Plasma Bionics, LLC, Roll-2-Roll Technologies, LLC, and Weaver Labs, LLC.
Making Exceptional Education Affordable to Students through Scholarships
International student scholarships are a priority, and OSU offers scholarships in varying amounts — from $4,000 to $10,000 per academic year — to qualified international undergraduate students. International students are automatically considered for scholarships by submitting a completed application for admission. Moreover, international students who graduate from an Oklahoma high school are eligible for a full out-of-state tuition waiver to reduce their tuition and fees to in-state rates.
Student Life on Campus
Being a part of OSU is about more than receiving a world-class education. It's also about the activities students get to be involved with, the traditions they partake in, the people they meet, and the memories they make for life. With over 500 student clubs and organizations, students have an extraordinary range of opportunities to engage and network at OSU. They can become a part of Greek life, diverse student associations, dozens of intramural sports, and hundreds of individual clubs.
Another significant part of the student experience is discovering the rich traditions and learning about the campus culture, celebrations, and fun that make OSU unique, such as America's greatest Homecoming Celebration and Athletics Game Day Experience.
Tackling the COVID-19 Pandemic Challenges
At the onset of the pandemic, OSU leadership quickly found innovative ways to ensure a seamless transition from an in-person to a fully online learning environment. The university formed a separate COVID-19 Pandemic Response Team, which met weekly to navigate the rapidly changing landscape of the pandemic. The team also monitored guidance from the CDC and state and local health authorities and used a variety of data points and metrics so that the OSU campus could remain nimble in its response.
Speaking about international student mobility after the COVID-19 pandemic, Karen Chen, Vice President of Enrollment, said, "We have observed a significant increase in international students from the previous year. The Office of Undergraduate Admissions, the School of Global Studies and Partnerships, and many other areas at OSU are working to ensure international students have a smooth transition to campus and the support to succeed."
Roadmap for the Future
OSU President Kayse Shrum recently unveiled a visionary new strategy to become the nation's preeminent land-grant university through teaching, research, and service. This strategy focuses on ensuring more students have access to affordable education and enriched experience at OSU. Going forward, the entire OSU community will be working toward bringing this visionary strategy to life and taking OSU to new heights of academic and research excellence.
For More Info: https://go.okstate.edu/
Related Articles