Today, education is one of the fundamental factors in an individual's overall growth and development. Quality education delivery within a stimulating environment should be able to enrich one's understanding of themselves and the community. Ultimately, the skill and knowledge acquired will propel the individual's productivity, well-being, creativity, and employability, which will help their communities and the world thrive while embracing diversity.
Helping unleash the full potential of an individual's mind is what Methodist University, incepted in 1956 by the community of Fayetteville, N.C., envisioned when it brought a private, liberal arts college to the city. "While historically supported by the United Methodist Church, the university is committed to an ecumenical spirit that respects diversity and recognizes the dignity and worth of all human beings. In fact, MU is ranked the most diverse university in the entire state of North Carolina and the Top 50s in the United States for diversity," says Minnu Paul, Director of Global Education at Methodist University. In addition, MU is located in a thriving urban city just 1.5 hours west of the beautiful beaches of the North Carolina coastline and just a few hours east of the Appalachian Mountain Range. A city atmosphere centered between mountains and the ocean is a perfect location that international students appreciate.
Methodist offers more than 80 types of undergraduate and graduate programs, from STEM fields to traditional majors. Other popular programs include business, chemistry, biology, and health care administration. The university is also home to two unique programs, the Professional Golf Management and Tennis Management programs. These nationally recognized programs prepare students for careers in their respective fields. Lucrative internships and career opportunities abound for these students. Both fields have a nearly 100% job placement rate.
Striving to deliver quality education in tandem with inculcating values, Methodist University is currently home to students from more than 50 countries and six continents. In its entire tenure as one of the leading institutions in North Carolina, the university's students have represented well over 150 countries. Paul adds, "Of our 1,500 undergraduate students, we have more than 90 international students on campus. That is quite a high percentage of international students for a campus our size. Our current international students come from 54 different countries, and there is an outstanding balance of representation from all continents except Antarctica!"
Some of the common and/or multi-million-dollar facilities utilized by the students of MU include the Global Education Office (GEO), the McLean Health Sciences Building, the Reeves School of Business, the Berns Student Center, and the Matthews Ministry Center.
Providing a Comprehensive Suite of Offerings
Elaborating on the school's offerings, Paul delves deeper into MU's Global Education Office. This department has a dedicated staff comprising of former international students who possess the inner knowledge of the strengths and shortcomings that international students may encounter. The strategic plans are heavily customized to support international students' unique social development needs. The President and the senior administration are very committed to global citizenship and believe in international education. This augments the support given to all departments to create a global culture. The university has multiple staff and faculty from different countries. "Non-international staff and people in the Fayetteville community are welcoming and supportive of international students. They donate in kind, monetarily, they pick up students from the airport, and they provide a home away from home in various ways," explains Paul.
Additionally, the school campus is equipped with an award-winning Student Engagement Department. The role of this department's staff members is to provide new, exciting, and meaningful social opportunities to the students. Activities begin before classes even commence and continue throughout the year. Events are led by both students and staff. "We have an active Student Government Association on campus, more than 100 clubs and organizations providing outlets for passion and creativity, and a Housing and Residence Life team offering additional programs to our students. All are very popular among international students," reveals Paul. Interestingly, MU has 20 intercollegiate sports (and several on-campus intramural sports) for both men and women – including soccer, tennis, golf, American football, baseball, volleyball, track, and more. The college takes pride in having won nearly 40 national championships.
Helping Dreams Come to Realization
Moreover, the college boasts of a degree program specifically designed and developed for entrepreneurship on campus in the Reeves School of Business. These students often combine that degree with others from the School of Business, preparing them to pursue and achieve their dreams of being business owners in the field that inspires them.
Yet another novel offering is the college's Academic & Career Advising Center. This campus department provides students with a 'one stop' shop experience where they can go to one place for all their academic advising, career/internship guidance, and financial aid information. Students pair with their academic advisor for the duration of their time at Methodist University, allowing for a deep understanding of the student's needs and goals. All academic and career advisors are trained to support international students as they have unique needs and employment regulations during college and after graduation.
Nurturing Creativity and Productivity
Research is another essential component in ensuring student development and success. It helps students discuss and disseminate knowledge with an openness to accepting new ideas. Keeping this in mind, MU's Research & Creativity Symposium is very popular, challenging and rewarding, and open to all majors and academic programs, which are student-initiated and faculty-supervised. Many student-seminar projects are turned into publishable materials, or the university applies the research to the university operations. Several majors/areas of study have senior seminars that have independent projects. This is in addition to student art shows and projects.
Encouraging Students through Financial Aid
Methodist University is committed to empowering its students by helping them achieve their academic and career goals by eliminating the financial barrier. The university offers merit-based scholarships based on academic achievement. All international students are automatically considered for scholarships in their admission applications. In conjunction with this, MU offers a competitive on-campus employment program that allows students to work meaningful jobs on campus without requiring immigration authorization. Paul proclaims, "Our international students have an 85% job placement rate within three months of graduation compared to 62% as the national average. A recent national study on more than 2000 colleges published by The New York Times showed that Methodist University ranked in the top 16% nationally for overall economic mobility. The index looks at the likelihood that graduates move up two or more income quintiles. This shows that students who attend MU will graduate with the highest levels of opportunity for personal and professional growth."
Equipped for the Pandemic
Methodist University has always steered clear of conventional passive learning approaches and was highly equipped when the coronavirus pandemic hit. Most colleges were found to be poorly prepared to battle the COVID-19 outbreak. Since MU has its own dedicated Health Center and Health Services staff on campus, the team at MU was able to closely monitor the disease daily and contain cases before the virus spread across campus. At no instance did MU have to cancel its coursework or close its doors to its students and faculty as opposed to the hundreds of campuses across the U.S. that had to. MU seamlessly moved to online learning for short periods as a precaution when necessary. Online learning even allowed international students to begin their studies from their home country and arrive at Methodist University once travel restrictions were lifted.
At the end of the semester, the university provided meals, housing, and employment for students who could not return home. "Unlike the vast majority of universities across the country, Methodist University maintained a sense of normalcy on its campus during even the most difficult times during the COVID-19 pandemic," elucidates Paul.
As the pandemic evolved, so did MU and its approach to this crisis. After COVID-19, attaining student visas was difficult and has been a focus for Methodist University. In such situations, the university's Board of Trustees used their contacts to connect with U.S. senators who could plead the students' case with the respective embassies. Paul signs off, "Thanks to the effective leadership on campus, Methodist University has maintained in-person classes throughout the pandemic. We have resumed and increased our normal operations, activities, events, and opportunities for students and faculty/staff."
For More Info: https://www.methodist.edu/
About Minnu Paul, Director of Global Education at Methodist University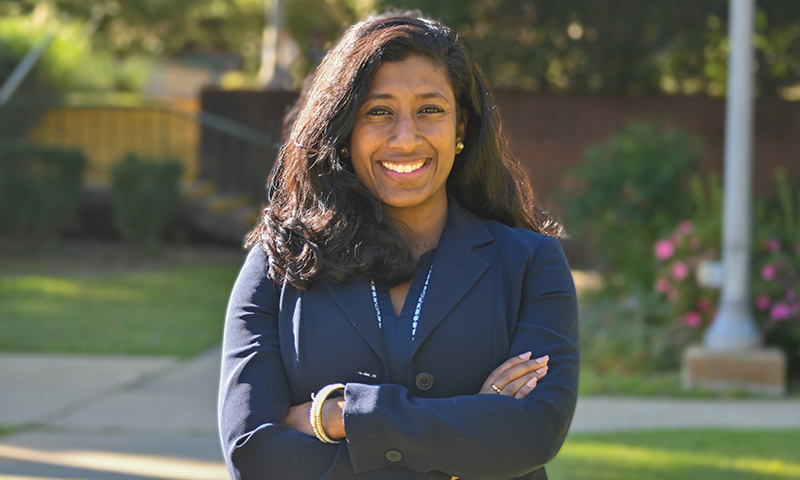 Minnu Paul's growth in education and career has taken her to India, the United States, and the United Kingdom while paving a unique path in change management and organizational development. Presently, Paul is the Director of Global Education at Methodist University, overseeing international student admissions, scholar services, and education abroad. In her current role since April 2021, Paul's goal has been to develop effective solutions for any needs an international student may have. She has customized and applied project management techniques to drive efficiency and develop various projects in international admissions and retention. Paul's vision is to grow an engaged campus where all students can develop to become global leaders while confidently pursuing their careers in the U.S. or anywhere in the world.
Related Articles