Started with Civil Engineering in 1957, Manipal Institute of Technology (MIT) today offers 17 BTech Programs, 4 MSc Programs, MCA Program, 25 PG Programs and Ph.D. in Engineering, Science, Humanities and Management. A completely residential and culturally diverse campus with students from across India, with a NIRF ranking of 43, MIT is placed among the top 1% technical institutes in the Country. "Along with the domain-specific knowledge, an engineering graduate is expected to have several skills including communication, leadership, teamwork, problem-solving, planning, motivation and enthusiasm, adaptability and flexibility, and ability to build relationships. All these mandates engineering education to be experiential, practical, relevant, and up to date. Four years of education in Manipal Institute of Technology attempts to mold its graduates in all these aspects," says Dr. D Srikanth Rao, Director of Manipal Institute of Technology.
MIT's past students have provided leadership in diverse sectors. It could be Mr. Satya Nadella, Mr. Rajeev Suri, providing leadership to global corporates such as Microsoft and Nokia respectively; it could be alumni achievers such as Mr. Faizal Kottikollon, Chairman, KEF Holdings, Sandeep Maini, Chairman, Maini Group who are contributing back to their Alma mater through alumni contributions; it could be Gautham Pai, Dr. Narasimha Bhat running world-class companies being here in Manipal through Manipal Technologies and Manipal Dot Net respectively; it could be academic leadership such as Dr. Pitchaiah Mandava, Professor of Neurology & Program Director, Vascular Neurology Fellowship at Baylor College of Medicine, Houston, USA, Dr. K. Ganapathy Ayappa, Chair, Department of Chemical Engineering, IISc, Bangalore; it could be political leadership to the nation in the form of Mr. Ranjeet Deshmukh, Mr. Rajeev Chandrasekhar etc.; it could be Mr. K S Parag, Managing Director, FVC Inc, a leading new generation value added distributor operating mainly in UAE, Saudi Arabia, Egypt, & Kenya; it could be leadership of Mr. M. Venkatesh as Managing Director of MRPL – a subsidiary of ONGC;  it could be societal transformers like Mr. George Muthoot, Managing Director, The Muthoot Group; it could be Mr. Dhyanachandra, Mr. Tanai Sultania, Mr. Dhruv Ashta, recent achievers in UPSC – 2016; it could be startups of Mr. Vijay Varada, CEO and Co-Founder, Fracktal Works, Mr. Mayur Shetty, Founder & CEO, Blackfrog Technologies and Mr. Sarthak Paul, CEO, MMM.
With a legacy of more than 60 years, MIT is ready to receive future talents and shape the future leader of society. "The admission is through merit, through an all India entrance test. Merit is also recognized in the form of Free-ship, Merit-cum-means scholarship, AICTE Tuition Fee Waiver Scheme, Scholarships for Academy of General Education Students (SAGES), and Kadambi Scholarship. This ensures that financially weak, meritorious students are not deprived of an opportunity of studying at MIT," shares Dr. Rao.
Offering a Plethora of Learning Opportunities
Even though major curriculum revision takes place once in 4 years at MIT, departments have freehand to introduce new courses (electives) as and when required with the approval from the Board of Studies and Senate. Before major curriculum revision, the institute arranges a curriculum conclave with participation from experts from academia, industry, institute faculty, and present student community to understand the perception of each stakeholder. They also give their feedback at various stages as part of DCC, BOS, and Senate. Dr. Rao explains, "We conduct regular academic audit through academic experts to evaluate the academic process. We have renowned experts from Industry and Academia as Adjunct faculty who are also invited to give guest lectures."
At MIT, along with a BTech degree, students can earn a minor specialization by taking a set of electives (Program Electives) from a given basket. They can also take any electives (Open Electives) offered from 24 sister institutes of Manipal Academy of Higher Education (MAHE). "Presently, the 7th semester has only electives that allow students to go abroad for a semester and earn credits from there. Top performers have a chance to extend their stay for the 8th semester and carry out their mandatory internship. They may also be offered with a scholarship for higher studies with a shortened study period," pinpoints Dr. Rao. In addition to that, MIT provides a free Coursera license for every student. Students can learn as many courses as possible based on their interests and motivation levels. Dr. Rao adds, "They can earn as many as 12 credits by taking online courses. Through this, the system is giving an opportunity  to  the students to learn from the best of the best professors, anywhere in the world and be up to date with the new knowledge."
The institute follows a continuous evaluation process. Students are graded based on in-semester and end-semester evaluations, each with a weightage of 50 per cent. In-semester evaluation involves four quizzes of five marks each, which are open book type and two tests of 15 marks each, which is a part of multiple-choice type. "Students are provided with a formula table for the examination and tested for the attainment of higher cognitive levels. With all these processes, students are prepared to face the competitive exams and made industry-ready with the ability to solve engineering problems," shares Dr. Rao. In order to achieve OBE, MIT classes are fitted with lecture capture modules and the examinations are conducted through E-pad.
Preparing for the Industry Readiness
MIT's academic calendar is designed such that, students get a summer vacation for almost three months. In this period, they are encouraged to do research or an industry internship, thus allowing them to connect the classroom learning with the research and industry practices. Thus, highly industrious students can undergo at least four internships during their study period at MIT. "Our 8th semester is fully dedicated to the internship. Students can do the internship in the industry they are selected for placement/internship or in any research organization in India or abroad, or any of the sister Institutes of MIT, or they can decide to do it in college with guidance from any of the professor," claims Dr. Rao.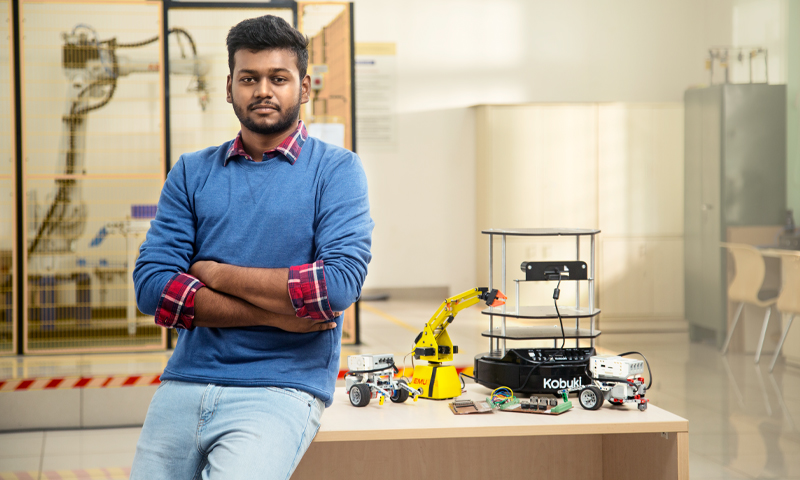 Experiential learning is the core of education at MIT. Students undertake at least six kinds of technical projects, thus making it truly experiential learning. "We have minor projects as a part of a theory subject, which means students execute either a software or a hardware project for a theory subject as part of an assignment component. They can also execute hobby projects during their free time or in holidays," shares Dr. Rao. MIT students carry out technical projects for competitions organized by hobby clubs such as IE, IEEE, Vedanth, Robotics, and Circuits; to participate in events organized by institutes of national repute. They also get to implement technical projects for corporate challenges such as Hackathon (Smart India Hackathon, AngelHack Global Hackathon of Microsoft, Hackabout Hackathon of Philips); Innovation Challenge of TI; NI NIYANTRA; GE global innovation Challenge; GE Edison Challenge and many more.
Life of Innovators Inside MIT
MIT is also famous for its numerous clubs driven by the students. Formula Manipal, Team Manipal Racing, AeroMIT, RoboManipal, Parikshit, Solar Mobil, Project Manas, Mars Rover Manipal, Thrust MIT, R.U.G.V.E.D Systems, DRONAID, MotoManipal, VISION, S.W.A.R.M, Robotics and Circuits, Team Combat Robotics, Project AUV, Cryptonite and LoopMIT are few to name among them. "Major project teams are interdisciplinary, having student representation from first to final year. In the process of getting into the team, and selecting the members to the team, students learn to face and conduct interviews," explains Dr. Rao. With the team size ranging from 25 to 50, students learn to work in a group. By working under tight schedules, they also learn to meet deadlines. Dr. Rao adds, "By submitting weekly progress reports, by presenting weekly progress and scheduling the task, they hone their documentation, presentation, and planning skills. To generate financial support, they need to sell their idea to possible sponsors. In the process, they learn marketing, budgeting, and accounting skills."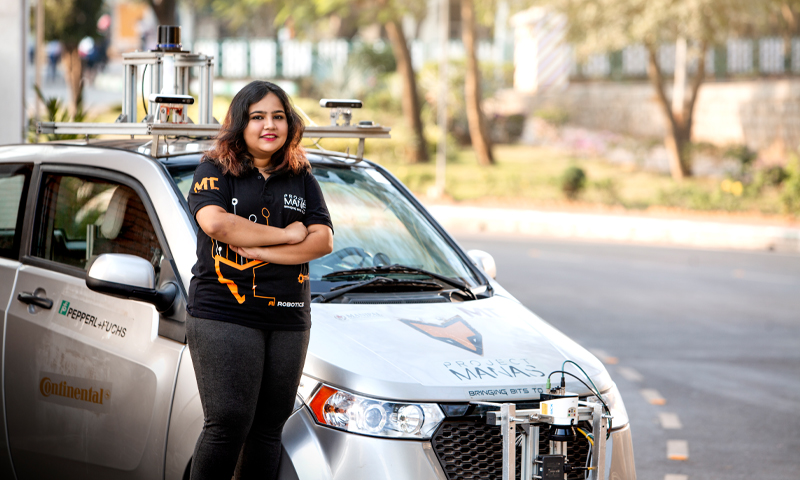 Projects being innovative, MIT's students' club activities have seen many publications and start-ups coming out of these projects. MIT is also seeing more scope for publications and IPs. With these in mind, the institution has come up with a 'Student Project Scrutiny Board (SPSB)' where students can present their projects to the committee for the potential funding support, possible publications, and IPs. By looking at the potential benefits of these projects, MIT would house them in a fully furnished facility known as 'Techshop.' "We also encourage our students to partner with professors to work on research problems. With the revised curriculum, these works can also lead them to receive BTech honors."
MIT's research areas are aligned with the thrust areas specified by the Government of India through its IMPRINT document. Students have the opportunity to work on live projects granted by DST, DRDO, BIRAC, Schneider, and many more. "For the students who are rich in ideas, there is an opportunity to discuss these ideas, in Idea Café. They can work on the refined ideas either in 'Makers Space' or in Innovation Center," pinpoints Dr. Rao. On developing the prototype, MIT students are encouraged and supported for filing IP, write business plans, and apply for startup grants such as NIDHI-EIR. Interested budding entrepreneurs are also provided space either in the Technology Incubator (MUTBI) or in Bio-Incubator.
Today, the MIT campus is perpetually in motion. On all the working days, students have classes either in the morning half or in the afternoon. They can spend the rest of the time for all-round personality development. It could be learning languages such as German, French, Spanish, Italian, Japanese, Polish, Kannada, Sanskrit. It could be learning through MOOC platforms such as Coursera, Udemy or Swayam. They can also be a part of more than 80 cultural and technical clubs or be a part of major student projects. Students can prepare themselves for a semester abroad program, work on research topics under the guidance of a professor, or any other available avenues for personal development. Who doesn't want to be a part of such a great institution of learning? "Come, by partnering with Manipal, let us bring name and fame to self, family, Manipal, your State and the Nation," urges Dr. Rao.
Dr. D Srikanth Rao, Director
Dr. Rao, a Professor of the Department of Mechanical & Manufacturing Engineering, is an Alumnus of the Manipal Institute of Technology. He obtained his BE degree in Mechanical Engineering from the University of Mysore, in 1984; MTech and Ph.D. degrees from Manipal University in 1991 and 2009 respectively.  After graduating from MIT, Manipal, he worked with M/s Hindustan Dorr-Oliver Ltd, a Stanford Oil Subsidiary. Before taking charge as the Director of MIT-Manipal, he was assigned the challenging responsibility of looking after the Admissions at Manipal University, Manipal, as its Director (Admissions). Before this, he had also served as the Joint Director of MIT, Manipal. Dr. Rao had been assigned the challenging task of being a part of the team for starting a new University at Jaipur – Manipal University Jaipur. He successfully coordinated the formative years of Manipal University Jaipur as its Founding Registrar.
Related Articles