The new phase of the Industrial Revolution, Industry 4.0 is mainly focused on interconnectivity, automation, machine learning, and real-time data. It has already become an integral part of everyone's life and all phases of education and industry. An amalgamation of all basic branches of engineering to solve real-life problems, Industry 4.0 defines the automation and data exchange trend in manufacturing technologies. Dr. Shubha Pandit, Principal of K J Somaiya College of Engineering, says, "Learning about Industry 4.0 should start in classrooms, where the students are taught and prepared for the ever-changing technological challenges once they graduate."
Educational institutes must adapt to the rapidly evolving work-environment and ensure that students have the theoretical and practical knowledge to meet the demands of the workforce. Dr. Shubha points out, "We are offering exposure to project-based learning right from the first year, where the emphasis is on the identification of problems, and devising technology solutions through collaborative learning." The students of Somaiya Engineering College are given exposure to various fields with the help of numerous interdisciplinary, audit and add-on courses, apart from their regular curriculum.
Somaiya Engineering College organizes many sessions where the students get to interact with the alumni of the college, working in different sectors of the industry, which give the students an idea about the current scenario of the industry, along with the various career and job opportunities of different branches. Dr. Shubha adds, "Through different courses, internships, project-based learning, field visits, and expert lectures, we provide a variety of learning experiences, where concepts are taught to the students through simulations, models, peer learning, personalized adaptive learning."
Why K J Somaiaya College of Engineering?
Established in 1983, Somaiya Engineering College was started in the Somaiya Vidyavihar campus in Mumbai, with a well-defined vision, dedicated leadership, requisite infrastructure, and committed staff.
Appreciated and awarded grade 'A' in 1997 by the Government of Maharashtra, programmes in Somaiya Engineering College received its first accreditation from the National Board of Accreditation (NBA), in 1998, for three years and in 2003, 2005, 2009, 2014, and 2019, various programmes were accredited by NBA. Subsequently grade 'A' was awarded by the National Assessment and Accreditation Council (NAAC) in May 2017, for five years.
Somaiya Engineering College was conferred the autonomous status by the University of Mumbai from the academic year of 2014-15, for five years, and also in 2019-20 KJSCE received an extension of autonomy for another five years, with recommendations from the University Grant Commission (UGC) and the Government of Maharashtra.
Somaiya Engineering College envisages of becoming a world-class Centre of Learning in the field of Engineering Sciences, where the knowledge is pursued along with human values of courage and compassion to produce engineers in the service of humanity.  Dr. Shubha says, "Students, work hard in a team and use their skills to come up with solutions to different problems that they face. They are engaged in problem-solving, analytical ability, communication skills, logical thinking, and lifelong learning."
As a constituent college of Somaiya Vidyavihar University (SVU), Somaiya Engineering College will enhance emphasis on student exposure to
A wide range of interdisciplinary courses like e-vehicle, Robotics, Machine leaning, Accountancy, Foreign languages, Internet of Things (IoT), etc.
Opportunities such as internship of six-month duration and student exchange program in various universities of national or international repute.
Lifelong learning skills such as working in teams, time planning, evaluating risks, making ethical decisions, with a human centric approach.
Unparalleled learning experience with focus on project/problem-based learning.
Somaiya Engineering College aims to be the leading institute of learning in the field of Engineering Sciences with a scholarly ambiance, an environment of diversity that encourages thought and expression, and benchmarking themselves with the best amongst their peers and attain excellence.
"Re-imagining assessment techniques, students are taught through open-ended experiments, case studies, team-working tasks, mini-projects, simulation projects, flipped classroom activities, developing products from projects and many more," points out Dr. Shubha. Somaiya Engineering College students realize that they don't just belong to a specific branch of engineering, they can implement their knowledge by solving real-life problems through interdisciplinary work and technological tools. Today, Somaiya Engineering College develops all-round engineers, not just in the technical aspects, but also in the organizational skills of the industry.
Advancing Education with Technology
Keeping up with the technological advancements around the world, Somaiya Engineering College is using virtual laboratories, developed by IITs, for live demonstrations of experiments in laboratories and classrooms. These virtual laboratories are flexible when it comes to setting various parameters, taking different measurements, visualization, and animations, to help in understanding the experiments in a better way, which is not possible in the conventional laboratories.
Dr. Shubha shares, "Our students and faculty members are involved in developing the virtual laboratories. The Machine Learning Virtual Laboratory developed by us is made available online and ready to use for all." The college faculty members have also developed the Learning Management System (LMS) that helps them in conducting academic-related activities, assessments, and feedback. Somaiya Engineering College blends classroom teaching with online simulation, animation, and videos, where the students are given the task of designing solutions for simulating problems, as a part of continuous assessment.
Shaping the Leaders of Tomorrow
Collaborating with industries helps universities give hands-on experience to their students. Somaiya Engineering College organizes field visits, expert lectures, offering internships, projects, live demonstrations, interactive and updated curriculum designs along with the revision to help the students gain the practical experience they need. Students get to work on many interdisciplinary research and projects in well-established industry-sponsored laboratories like CISCO networking, Texas Instruments, FESTO, BETiC-OrthoCAD, and many more. Dr. Shubha says, "Experts from the industry evaluate the projects made by final-year undergraduate and postgraduate students, giving them their feedback and insight about the expectations of the industry from them." The students also get a chance to gain first-hand experience in the industry through semester-long internships in reputed industries.
Taking the industry world by a storm, with around 500 students uniquely placed in 2018-19 and 2019-20, the students of Somaiya engineering college have received job placements in many reputed multinational companies. Dr. Shubha points out, "An M.Tech Graduate in Mechanical Engineering was placed with CTC of 12.02 lacs/annum, and three students studying Bachelors in Computer Science and Information Technology were placed in Human Resocia (Japan) with CTC of 18.76 lacs/annum." Overall, 305 dream job offers (with pay packages above Rs. 5 Lacs per annum) have been made this year. As a result, while almost all the eligible students are placed successfully every year; few bright students also fetch multiple placements. The track record of companies in recent years is overwhelming & yearly more than 75 companies visit K J Somaiya College of Engineering for campus recruitment for both UG as well as PG students.
Along with providing job opportunities, Somaiya Engineering College houses an Entrepreneurship Cell, Bloombox, that provides a platform that motivates and educates students about entrepreneurship, encouraging them to come out with their business ideas and form global enterprises that are a combination of technology, vision, and business acumen. Bloombox aims to channelize efforts towards spreading knowledge and inculcating enthusiasm amongst the students by altering their perspective of a business, in a way that will be cherished and etched in their memories. They host activities that challenge the brightest of minds to push their capacity to ideate, drive their hunger to innovate and challenge their potential to create, like never before.
With an active Industry-Academic Interface, through which students get an opportunity for internships and field-based learning, KJSCE offers in-house internships during the student's summer and winter breaks, to get the students involved in the research and development works. One such initiative headed by a KJSCE alumni, Mr. Gaurang Shetty, is RiiDL, which encourages innovation and entrepreneurship among the youth. A lot of students from KJSCE are volunteering from the college and working on projects to solve real problems through RiiDL. They have helped develop an automated chess board and weather monitoring system, which has been recognized at a global level. Somaiya Engineering College incubates its students and various start-ups initiated by them, giving their students the boost they need to kick start their career.
Encouraging Student Involvement
The students of Somaiya Engineering College also get the opportunity to challenge themselves, through designing, building and testing energy-efficient cars, as a part of their megaprojects, by pushing the boundaries of what is technically possible. They also participate in various national contests like ROBOCON, Smart India Hackathons, Medical Device Hackathons and many other national and international competitions. Organizing various co-curricular and extra-curricular activities, Somaiya Engineering College encourages the students to participate in various national and international competitions. "Our students organize many technical and non-technical events through various societies and clubs for the rest of the college students to take part in. We also have a Student Council that heads all the extra-curricular activities including national-level sports competitions, technical, and cultural festivals," shares Dr. Shubha.
For instance, KJSCE has an established outreach centre for cyber awareness that has the students conducting cybersecurity awareness campaigns for students, staff, faculty members of the college, civil defence employees, Mantralaya staff and their family, hotel management students, hospital staff, government employees and many more. Facilities like infrastructure, flexible working hours, required funds, guidance from faculty members and experts, etc., are made available for the students. This has helped these students greatly in developing energy-efficient cars in mega projects and competitions like ETA, RedShift Racing, Onyx India, Orion Racing and many more.
Somaiya Engineering College understands the value of voicing your opinion for the right cause and hence has come up with a social initiative, Parvaah, that encourages students to participate in activities, taking up many critical social issues, that need to be addressed to the society at large. So far, Parvaah has taken up various issues like women's safety, Child Care, Beautification of the Ghatkopar Station and supporting the LGBTQ community.
Planning Ahead
Somaiya Engineering College has already paved the roads they are planning to take in the future. Starting off with becoming a constituent institution of Somaiya Vidyavihar from the academic year 2020-2021, Somaiya Engineering College is also planning to start a few Industry-oriented Certificate Courses and Postgraduate Diploma programmes which will focus on the industrial requirement, that will be suitable for fresh graduates, working industry professionals, and candidates who don't have a valid GATE score. The college aspires to provide unparalleled learning experience through project-based learning (PBL), focusing on innovation and entrepreneurship.
Revamping the curriculum, with inputs from the industry experts, and promoting interdisciplinary courses to help faculty members bridge the gap between the academic and industry field is going to be implemented at Somaiya Engineering College too. To help students learn new things in a better way, the college is planning to improve the skill set of faculty members, through pedagogical learning and exposure to the industry field for them. Dr. Shubha adds, "The college is also planning on frequent collaborations and interactions with the Industry through sponsored labs, research centers, programs supported by companies, with the main focus on collaborative research."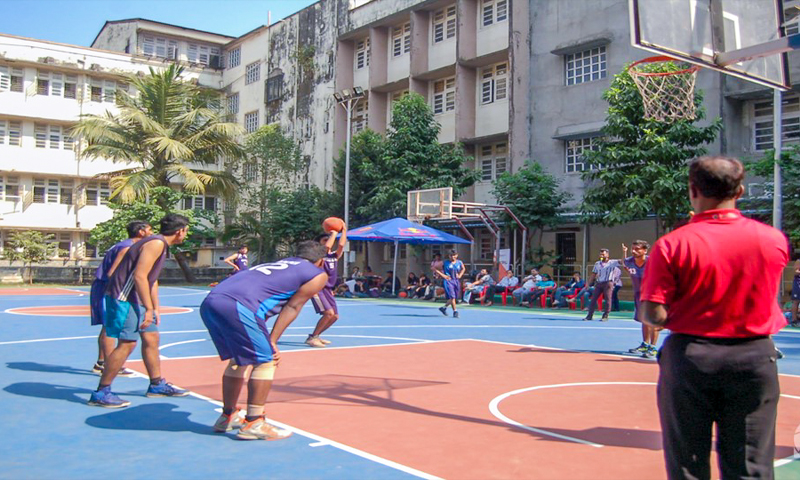 Taking education to the next level, Somaiya Engineering College has been making the learning experience for their students as interactive and practical as possible. They are shaping the young minds of this generation to fit perfectly into the cut-throat industry. With their up-to-date curriculum and technologically interactive lessons, Somaiya Engineering College is helping their students to stand out among their competitors, and not to fumble, but confidently take on the big question, "What Next?"
Dr. Shubha Pandit
Dr. Shubha Pandit started her career as a Lecturer in Electrical Engineering way back in 1985 when she joined Sardar Patel College of Engineering, Andheri. Subsequently, she became the Professor and Head of the Electrical Engineering Department and then the Vice Principal of the college until she left the college in April 2012. Currently, she is the Principal of K J Somaiya College of Engineering Vidyavihar.
Dr. Shubha Pandit passed B. E. in Electrical Engineering from Pune University M. E. from Mumbai University and completed Ph. D. from IIT Bombay. She has co-authored a book on "Computational Methods in Large Sparse Power System Analysis" which is published by Kluwer Academic Publications, Norwell, U.S.A. Also, she is a professional Energy Auditor and undertakes Energy Audit assignments by which organizations can be helped in saving energy. She has delivered several guest lectures in many academic institutes as well as industries on Energy Efficiency.
Related Articles