With the Coronavirus epidemic scaring half of Asia, the need for proficient and efficacious healthcare personnel cannot be stressed enough. To create a tribe of strong healthcare experts, you need healthcare missionaries who can guide and shape keen minds to face the diverse challenges in the medical field. Dr. Crispina Lorenzana Macagba and Dr. Rufino N. Macagba Sr., wife and husband, were two such idealists, who, in 1934, started a small hospital out of their house. Under these two pioneer physicians' guidance, the hospital grew to the current 200-bed tertiary care LORMA Medical Center. However, it was in 1970 that Dr. Rufino L Macagba Jr, their son, started the School of Nursing, in response to the growing needs of the hospital and the community. Later, it was re-christened to LORMA Colleges.
LORMA today has two campuses: the main Center for Health Sciences (CHS) Campus adjacent to the LORMA Medical Center in the City of San Fernando, and the extension campus in the seaside town of San Juan as the Center for Learning and Innovation (CLI), with a new college building ready in January 2020.
Celebrating its 50th golden founding anniversary in February 2020, LORMA has grown to be a higher education professional institution specializing in more than health care (nursing, medical laboratory science, radiologic technology, physical therapy, respiratory therapy, pharmacy, psychology) and foraying into technology (information technology, computer science, computer engineering, biomedical technology, digital technology), business (accountancy, business management, hospitality, tourism), and education (secondary education with a K-12 basic education school).
Pedagogical Innovations
LORMAs' students, often called as LORMAnians, are shaped through an accredited curriculum, a wide variety of industry exposures, and a holistic approach to their development as career professionals to include character, values, and communication, integral to leadership. The programs offered are regularly reviewed for relevance in the industry, needs of the community, and global impact. While the Wellbeing Council at LORMA arranges for activities that aim at developing emotional intelligence and character development essential for career and employability, the LORMA Global Immersion Program provides various international and domestic linkages that the LORMAnians can take advantage of.
The LORMA Global Immersion Program (LGIP) is a 16- week immersion program designed to provide international students an intensive training on English and communication skills, professional ethics and skills in the work environment, cultural awareness, and building healthy relationships in the workplace with diverse cultural backgrounds. Emphasizing on the several career prospects available to LORMAnians, LORMA offers various enhancement subjects through their respective departments. Along the same lines, all department laboratories are designed to provide hands-on learning. Moreover, LORMA has incorporated in the curriculum early immersion in actual occupational settings. "Our various outreach programs provide the opportunity for students to practice professions in the community. Likewise, through English and foreign languages such as German, Mandarin, and Spanish enhancement programs, LORMAnians do not find it hard to gel with global citizens," adds Dr. Carol.
Giving special focus to entrepreneurship, LORMA houses Enactus, an international organization focused on entrepreneurship. "There is a course in which students put up entrepreneurial booths throughout campus, followed by reporting of financial activity. Meanwhile, a new program is currently being developed with the HERO (Higher Employability Results & Opportunities) network of institutions incubator projects will be connected with the venture industry," comments Dr. Carol.
Currently, LORMA has 216 teaching staff, 118 of who are master degree holders/candidates, 28 who are doctorate holders/candidates. "Many of the faculty are our graduates, therefore the quality of teaching is passed on from faculty with many years of experience not only in teaching but in their professions. As with many private schools in the Philippines at this time, there has been a challenge in maintaining our qualified faculty due to the exodus to higher-paying government-subsidized schools. Therefore, our students who are interested in teaching after graduation are being mentored early on. Scholarships are also being provided to faculty who pursue graduate studies," says Dr. Carol Lynn R. Macagba, M.D., ABIHM, President of LORMA Colleges.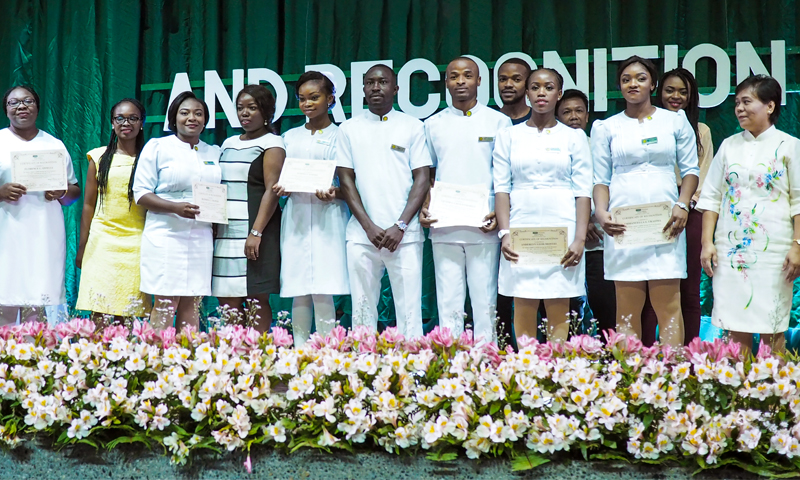 Fulfilling their alma mater's mission of global service, LORMAnians hold key positions in hospitals in the Philippines and abroad, especially in the healthcare field. "A sample departmental tracer study shows that in the College of Pharmacy, from 2014 to 2019, out of 223 graduates, 151 are registered professionals in the Philippines and 3 are registered in Nigeria, giving 69% registered pharmacists; over 74% are working in pharmacies, hospitals, manufacturing companies, government, and some are academic faculty. Our computer studies and business graduates also sit at various positions in local and national companies and government," pinpoints Dr. Carol.
LORMA Colleges' International Student Office collaborates with Student Affairs and a dedicated Welcome Office to ensure that international students feel at home at LORMA Colleges. Welcome Week is a special orientation program for freshmen and transferees held at the beginning of each school year. The International Student Organization is active with outreach programs and the much-awaited International Food Festival held every October. College of Education and Basic Education Schools, meanwhile, provide English for international students. Language and Heritage Institutes provide an additional resource for cultural immersion. Sports programs including soccer, basketball, volleyball, archery, and marine sports (surfing, swimming) are popular venues for socialization.
Awards and Accolades
LORMA has a Deregulated Status conferred by the Commission on Higher Education, one of only sixteen Higher Education Institutions in the country to be conferred this distinction. The reason being LORMA's programs that are highly accredited by nationally recognized accreditation agencies as well as being awarded as Center of Development for computer studies. Active international collaboration with sister schools in South Korea (Hwashin Cyber University, Busan Kyungsang College, WooSong IT Education Center, Joongbu University) provides academic collaborations, student exchange programs, and cultural exchange. Excited for the unveiling of The International Center for languages, culture, arts, and tourism/hospitality in 2020, LORMA intends to further develop Makerspace laboratories with industry collaboration for incubation and entrepreneurial ventures.
As a champion for integrative health, LORMA is committed to a healthy environment: CHS Campus will have botanical gardens specializing in herbal medicinal plants, and CLI Campus as a heritage arboretum will preserve native coastal trees. New programs for inclusive education with a focus on special needs are also being developed at LORMA colleges. Furthermore, a center for professional development to focus on career coaching and employability is also being developed. "Hybrid online education has started with our graduate degrees in nursing and information systems; this will be further developed and extended to other programs," concludes Dr. Carol.
Related Articles