Industry 4.0 is ruled by AI-driven automation and exhaustive data points to drive automatic decision management in manufacturing technology. This includes Autonomous Robots, Horizontal and vertical system integration, Artificial Intelligence, Data Analytics, Cloud Computing, Cognitive Computing, Additive Manufacturing and much more. Industry 4.0 requires a new kind of workers, i.e., 'The Knowledge Workers'. Graduates are required to be prepared for both reflective and interdisciplinary skills. "As a technical institution and academicians, we should have a clear understanding that conventional job roles will be no more available", says Dr. C Natarajan, Principal of Hindusthan Institute of Technology (HITECH).
Being an autonomous institution, HITECH is prepared well in line with the industry needs, after discussing with the industry experts themselves. Introducing engineering courses with specializations like artificial intelligence, robotics, and industrial automation are added as a part of the curriculum, which is the need of the hour. "Our content delivery methodologies are well-planned and prepared to meet the cognitive, affective and psychomotor domains of the learners using smart 24×7 connected learning environment. Also, we conduct regular assessments to evaluate the core technical skills rather than the knowledge", adds Dr. Natarajan.
Offering a Conducive Environment for Higher Learning
Started in the year 2007, HITECH was instituted from the Hindusthan Educational and Charitable Trust (HECT), by Thiru. T.S.R. Khannaiyann, a great industrialist and philanthropist. The Secretary, Smt. Sarasuwathi Khannaiyann is the legend in the success story of Hindusthan Educational Institutions. Her multi skill personality, with administrative power has made her an icon among women in managing educational affairs. Dr.Priya Satish Prabhu, Joint Secretary of HCET, is an engineer with an MBA, is a pleasant and pleasing personality with high managerial skills. Her effort in empowering and employing the youth should be highly appreciated. As a young women icon, she leads the academics with confidence and courage. Mr. K. Sakthivel, Trustee, graduated as an Engineer but turned as outstanding young administrator. He has created a revolution in Youth education. As an enthusiastic and energetic engineer, he has played a major role in muting the HECT.
HITECH aims at producing knowledgeable, socially responsible, skilled, and competent citizens with real human values and abilities to know, to do and lead purposeful lives. "Approved by AICTE, New Delhi and affiliated to the Anna University, Chennai, we also hold Grade 'A' accreditation by NAAC and NBA for the courses we offer, along with a permanent affiliation with Anna University, Chennai for 5 departments. Also 3 of our departments namely Computer Science, Electronics and Communication and Physics are recognized Research Centre's of Anna University. The college offers not only core engineering courses like Mechanical Engineering, Computer Science and Engineering, Electronics and Communication engineering and Information technology, but also specialized engineering programmes like Aeronautical Engineering, Automobile Engineering, Pharmaceutical Technology, which is in high demand.  Also Post Graduate level courses such as Master of Engineering in Computer Science and VLSI and a Master's course in Business Administration are also offered", says Dr. Natarajan.
With well-furnished smart classrooms and state-of-the-art laboratories, the campus of HITECH is WiFi-enabled and houses computer centres for their students. Along with lush green lawns, playground, gym and indoor games facilities, HITECH has separate hostels for men and women with modern amenities. Dr. Natarajan opines, "We not only believe in educating our students but also in grooming their characters with moral and ethical values, thus building the nation."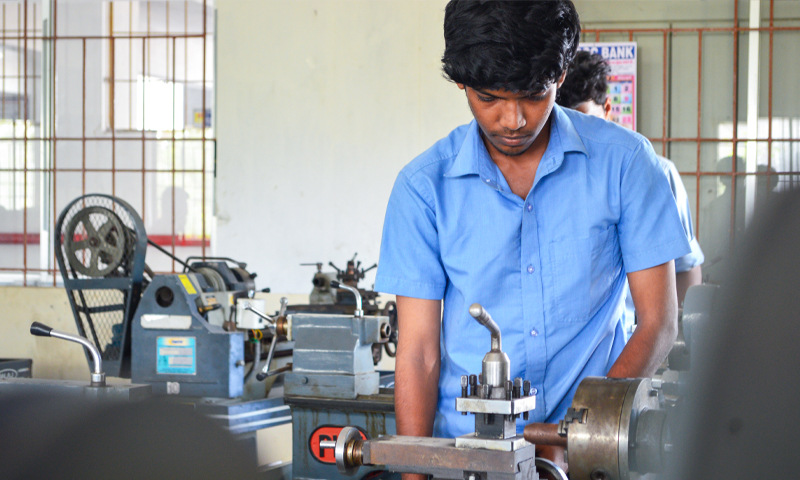 HITECH provides ample facilities for the development of an integrated personality. With a fine library containing more than 30 thousand books and more than 500 national and international journals, the library is also digitalized, by holding IIT-NPTEL Video Library in it. "We emphasize transformational leadership, rather than directional leadership, aiming to establish new trends, introduce innovate training methodologies, and guide our students towards the road of success", points out Dr. Natarajan.
Motivating faculty members and students to prioritize and utilize their efforts in terms of both academic and research activities, HITECH has provisioned the usage of the available infrastructure round the clock, by the faculty members, research scholars and students to carry out research activities.
Introducing a new paradigm towards flexible and high-quality learning, Virtual Interactive Learning is being introduced at HITECH. The custom-built smart classrooms leverage recording of lectures with annotations and are posted in the online learning platforms like Google Learning Applications. Keeping the learner's flexible timings into consideration, online assessments are conducted and feedbacks are given to help them improve. "Through the Learning Management System in our campus, we obtain core data points and optimize feedback, corrective measures and follow up activities", adds Dr. Natarajan.
Maintaining a faculty-student ratio well above 1:15, HITECH also maintains a balanced cadre ratio. With 30 percent of them being PhD holders, the faculty members of the institution are qualified and maintain a good combination of research, academic, and industry interactions. "Through career up-gradation and incentives linked with the faculty updates, we drive our faculty members to take up mandatory MOOC courses, industry sabbaticals, and consultation works", points out Dr Natarajan.
Apart from the academic curriculum, HITECH's policy to provide value-based education and exhibit the hidden potential in students to empower them to approach life with optimism is equally important. Conveying revolutionary technical education, HITECH aims to inculcate great outlines of discipline through their dedicated staff, to help the students set global standards, making them technologically superior and ethically strong. "Our college is built on its traditions of innovation, problem-solving, and interdisciplinary collaborations to meet the changing needs of society. We focus on both education and discipline to achieve greater recognition for our effort", says Dr. Natarajan.
Shaping Creativity and Innovation
At HITECH, a dedicated forum for innovation and creativity actively conducts several events to nurture and exhibit innovation among students around the year. A Project Expo has been scheduled every year which serves as a platform for the student innovators to exhibit their innovative ideas and proof of concepts which are validated by academicians and industrial experts which may further be improved as a product and startups. This forum actively organizes several mentoring sessions relating to prototype development, starting new ventures, and patenting new innovative ideas. "To improve creative output from students, many motivational sessions like Entrepreneur's Life & Crossroad, Problem Solving/Design Thinking/Ideation Workshop/ Campus Hackathon are organized every quarter of the academic year. We encourage our students to have a Field/Exposure Visit to Design Centre/Makers' Space/Fab Lab/Prototype Lab etc.", says Dr. Natarajan.
Industry interaction is the key to innovation, as it helps one understand the dynamic changes happening from time to time, overcome new challenges and meet the demands of the industry. With the core objective being to increase knowledge sharing and facilitating research, collaborations with the industries can help students boost their career development to a great extent. HITECH has signed MoUs with leading industries like MAS Solar System, ICT Academy, Redhat India, Pratt & Whitney, Taneja Aerospace & Aviation, Aviation Technology, Twirltact Technologies, CSS Corp, Oracle, Salesforce and many more.
A centre of excellence is established and industry-sponsored labs are being promoted at the departmental level at HITECH. Some of the collaborative laboratories are Drone Technology for Space Research Sponsored by Jet Aerospace Aviation Research Ltd, Regional Competency Training and Development Centre for Automobile Sponsored by Eicher Motors Ltd,  Virtualization Laboratory, sponsored by VMWare, Data Science and Big Data Analytics Lab, sponsored by EMC, and Laboratories sponsored by Redhat India, Oracle, PLC, and SCADA, in association with Siemens and Genn automation, Embedded Systems in association with Texas Instruments, Hindusthan Centre for Applied Rural Technology (HICART), Automotive Fabrication Laboratory and many more.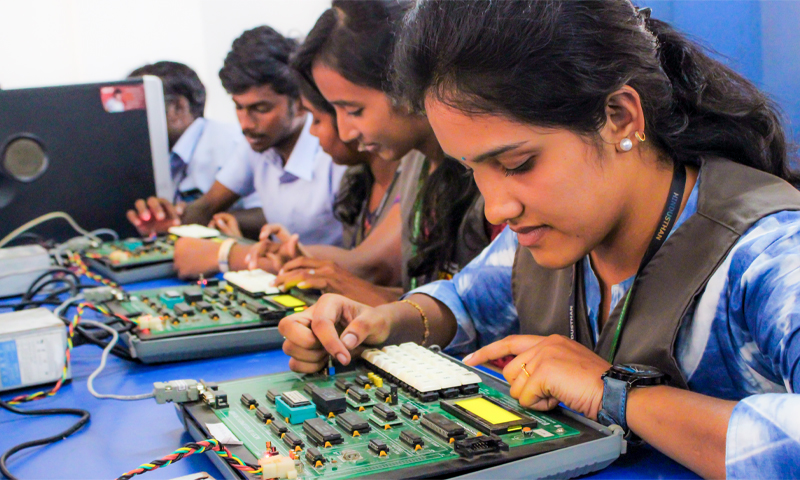 At the faculty member level, mandatory industrial training and sabbaticals are encouraged to connect with the industry. Faculty members take up consultancy works and get themselves equipped with the current trends of the industry. The volume of consultancy works, in collaboration with industries, taken by the faculty members is 36 and a net value of around 60 Lakhs.
For the students, summer internships with industries are made as a part of their credit system, to increase their interactions with the industry. The students undertake mini and final projects, which are selected based on the industry needs. Also, students are encouraged to pursue their final year projects in the industry.
Placements at HITECH
HITECH is very diligent when it comes to placing their students in the industry. Starting with the placement training handled by a trained and dedicated team of in-campus corporate relations, students are provided with pre-placement training and online assessments for the same. Based on the feedbacks of the assessment, additional training will be given in their respective areas of improvement. More than 80% of the students who opted for this are placed in TCS, Infosys, Cognizant, Odessa Technologies, L&T, Eicher, Amazon, Zoho and many more. "Post-placement, our students opt for internships for 3 months in their respective firms. Along with this, periodic alumni meetings are conducted and their feedbacks are taken into consideration for students who have opted for placements", points out Dr. Natarajan.
Establishing the best industrial network connections, the graduates of HITECH who have been placed in industries also take responsibility for maintaining the reputation of the institution. "We have many industries, who repeatedly visit our institute in providing placement opportunities for students, because of their performance", adds Dr. Natarajan.
Segregated at a micro level, the students, who aspire to be entrepreneurs, are identified based on their interests and attitude. The targeted students are then exposed to several kinds of activities, including special courses on entrepreneurship awareness camps on startups in incubation. "We give special recognition and support for those students who come up with the proof of principles", says Dr. Natarajan.
Planning Ahead
Intending to introduce new courses at UG and PG level in emerging areas of technology, HITECH is planning to develop faculty and student exchange and twinning programs with foreign universities. The institution is also talking about designing and developing a multidimensional research innovation ecosystem to nurture academia-industry collaboration. "we are planning to start incubation centers and promote more new-age entrepreneurs and young minds to transform their innovative ideas into viable business opportunities."
Gaining real-time industry-oriented skills after they graduate, the students of HITECH possess the ability to address the societal problems by ethically applying to relevant technological stack. They nurture the habit of updating themselves throughout their life and emerge with the intellectual ability to work in a modern organization. The graduates of HITECH acquire a range of personal attributes such as commitment, energy, self-motivation, self-management, flexibility and adaptability skills. "We envision to pursue a philosophy of perpetual acquisition of knowledge. Our primary objective is to educate and prepare men and women for leadership in the industry, government, and educational institutions; to advance the knowledge base of the engineering professions, and to influence the future directions of engineering education and practice", concludes Dr. Natarajan.
Related Articles