All around the world, leaders from government and industry debate the future of work and the changes brought by technology and automation. Despite this, the world is not reacting fast enough to update our system of education both in content and delivery. So, what are we doing to prepare future generations to thrive in this changing landscape? "In most schools and colleges, we are still teaching subjects in a traditional way with the same old course content. Although some debates about the evolving future of education in changing times have already begun there isn't much action on the ground happening as a result of it. Any discussion on the future of work should go hand-in-hand with a discussion on the future of curriculum and also about those who eventually deliver it i.e. teachers and faculty," Opines Dr. P. Mahabaleshwarappa, Principal, MVJ College of Engineering.
To take full advantage of the opportunity created by advanced technology we need a similar revolution in education. We need to ensure that our students and teachers alike get the best possible teaching-learning experience. This calls for developing Education 4.0 experience for students and teachers that addresses the needs of the fast-developing world around us. "Indian education for building a workforce for enterprise 4.0 will need a more robust professional framework. Career planning in a rapidly changing world will be based on inter disciplines that are more advanced. At MVJ College of Engineering, we have an active Industry Institute Partnership Council. The primary aim of this council is to ensure that the graduating students are 'Industry Ready' by forging strong interaction with relevant Industries," pinpoints Dr. Mahabaleshwarappa.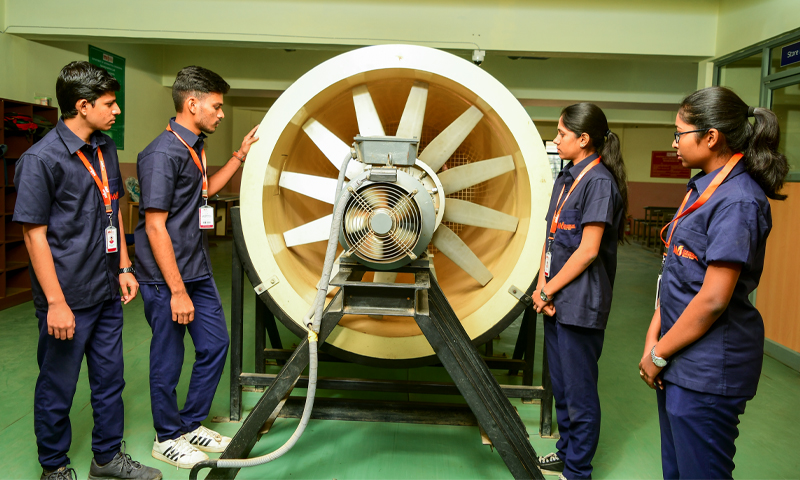 MVJ College of Engineering was established in 1982 as the flagship institution of the Venkatesha Education Society to impart education in engineering, management, and beyond. MVJCE's 15-acre campus in Whitefield, Bangalore, bears state-of-the-art infrastructure that creates an environment for progressive learning and development. "Over 37 years, MVJCE has evolved and perfected a unique approach to knowledge delivery for our engineering and management programs. We are deeply involved at all levels of the students' academic life, ensuring that they strive for excellence from the time they step into the campus," shares Dr. Mahabaleshwarappa.
Preparing Engineers for Industry 4.0
At MVJCE, every experience and opportunity presented to the student is significant, carefully planned, and holds immense possibilities for self-development. For instance, on August 2019, the institute conducted a one-day Workshop on 'Readying Students for Industry 4.0' to mark the College Academia-Industry Day. The Chief Guest for the workshop was Dr. Anil D Sahasrabudhe, Chairman – All India Council for Technical Education (AICTE). Dr. BN Suresh, Chairman – Governing Council of MVJCE, presided over the Workshop. Many eminent speakers from academia and industry addressed the gathering comprising guests from Industries, DRDO Labs, PSUs, ISRO, CSIR Labs, invitees from statutory bodies, VGST, VTU, alumni, parents of current students and the students of the college.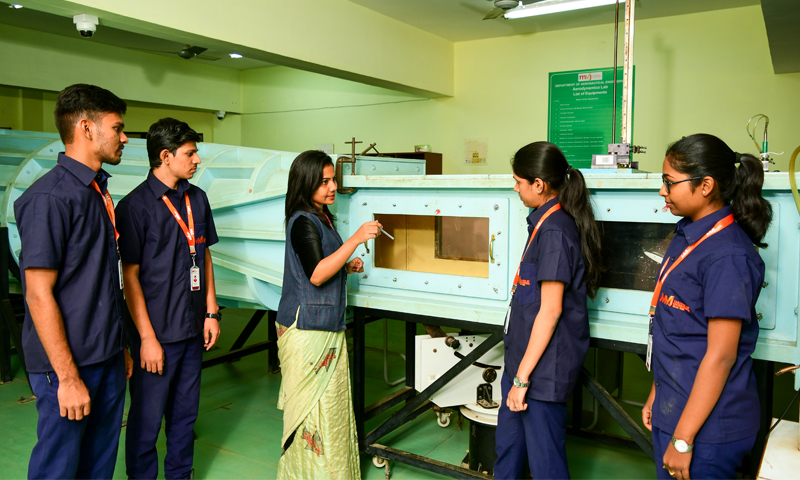 In fact, MVJCE regularly features experts from the corporate world as opportunities for interaction and ways to enhance knowledge. "We work with Infosys Technologies, Biocon, Unilever, GE and individuals to strengthen our training and development, and placement needs. Our training programs are designed to improve confidence levels, analytical thought, presentation delivery, communication skills, and technical know-how," says Dr. Mahabaleshwarappa. At MVJCE, more than 160 hours of training and development sessions are integrated into the 4 years a student takes to acquire an Engineering degree. These sessions are designed with the flexibility to regularly check performance and modify future sessions according to need. Dr. Mahabaleshwarappa adds, "This continuous feedback and development process produces graduates and postgraduates of excellence. Combined with Engineering and Management specialization, these training and development programs make the student employment ready." MVJCE also provides one-on-one counseling sessions for its students.
Over the last 5 years more than 200 companies have visited and recruited students from MVJCE. Some of our top recruiters include Tata Consultancy Services, HCL Technologies, Wipro, iGate, Eurofins, Nokia Solutions and Networks, Microsoft, Yahoo, IBM, SAP Labs, Mphasis and many more. In 2018, over 443 students were placed in as many as 300 companies and the highest packaged offered was Rs. 21 LPA by MuSigma. Dr. Mahabaleshwarappa explains, "Our constant interactions with organizations from different industries and across the country ensure that the student and the institute are always aware and knowledgeable of changing trends in the corporate world." MVJCE's placement division assists students with recruitments and creates opportunities through projects, seminars, guest faculty from various industries, internships and any other Industry-Institute Partnership of which the students can be a part.
"Our Industry Institute Partnership Cell provides opportunities for Internship, Field visits, Campus Placements and Projects," states Dr. Mahabaleshwarappa. Under this cell, MVJCE students have successfully completed projects with ISRO, DRDO, HAL, NAL and many more. "Students of ECE Department are certified by BSNL as Silver, Gold, and Platinum-certified Engineers. The consortium of Electronics Industries Karnataka (CLIK) and MVJCE entered into an MoU for internships and technical collaborations with SMEs for mutual technical needs," adds Dr. Mahabaleshwarappa.
Offering a Cutting-Edge Research Platform
The Research & Development Cell of MVJCE facilitates and encourages research culture among the faculty and students. Its prime role is to create contacts with the real world and promote research through a range of publications. "R&D Cell enables a congenial environment for technological development and monitors the research activities of the college. It takes upon the responsibility of creating a workplace to attract the best talent and strives continuously in pooling of skills and internal resources, creating strategy, overcoming limitations, and makes the college proud to be amongst the best institutions around the globe," explains Dr. Mahabaleshwarappa.
MVJCE's R&D Cell aims to reach the vision and mission of the college and is functioning under the Chairmanship of Dr. V. Bhujanga Rao since April 2017. "Under his able-guidance and advice, the college is able to submit research proposals for grants of in excess of two crores of rupees to different agencies like DST, DRDO, MNRE, AICTE, VTU, VGST, K-BITS, KSCST and many more in the last year. The publication statistics and citations are creditworthy. Obtaining patents is its one of the priorities," shares Dr. Mahabaleshwarappa. MVJCE has shown its excellence of research in different fields of engineering and its faculty members have executed more than 30 sponsored projects in the last few years.
Apart from the Academics growth and contribution for which MVJCE has been established 35 years ago, there have been individual areas in which the College along with its students have striven to excel. For instance, MVJCE has collaborated with National Instruments for establishing a Centre of Excellence with a lab on LabVIEW. Students use this lab to develop projects and conduct research and analysis in collaboration with MVJCE Faculty members. "It's an esteemed honor that 5 faculties and 5 students of our college have cleared the CLAD examination and are certified by the NI. Around eight FDP's were conducted successfully by the certified faculties in association with NI Academy members. Six batches of students were trained effectively on the Graphical Programming on LabVIEW," claims Dr. Mahabaleshwarappa.
In addition to that, MVJCE has collaborated with M/s Robolab Technologies Pvt. Ltd and established Robotics and Industrial automation Research Centre in 2015. Under this center of excellence, College conducts hands-on training and workshops on robotics and automation in different levels. On the other side, more than 1000 students have undergone the Foundation Program (FP) of Infosys which trains entry-level engineers from heterogeneous backgrounds and disciplines to deliver world-class projects to global customers. Dr. Mahabaleshwarappa explains, "The core of the Infosys Campus Connect program is the Foundation Program (FP) that represents the Intellectual Property and experience of Infosys in training thousands of entry-level engineers from heterogeneous backgrounds and disciplines to deliver world-class projects to global customers. The purpose of Campus connect FP courseware is to provide a unique set of teaching aids, consolidated training material to the college faculty to help them make students industry-ready."
Over the past three decades, MVJCE has worked with organizations, communities, and industries across the country to push the limits of what technology can accomplish. Students and faculty members at MVJCE are not reluctant to go that extra mile if they can improve and fix some aspect of the world around them. "Our emphasis is on a curriculum that builds in knowledge gathering as well as higher-order thinking skills. With inputs from motivated and quality faculty, the academic performance of our students continues to set the benchmark for engineering education in Bangalore," concludes Dr. Mahabaleshwarappa
Related Articles