COVID-19 pandemic hit the education system the hardest. The shutting down of schools and colleges due to the lockdown predicted a huge impact and a full stop to classes and lectures, but thankfully, living in the era of the internet negated that problem completely. All educational institutions went online as soon as possible, ensuring a smooth transition from offline to online. The major challenges faced during this time were the availability of devices, proper connection, and training to use those devices to the optimum use and devise methods to make online education palatable, especially to primary-grade kids. Working online also meant adapting to newer pedagogical concepts and modes of delivery of lessons, which meant acceptance on the part of the teachers who had been following a system for so many years. If this had happened in the 80s or 90s, the situation would have not been easy to handle as there were teachers before who never compromised in their methods of delivery, but the technology boom now has ensured that the learning continues despite all odds. 
Having said that, it is quite noticeable that Indians are still struggling with economic and social inequality and were in no state to face another disparity, which is Digital Inequity. Some might be fortunate to have their kids continue their learning process through virtual classrooms and online tutorials, but the divide is now not only about the have vs have not, but it's also about known vs know not. Alarmingly 1 out of 5 students in our country have no access to online education and this is ultimately going to create a 'learning divide' which the future generation might struggle with. "This is the very reason why I started this company. We are a nation booming with resources, but we lack skill, direction, and the required expertise to land a decent job. I have always strived and will continue to strive in this direction of upskilling our youth, to empower them and give them a sense of purpose," states Kounal Gupta, CEO, Henry Harvin. 
Henry Harvin, as a company, took a stalk of the situation quite early in March 2020 and launched all the courses on online mode. They introduced short-term courses that people could do during the lockdown period to enhance their skill set and also to use their time effectively. Now after almost 18 months, Kounal can proudly say that hundreds of students have benefitted from the courses Henry Harvin offered and are entering the workforce of India with more skills and confidence. He adds, "As part of our CSR activities, we work with children and women from low-income groups and provide them with learning opportunities and we continued that during the lockdown too".
Being an online course provider before the pandemic hit, Henry Harvin was imparting courses through both classroom and online mode. Their main challenge was to quickly train their staff and trainers to operate on a fully online mode and devise managerial processes around it. The web development and marketing team worked tirelessly during this time to make the switch as seamless as possible. "We understand that not every student is tech-savvy or every region in the country is equipped with a good internet facility, so we have designed our courses that do not require advanced technology, high-speed internet, or much internal memory. Our courses come with simple scripts which are easy to understand, and our staff is extremely cooperative. We as education providers have done our best to keep the process of learning undisturbed as we believe we have to learn our way into a better future," opines Kounal.
Nurturing Talent through Technology 
Kounal founded Henry Harvin when he was just 19 years old. He started it as he did not want to go into the same line of the over-occupied club of frustrated engineers. During his Industrial Engineering studies, Kounal traveled the length and breadth of India, went up to Srilanka and then China, explored different businesses before landing into Edtech. "I started Henry Harvin in 2013, naming the company after the first president of Harvard College, Mr. Henry Dunster,"  reminisces Kounal.
Henry Harvin offers 200+ courses spread across different academies namely Analytics, Blockchain, Finance, Law, Management, Digital Marketing, Sales, TEFL, Teen, Cyber Security, Writing, Paramedical, and more. The services include Training, Project Support, Internship Support, Certification, Placement Support, E-Learning, Bootcamps, Hackathons, Membership Program, and Consulting, with students from more than 97 countries. Because kids between the age group of 8-14 are the worst affected due to the current situation, they have introduced a Junior MBA course that would give them a creative outlet and build skills that are not emphasized in formal education. "I believe in the first mover approach and hence like to keep myself abreast of all the changes and challenges in our educational system. We know online education is both the need and the flavor of the season and there are many players in this industry now. I am never afraid of competition it brings the best out of me," says Kounal.
Creating content based on the industry requirement as well as the general aptitude of learners, the courses at Henry Harvin is developed inhouse using the Goal Centric Action Oriented (GCAO) learning methodology, which is simple yet methodical and systematic, and can help any learning aspirant to develop action-oriented learning not just for the sake of adding feathers to the resume. "We have included Bootcamp sessions, hackathons, regular doubt clearing sessions to keep up the learning process much after the course is over. All our courses come with embedded assignments which are timed and graded, which keep the students engaged and motivated," adds Kounal.
Ensuring to Reach Everyone
Marketing is a must for all forms of businesses, be it big or small. The obvious face of any business is its website. Henry Harvin's website is regularly updated, and SEO optimized to garner maximum traffic. They have dedicated blog sites where every week new articles are published, which helps them in Google ranking and generating leads. They also post Guest Blogs on other industry websites to gain access to a wider audience. Apart from this Henry Harvin also engages with their audience through personal automated mails which talk about our latest offerings. That also enables them to click-through to the websites. "When half of the world is using social media marketing, you just can't ignore it. We have a presence in Facebook, Twitter, Instagram, Linkedin, and Pinterest where we upload content regularly and use images and videos to ensure higher engagement. It takes years to build a reputation, but one negative review on Twitter and everything becomes questionable. So we give great importance to student reviews and feedback and strive at achieving the best customer service. When we put so much effort into digital marketing, we also have our tracking system in place to access our progress," points out Kounal.
COVID-19 situation highlighted how important public-school education is. This situation has exposed many inadequacies and inequities in our educational system. But this is also an opportunity to chart a vision on how education can emerge stronger from this crisis. Kounal sees a strong market in secondary and senior-secondary schools where tech solutions can be merged with formal education. These days students enroll in online tutorials for Maths, Physics, Coding, etc., which are above and beyond their school curriculum. Kounal's idea is to integrate this with the school curriculum so that both students and teachers can benefit from a guided system and online education would not be a forced alternative, but a preferred choice.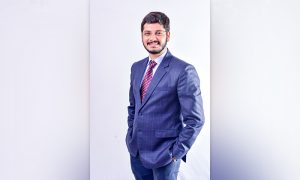 The pandemic has brought about a change in the educational system in months, which would have taken years to be implemented. Change has to be at all levels. Just equipping the schools with gadgets and technologies won't suffice. This loss of learning across all strata of our society is going to take a toll on our economy and will show its effect after a decade. Apart from this, in a haste to adapt to the online mode of education, sometimes pedagogical practices are compromised, and students' data are also put at risk. "I urge the school systems to take care of these facts before buying any support or solutions. All schools, government, and private should inculcate digital learning as a part of the curriculum. Nothing can ever replace classroom teaching, but we need to be prepared so that a learning gap never occurs again," recommends Kounal.
Looking Ahead
From giving tutorials to students in colleges in July 2013 to being acknowledged as one of the top 5 fastest growing Edtech companies in India, Henry Harvin has come a long way in the last 8 years. During the journey, they have partnered with their competitors like EY and KPMG till 2016. Starting online courses in 2016, Henry Harvin was the first EdTech company to introduce a GST course in 2016, and Analytics, Lean Six Sigma, and Digital Content Writing in 2017. For this, they have been featured in many media houses as the 1st mover quite many times. Today Henry Harvin® has a customer base of over 3,00,000+ students globally across 97 countries.
Any progress is incomplete unless the benefit reaches the grass-root levels. Henry Harvin is doing its bit by making its courses affordable to all. They use technology that does not occupy too much internal memory or require high-speed internet, which has enabled students to join from most remote parts of the country and completing their courses. Henry Harvin is on a mission to make the educated employable. They are diversifying to online tutorials on foreign languages, making their junior MBA class more reachable and beneficial to students of age 8-14, and also strengthening their internship programs so that young boys and girls can get a real-world feel of the professional environment before starting their careers.
For more info: https://www.henryharvin.com/
Related Articles