Canada is one of the top destinations for Indian students looking to study abroad. A recent report shows that over 67,000 students got approved to study in Canada during the first four months of 2021, 83% more than in 2020. In fact, Canada is home to one of the largest international student populations in the world owing to the quality of education offered, affordable tuition, and friendliness towards foreign students. With three campuses in Peterborough, Lindsay, and Haliburton, Fleming College, also known as Sir Sandford Fleming College, offers international students a truly Canadian learning experience. Currently hosting over 900 Indian students, Fleming College provides international students a living and working experience in a location close to Toronto, but not with Toronto's big city-related expenses.
Peter Bondy, Director of International Education, Fleming College, says, "Within the three campuses, international students have the opportunity to immerse themselves in a genuinely Canadian environment and community of their dreams. These three campuses offer all the work opportunities associated with a strong, diversified economy of over 100,000 people. International students can interact with Canadians to enhance their learning experience and launch successful careers upon graduation."
Fleming College is proud of its diversified Indian student population, with students from every region within India. Due to solid career opportunities and meaningful Post-Graduate Work Permit (PGWP) guarantees, Indian students tend to favor one or more programs with a wide scope of employment opportunities, such as Wireless Information Networking, Project Management, International Business Management, Global Business Management, Sustainable Agriculture and Occupational Therapist / Physiotherapist Assistant.
"Globally, COVID has reduced international student enrolments significantly beginning with the spring 2020 intake. However, as of 2022, we expect to increase our international student numbers steadily in the years to come," shares Peter Bondy, Director of International Education, Fleming College.
Fleming College offers numerous support services and activities to international students to help them transition to their new life in Canada. The eir International Student Services team provides career supports, peer tutoring services, arrival supports, immigration advice, and academic supports. International students at Fleming also have access to medical insurance and an on-campus health clinic. International students at Fleming College learn from faculty with industry experience and extensive professional networks – extremely advantageous in connecting to employers. There are opportunities for students to get real-world experience working with clients' projects integrated into courses throughout many programs.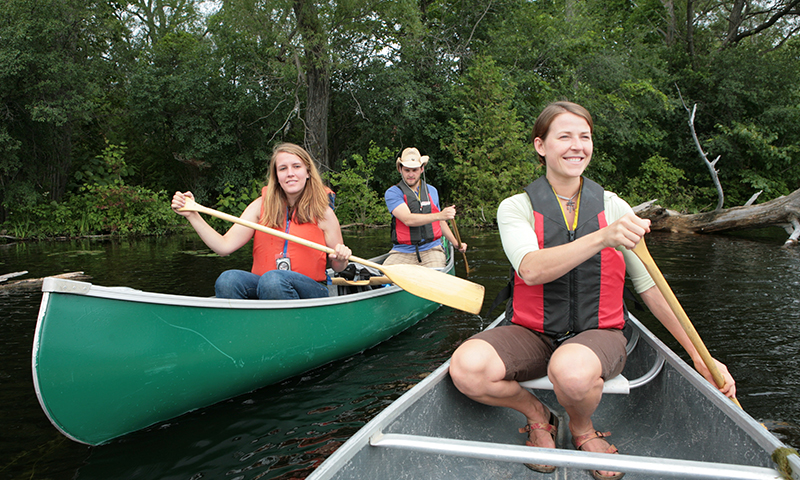 Supporting your Academic Journey
Fleming College's first campus was opened on September 1, 1967. The college now has three campuses in Peterborough, Lindsay, and Haliburton, offering more than 80 programs to international students. The college empowers its students with the innovative education, research, and real-world experiences they need to build better lives, better communities, and a better world. Given the close-knit local community, Fleming's faculty have an especially intimate and valuable relationship with business leaders and access to job-career opportunities. International students can get to know their professors on a first-name basis and receive tailored high-value advice from faculty who understand what it takes to succeed in the Canadian job market.
International students' innovation and creativity are encouraged by the close and direct interaction between domestic Canadian and international students sharing the same classrooms and labs. One of Fleming's most valued and proven methods to prompt creativity amongst its students is the interaction between all students and the leadership and guidance of accomplished industry lead faculty.
"We conduct an annual technology showcase with our Technology partner. Applied projects are sponsored by various industry and community partners, enabling students to draft their business plans and work with industry partners to come up with innovative and creative solutions to real-time scenarios during their program," adds Bondy.
Fleming College has a merit-based scholarship for all international students where the students are rewarded based on their academic performance in the first semester. The college has recently launched an entry-based scholarship for students from East Asian countries. Bondy shares, "We are now working on introducing more exciting entry-based scholarships for South Asian and African countries."
Fleming College has adopted a virtual learning environment during the pandemic where international students have started post-secondary learning from their home country if they were not present in Canada. The campus-wide student-oriented activities and workshops were done virtually to support students' academic journey. Fleming College continues to deliver industry-level education, preparing its students to face the employment market.
"We hope to welcome students back to in-person classes soon. Both the health and safety of our students and the quality of their education remain top priorities. Our faculty has been outstanding in providing virtual learning that still leverages practical experiences. We look forward to inviting students to Canada and our amazing on-campus learning facilities when it is safe to do so.," concludes Bondy.
For More Info: https://flemingcollege.ca/ 
Peter Bondy, Director of International Education, Fleming College
Peter Bondy has been involved in the International Field since 1991 – the Department of Foreign Affairs and International Trade (DFAIT) and International Education since 2004. In an international career spanning two decades, Bondy has extensive experience in education abroad program development and operations, crisis and risk management, and student advising around the globe.
Related Articles