The ICFAI University, Tripura was established under the provisions of the Institute of Chartered Financial Analysts of India (ICFAI) University, Tripura Act 2004 (Act No.8 of 2004), vide Government of Tripura Notification No. F.2 (529)-DHE/UDCA/2003 dated 15.06.2004. The University Tripura is approved, recognized and listed by the UGC, under Section 2(f) of the UGC Act, 1956. The University is accredited by "National Assessment & Accreditation Council (NAAC) B+ effective November30, 2018.
At present the ICFAI University Tripura is offering total 53 numbers of Diplomas, Under-graduate, Post-graduates and Ph.D programmes in the field of Engineering and Technology, Basic Science(Physics, Chemistry, Mathematics), Liberal Arts, English, French, Law, Management,  Commerce, Education, Special Education, Physical Education & Yoga, Psychology, Clinical Psychology, Library & Information Sciences, Allied Health Sciences ,Nursing, Hospital Administration, Laboratory Technology an. Around 5000 students are pursuing various programmes in the University.
What's more impressive about ICFAI University, Tripura is its extensive range of course offerings that too at affordable pricing. It is the only private University in Tripura to accomplish such a feat. Therefore, students from different parts of India – especially from all the North–Eastern states of India come to study at ICFAI University, Tripura, every year. "We at ICFAI University, Tripura, have always aimed at giving highest priority to students' academic performance and life skill development to help them get good placements and prepare themselves to be successful in the world's knowledge economy of the world," shares Prof. (Dr.) Biplab Halder, Vice Chancellor of ICFAI University, Tripura.
The Faculty of Science & Technology (FST), a constituent unit of the ICFAI University, Tripura, is committed to providing quality education in science and technology. It offers graduate and post-graduate courses in Civil Engineering, Mechanical Engineering, Electrical and Electronics Engineering, and Electronics & Communication Engineering.
Modern Infrastructure & Facilities
The University has a picturesque lush green 32 acre Wi-Fi enabled Campus at Kamalghat, only 12 KMs from Agartala, with ultra-modern  academic and laboratory facilities, separate hostel for boys & girls,  gymnasium, indoor and outdoor games facilities, recreation room and primary health centre with 24×7 Ambulance service, adequate number of buses for safe & secure conveyance of students. Besides, frequent public transport facility and vehicle-on-hire are available for to & fro Agartala. Agartala is now well connected by AIR and RAIL with rest of the country. The entire Campus is covered with24x7 Security aimed CCTV surveillance. Besides excellent academic infrastructures, the University has also developed and established 23 Centers of Excellence to Promote Quality education.
Keeping up with the pandemic, the University has also constructed 48 smart classrooms to promote digital learning. There are adequate numbers of auditoriums and conference halls with multimedia facilities for organising national and international conferences, workshops, and seminars. In addition, career counselling centres, remedial coaching centres, and Vivekananda study circles have been established to benefit students.
Providing Quality Education through a Competent Faculty
The University have numbers of good blends of experienced and young Faculty members having studied at IITs(Kanpur, Kharagpur, Guwahati, Madras), NITs, National Law Universities, IIM's, Central Universities, Faculties from renounced Healthcare organizations of the country etc and also having exposure of working in foreign Universities and Research Labs. The Faculty members have right potential to attract research and consultancy projects which need multidisciplinary support.
Most ICFAI University, Tripura's faculty members are industry experts and professionals with advanced degrees in their relevant fields of interest. They are dedicated individuals who combine academic theory with real-life knowledge, providing quality learning experiences and sharing their knowledge with the students. They not only bring a vast array of knowledge in their respective fields but also are dedicated to both teaching and taking an active interest in their students' personal and professional development. From designing the curriculum to participating in departmental committee work to academic advising and counselling of students, the university's faculty members are truly dedicated to their work.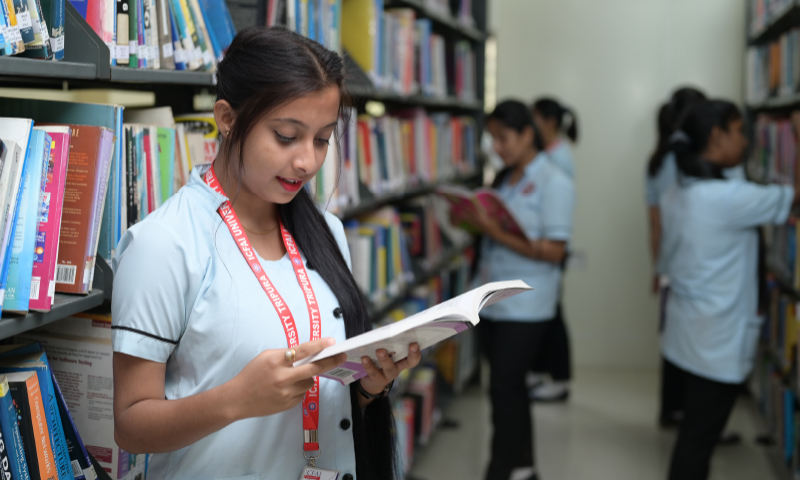 Nurturing Collaborative Relationships
"Collaboration with industry is critical for academia to create scientific knowledge and obtain industrial data while collaboration with universities assists organisations to work on joint scientific-based research projects and develop solutions for production-sourced/real-life problems," shares Prof. (Dr.) Biplab Halder, Vice Chancellor.
In this regard, the Faculty of Science and Technology, ICFAI University, Tripura, has formed numerous collaborations with global colleges and universities to promote skill building in students and faculty members and provide international exposure to them. Through these collaborative platforms, students of the Faculty of Science and Technology are learning different open source courses like Scilab, Python etc., accessing the virtual labs and learning through the simulation-based labs. They are also confidently participating in various skill development competitions based on their training from the Central Institute of Petrochemicals Engineering & Technology (CIPET).
International MOU has been signed with Daffodil International University, Dhaka, Bangladesh and International University of Business Agriculture and Technology (IUBAT University)-Bangladesh, Saylor Academy  Washington, D.C., USA, Colombo Institute of Research & Psychology (CIRP), 230, Galle Road, Colombo 04, Sri Lanka  for Academic  Collaboration, Students-Faculty Exchange, Research, and Seminar purpose.
The University has Signed MOU for academic Research, Project and Training, Internship purpose with Rehabilitation Council of India(RCI), New Delhi, IIT-Bombay, IDIA Charitable Trust-Bangalore, EdGate Technologies Private Limited-Bengaluru, National Law School of India University (NLSIU)-Bangaluru, EDII, NBIRT, CDLS Venture Ltd, College of Fisheries-Agartala(CoF), Rubber Skill Development Council (RSDC), New Delhi, District Disability Rehabilitation council (DDRC), Govt. of Tripura, Dev Sanskriti Viswavidyalaya-Haridwar, Vidya Welfare Society, Ferrando Rehabilitation Society, Monovikash Sansthan, Abhoy Mission, Agartala, INTERNSHALA , College of Fisheries-Agartala, Aspervision Tech Education Pvt. Ltd., Kolkata,Tech Savvy Eduventures Pvt. Ltd., Guwahati Ambedkar College-Tripura, Bosch, Bengaluru, Food Industry Capacity & Skill Initiative (FICSI), New Delhi, Bhaumik Engineering Testing & Consultancy, Software World, SS Vashudeb Enterprise, ATLANTIS Paper Industries,  RIGPA Edu Solution, ASTUTE Project & Consultancy, INNOVATIVE VENTURE, Vaanahaa Education & Innovation Labs Pvt. Ltd, INSYSSKY Software, M/S Dey & Roy Construction, International Digital Web Marketing Pvt. Ltd, Greenwood Group of Schools, Telengana, Asha Holycross, Agartala, New Bloom High School, ILS Hospital Agartala, Sri Sri Ravishankar Vidya Mandi, Agartala International School, Rabindranath Tagore Mahavidyalaya , International Digital Web Marketing Pvt. Ltd Holy Cross College , NGIN, DIT, Govt of Tripura, Zeroh Lab, Tide, NPTI,Voice of World,,SHELTER, TechnoTask, ICARDCFR, CIPET, Haier Smart Solution,TDU, Foundation 3H Spl Ed. etc.
Encouraging Innovative Thinking in Students
Since 2018-2019, ICFAI University, Tripura, has been a registered member of the Institution's Innovation Council (IIC), MHRD, Govt. of India, which encourages students to participate in different activities & events related to Innovation, Design Thinking, Entrepreneurship, and IPR. That ICFAI University Tripura is also a member institution of AWS, Oracle, and VMware.
In the previous academic sessions, three of the University's faculty members had completed the Innovation ambassador training, and this year too, 5 more faculty members & staff will undertake the same training. Besides these, various seminars and awareness programs are conducted by IIC as well as the Ministry of Education's Innovation Cell (MIC) to motivate innovative thinking in students. Some of the past events attended by the students and faculty of Science and Technology of ICFAI University, Tripura, include a workshop on 'Technology & Innovation (Light House Project)', an international webinar by Dr Ved Prakash on 'Exploring Entrepreneurship as a Career', motivational sessions by start-up founders, Mr Ashish Biswas and Mr Subham Sinha (CEO Technixia), online session on 'Design Thinking, Critical Thinking & Innovation', and many more.
Promoting Entrepreneurial Awareness Among Learners
Understanding the importance of entrepreneurship development, ICFAI University is working on the Start-up India scheme introduced by the Gov. of India. As a step towards this initiative, the university is organising various programs to create awareness about entrepreneurship among students and encouraging them to be job givers instead of job seekers.
Moreover, the University has collaborated with NASSCOM to conduct hand-holding awareness sessions and signed an MOU with the Directorate of Information Technology, Govt. of Tripura. Under this MOU, DIT has provided financial assistance to set up the Incubation and Innovation centre. Presently, 5 start-up projects are in progress under NGIN (New Generation Innovation Network) Scheme, namely "The Planners", "Low-cost cool safety Helmet", "Low-cost solar PV powered wireless luminaries for needy rural people", "Mud House Construction", and "Rentmate". Faculty members of the university are mentoring the students in their start-up projects.
Meritorious Scholarships for Deserving Students
The University encourages meritorious students and award of MERIT SCHOLARSHIP known as "N. J. Yasaswy Memorial Merit Scholarship" to boost their performances. Scholarship section of the University is helping the SC/ST/OBC/Minority and General students for availing various State & Central Government Scholarships. Students securing CGPA 9 and above are eligible for a 50% waiver of tuition fee, and students securing CGPA 8 and above are eligible for a 25% waiver of tuition fee.
This scholarship motivates the students to study well and score high in their examinations. Moreover, the quality of educators and courses offered at affordable prices make ICFAI University, Tripura, the go-to destination for higher education nationwide.
A Good Placement Record
Over the years, the Faculty of Science & Technology has maintained a good placement record. Some of the key recruiters of its last batch include BYJU's, Ziroh lab, VIS global Pvt. Ltd, Hooghly Cochin Shipyard Limited, Acmegrade Pvt. Ltd, NCompass Tech Studio Pvt. Ltd, Technotask Business solution Pvt. Ltd, PlanetSpark, V5 Global Services Pvt Ltd, edWisor, Pin Click Property Management Pvt Ltd, Whitehat Education Technology Pvt Ltd, iLogitron Technologies Pvt Ltd, TalkEng Online Learning Solution Pvt Ltd, FEDCO Ltd etc.
A Culturally Engaging Campus Environment
The students of ICFAI University, Tripura, get to experience a culturally engaging environment at the campus. Every year, the university hosts the most-anticipated and opportunity-filled events for its students, namely 'ICARIA' (the Biggest Techno Cultural Fest of North Eastern India) and 'ICTHALON'. Through these events, students get the opportunity to participate, showcase their talent, and collaborate with their peers.
Besides these, the university also offers sophisticated gym facilities to students free of cost. The campus houses 'Rupen Bhowmik Yoga Centre', which promotes yoga culture. In addition, numerous outdoor and indoor sports facilities are available for the students to enhance their physical fitness and mental agility and teach them teamwork, quick thinking, and strategy building.
Preparing Students for Industry 4.0
To prepare students for a tech-worthy, industry-ready future, the faculty of Science and Technology has taken great initiatives such as revising its curriculum and updating its courses in all branches of Engineering as per NEP, Govt. of India. In addition, students are also involved in the ongoing live projects under New Generation Innovation Network (NGIN) scheme.
Likewise, ICFAI University, Tripura, is also organising various workshops and hands-on training with the help of industry specialists to map academic education as per industry requirements. Along with the students, the university is also arranging various FDPs to update their knowledge of disruptive technologies.
Planning Ahead
As part of its future strategies, ICFAI University, Tripura, is organising various workshops, seminars, and conferences to keep its faculty and students updated on the current technology trends. In light of this, the faculty of Science and Technology is conducting all the seminars, webinars and professional lectures online so that the maximum number of participants can attend without any hassle and benefit from them.
For More Info: https://www.iutripura.edu.in/
Related Articles