If the story of DKTE Society's Textile and Engineering Institute could be summarised in five words, it would be "Becoming Unshakeable through the Storm." Why? Because in 1980, when the decentralisation of power loom Industry in Ichalkaranji, a western region in Maharashtra, was taking place at a breakneck pace, there was a dearth of institutes that provided good technical education that could cater to the industry's need of skilled technical manpower. This is where nine co-operative organisations from Ichalkaranji stepped up and banded under the leadership of Mr K. B. Awade in 1981 to form an Education Society. "This Society was named after Shri Dattajirao Kadam, a veteran leader and an ardent co-operator, and who was instrumental in the development of the Textile Industry in Ichalkaranji. Thus, the Dattajirao Kadam Technical Education Society, popularly known as DKTE, came into existence with a view to start institutes and colleges to cater to technical education in the field of textiles, engineering, management and other related disciplines," recalls Dr. P. V. Kadole, Director, DKTE Society's Textile and Engineering Institute.
DKTE Society started its Textile and Engineering Institute with a Diploma course in Textiles on 26 September 1982 on a no grant basis in the State of Maharashtra. "In the year 1983–84, the institute introduced two Degree courses. Over the years, diploma, degree and post-graduate level programs and PhD research centres were started under the affiliation of Shivaji University Kolhapur," says Dr. Kadole. Today, DKTE envisions to be one of the leading institutes in technical education and research through academic excellence and innovation, to serve the needs of industry and society through continuing education programs, industry interaction, entrepreneurship development and incubation. "We want to nurture learners with relevant and contemporary technical education by providing a conducive learning environment. Our mission is to imbibe attitudes, skills and values to enable them to strive for excellence and perfection in the tasks undertaken to serve the needs of the industry and society," explains Dr. Kadole.
Overcoming the New Challenges
The COVID-19 pandemic has strapped the education to drastically reinvent ways of coping with the current situation. An immediate and reliable solution to this problem was to adopt online education mode. "Considering the pandemic situation, online teaching-learning is the only option to continue education. We quickly shifted our teaching and learning process into online platforms to ensure continual learning for the students from home during the lockdown period," says Dr. Kadole.
DKTE has chosen a variety of ways to continue education in these times of uncertainty by taking all the precautionary measures to control the pandemic. Dr. Kadole explains, "Our faculty members are making use of online platforms and applications such as Microsoft Teams, Google Meet, Google Classroom, Zoom, etc. to conduct lectures. Lectures, soft skills programmes and expert lectures/seminars are being conducted on online platforms." At DKTE, faculty members are providing learning resources to students using online platforms. The institute has also successfully conducted online examinations using MOODLE. "In the examinations, multiple Choice Questions (MCQs) replaced descriptive questions. Oral examinations or viva-voce were conducted through online platforms," adds Dr. Kadole.
DKTE has also collaborated with online course providers like Coursera to provide free courses to the students and keep them engaged in learning. "We have organised virtual placements for final year students, and various organisations conducted virtual interviews for our students and placement process is continued successfully in this circumstance also," claims Dr. Kadole.
Dr. Kadole considers a complete transformation in the education system as of today's requirement. He says, "As far as higher education is concerned, because of travel restriction and health risks, the students may not opt for their education in abroad, which will result in retention of money and the resources in the country." Considering the status of education, DKTE plans to focus on effective online teaching methodology, which ensures the active involvement of students during the teaching-learning process. "Our students are benefited through the virtual guest lectures by industry experts of national as well as international levels. Regular online interaction with the industry experts helps the student to enrich their knowledge," shared Dr. Kadole.
DKTE offers soft skill programmes in a well-organised structure that help the students to develop themselves in terms of presentation skills, leadership qualities, and many more. "Our students are adopting these new changes in the education system and preparing themselves for the future challenges," states Dr. Kadole. Beyond education, DKTE has been on the frontline when it comes to fighting against the pandemic. The institute provided its girls' hostel to Ichalkaranji Municipal corporation for COVID Care Centre. The centre was well equipped with all necessary instruments, test facilities with a capacity of 100 beds. 3570 patients were admitted in the centre, and all were cured and got discharged from the centre. On the other side, DKTES Centre of Excellence in Nonwoven and Ichalkaranji garment Cluster Limited jointly developed multilayer face masks at Centre of Excellence in Nonwoven, DKTE. These masks were distributed in the community, mainly, to police officials, medical staff, health workers and the essential service providers.
Preparing Student for Industry 4.0
"With the help of digital technology, implementation of the concept of Industry 4.0 can shape the business to a whole new level, by connecting the physical with digital. Industry 4.0 allows for better association and access across the departments, thus, facilitates to understand every aspect of the operation, resulting in better process control," opines Dr. Kadole. Owing to the advantages associated with Industry 4.0, DKTE has added open electives such as Industrial Automation, Mechatronics, Robotics, PLC and SCADA, Enterprise Resource Planning and E-Commerce and many more in its curriculums.
To cultivate additional skill sets in an emerging area, DKTE is offering Minor specialisation and Honor Specialisation, spread over 4th to 7th semester of the B. Tech. programme. "Minor specialisation in emerging areas in undergraduate degree courses may be allowed where a student of another department shall take the minimum additional credits in the range of 18-20 and get a degree with minor from another department. Honour specialisation in emerging areas shall be allowed as specialisation from the same department or compatible department," explains Dr. Kadole.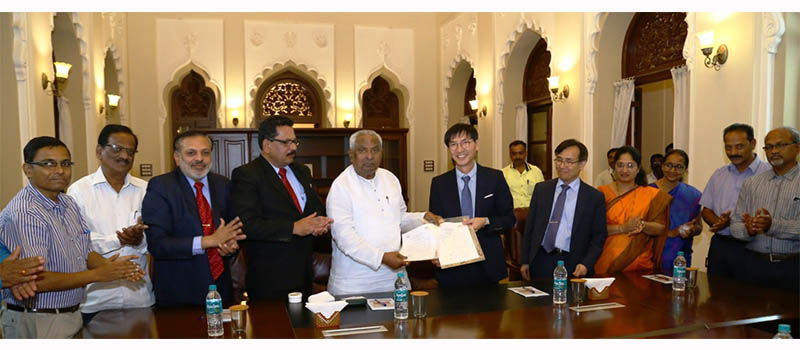 DKTE recognises that generation and dissipation of knowledge through industry-institute interaction, especially for the benefit of the student, industry, and society is an essential function of any professional educational Institute. At DKTE, the culture of the institute-industry interaction existed right from the inception. "The institute, since the beginning, was directed to conduct co-operative research, integrated with graduate research, as a means of helping the industry meet the challenges facing it," pinpoints Dr. Kadole. The institute invites eminent personalities from various reputed institutes and industries to impart practical exposure to the students through conferences, workshops, seminars, guest lecturers and many more. Dr. Kadole adds, "We encourage our students to undertake sponsored projects to get hands-on experience. They are motivated to participate in project competitions, National/International conferences, workshops, and seminars. Here, we help them to share their ideas with the outside world by presenting their research work in National/International conferences and Journals."
Being Industry's Favorite
Unlike many engineering colleges in the country, Industry-Institute interaction is a two-way process at DKTE, as companies stand to gain a lot from their collaboration with the institute. Dr. Kadole says, "We support industries in broad areas. Training at different levels in industry, testing facilities and consultancy, product/process development, process optimisation, project report preparation/project appraisals/ feasibility reports, turnkey projects, research and development for the industry are few to mention among them." DKTE has been helping the industry in the development of products and processes. "We have also been organising training courses, workshops for the benefit of technicians and executives of the industry. This gives students a unique opportunity to interact with personnel from the industry and develop valuable relations," pinpoints Dr. Kadole.
DKTE's wide industry – institute interaction has resulted in agreements in the form of Memorandum of understanding (MoU) with various national and international industries. "The concept of MoUs includes collaborative research activities, training to industry personnel or faculty and staff of the institute, training to students and placements," states Dr. Kadole. Indian Textile Accessories & Machinery Manufacturing Association, RIETER, Switzerland, Uster Technologies AG, Switzerland, Asahi Kasei Ltd., Japan, ITEMA, Italy, Textiles Committee (Government of India, Ministry of Textiles), Mumbai, SMIT Textile, Italy, and Swainsiddha, Kolhapur are few of the several MoUs DKTE has signed till now.
Due to strong interaction of institute with the industries, many machinery manufacturers have been attracted towards DKTE. They have offered their support in the form of donations of state-of-the-art machinery and equipment to various laboratories and workshops of the institute. "This has really helped us to have been awarded twice as 'Best Industry-Linked Engineering Institute-2015 and 2017 ' in the nation-wide survey conducted jointly by All India Council for Technical Education (AICTE) and Confederation of Indian Industries (CII)," proudly says Dr. Kadole. DKTE is also ranked as Best Private Textile Institute in India through the survey conducted by One Planet Research – Indo Italian Research Centre. The survey was based on Infrastructure, Academic qualities, Research & Development provided by the private institutes throughout India.
In fact, in its 35 years of the journey towards academic excellence, DKTES is consistently ranked topmost amongst all the institutes affiliated to the Shivaji University, Kolhapur. "Learning follows teaching and teaching follows Learning. Stronger the teaching-learning process, the stronger is the quality education. In DKTE, the teaching and learning process focuses on the goals and objectives of the program," states Dr. Kadole. The objective of DKTE's programs is to imbibe knowledge and skills in the students for overall growth in the profession. These students will have a successful career in manufacturing, quality assurance, product development, technical sale segment and will have continuous learning ability for adopting constantly changing technology. Undoubtedly, they will have the ability to take up an entrepreneurial venture.
To support students in their entrepreneurial activities, DKTE has established DKTE Technology Business Incubation supported by Department of Science & Technology GOI, New Delhi and DKTE Business Incubation supported by MSME GOI, New Delhi and Institute innovation cell supported by MHRD, AICTE, New Delhi. "With these incubation centres, we have started ventures and starts up to complete social responsibility activities and generated employability opportunities in and around," says Dr. Kadole. DKTE's is also one of the top engineering colleges in Maharashtra placement wise. The institute provides good placement opportunities to the students in leading textile and engineering industries at national as well international level. "We are one of the preferred institutes by most of the textile and engineering organisations. We have an unbeatable 100 per cent placement record in textile consistently," states Dr. Kadole.
In a world of cutthroat competition, DKTE puts forward efforts to realize the total development of the student. In addition to academics, the institute conducts literary, cultural and sports activities, which offer avenues for leadership qualities, decision-making abilities, team spirit, precision, analytical capabilities, socio-psychological awareness and so on. This approach makes an individual an intellectually, mature human being. Today, emerging as a winner by overcoming the challenges of the pandemic, DKTE has a well-crafted blueprint for its future. "Twinning programmes with leading foreign Universities, gaining deemed university status, improving admission of international students and starting of programmes in the emerging areas are some of our future goals," concludes Dr. Kadole.
Dr. P. V. Kadole, Director
Joined in 1990, as the faculty of Textile Technology, Dr. Kadole has been working with D.K.T.E. Society's Textile and Engineering Institute for the past 30 years. Strong textile technology professional with a Doctor of Philosophy (Ph.D) focused on Engineering from Shivaji University, Kolhapur. Dr. Kadole became the Director of DKTE Society's Textile and Engineering Institute in 2011. A skilled professional in Academic Administration, Negotiation, Planning & Execution, Analytical Skills, and Textiles, Dr. Kadole holds Fellowship Member of The Textile Institute, UK and is also a member of the Global Engineering Deans Council (GEBC), USA.
Related Articles