Changes are always accepted if they are in the line of growth of any organization. After COVID -19, changes in higher education and the introduction of new education policy has given more flexibility to the student to enhance their knowledge and education level. Digital learning will be leading in imparting tomorrow's education, and many new trends are picking up momentum across the globe. Multidisciplinary and flexible pedagogy that afford transferable skills and customized learning will succeed. Indian academia has needed transformation, long before the onset of the pandemic.
New Education Policy has more flexibility and was long expected, which has come during this period, now the execution of this policy will make a new beginning in the various dimensions of education. There is an opportunity to rethink the traditional education system now. Faculties are being called upon to redesign course content to meet the current and future needs. "Post-pandemic times could see a blend of e-learning and mainstream face-to-face teaching with a boost from traditional universities and the educational, technical sector", opines Dr Shailendra Singh, Director, Anand Engineering College (AEC).
AEC was established in 1998 at the 17th milestone on Agra Delhi National Highway. It has Six Engineering branches (Computer Science, Mechanical, Electrical, Electronics and Communication services, Civil, and Biotechnology). We have BBA, BCA, B.ED, B Arch, B Pharma, M Pharma, M ED, and MBA courses available with qualified and diligent faculty members. Having one of the best state-level stadiums that can seat 10,000 people and an excellent 400-meter athletic track, the institute has a spacious football ground where they hosted the Asian junior school football championship, which happened in India last year.  A hub of learning, extracurricular, and sports activities, Dr Shailendra opines, "We envision of creating an ambience of excellence, inspiring value-based education, research, development, and aspires to create an effective interface with industry and community to impart quality education at par with the best in the country".
Having given their college spaces for COVID Hospitals, catering to 600 beds, AEC is maintaining proper hygienic and sanitized facilities for its patients. The institute is spreading awareness about fighting the pandemic across nearby villages to the campus and teaching them what precautions should be taken during this time. "We have been spreading messages to our students to strictly follow the safety measures at their places and teach their family members, cousins, friends, and colleagues using all the digital tools", says Dr Shailendra.
The students of AEC were asked to stop coming to the college premises in March, which significantly impacted the delivery of education. All the courses were started again by the first week of April through eClassroom Tools, where teachers distributed notes with all practical examples to make things simpler for an average student to understand. They gave presentations in a simple and in an understanding language at a slow pace. "Many teachers recorded their lectures and posted it to the students who time and again repeated the lessons at their convenient time and understood every bit of it", adds Dr Shailendra.
Bringing academia closer to the industry
Collaboration with industry is critical for academia to create scientific knowledge and obtain data. Co-production exists when a research problem is framed in the context of the application and allows diffusion during knowledge production. Many ideas from research in educational institutions are put to use through collaboration between an education institution and firms. Market aligned courses and to Develop skilled human resources are two main streams where collaboration survives. Currently, AEC has MOUs with RST Eco-energy Pvt Ltd., HITSAVI Electronics, Dawar Footwear Industries, MSME New Delhi, Telecom Sector Skill Council, National Skill Development Corporation, and IIT Bombay.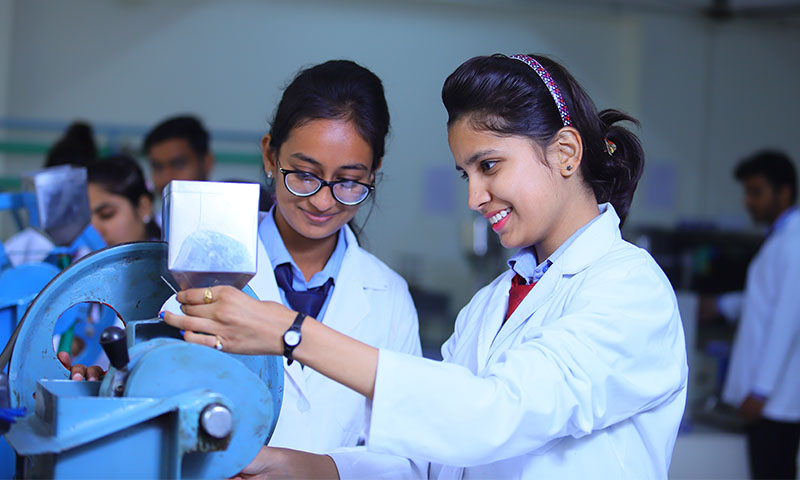 AEC has been pioneering in accommodating industry 4.0 as a part of the educational pedagogy. The students are trained on Industry 4.0 techniques from National Power Training Institute, Ministry of Power, Government of India, Faridabad. The institute has been taking initiatives to train the students through industrial visits to state-of-the-art manufacturing automation industries in the cluster as well. Planning to equip the students through online training and webinars from the industry partners as well, the institute has well advanced Programmable Logic Controller based labs to offer project-based learning on Industry 4.0. "Our students have been mentored through faculty who are trained on various essential technologies on industry 4.0, such as machine learning, Internet of Things (IoT), and Rapid prototyping and cyber-physical systems as well. The college also plans to work closely with MSMEs in the cluster to impart training program for the students as well. We also aim to execute industry 4.0 projects for the near sectors in the group, thereby contributing to develop socio-economic industry 4.0 solutions as well", remarks Dr Shailendra.
The students at AEC are encouraged to identify core companies based on their respective streams. Once they have defined their short term goals, they motivate them to prepare for recruitment in these companies through Aptitude Preparatory Sessions, along with Online recorded interviews and group discussions. "We help the students analyze themselves and make them aware of the preparation needed for getting placed in an organization. These GD and PI are simulated to give students an authentic feel of the company recruitment process and make them realize their strengths and weaknesses", says Dr Shailendra.
AEC encourages innovation and creativity in students through the Divisional level Innovation Exhibition, where students displayed their live models based on their specializations. Some students came up with their idea generation and execution plans for their live projects. "We also organize the birthday of our former President of India Dr A.P.J Abdul Kalam every year where we encourage students from all years and all disciplines to come forward with their innovative ideas", says Dr Shailendra.
Helping Students Achieve Excellence
The Entrepreneurship Cell (E-cell) of AEC is a non-profit organization run by the students of our college that aims at manifesting the latent entrepreneurial spirit of the young students, that aspires to imbue the spirit of entrepreneurship in students and faculty community from various colleges across India, inspire and encourage them to take on entrepreneurial challenges, and assist them in their efforts to launch and run business ventures. "Through the E-cell, we have organized Dr Kalam Startup Parikrama and Entrepreneurship Awareness Camp with the help of DST – NIMAT, a seminar on Unleashing Entrepreneurship in India by Mr H P Kumar advisor to PHDCCI (Former Chairman NSIC) and Mr Mithelesh Kumar Joint Secretary PHDCCI on 10th Feb 2020 and trained our students on the schemes of MSME by Mr T R Sharma Director DI–MSME Agra, on 12th and 13th  Feb 2020. Our students have a start-up by the name of 'Kiyaari' a web-based portal backup by professional approach that serves their customers every month", adds Dr Shailendra.
Placement, both for final jobs and Summer Internships, is an integral part of AEC's annual calendar of activities. The institution has a well laid-out and systematic process of merging its student's career aspirations with corporate expectations. AEC's Placement Department comprises of members represented by the Placement Managers and Industry Professionals. The Placement Department invites the leading companies from all sectors to the campus, where the eligible students are facilitated to go through the entire selection process. The whole process is governed by the student's ability and performance, as well as the requirements and norms of the industry.
More than 86.19% of the students got placed last year, Twenty per cent of students got even two offer letters from various companies. Companies like HDFC Asset Management, Tata Consultancy Services, Wipro Technologies, NTT Data, NIIT Technologies, and many other companies from banking, software, consultancy, digital marketing, IT service sectors, Manufacturing and logistics, education, etc., have hired students from AEC. Dr Shailendra adds, "The average package offered to the student was 3.1 lakhs per annum. Our Students this year have got the highest package of 12.4 lacs in the company Extramarks –The Learning App".
While some students are pursuing further studies in universities abroad and serving in different Indian companies and MNCs, and running an NGO, Kartavya, that teaches labour class children after their college hours, other students of AEC are serving the society as prominent IAS officers, making the institute proud of their achievements in the last two decades. AEC today has degree programs in engineering, management, education, pharma, architecture, computer application, and several interdisciplinary areas. Running classes in digital mode using different types of digital tools to overcome the situation of COVID -19, the institute is in talks of creating virtual labs for all engineering streams to enhance learning. Witnessing a change in teaching methodology as a blend of classroom and online teaching in many courses, Dr Shailendra concludes, "These changes will make the student body more diverse in their interests and educational offerings which would also benefit us by developing expertise in areas related to the needs of the local industry and business".
About Dr Shailendra Singh
Dr Shailendra Singh has completed his B.Sc. Engineering from DEI, Dayal Bagh, Agra, M. Tech from IIT, Delhi & Ph. D again from Indian Institute of Technology, Delhi in 1999. He has a total of 26 Years of Teaching & Research experience. At present, he is working as a Director of Anand Engineering College, Agra. He has published many Research Papers in International & National Journals. He has attended & organized more than 50 workshops/Conferences in India. He is a recipient of awards like, "Best Educationist Award" awarded by the International Institute of Education & Management, "Rajeev Gandhi Samman Puraskar" awarded by the Indian Solidarity Council, Delhi, "Bharat Shiksha Ratna Award" awarded by the Global Achievers Foundation, Delhi, "Shining Star of India Award" awarded by the Economic Growth Foundation and "Indo-Nepal Star Gold Award" in 'Indo-Nepal Friendship Summit', at Kathmandu, Nepal, and many other awards. He has life membership in the "Indian Society of Technical Education" & "Institution of Engineers".
Related Articles