Prof. A Balasubramaniam, Director of the Institute of Design, JK Lakshmipat University, Jaipur is also the founder of January Design, a consultancy that works mainly with marginal crafts, grass-root innovations, and the MSME sectors of the industry. He is an early graduate of NID, Ahmedabad, India. Before his stint as the Director of the Institute of Design, he has taken leadership roles as co-ordinator for setting up PRIDE (a design excellence division at NSIC); he has headed the Fair-trade division of Oxfam, Great Britain in India; and has also led a design team for bamboo design projects in the North East for UNDP, besides setting up IILM School of Design. He has been a consultant to NIIT for Digital Design programmes and has also worked with grass-root innovators with the National Innovation Foundation.
On multiple occasions, he has been a jury member in evaluating projects at major design institutes across the country: NID, NIFT, School of Planning & Architecture, New Delhi, IICD, Jaipur, KSID, Kollam, Pearl Academy, and IILM Gurgaon. He has also been a member of the academic board for Industrial Design at Pearl Academy, SPA New Delhi, and Nirma University. An avid writer on the subject of Design in India, he regularly writes on India-centric design issues in the Economic Times, Businessworld, and other design publications. He also writes a popular blog called 'Design thoughts.'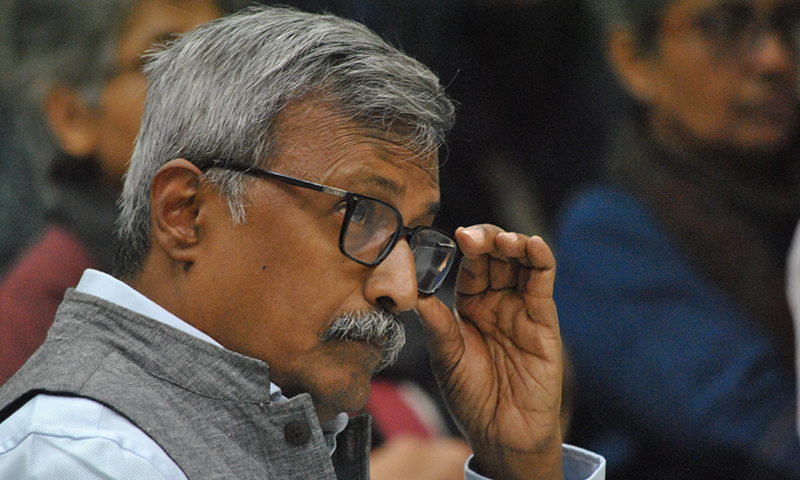 Serving with Pride and Leading with Confidence
After completing his graduation project in December 1985, Prof. Balasubramaniam spent most of his time making cold calls to potential clients, seeking new projects and in the process educating them about the benefits of Design. There were no design jobs, hence no campus placements. In fact, the awareness of design was also very low. "I was a consultant to industries like USHA, Eicher, Oxfam, Coca-Cola, Eveready, and many more. I worked with grassroots innovators, set up a design facility called PRIDE for small industries, started new courses as a visiting faculty, worked on design assignments, and worked on a Digital design program," Prof. Balasubramaniam shares.
He had the privilege of teaching and being a jury member at all the prestigious design institutes like NID Ahmedabad, NID Vijayawada, NID Kurukshetra NIFT Delhi, School of Planning & Architecture's Industrial Design program, Srishti School of Art, Design & Technology, Pearl Academy, Sushant School of Design, Kerala State Institute of Design, etc. Prof. Balasubramaniam says, "I was invited to set up a design program at IILM Gurgaon, and we were then, one of the first to set up an institute of design in the private sector."
Five years ago, he received an offer from JK Lakshmipat University Jaipur, where he was invited to set up a new design institute from scratch. It was a challenging task. Prof. Balasubramaniam shares, "I had a good support from our leadership. I was given a free hand in getting the right faculty. Infrastructure is easy to build but I had to find good faculty members and ask them to come to Jaipur. The initial team had to be on the same wavelength. The next challenge was to get good students." Institute of Design, JKLU started with three unique programs and attracted the correct kind of faculty and students. The first batch had students from Jaipur, Lucknow, Hyderabad, Mumbai, Kota, Rajnandgaon, Kalyani, Gurgaon, Indore, and Agra. Students now are coming from all over the country. Currently, the Institute of Design has students from 66 different towns in India, that is at least one from 20 states.
Launched in 2019, the Institute of Design set up benchmarks in design education, and the admission was based on an entrance test and a portfolio review. Students were admitted to the common foundation program with a choice of specialization after the end of the first year. "This helps the student explore the foundation program thoroughly. In the first year, we had only three programs. Our menu of programs was very different. We introduced a new program called Interdisciplinary Design, meant for creating a T-shaped individual who had exposure to domains across the breadth of design," explains Prof. Balasubramaniam. Though the curriculum is designed to get the most out of the students, the institute works with industry experts, consulting with them to develop a brand-new course called Integrated Communication design. Prof. Balasubramaniam and his team have shot down traditional graphic courses and introduced Data-led courses and videos and digital media that were more contemporary. There is also Interaction Design that deals with human-centric interactions on devices and apps.
The Legacy of JK Lakshmipat University, Jaipur
Founded in 2011, JK Lakshmipat is an academic institution known for intellectual honesty and commitment to excellence. Prof. Balasubramaniam shares, "Our core and advanced study programs in Engineering, Management, and Design remain student-centric to allow seamless progression to a skill-oriented future." JKLU envisions being one of India's most innovative higher education institutions. The university believes learning is a continuous process and academic excellence is a way of life. With the world evolving quickly, JKLU strives to remain in sync with this process of constant change and transformation to make their students job-ready and future-ready by empowering them with new-age life skills.
JKLU's Institute of Design stands out from other design schools in various ways. Prof. Balasubramaniam says, "We chose programs that were contemporary and in line with the current era. We were sure that we did not want to include Fashion Design, Interior Design, Graphic Design, etc., Instead, we began with Interaction Design, Interdisciplinary Design, and Product Design."  Institute of Design also wanted to develop a new program that will integrate analogue with digital for the current courses. In 2020, they launched Integrated Communication Design.
On the other side, JKLU introduced technology courses like Coding, the Internet of Things (IoT), other tech courses, and courses on presentation, entrepreneurship, and similar management courses for their design students. Besides, JKLU students also go through soft skills and introductory courses like Communication and Critical thinking. This gives them an advantage over others. Adding to these, Prof. Balasubramaniam says, "Our students are taught by faculty who are graduates from prestigious institutions like NID, IIT, and IDC, Bombay. We carefully choose faculty who bring a certain gravitas to our team."
Delivering Quality Education
JKLU's Institute of Design focuses on doing things relevant to the students. Prof. Balasubramaniam says, "We created a new culture on campus, calling each other by their first names like we used to do at NID. Our students call all faculty, including me, by their first names. This brings us closer, and we have created a sense of belongingness." The institute also prints a newsletter, DESIGNEWS, that showcases their student's work and is distributed all over. This gives their students a sense of achievement. Prof. Balasubramaniam has been an institution creator. He revels in creating something from scratch. "Someone once remarked that I have a knack for producing something remarkable from nothing, ground zero," he adds.
Prof. Balasubramaniam is usually approached by both faculty and students with various queries. "My typical day would involve meeting and sorting out faculty and student issues. There is no external pressure, only self-induced ones. I am constantly checking to see if we are marching toward excellence or not," he shares. When unplugged, he is lost in the world of cinemas and TV series on Netflix. He also invests his time in books, hoping to read them all at a good pace as before. "I get peace from being with a family with two brilliant daughters and a doting wife. They are my source of constant encouragement and excitement," he shares.
The Future
Institute of Design has big plans. Post-pandemic, they are tying up with foreign universities for student and faculty exchange, resulting in more exciting programs. "I am currently working on a course for design faculty development. I am also the President of ADI, the Association of Designers of India. I am, therefore, interested in working with the government on the National Design Policy 2.0," Prof. Balasubramaniam concludes.
For More Info: https://design.jklu.edu.in/
Related Articles