Dr. Khasrul Islam is an inspiring educational leader, strategist, vision creator and executor, and an impassioned social activist. As the Director of Ajmal Foundation, he is instrumental in establishing various educational institutions in the Indian state of Assam, thereby facilitating the fulfilment of the dreams of a family of visionary philanthropists who have striven to establish education as the foundational pillar of social transformation and holistic progress. His commitment, passion and desire for excellence and innovation have taken the Ajmal foundation to where it is today – an iconic organisation synonymous with the aspirations of thousands of ambitious students, especially from the marginalised and underprivileged sections of society. Dr. Islam is truly an exemplar of leadership and mentoring. He has succeeded in giving a massive fillip to the multifarious activities of the Foundation over nearly two decades. With a range of experience in the social service field spanning humanitarian and long-term social development programmes, Dr. Islam's strategic planning, programme designing, organisational governance, and project management abilities have resulted in placing Ajmal Foundation as one of the most vibrant and premiere NGOs of Assam today. Dr. Islam has contributed immensely to the nation-building task through the foundation, bringing his vast experience in building and nurturing partnerships with government, international and national agencies, private organisations and other NGOs. With his pleasing, energetic and enthusiastic personality, he has played a seminal role in the overall growth of the Ajmal Foundation since the beginning.
Education and Career Trajectory
Khasrul Islam had his early schooling at his village school in Mullaganj and graduated in Economics with a Major in 1995 from Karimganj College. He did his Masters in Economics from Assam Central University, Silchar and obtained his B.Ed in 2000.
Being the eldest of seven siblings, six brothers and one sister, he faced the trials and tribulations of supporting his family. He didn't hesitate to work in the paddy fields and endured those days when he had to rush to the examination hall directly from the paddy fields during his graduation. Studying under the dim candlelight, as there was no electricity and tutoring some village students at a nominal fee, he struggled to keep his dream of pursuing higher studies alive. Despite the circumstances, Dr. Islam's resolve to do something more satisfying and worthwhile refused to be doused by the adversities. His belief that "No lamp can burn another lamp unless it continues to burn its own flame" gave him the motivation and urge to do something worthwhile.
Dr. Islam started his career as a teacher in a school at Patherkandi in the Karimganj district of Assam. He later joined Patharkandi College as a part-time faculty in Economics in 1998-99. Concurrently, to create Educational awareness in the locality, Dr. Islam, along with some like-minded youths of the community, established a society by the name "Mullaganj Studies and Cultural Centre" in the year 1998 and organised several educational activities like seminars, quiz competitions, etc. apart from supporting the students financially in a limited way. Gradually, he and his close friends established the first Educational Institute "AMC Model Junior College" at Mullaganj in the Karimganj district of Assam in the year 2000, followed by another school named "Kishore Vikash Higher Secondary School, Mullaganj" in the same year.
A career in the Ajmal Group and Educational Endeavours
In 2001, Dr. Islam joined Ajmal in Mumbai and went to Dubai for advanced corporate training. Upon his return in 2005, Dr. Islam was in charge of the Ajmal foundation, the newly formed CSR wing of the Ajmal Group. His corporate training in Dubai and aligning his vision with the two guiding trustees of the Ajmal Foundation, namely Mr. Badruddin Ajmal and Mr. Sirajuddin Ajmal, charted the course of his future programmes and opened up a new vista of growth for the Ajmal Foundation. "Education is the fulcrum on which the entire edifice of social progress hinges", believes Dr. Islam, and he set out to direct the attention and efforts of the Ajmal foundation towards education in all its various forms. Thus, began the concept of the Ajmal group of Colleges. Providing modern and quality education in far-flung areas to underprivileged and marginalised sections became the primary focus. With welcome support from the local population and bold initiatives by Ajmal Foundations under the leadership of Dr. Islam, colleges came up thick and fast in different parts of Assam and in less than ten years, 32 institutions sprang up to cater to the needs of higher education among the deprived and the underprivileged. The Maryam Ajmal Women's College of Science & Technology to impart science education to girls from the minority and deprived sections of society, The Nazir Ajmal Memorial College of Education (B.Ed College) to produce trained teachers for schools, The Ajmal Law College, The Ajmal Super Forty, an integrated intensive coaching institute at +2 level and The Ajmal I.A.S. Academy are among the many institutions that flourished under the Ajmal Foundation. The Ajmal Super Forty has created a sensation in Assam because of its resounding success in the All India NEET and JEE examinations. In the last three years, about 500 students qualified for NEET examinations, and Ajmal Super 40 is now the state's most sought-after institution for medical and engineering aspirants. The Ajmal IAS Academy also performed brilliantly when 15 students qualified in the Assam Public Service Commission examinations last year. The B.Ed and Law College students have excelled in the respective university examinations and have secured top ranks in successive years. The Maryam Ajmal Women's College of Science and Ajmal colleges in different parts of Assam have also impressed with their results.
Earlier, as convenor of the Empowered Committee of the Markaz Group of Schools, he had played a significant role in streamlining the Markaz Group of Schools, 17 in total at different corners of Assam and brought the schools under one umbrella. Dr. Islam has over 20 years of experience in social services programmes, spanning humanitarian and long-term social development programmes in diverse socio-cultural environments.
 Nurturing Talents and Facilitating Opportunities for the Poor and Deprived
There are innumerable instances of meritorious students from poor families abandoning studies for lack of money and resources. Dr. Islam has an eye for those students, and Ajmal Foundation supports such brilliant and needy students by providing scholarships and bearing the entire cost of their studies in the various Ajmal institutions and other institutions of their choice. The Ajmal Modern Residential School in Bhelowguri near Daboka in Assam is a shining example. Children orphaned by natural disasters or other causes and rendered homeless and coerced by circumstances into child labour or vagrancy or an uncertain future of grinding poverty and illiteracy have been taken care of and are being provided modern education in the nurturing ambience of AMRS and metamorphosis of these children into educated and productive citizens is taking place.
Dr. Islam also led the Ajmal National Rural Education Movement to raise the educational standards of Rural Assam, under which monthly remuneration is provided to the school teachers and limited grants to augment infrastructure are also made available to institutions. Dr. Islam established as many as 18 vocational institutes in Assam and Meghalaya, providing Skill Development and Employment to unemployed youths. Under his support and guidance, many poor and meritorious students are now leading successful professional lives as engineers, civil servants and entrepreneurs. Under his supervision, leadership and excellent networking, the Team of Ajmal Foundation implemented several Skill Development Programs successfully under the Ministry of Rural Development, Ministry of Minority Affairs, Ministry of Social Justice and Empowerment, and Ministry of Human Resource Development of the Government of India and also under National Children's Fund, New Delhi, Directorate of Employment and Craftsmanship, Govt. Of Meghalaya, Guwahati Municipal Corporation, etc. Until now, Dr. Islam has led the team to train 19,000 plus youths in different trades of skill development, and more than 15,000 candidates have found placement in reputed companies across the country and abroad.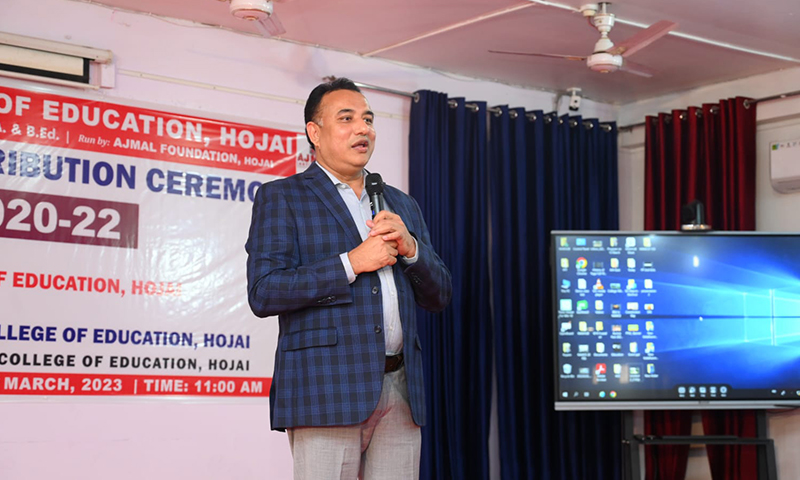 Mentoring, Counselling and Motivational interests
Dr Khasrul Islam considers mentoring a vital aspect of a student's development. Personal care and efficient mentoring by the faculty members is a strong features of Ajmal institutions. Dr. Islam leaves no stone unturned to see to it that problems and difficulties concerning the students' personal, familial, emotional and psychological aspects are addressed promptly. Dr. Islam has undergone training at professional institutes like British Institute Mumbai, Indo- American Institute Mumbai, Indian Association of Life Skill Education, Chennai and Xavier's Institute of Management on Business Management, and he uses his training and experience to energise the teachers, mentors, students and staff in the Ajmal institutions. Apart from this, Dr. Islam has worked in collaboration with many reputed institutions like MFERD Hyderabad, MS Group, Hyderabad, Shaheen Group of Institutions, Karnataka, Rahmani 30, Patna, Al Ameen Academy, Kolkata, Safa Group of Institutions, Mumbai, Cresent School Chennai, Millat Group Schools, Mumbai. He takes up motivational sessions with the students and teachers periodically. He has conducted innumerable motivational sessions for students and teachers training programs that touched the lives of more than 50,000 students and 5000 teachers. Personality Development is his forte, and Dr. Islam stresses this aspect. One of his earlier assignments at Ajmal Foundation was to groom the fresh recruits of Ajmal for their Indian as well as overseas showrooms under a project called 'Sales Orientation Program'. He rendered his services to Ajmal Sales Orientation Program as the Personality Development Trainer. He became an integral part of the program, which produced several trained professionals working in different parts of the globe as Managers of Business firms and salesmen. He also conducted several motivational sessions for students and teachers training programs that touched the lives of more than 50,000 students and 5000 teachers. Famous motivational speakers like Mr. Munawar Zama are also invited for extended sessions with students regularly in various Ajmal institutions. Dr. Islam also arranged to get published a book on Career Options in collaboration with a prominent Career Counsellor to facilitate easy career choices for young students.
A Day in the Life of the Director
Dr. Islam has combined myriad responsibilities and performs them all with equal ease and aplomb. Apart from being an astute and strategic planner, he is an adept manager. He is a boss and a colleague at the same time. A typical day for him starts with preparing the agenda for the day, which normally consists of checking the emails, responding to them as per priority, addressing participants at meetings or training workshops, visiting different institutions and afternoon sessions are reserved for feedback from heads of institutions and meeting Heads of Departments and faculty members to discuss future strategy and programmes or sorting out an issue. Handling many institutions and overseeing many activities may seem daunting, but Dr. Islam handles the work pressure with poise and calmness. Dr. Islam is very interested in reading books and active on social media platforms.
The Social Connect
Being the head of a prominent NGO engaged in multifarious welfare activities, Dr. Islam has the charm and grace to connect with and maintain cordial relationships with important personalities and organisations. As such, he shares concerns and participates in projects, programmes, and celebrations organised or sponsored by the District administration, the government and other cultural and literary bodies. Ajmal Foundation, more often than not, takes the lead in socio-cultural and environmental campaigns and programmes. Various activities of the Ajmal foundation and its affiliated institutions are communicated through web portals and various media outlets with whom the Director of Ajmal Foundation maintains a good relationship. With the spirit of serving humanity and being patronised by Ajmal, Dr. Islam and his dynamic team are taking up various schemes and projects in different parts of the country, serving the downtrodden section of society as a catalytic agent.
Dr. Islam has demonstrated his capabilities in organising mega events to take his organisation closer to the people on the one hand and to connect with the larger world outside. The grand Educational Conclave at Hojai, the "Make Hojai Literate in 100 days", and the "Convention of American Federation of Muslims of Indian Origin" in 2013 bear witness to his organising skill.
Awards and Accolades
Dr Islam has received many accolades for his commendable works and has been awarded several recognitions for his outstanding contribution to the field of social work and Education by the American Federation of Muslims of Indian Origin (AFMI) in the year 2013 SOCIAL LEADERSHIP AWARD by MOMEIN, New Delhi in the year 2019, SADHANA AWARD by Hojai Sahitya Sabha in the year 2019. Dr. Islam also received the best NGO Award in Skill Development in India from the Association of Chambers of Commerce and Industry (ASSOCHAM, New Delhi) twice, with a silver trophy in 2015 and 2016 and finally with Gold Trophy in 2018 from the Ministers of the Skill Development, Govt. of India. He was conferred with Doctor Honoris Causa by Ballsbridge University, Dominica, in the year 2018 at India Habitat Centre, New Delhi, in recognition of his contribution to the field of education.
For More Info: https://www.ajmalfoundation.com/
Related Articles