The journey of ARCH College of Design and Business began in a two-room apartment space of its Founder & Director, Archana Surana's residence. Back then, Archana had identified the need for a premium design institution which would honour the essence of design culture, promote entrepreneurship, build global partnerships, and unveil the creative skills in students. In 2000, ARCH College of Design and Business was incepted in the heart of Jaipur.
"Today, our institution is recognised as a centre of excellence in teaching, learning & innovation. Over the last twenty years, it has educated more than 7000 professionals and entrepreneurs from across the country," shares Archana with great pride.
Design Inspired Campus
The 5-storey building of ARCH College of Design and Business is spread across 80,000 sq feet with aesthetically designed spaces where the students can learn, experience, and enjoy the art of design and align their creative thoughts to the tactical aspects of the curriculum. Moreover, the design practices implemented at ARCH have turned it into a 100% energy-efficient campus with solar panelling, water harvesting, composting, and zero food wastage.
Likewise, the campus is decked with creatively designed pieces by ARCH's students that highlight their talent and artistic skills. There are modern workspaces & well-equipped labs where the creative processes of design, research & fabrication of models, sample artefacts & prototypes are achieved. Besides these, all the other essential & required operations are efficiently accomplished with the latest hardware and software infrastructure.
Exclusive Array of Courses for Diverse Student Population
ARCH offers undergraduate, postgraduate and certificate level courses in jewellery design, fashion design, interior design, product design, graphic design, and design communication and business. It is also the only design institution in India offering B. A+M.A degree in design education.
Moreover, students from diverse parts of India and worldwide come to seek education from ARCH College of Design and Business. The institution also participates in student exchange programmes with prominent foreign universities.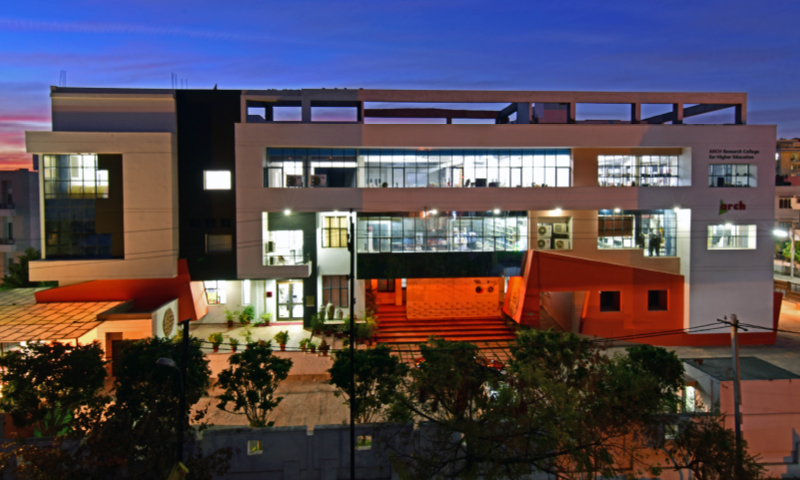 Expert Faculty Members Taking Education to the Next Level
At ARCH, there is a delicate balance between experienced faculty and innovative young teachers who deliver an unparalleled learning experience to their students.
"Our faculty at ARCH has experience in teaching methodology and dealing with students with an excellent eye, thereby making it a point that every student gets personalised education in a 1: 1 teacher-student ratio," adds Archana, the Founder & Director of ARCH. The faculty also assists students in providing excellent industry exposure and hands-on knowledge of the subjects. In addition, many international faculties also visit ARCH as guest faculty or deliver virtual masterclasses, which provides students with a global perspective. Hence, it isn't surprising that ARCH's team constructed the first All India Online Entrance Exam in Design.
Innovative Pedagogy to Promote Creative & Engaging Learning
Throwing light on ARCH's pedagogy, Archana states, "We aim to challenge conventional undergraduate & postgraduate education by incorporating engaging and holistic learning experiences with life skills to equip students with more than just an excellent world-class education."
From conventional classroom lectures to group discussions, from peer learning to mentor emulation, from field research and developing industry linkages to successfully interning with industry experts, ARCH's pedagogy is multidirectional. As a result, ARCH aims to develop students' ability to challenge their preconceptions, create intellectual curiosity through critical understanding, and develop a mind open to new ideas. In addition, the curricular & co-curricular activities cultivate professional & personal qualities & capabilities amongst the students, further equipping them with the tools to carve a successful future.
Industry-Academia Partnerships Accelerating Innovation
Regarding signing MOUs and forming partnerships, ARCH College of Design & Business has been an active participant. It has signed MOUs with numerous institutions focused on staff development, student exchange, research & development of a new curriculum, and developing progression routes towards higher education. The outcomes of these collaborations range from progression to student exchanges and 3-month industry internships abroad and semester exchanges of 3-months up to a year.
Some of ARCH's international university design collaborators include Manchester Metropolitan University, Teesside University, Saxion University, NSCAD, Bahir Dar University, Sapienza University Rome, and École Boulle, to name a few. ARCH is currently a part of the 'RISE' project with European educational institutions in the Netherlands, Finland and Belgium. Moreover, in strategic partnership with Pearson, ARCH is accredited to deliver six BTEC Level 5 HND qualifications in Art and Design.
ARCH is also a voting member and participant of extraordinary forums and international bodies that include the World Design Organization (WDO), the International Foundation of Fashion Technology Institutes (IFFTI), Interaction Design Association (IxDA), and CUMULUS. These memberships offer valuable opportunities to students to participate in international competitions, research papers, and project presentations and attend module courses in member institutions, among many other collaborative benefits.
Design Business Incubator Fostering Entrepreneurship
By walking in line with its mission, ARCH's CampusToCompany initiative and Design Business Incubator (hubIN) focuses on creative entrepreneurship and facilitates the necessary mentoring and networking connections required to help foster the development of scalable business models based on transformational designs and innovative thinking and achieve commercial success through 'start-up' enterprises.
The Jaipur-based ARCH institution collaborates with various industries, government, and semi-government bodies to conduct design intervention/knowledge dissemination and training programs for artisans, designers, and women towards skill development and encouraging entrepreneurship. Impressively, over 2,500 people have been trained under these programme initiatives.
A Striking Campus Placement Record
In the previous academic session, around 85% of the students received placement offers, while the remaining 15% chose to pursue higher education after completing their degrees from ARCH. A few of the previous year's recruiters: Manish Malhotra, Jack & Jones, Anita Dongre & Designs, Rocky S Fashions, Abu Jani Sandeep Khosla, Lifestyle International Pvt. Ltd, and many more.
Similarly, top brands in interior design, jewellery design, product design, design communication, and business studies have placed ARCH's students owing to their thorough design knowledge, hands-on skills, and creative outlook.
Supporting & Inspiring Students through Scholarships
ARCH's Founder & Director, Archana, considers scholarships an opportunity provider for students to earn a quality education and achieve career goals.
Students who apply for scholarships at ARCH go through a strict screening process. If selected, the institution handles a portion of their educational expenses, taking them a step closure to better future opportunities.
Trailblazing towards a Successful Future
Operating in the post-pandemic world, Archana and her ARCH team have planned an Institute for Studies in Advanced Design, Research & Innovation – ISADRI. Designed as an online institution to help re-integrate India's age-old wisdom of circular design and sustainable practices into the present day, it will aim to re-contribute their essence and balance to beneficially influence the world's future.
"In addition, we are completing a proposal to apply for Erasmus Plus funding for developing an appropriate and helpful curriculum for a course in social and sustainable entrepreneurship. As a natural extension of this exercise, we propose to set up a Centre for Sustainable Practices and Entrepreneurship (CSPE) in India," concludes ARCH's Founder & Director, Archana Surana.
For More Info: https://www.archedu.org/
Related Articles