Amity is truly a multinational education provider. They have campuses in countries like the UAE, India, London, New York and most recently Amity Tashkent, that opened its doors as a School of Engineering. Most of their Universities are targeting international and local students who are looking for world-class education. With a goal to become a globally successful higher education brand, Amity Education Group, like any other private company, began its story with a business plan and investment. "From licensing and accreditations to finding an inspiring team and finalizing suitable programmes, our journey in the Middle East started in 2010 with a handful of students. We now have over 4,000 students enrolled at Amity University Dubai and over 150,000 students in Amity institutions worldwide," shares Dr Vajahat Hussain, Chief Executive Officer, Amity Education Group, Middle East.
At Amity University Dubai, the focus is on bringing about change, empowering communities, and making the world a better place. Through immersion in real-world projects, group interactions, and networking opportunities, Amity students reach their full learning potential throughout their program. Whether it is through mock trials in a moot court, creating a collection for a fashion show, building a solar-powered house, or working on a Satellite Ground Station, new programs and projects are constantly introduced to ensure that international students are ready to take on the corporate world.
"The UAE's vision for the future is enticing, and graduates can expect to join the workforce of a country that will remain on the growth trajectory and invests in its youth. There is no better city than Dubai," opines Dr Vajahat Hussain. International students are often apprehensive about moving away from family to a new city to pursue their education. It is essential for a student in today's time to choose a study destination that will provide access to healthcare and a secure future. Faculty and staff of Amity University Dubai are 100% vaccinated following an on-campus vaccine drive in February. They are working closely with local education authorities to ensure that every precaution is being taken to guarantee student safety. 
A Peek into the Industry Sector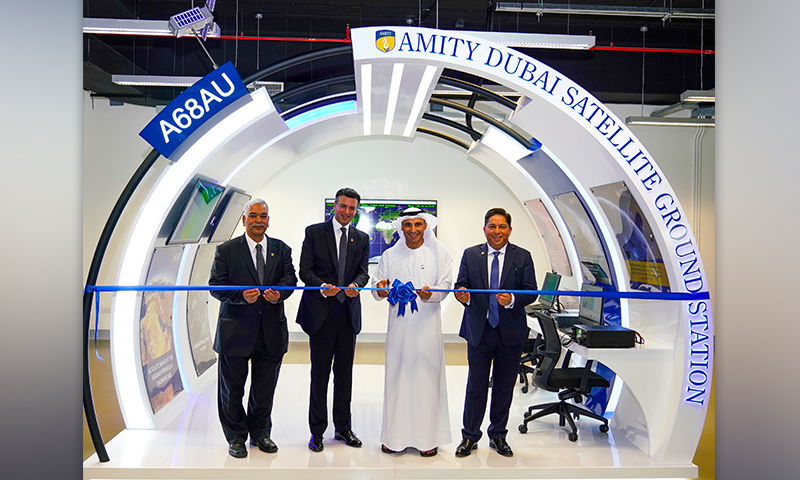 Amity University Dubai Offers a range of conventional and unique undergraduate and postgraduate programs like B. Com, BBA, and MBA, along with specializations in Insurance and Banking, Construction Project Management, Family Business, and Entrepreneurship, Commerce, and Economics. Students can opt for full-time and part-time options. In addition, the university has a BBA and MBA 3-country program for those seeking further exposure to global markets. Students enrolling in their BBA, B.Com, and MBA programs can also opt for on-campus CIMA or ACCA training, with paper exemptions. 
Home to a one-of-a-kind Business Incubator program, accredited by Dubai SME, The innovation hub at Amity University Dubai brings together a community of mentors, entrepreneurs, volunteers, innovators, and students. "Students can work on start-up business concepts and ideas with the guidance of a dedicated team at the Incubation Centre. From meeting with industry professionals and factory visits to participating in Government competitions for start-up grants, the opportunities for students at Amity Business School are endless," says Dr Vajahat Hussain. 
With their excellent infrastructure, both physical and digital, UAE Universities have grown to become self-sufficient and well-equipped to meet and exceed the global quality standards. Amity University Dubai is one such example of a branch University that offers students a complete University experience, with unique programs and unmatched facilities. With the development of educational strategies over the years, education remains at the heart of the national agenda of the UAE Vision 2021. Through their partnership with Dubai SME (Government of Dubai), Amity University Dubai ensures that students develop the core competencies required to succeed in the world of entrepreneurship, in addition to creating unique opportunities for students, while ensuring their contribution to the emirate's economy, community support, and humanity. "The initiative creates a learning environment and provides the necessary support for future generations of entrepreneurs in the UAE. From ideation to conception and execution, The University's Incubation Centre has mentored 19 student start-ups to date, with each one being at a different stage," explains Dr Vajahat Hussain.
Amity Business School promotes research endeavours through conducting applied research as well as developing GCC-centric case studies. Business faculty members, in collaboration with their colleagues and students, have published more than 45 applied research papers in the past academic year, including The Best Research Paper, 'Is AI and Digitization New Avatar for Air Freighters and Forwarders', at the International Conference on Advances in Electrical, Computing, Communications and Sustainable Technologies (ICAECT 2021) by Dr Ashok Chopra. Concerning case studies, Amity University Dubai has the largest repository of Middle East Centric case studies written by resident faculty. These cases are published in UK Case Centres, which serves as the largest repository of business cases worldwide. Several cases have been written in collaboration with private and public organizations, including Sharjah Electricity and Water Authority (SEWA) and the Easa Saleh Al Gurg Group.
Enhancing tech platforms and ensuring transition into e-learning smoothly was quite critical. The faculty at Amity started recording flipped classes for students in 2019. This process of pre-recording lessons in their studios that students can access through an online portal helped prepare them for the digital shift. Before the lockdown, training sessions were conducted by the institution's media and tech teams on how to effectively use studios for recording and online platforms for interactive learning. Being part of a large global education group led to the exchange of ideas and enhanced our digital delivery experience. "Distance learning allowed us to connect with experienced professionals from around the world and provide students with more than daily lectures within the classroom. From the Dalai Lama and Noble Laureates to Supreme Court Judges and Film Makers, Amity students had access to the university's global online portal with a range of live online webinars and guest lectures by world-renowned experts," states Dr Vajahat Hussain, adding, "our Student Services team were available throughout the week and weekends, to ensure that any questions or doubts from students and parents were addressed and responded to immediately. Clear communication was key, and our goal was to ensure that learning never stopped, classes continued, and students were engaged. It is never enough to emphasize that we are #inthistogether."
Making Students Experts in All Spheres
There is always something new and exciting happening at Amity University Dubai. The events are a great place to meet interesting, like-minded students from different parts of the world and form life-long friendships. The institution's endless stream of events, hackathons, and meet-ups are more than just social activities; they build the Amity University community and pave the way for lifelong opportunities. Student engagement and the availability of opportunities are key to ensuring satisfaction among students. Dr Vajahat Hussain adds, "Networking with industry professionals, workshops, exhibitions, factory visits, inter-university competitions, and conferences, are just some of the many ways that we support student growth and ensure engagement".
Management programs at Amity University Dubai offer a comprehensive insight into the core elements of a business. They prepare students for upper management and executive-level positions by developing key managerial competencies, including critical thinking, systems thinking, team building, decision making, and ethical leadership, which can be applied to any business or industry. The institution's in-house Corporate Resource Centre helps students with internships, part-time opportunities, and full-time jobs. The team also organizes regular workshops to assist with CV writing and prepping for interviews. Guest classroom sessions by industry leaders, alumni talks, and company visits are regularly conducted to give students an insight into organizations and how they function. They also conduct Placement Weeks and Recruitment Drives with top recruiters and companies across a wide range of sectors. Amity University's last Placement Week in April 2021 drew in over 100 companies (virtually and in-person), that took interviews and mentored students. An annual Amity Human Capital Forum is also conducted where recruiters, entrepreneurs, department leads, and HR professionals come together to share their experiences and stories with students. "This networking opportunity has proven to be a great way for students to get an in-depth understanding of how organizations function, the latest trends within an industry, future career prospects, and the key qualities required to take on a job role," remarks Dr Vajahat Hussain.
Amity University Dubai campus was designed around the needs of students. They have created a Satellite Ground Station, which is used by Aerospace Engineering students and faculty. The first of its kind on a University campus, the Ground Station, allows students to perform several operational functions that will help them in their careers and research. The next phase of this project involves the construction of a CubeSat for gathering data for weather forecasting, biodiversity maintenance, water sources, global warming data, and agricultural development. Work on phase two has commenced and will be completed in 2021. Ensuring that we become more sustainable, we installed photovoltaic solar panels on the University campus, with a goal to become a solar-powered campus.
Ensuring international and local students get the complete University experience, which includes interacting with peers, attending events, presenting at conferences, and joining clubs, Amity University Dubai campus is built over a large area, and they are working on developing creative ways in which the student experience can be enhanced. As an organization, they are embracing diversity amongst their students while also giving back to society. From raising funds for the Amity Humanity Foundation and Al Jalila Foundation through the exclusive Amity Polo Cup to hosting the largest delegation of 650 Special Olympics Athletes during the Special Olympics World Games Abu Dhabi, Amity University Dubai continues to align its objectives with that of the nation and look forward to working towards bringing a positive change in the world.
About Dr Vajahat Hussain, Chief Executive Officer, Amity Education Group Middle East 
Dr Vajahat Hussain is the Chief Executive Officer of the Amity Education Group Middle East, heading the education group's Middle East and Europe operations. a position he has held for the last ten years. Amity Education Group, a not for profit foundation, operates universities and schools around the world with 150,000 students, 60000 Alumni, 4500 faculties, 1300 case studies, 700 patents, and 300 research projects.
An engineering professional who calls Dubai home, Dr. Hussain was awarded a Doctorate (Honorius Causa) in 2014 for his service to education. Having previously held leadership positions in the education and healthcare sectors, his expertise in turnkey greenfield projects, mergers and acquisitions and change management have seen him deliver success in both the education and healthcare sectors. He was listed by Forbes Middle East as one of the top Indian Executives in the GCC and Gulf Business as one of the region's most influential Indians in 2018.
Related Articles