Many colleges and universities have a broad educational mission: to develop the "whole student." On college campuses, extra-curricular involvement is a key tool in this personal development. For the majority of college and university students, involvement in extra-curricular activities plays an integral role in the collegiate experience. Students become involved in extra-curricular activities not only for entertainment, social, and enjoyment purposes but, most importantly, to gain and improve skills. A wide and diversified range of extra-curricular activities exists on our campuses, meeting various student interests.
The campus life at Ajeenkya DY Patil University (ADYPU) combines serious academics with lots of fun. There is something for everyone, whether you are interested in sports or art. The aim is to enhance the learning environment by creating opportunities for students to engage in social and cultural pursuits. Apart from the high curricular standards, the university promotes extra-curricular activities with the same vigour and provides an appropriate platform for the students to display many other facets of their personality, which otherwise may not be explored. "Our sports department caters to all interests and tastes ranging from competitive sports to basic fitness programs. There are facilities for indoor sports as well as outdoor sports. Well-equipped facilities such as Lawn Tennis, Badminton, Swimming, Cycling, Football, Cricket, etc., are available on the campus for our students," explains Prof. Hrridaysh Deshpande, Vice-Chancellor, ADYPU.
An innovation university, ADYPU is a community of faculty, students, industry, and businesses who drive the culture of innovation. In a world that needs idea-generators, strategic thinkers, people with a creative mindset, and a passion for problem-solving, the university is a powerhouse of talent and ideas. "We acknowledge that each one of you is special. Each one of you has unique talents. The university is a special place. Combined with the friendly and open nature of our university, we offer exciting opportunities to develop your academic, personal, and professional skills through a range of curricular, co-curricular, and extra-curricular experiences," opines Prof. Hrridaysh.
ADYPU has a wide and expanding network of partner universities from different parts of the world, mainly from the US, UK, and Europe. Our international partner university network provides an opportunity for the students to travel abroad to study, while they host the students from partner universities. They empower their students to customize coursework and shape the curriculum to meet their individual goals. "We have developed a business-validated, competency-based curriculum that benchmarks against the internationally developed frameworks such as Accreditation Board of Engineering & Technology (ABET, USA), Computing Science Accreditation Board (CSAB, USA), National Association of Schools of Arts and Design (NASAD, USA), and the Subject Benchmark Statements as provided by the Quality Assurance Agency (QAA), UK," states Prof. Hrridaysh.
Breakthrough to Excellence
Aiming to contribute to the creation of an innovation-oriented society, ADYPU aims to develop new solutions that elevate the quality of life for every Indian by utilizing the new knowledge created. ADYPU helps students to construct meaningful careers. They facilitate their students to know useful things and cultivate the humanity of a concrete person. "As future economic, financial & social paradigms evolve, the Ajeenkya DY Patil University is gearing up to new challenges & exploiting vibrant possibilities for growth through single-minded focus on innovation," says Prof. Hrridaysh.
Offering 9 programs that are relevant for the postmodern world, i.e., Engineering, Management, Hotel Management, Design, Film and Media, Information Technology, Architecture, Law and Liberal Arts, ADYPU focuses on experiential learning combined with an international curriculum, that makes the students updated with the current trends. "We make sure to introduce students to the real-world challenges and problems in their respective discipline. It invokes the solution-oriented thinking that makes the student ready for the industry ecosystem," says Prof. Hrridaysh.
ADYPU aims to focus on supporting responsive and problem-solving interdisciplinary research. Being the forerunner in combating the grand challenge of creating prosperous communities in emergent creative and data-driven digital economies, the institute endeavours to collaborate with industry-academia stakeholders to generate new ideas, good jobs, better-earning capacities as well as lay the foundation for successful entrepreneurship.
Encouraging individual and multi-disciplinary research excellence, ADYPU collectively focuses on problems of global significance and provides innovative and sustainable solutions. They endeavour to recognize that academic disciplines and interdisciplinary studies provide the richest and most compelling environment to support and develop individual experience. "In this exciting era of Industry 4.0—business corporations, government and non-profit entities are deeply engaged in discovering new business models and digital technologies to boost productivity as well as to build a more sustainable and equitable society," says Prof. Hrridaysh.
The university is built amidst the lush green area of the city Pune in 110-acre land. Every department of the campus has the best equipment that supports their concept of innovation learning. With an automobile design workshop lab, engineering research lab, moot court to practice law, media lab for the student of film and media to have hands-on experience. They conduct various types of co-curricular activities that give students ample opportunities to implement what they are earning in a real-time environment. Prof. Hriidaysh adds, "Our facilities include 300 seat auditorium, aesthetically designed studios, and classrooms with ergonomically suited furniture. The classrooms are equipped with state-of-the-art video projection systems."
Creating a Niche of Competent Industry Leaders
Playing an integral role in creating the illustrious placement record, ADPYU's Training and Placement Cell ensures the smooth functioning of the placement activities on the campus. The cell organizes activities throughout the year to prepare the students for the campus selection programs. Owing to ADYPU's great placement history, many reputed industries across the country visit the university regularly during the campus recruitment programs. To enhance the employability quotient of the students as demanded by the industry, the Training & Placement cell provides much-needed training to the students to hone their employability skills.
The training programs provide tips on how to crack aptitude, group discussion, interview skills, and resume preparation. They educate the students with career opportunities in different areas like the Public Sector, Armed Forces, and Government Services by regularly conducting guest lectures. Prof Hrridaysh points out, "We have received many awards for our placement services some of them are "Outstanding Industry and Academic Contributor" award by ASSOCHAM on the occasion of International Women's Day on 8th March 2020; TCS Icon award for "Best Placement in Maharashtra" 2018-19; Global Education Award for "Best Placement in Maharashtra" 2017-18, etc. We also have collaborations with some of the most renowned companies. Some of them are L&T, CEAT, Wipro, Amazon, Cognizant, Infosys, IBM, Asian Paints, Lemon Tree, Sayaji, etc."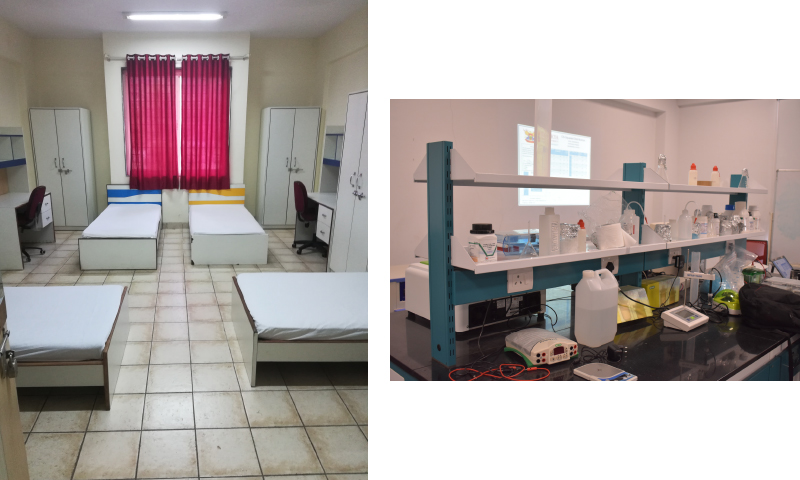 ADYPU is a proud holder of the India Book of Records for the highest number of recruitments through placements done in a single day. Capgemini, L&T infotech, Accenture, TCS, Wipro, and Infosys are a few names in the IT sector that have their placement bases in ADYPU. Apart from placements for students in their final year, the Placement Cell provides international internships with leading MNCs across the globe. In the session 2020-2021 they have around 600+ student placements with an average package of 5LPA and the highest offer of 27 LPA, including all the schools.
To add value to the educational system through curiosity, inquisitiveness, imagination, as well as critical thinking, ADYPU has visualized an Incubation Centre to nurture creativity and innovation to meet the current and future needs from labour arbitrage to intellectual economy. "We want to encourage the ideation to incubation among various stakeholders of the institute, ignite entrepreneurial mindset through workshops, events, mentoring, support for seed funds, filing patents, venture formation, ensure MVP to a sustainable launch, and training, consultancy, & advisory support to the R&D investment," explains Prof. Hrridaysh.
With the industry's best educators for their students, ADYPU's group of talented and dedicated thought leaders in the country come from renowned institutions around the world. They are academically and professionally best educators and have the high standards of moral and ethical values to set the right example in front of budding leaders. The institute constantly focuses on upskilling their employee to keep up with the rapidly changing education ecosystem.
ADYPU envisions that with its robust curriculum and global outlook, the students will gain positions to advise, create, and lead ventures to form a better society that will drive the innovation economy. This fusion of customized and traditional learning will create graduates that will be most desired by entrepreneurial ventures, start-ups, firms, technology-centric companies, the IT sector, and leading business consultancies. "We are already started working on our post-pandemic pedagogy, by commencing various online platforms for students learning, teaching, engagement, etc. We will continue providing the world-class pedagogy, in conjecture with a global infrastructure that will make its students future creators and the institute one of the best law schools in the world," concludes Prof. Hrridaysh.
About Prof. Hrridaysh Deshpande, Vice-Chancellor, Ajeenkya DY Patil University (ADYPU)
A veteran personality Prof. Hrridaysh Deshpande is the Vice-Chancellor at ADYPU. He has extensive experience of 27 years in the education field. He is also the Director of Ajeenkya DY Patil Group and Grand Port Hospital, Mumbai, and a member of Governing Body & Board of Management of the University. He is a proficient, enthusiastic, and energetic educator and a global innovation facilitator, who is passionately committed to innovation, design, and education. His performance-driven self can expand the limits of traditional thinking through the development and realization of aggressive and ambitious projects.
Over the years, Prof. Hrridaysh has acquired proficiency in business innovation strategy and design-driven innovation. He focuses on structured innovation practices for organizational innovation via appropriate tools, methods, and processes. He has worked on several committees on innovation and has been a speaker at many prestigious forums. He has assisted leading companies across a range of industries through his work.
Related Articles