Ashwani is the Managing Director for RICS School of Built Environment, India's first and only school that is offering internationally accredited Postgraduate and Under-Graduate degrees in Construction Management, Quantity Surveying, Real Estate & Urban Infrastructure and Facilities Management. As the MD of the School, Ashwani is responsible for the overall direction, strategy, and growth of RICS School of Built Environment in India.
COVID-19 has literally changed everyday life all over the world. To ensure the safety of the students, education institutes had to close their doors to physical classrooms. This happened at a time when institutes were finishing the syllabus and preparing for the exams. Suddenly some institutes found themselves grappling with swimming upstream in troubled waters as they had to scramble to finish the syllabus. In contrast, others could manage to switch to online classes almost immediately. I'm proud to say that RICS School of Built Environment was one of the first institutes to adapt to the online mode. We did not lose even a single day of the academic session as from day one we followed our regular academic timetable for the virtual classes.
Though the outbreak of the pandemic is miserable, it has provided an opportunity to test how technology can contribute to delivering an uninterrupted education experience. Institutes who were still reluctant to accept technology have had to rethink their business continuity plan and increase their focus on technology as an alternate mechanism for education delivery. The current online classes are like a pilot project for institutions and an opportunity for them to push their boundaries and test their scope and capability in remote education. For some, it has been a pleasant experience, and others have found it to be challenging. It will take a while to figure out what works for them and what does not. The system per se is still evolving, but the availability of technology will help to iron out any creases.
However, to maintain a continued interest in online education, a lot of content needs to be digitized and made more engaging. There will have to be a significant investment in good quality e-learning programs, development of e-books, graphics, online micro-courses, and e-notes etc.  Some more thought needs to go into how student-teacher interaction can be maximized online. But yes, going forward, more and more institutes will be looking at delivering several their courses online and this accelerated interest by institutes will ensure that digitized education is here to stay.
Embracing the New Norms
They say a crisis brings in its wake sweeping changes, and that is what COVID-19 did with the education sector. Till Coronavirus invaded our lives, institutes were comfortable and perhaps complacent in their space of the conventional in-person teaching methods and did not accord enough importance to online learning and e-learning. They were very reluctant to accept and adopt technology to bring about a much-needed change in the system. However, the pandemic compelled the institutes to fast forward and adopt technology almost overnight and rethink their policies on online education as it became the only means to ensure continued learning. While initially there was some resistance to online teaching, however, later the acceptance levels improved as there were no other options available for the delivery of the courses.
The world is moving towards digitization, and the education industry cannot isolate itself from this trend. To be relevant, it will have to accept the changes and use technology as an integral part of its mainstream operations. Indian universities may also follow the lead taken by many universities in USA, Australia, and the UK in launching online courses along with the physical face to face programs that they are already running to ensure that education can reach a wider audience.
At RICS SBE, the students did not face any disruption in their learning process. We were one of the first institutes to harness technology to create virtual classrooms to ensure the learning progress of the students is maintained despite the pandemic. We are converting our physical laboratories to virtual laboratories to ensure the students have access to very specialized industry-related software and technology tools remotely which they have otherwise been learning only using physical laboratories available on campus.
As an industry-focused institute, we are ensuring that the entire component of industry-based learning is not missed out due to the pandemic. We are ensuring that the sharing of practical knowledge by the industry experts along with student interactions is made available to the students using various technology platforms.
Besides, we realize that some people who are already working in the industry and are keen to upskill themselves to improve their career progress, however, cannot leave their jobs to enrol for an on-campus face to face program. We are looking at converting a few of our programs and courses into distance learning mode so that working professionals can benefit from them and upgrade their competencies. At the same time, they continue to be in full-time employment in the industry.
Online Learning – A Threat to Convention Education?
There is no denying the fact that presently, to keep our students safe and healthy, we have had to transition from conventional face to face classes to virtual classes in real-time. While the switch has been smooth and seamless, I do not think we are ready to do away with the traditional educational institutes just yet.
Knowledge can be transferred online. However, it is challenging to deliver skills and competencies online, and we would need face to face interaction on campus to achieve the same. Teamwork, leadership, soft skills can be better-acquired face to face than online. There are pros and cons to both methodologies and going forward, I think institutions will utilize a blend of both the systems. An increasing number of higher education institutes will strategize to make online education a core priority and not an option. There will have to be a seamless integration of classroom pedagogy with e-learning modes. Classroom interactions could be used more efficiently by consecrating them for debates, discussions and problem-solving. Students can use their time more effectively and spend more time on research and practice.
As we are aware, India is facing a shortage of good quality higher education institutes, and the number of colleges is already insufficient to meet the current educational demands for a country with a large youth population. According to Indian demographics, the student population is expected to increase substantially. The adoption of the online teaching model could be an answer to this problem. The government of India also perhaps sees digitized education to expand the reach of higher education as for the first time it has permitted universities in India to offer online degrees. The government is also planning to increase the online component in the currently run face to face programs to 40 per cent of the total program, making it a blended learning program, which is a step in the right direction.
Impact of COVID-19 on Real Estate Job Market
COVID-19 is spreading across the world like a jungle fire. Its impact has been felt across the globe and industries as well. Nation -vide lockdowns and adherence to social distancing norms have brought the entire world economy to one of its worst recessions. Every sector is struggling for survival, and the real estate industry is also not insulated from the same.  The launch of all new projects by the real estate developers is currently on hold and under review. Given the uncertainty of jobs of prospective buyers in the current market conditions impacting their buying decisions, the real estate developers will focus more on completing their ongoing projects than new launches.
To reduce the impact of COVID 19 on the sector, the Government of India allowed resuming the construction activities across the country. However, since the construction industry in India is heavily dependent on the skilled and semi-skilled workforce, their non-availability on site is also not helping the industry. Majority of these construction workers were migrants and had come from different states, the fear of losing their life due to the pandemic forced these workers to return to their home states causing scarcity of labour on the construction sites. This, however, seems to be a short to medium-term challenge as most of these workers had migrated for better job prospects to provide a better livelihood to their families. Since their native places still do not provide them with an excellent job opportunity to earn their livelihood, they are bound to return as soon as the COVID problem subsides.
The current pandemic caused by COVID-19 may hurt the real estate job market for 18 to 24 months. However, it will surely bounce back after this period. Moreover, we need to understand that India is a developing economy which is being viewed more keenly by international players for various manufacturing and services related activities after a negative sentiment that developed against China on COVID-19. I firmly believe that in the post-COVID-19 era, with an increased requirement for the built space, demand for professionally qualified individuals will remain very strong. However, there will be an increased focus on digitization and technology in the majority of the job roles.
Addressing Demand-Supply Gap in the Real Estate, Construction, and Infrastructure Sector
The built environment, comprising of construction, real estate, and infrastructure-related activities, is a significant contributor to the GDP of India and provides employment to approximately 50 million people in the country. However, there is an 80 per cent gap in the demand and supply of skilled professionals in this sector. This gap continues to increase with the increased demand for built space.
Till a few years back, the sector was mostly unorganized till the government recognized the importance to regulate the industry and make it more transparent and investment-friendly by setting up the Real Estate Regulatory Authority (RERA). This has further increased the need for skilled professionals in this industry.
RICS School of Built Environment was set up to address this massive skills gap that existed in the sector. To bridge the gap, we launched an industry-focused practice-based postgraduate and undergraduate courses in Construction Project Management, Quantity Surveying, Real Estate & Urban Infrastructure and Facilities Management. The curriculum for these courses is prepared with strong input from the industry. It is also delivered to the students with the active involvement of the industry experts. The two months of internship and regular industry visits combined with hands-on training in the latest industry-related software also help our students in their industry orientation. As a result, when they step into their jobs, from the very first day of joining, they start adding value to their organizations. This has helped us in becoming the preferred choice for recruitment by the industry.
Furthermore, we also undertake several specialized and customized training in the built environment domain for the industry for upskilling the working professionals to ensure they are prepared to meet all the current and future needs of the industry.
Students of RICS School Built Environment undergo their summer internship as a mandatory course (part of the curriculum) during their MBA & BBA Programs. The students are assigned to a Firm and an Industry mentor for eight weeks under the supervision of a faculty guide and an industry guide. The expectation from a student during the summer internship is to get exposure to real-time industry processes, activities, develop skills and apply knowledge learned in the classroom and become part of the organization by delivering assigned task by the Industry mentor. After successful completion of the summer internship, the student submits a project report reflecting their internship experience demonstrating how they have achieved the learning outcomes. Many organizations appreciate the skills and competencies of the interns and provide them with pre-placement offers as well.
This year due to the COVID-19 situation and the prevalent lockdown we were constrained to organize the onsite internship or at company office location however we did not allow these conditions to adversely impact the practice-based learning of the students. We innovated and quickly converted the industry internship into a research-based industry internship to be conducted from the safe environment of the student's home. The internship was based on live industry problems or issues that were proposed by the built environment organizations located within and outside India. The students were required to conduct the research internship under the guidance of a faculty and industry guide. We are awaiting some high-quality research to be generated during the internship period that can provide a solution to some of the industry problems along with finding a place in top tier international journals. The missed opportunity of site exposure and industry visits due to the lockdown is planned to be provided to the students during their 3rd and 4th semesters. These research topics of the internship can be further chosen by the student as their capstone project, which will be pursued in their 3rd and 4th semester.
Opportunities for Indian Universities Post-COVID
Indian university education should make a strategic shift in its current approach to learning. They should use this opportunity presented by these unprecedented times and make the much-needed changes in the system. The universities must make greater use of technology to deliver their courses and better prepare their students for this ever-evolving technology-dependent world. To attain this objective, they will have to offer a more evolved learning and teaching model that has more authentic assessments, individualized lifelong learning and face-to-face delivery merged with technology in a multi-modal delivery format. When the COVID-19 hit universities, they quickly moved to remote learning using adapted teaching materials that were not purpose-built. In the post—COVID era, universities will need to purpose-build learning materials for this hybrid multi-modal delivery for enhanced student experience.
We also need a mindset change in the universities. The system needs to let go of its inherent rigidity and become more flexible thereby allowing professional bodies and industry to partner in the delivery of the education programs making them more practice and application-based.
It is understood that in this new uncertain world, industries will change, some will fade away while some new ones will spring up. The Indian universities will have to rise to the occasion and play a key role in educating and providing an adaptable, creative, and resilient workforce to take up opportunities in these new and emerging industries in the global arena. (As Told to the Editor)
More About Ashwani Awasthi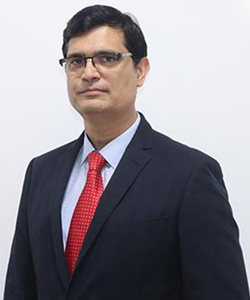 Before joining RICS, Ashwani has worked with Pramerica- BHI Real Estate Advisors, BlackRock Solutions and JLL India. He has over 25 years of experience with 15 years at the leadership level in operations management, strategic planning & execution, Asset Management and CRE & FM across varied industries. Ashwani has been a start-up specialist and has played a vital role in successfully building these start-ups into large profitable ventures.
Ashwani wants to make an impact in the Real Estate industry by providing relevantly qualified, competent, and skilled professionals who would bring the much-needed change in the sector.
Outside of work, Ashwani loves spending time with his family and friends and enjoys reading books on leadership and management.
Related Articles