Born and raised in Northern Ireland, Professor White began his academic career at the highly regarded University of Cambridge, where he pursued Electrical Sciences and Engineering, ultimately earning a Ph.D. "A research fellowship at Jesus College was a turning point that propelled me into a lectureship," Professor White reflects.
Professor White began teaching at the University of Bath in 1991 as a Professor of Physics, but his academic journey took him to other institutions such as the University of Bristol and back to Cambridge, where he held the position of van Eck Professor of Engineering, a significant milestone in his career. During his time at Cambridge, Professor White delved into the fascinating realm of Photonics Research. His ardour for the field led him to undertake various positions, such as being the Head of the School of Technology and Pro-Vice-Chancellor for Institutional Affairs. Furthermore, he was honoured to serve as the respected Master of Jesus College.
In 2019, Professor White was appointed as Vice-Chancellor and President of the University of Bath in recognition of his outstanding leadership qualities. This appointment was a significant milestone for the university, as he became the seventh person to hold this esteemed position since the institution was granted its Royal Charter in 1966. In addition to his academic achievements, Professor White has also been recognised as a Fellow of the Royal Academy of Engineering, the Institution of Engineering and Technology, and the Institute of Electrical and Electronics Engineers.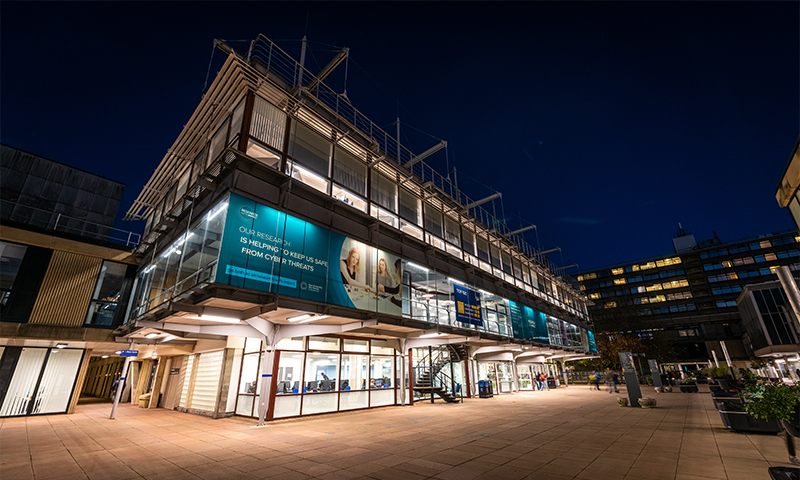 Engineering a Revolution
The story of Professor Ian White's journey into the world of academia and engineering is truly remarkable. He was deeply interested in applied science, especially at the intersection of electrical engineering, which led him to a lifelong quest for innovation and transformation. His academic journey started at a time when optical communications research was on the brink of a revolutionary era. Looking back, he recalls, "I could see that the advances could have the potential to transform society by allowing unprecedented new communication capabilities." A single optical fibre, as thin as a human hair, could transmit vast amounts of information, equivalent to the entire world engaged in simultaneous phone conversations.
Professor White's early research centred on laser diodes for high-performance communication systems. His contributions extended to the development of the Gigabit Ethernet and 10 Gigabit Ethernet standards, technologies that now underpin more than 1 billion links worldwide. These standards played a pivotal role in shaping the internet as we know it today, and Professor White found immense fulfilment in this endeavour. Moreover, his involvement in introducing a new class of lasers into these standards paved the way for their integration into various consumer applications, including computer mice, laser printing, and, notably, mobile phones.
But his journey didn't stop at optical communication. During his tenure at the University of Cambridge, Professor White played a vital role in the development of a system capable of detecting inexpensive RFID tags, akin to those used for building access or in credit cards, at impressive ranges of up to 20 meters. This system possesses the remarkable ability to read a multitude of tags, exceeding 400 per second under certain conditions. Today, it finds applications in inventory management and the retail industry, streamlining operations and enhancing efficiency. Professor White's expertise in photonics eventually led to the co-founding of two pioneering companies, Zinwave and PervasID, where he continued to push the boundaries of technology and innovation.
Building Excellence and Inclusivity
Professor White's vision for the University of Bath is a testament to the institution's enduring commitment to excellence and societal impact. While much has evolved since the university's inception as Bath University of Technology in 1966, the core vision of its founders remains as pertinent today as it was then. From the outset, the concept of technology as "the point at which science intersects society" provided a guiding light for the university's endeavours. Professor White states, "The empowering of a University community to draw on understandings of science and society to address the key challenges of our time remains as important as ever." Whether it's harnessing the potential of advancing digital technologies, confronting the pressing issue of climate change, or addressing health crises, the university stands at the forefront of change and progress.
In the present day, the University of Bath is two years into its 2021-26 strategy, aptly named 'Our University, Our Future: Connected.' This strategy, developed through extensive engagement with staff, students, and alumni, places inclusivity and excellence at its core. Professor White elaborates, "In all our engagement leading up to the strategy, we found strong foundations and appreciation of much positive practice, but also a desire to build a stronger University community, a real commitment to excellence. There was a sense of untapped ambition and potential we could unlock."
The university's strategy is underpinned by four pillars: Driving excellence in education, Driving high-impact research, Fostering an outstanding and inclusive community, and Enhancing Strategic Partnerships. Professor White admires the progress made by colleagues across each of these areas, with many goals achieved ahead of schedule. This progress not only strengthens the university's foundations but also paves the way for a promising future. At its core, Professor White and his team aspire to make the University of Bath a global exemplar where every member of the community can thrive. He shares, "We have an ethos of high achievement here, but also a culture of care, inclusivity, and respect, and the strides we've made since our strategy launched reflect this ethos and the dedication of all in our community."
Empowering Students, Advancing Research
Professor White's dedication to enhancing the student experience at the University of Bath has been a cornerstone of his leadership. One notable achievement in this regard was the expansion of mental health support for students, a vital step in ensuring the well-being of the university community. "We reinforced the importance of student experience by creating the role of Pro-Vice-Chancellor (Student Experience), which is supported by a Board made up of University and Students Union representatives, working collaboratively to enhance all aspects of the student experience here at Bath. This complemented the ongoing work to provide an intellectually bold and academically stimulating education," elaborates Professor White.
Despite commendable achievements in education and student experience, complacency finds no place at the University of Bath. The institution embarked on a transformative 'Curriculum Transformation' program, the most significant restructuring of its educational framework in a quarter of a century. This ambitious initiative seeks to enhance educational provision, with numerous new courses set to launch in the 23/24 academic year.
When it comes to research, the University of Bath has earned a distinguished reputation for applied research, spanning a diverse spectrum from science to the humanities. The university's researchers are dedicated to addressing real-world challenges and have achieved remarkable results. Examples abound, from contributions to safer rugby scrums and reduced injuries through the "Crouch, Bind, Set" technique to advancements in predicting energy usage profiles and peak demand in electricity networks, yielding substantial reductions in CO2 emissions.
"We have built on strong foundations to increase our research power and impact, particularly in our priority research areas of Sustainability, Health & Wellbeing and Digital," shares Professor White. New institutes, including the Institute for Sustainability and the Institute for the Augmented Human, have been established under the leadership of Professor White. The Bath Beacons initiative fosters collaboration with partners to advance key research areas, benefiting both teaching and the broader world by creating a greener, healthier, and more interconnected future.
Excellence Beyond Rankings
"I find the accolades and rankings within Higher Education to be important because they are the culmination of so many collective and individual successes within a university," states Professor White. One notable achievement that set the tone for a successful academic year was the title of 'University of the Year 2023' bestowed by The Times and Sunday Times. This honour demonstrated the university's dedication to providing a high-quality education and fostering a supportive learning environment.
In addition, the university has achieved outstanding results in both national and international rankings, which demonstrates its dedication to providing quality education, enriching student experiences, and conducting cutting-edge research. The fact that it has been ranked as one of the top 5 universities in the UK by the Complete University Guide 2024 is a significant achievement that attests to its remarkable growth and development in recent times. This recognition confirms the university's status as one of the UK's premier institutions for education and research.
The rise in the QS World University Rankings 2024, which catapulted the university into the top 10% worldwide, is a remarkable achievement. It not only showcases the institution's global standing but also underscores its dedication to excellence on the international stage. Professor White says, "However, it is hard to tell the full story of achievements by rankings alone. At a personal level, the work of our community on inclusion has been of great importance, such as achieving a 'full house' of awards in the assessment of gender equality in higher education, with a total of 17 awards, including an Athena Swan Silver award at the institutional level."
Professor White also sees significant strength in the university's tradition of sporting excellence coupled with its inclusive ethos. The achievements of student and Bath-based elite athletes on the Olympic, Paralympic, and Commonwealth Games stages demonstrate the institution's commitment to holistic development. Additionally, the positive impact of world-class facilities on the well-being of the broader community and local school clubs and community groups cannot be overstated.
Leading Through Crisis
Navigating the challenges posed by the COVID-19 pandemic represented one of the most significant tests of leadership during Professor White's tenure as Vice-Chancellor. "All leaders are dependent on the team they have around them, particularly in times of crisis, and I was fortunate to have a great team who shared my focus on supporting both students and staff during the pandemic," shares Professor White. The agility and adaptability displayed by the academic colleagues in swiftly transitioning to online teaching and later back to in-person teaching when conditions allowed exemplified their dedication to maintaining educational continuity.
The campus services team's extraordinary efforts, such as setting up a 24-hour hub to assist self-isolating students, acquiring an ambulance for student testing, and providing comforting amenities like games, treat boxes, and hot meals, reflected a remarkable commitment to the well-being of the university community. "I was also moved by the way both staff and students gave back to the community, creating 200,000 pieces of PPE for local health workers and providing free city accommodation for doctors and nurses, as well as numerous examples of volunteering," recalls Professor White.
At the institutional level, having a clear sense of purpose and agile response structures in place proved pivotal. However, beyond the structures, it was the shared values that truly made the difference. These values, deeply embedded within the university's culture, provided the foundation for resilience and unity during a challenging period. They were a guiding light that ensured the well-being of the community and the institution's continued impact on society.
Equipping Graduates for the Future
In observing the ongoing debates within Higher Education, Professor White believes that there can sometimes be a misleading binary between a sole emphasis on the skills agenda and a viewpoint that suggests students should solely be taught how to think critically. However, the reality often lies in the intersection of these aspects. He elaborates, "For graduates to succeed in their fields, they often need to master a combination of disciplines and skills which have real-world benefit. I think this is where Bath operates really well in our holistic and relevant education, so our students develop the right mindset to apply their knowledge and achieve a positive impact."
The University of Bath stands out for its ability to attract high-calibre and diligent students. The institution is dedicated to providing not just excellent education but also a wealth of opportunities and experiences. These include placement years, study abroad programs, extracurricular activities, and sporting opportunities. The goal is to offer a distinctive educational experience that nurtures exceptional students in a comprehensive manner, ensuring they leave Bath with cutting-edge knowledge, a versatile skill set, and a wealth of experience that empowers them to think, work, and contribute as outstanding global citizens and future leaders.
"We also want our students to experience and feel they belong within an outstanding and inclusive University community with a 'culture of care'. We want them to gain valuable knowledge, transferable skills, and intercultural competencies so they leave us well-rounded and with a competitive edge," explains Professor White. Collaboration with business, public, and voluntary sectors is a priority at the University of Bath, allowing students to develop five key attributes: being well taught, well qualified, well experienced, grounded, and rounded. These attributes serve as a solid foundation for future career success and personal fulfilment.
"Looking ahead, universities will need to focus even more on preparing our students well for employment and leadership. We want to equip our students in a fully rounded way to be able to contribute positively to their communities, whether on the global stage or at a more local level," opines Professor White. In addition to delivering excellent and pertinent courses, the university places a strong emphasis on preparing students for the challenges and opportunities they will encounter in their careers.
An impressive statistic reveals that over two-thirds of Bath-based undergraduate students graduated from programs that offered placement or study abroad options in the 2021/22 academic year. "This is part of the reason we do very well indeed in high-skilled employment outcomes for our graduates. We're always looking for ways we can enhance our students' preparation for employment so we can provide our students with not only the tools they need to be leaders and global citizens but also that edge to succeed in their future careers," emphasises Professor White.
Beyond Campus Walls
Universities have the capacity and responsibility to make significant contributions beyond their economic impact and to actively shape positive outcomes within the community. In recent years, the University of Bath has taken proactive steps to strengthen its ties with the local and regional community. Professor White shares, "In addition to joint research projects with local government and key local organisations, we have supported the cultural life of the City practically and financially. For example, sponsoring Bath Festivals, Children's Literature Festival and supporting our cherished 'university museum', The Holburne." Collaborative initiatives like 'Cosy Wednesdays,' developed in conjunction with the Students' Union, to provide warm spaces and activities for local residents during the winter months, is another such example.
Beyond these initiatives, Professor White finds great inspiration in the altruistic endeavours of the university's students. They engage in various community-focused activities, from fundraising for local charities to environmental initiatives like litter picks, tree planting, and beach cleaning. In fact, the University of Bath, nestled within the UNESCO World Heritage site of Bath, holds a deep appreciation for its surroundings. In return, its students dedicate countless hours to volunteer work that gives back to the community, embodying the spirit of active citizenship.
"I have been fortunate to be involved in a number of community-focused initiatives at a strategic level, including the Future Ambition Partnership, established by Bath & North East Somerset Council to work with partners from business, education, health and charity sectors to help shape a shared vision for the area to create better places, deliver a carbon neutral economy and be at the forefront of innovation in the 21st century," says Professor White. Additionally, his participation in the Key Cities Initiative underscores his commitment to driving positive change on a broader scale. Professor White was appointed Deputy Lieutenant of Somerset, a role that enabled him to forge deeper connections with individuals and organisations throughout the county, including The Royal Bath and West Society.
A Legacy of Excellence
Professor White's tenure as the seventh Vice-Chancellor since the University of Bath received its Royal Charter in 1966 has been marked by a resolute commitment to elevating the institution's reputation both within the UK and on the global stage. His leadership has been instrumental in fostering excellence and garnering respect on a worldwide scale. "Vice-Chancellors and their teams are only ever custodians of an institution. In our daily work, in the decisions we make and our interactions with one another, we hold in trust the future of an organisation and endeavour to ensure that tomorrow will be better than today for the generations to come," opines Professor White.
His aspiration for a lasting legacy revolves around deep-seated care for the university and its entire community, including students, staff, and alumni. This care extends to championing excellence and inclusivity, which have been central pillars of his leadership. Under his guidance, the University of Bath has embarked on an upward trajectory with a future that promises to outshine the present.
Today, Professor White's priority is to drive forward the university's strategy and bring to fruition major initiatives spanning education, research, and student experience. This includes the rollout of bold and ambitious courses, continuous enhancements to opportunities for students and staff, support for new research Institutes, and investments in essential infrastructure. Professor White concludes, "We will be ever more externally focussed, open to developing more strategic partnerships whether regionally, nationally or internationally, working in collaboration with others to achieve together what we cannot do alone." In a nutshell, Professor White's legacy is one of dedicated leadership, care for the institution and its community, a commitment to excellence and inclusion, and a vision for a future where the University of Bath continues to shine ever brighter.
For More Info: https://www.bath.ac.uk/
Related Articles